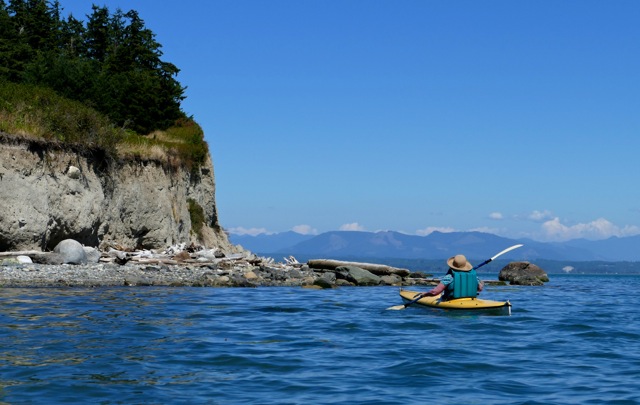 A kayaker approaches the tip of Barnum Point, which offers amazing outdoor recreational opportunities, as well as significant ecological benefits. Photo by Barbara Brock.
The Whidbey Camano Land Trust announced this week that it has successfully raised the $1.2 million necessary to purchase an at-risk 37-acre property at Barnum Point. Located on Camano Island, the property is adjacent to the existing 27-acre Barnum Point County Park and represents a crucial component of the Land Trust's ongoing project to create a 129-acre park in partnership with Island County.
The funds, made up of donations from more than 600 private donors a Washington State salmon recovery grant for $385,000, will be used to purchase the property, which includes 1/3 mile of walkable beach, 17 acres of lush forest, and 20 acres of private tidelands.
"Raising $1.2 million in five months was an ambitious undertaking," said Patricia Powell, executive director. "The community's response to The Seattle Times article was astounding. "It gave us just the boost needed to meet this important milestone."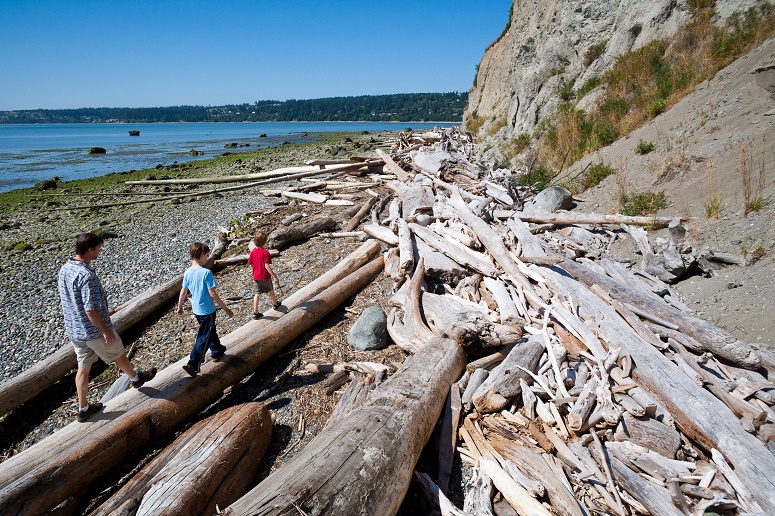 A family enjoys the rocky beach while the tide is out at Barnum Point, located on the east side of Camano Island. Photo by Benjamin Drummond.
"Protecting this property will more than double the size of the county park and ensure that this remarkable place will always be natural and available for everyone to enjoy," said Ryan Elting, conservation director. "Just as importantly, one of the most ecologically important sections of Barnum Point, the riparian forest and bluff, is protected forever."
The Land Trust will be working to protect an additional five properties totaling 65 acres to create an expanded 129-acre county park. To that end, federal and state grant applications have been written and submitted.
The Land Trust is planning a celebration to thank donors and the numerous project supporters who worked tirelessly to protect this incredible property.
The Whidbey Camano Land Trust actively involves the community in protecting, restoring, and appreciating the important natural habitats and resource lands that support the diversity of life on our islands and in the waters of Puget Sound. For more information, visit www.wclt.org, email info@wclt.org, or call 360.222.3310.