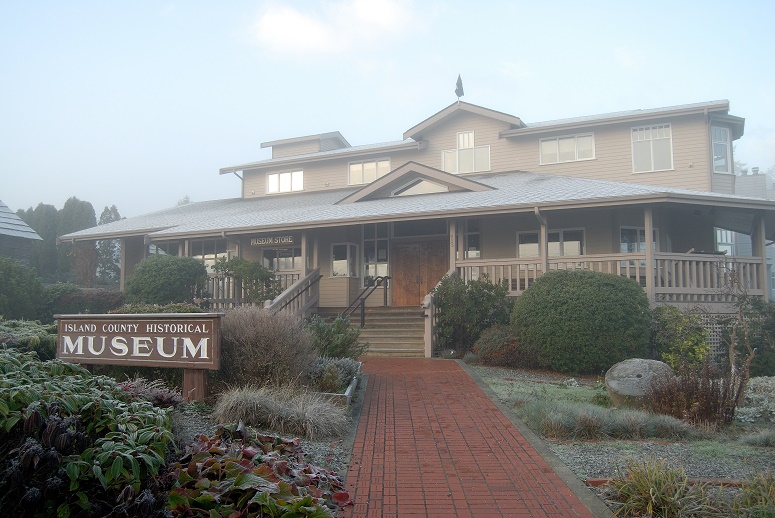 Coupeville - Recollections of Early Days on Whidby Island is a compilation of newspaper articles written by early resident, Flora Augusta Pearson Engle.
Well known and loved by her community, Flora was an avid writer. In 1928 and 1929, Mrs. Engle wrote a weekly column for the Island County Times that chronicled her memories of the early pioneers and life in Central Whidbey. Her writings are witty and full of the kind of detail that add vivid color to our local history.

Flora arrived on Whidbey Island in 1866 at the age of 16. She co-managed the old Admiralty Lighthouse with her father Daniel Pearson. Flora also offered music lessons to many of the families already settled on the island. Flora quickly became involved and quite active in local women's clubs and her church. These clubs played an important role in shaping Central Whidbey, from sidewalks and parks, to the establishment of the local library.

With financial support from the National Society of Colonial Dames of America, Washington Chapter, the very thoughtful and generous donation of the text by Joanne Engle Brown, and many historic photos from David Engle and the ICHS Janet Enzmann Archives, these great stories are once again available for your reading pleasure.
Our re-release of Flora's writings includes select images and professional binding. We have honored the original editing work of Joanne Engle Brown (Flora's great-granddaughter) and reformatted the text for publication.
We extend our sincere thank you to Joanne, her cousin David, and the NSCDA for making this project possible and we hope that you – and future generations will enjoy! 290 pp $24.95 (available at ICHS Museum Store, beginning December 14, 2016)