By Carolyn Tamler
With the growing popularity of Pickles Deli, owner Kim Bailey was excited when the opportunity arose to acquire the space next door and enlarge the capacity to nearly 100 seats. Kim says, "We started outgrowing our space as soon as I opened."
After friends and staff helped to redo floors, walls and create a new walk-in, the expanded Pickles Deli opened just before Memorial Day 2016.
In addition to the delicious made-to-order artisan sandwiches, using bread from Essential Baking and Boar's Head meats and cheeses, Kim is now serving Vietnamese pho, a special broth with cut meat. Kim says, "this is my favorite soup." She even collects bones from the farmers in the Maxwelton Valley to use for her broth.
Also new at Pickles is draft beer and organic, sustainable wines and a Kombucha bar (fermented mushroom tea). Happy hour is from 3:00 – 6:00 p.m., Monday through Saturday with $1 off any draft beer and a selection of nibbles and snacks.
Pickles Deli has daily specials that emphasize local produce during the growing season. Kim says, "It's my passion to buy as many local, organic, fresh products as I can." She has a good assortment of gluten-free items, fresh baked goods and salads, and does catering for parties and events. This summer will see a new salad bar that will include lots of local farm stand vegetables.
In addition to the deli sandwiches, baked goods and salads, Pickles Deli offers 100% fruit smoothies, sno cones, and iced chocolate frappes.
Kim Bailey comes to Whidbey Island
Sixteen years ago, when Kim was living in Everett she made a visit to the Diamond Knot brewery in Mukilteo. She heard about the Island County Fair and decided to hop on the ferry. When she arrived in Clinton, she hitchhiked to the Island County Fairgrounds. After her visit, she said to herself, "I'm going to live on Whidbey someday.
She had friends who lived on the Island who invited her to visit anytime. She began visiting Whidbey frequently. Next she purchased a house on Scatchet Head. For her first years on the Island, she continued to commute to her job in Everett.
Once she was living on Whidbey, she began to notice that it wasn't easy to get simple, healthy food to eat out. She said (to herself again), "Why can't I get a healthy sandwich or a big salad anywhere?"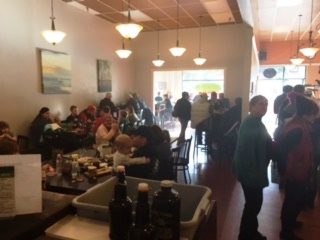 She answered her question by opening Pickles Deli on October 1, 2006. Kim chose the name from her childhood memories of getting pickles out of a barrel at a mini-market.
Pickles Deli is open Monday through Saturday, 9:00 AM to 7:00 PM, with specials for breakfast, lunch and dinner. You can call ahead to have your favorite sandwich waiting for you: 360-341-3940.
To check out the current menu items, visit the website:
http://www.picklesdeliwhidbey.com/
---
Something else new at Pickles: Special events in the winter and spring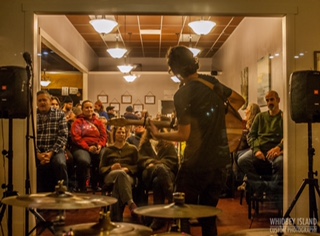 January 28: 7:00 – 10:00 p.m. Piper and Pepper (from Orcas Island) at Pickles
---