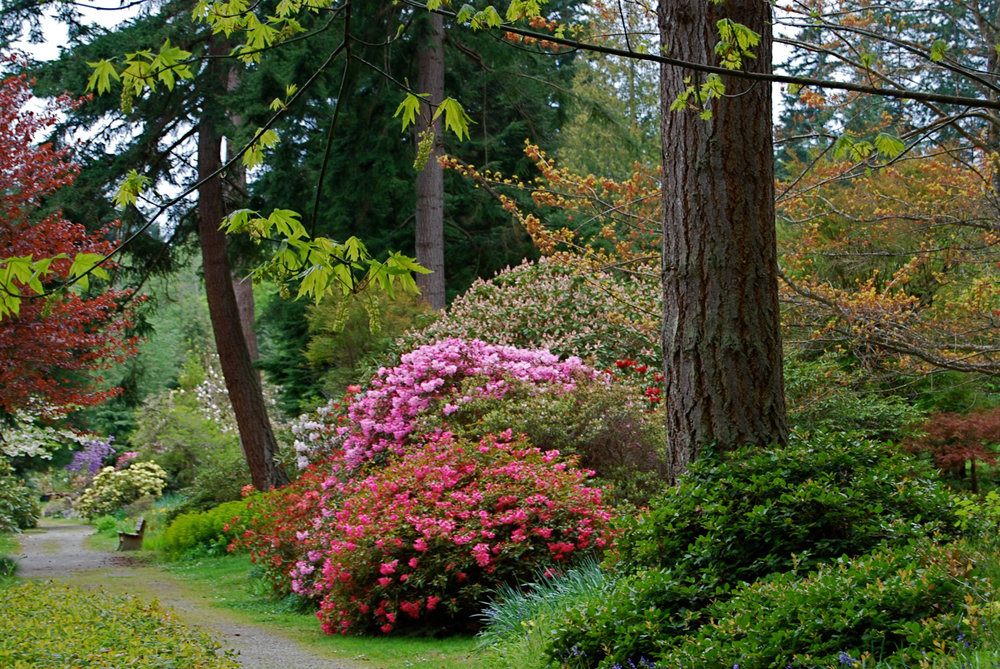 by Guest Contributor, Kathryn Hurtley, Executive Director, Meerkerk Gardens
Spring time equals bloom time, and Whidbey Island offers one of the best places to enjoy a true northwest peak bloom season at Meerkerk Gardens in Greenbank, Washington. The oodles of glossy green rhododendrons covered in big, gorgeous blooms brings delight to all visitors.
| | |
| --- | --- |
| Rhododendrons can be petite shrubs with little leaves or large leaf "Jurassic-like" trees with dozens of blooms per cluster. The colors range from white to pink and purple to red. Many are fragrant and the variation is seemingly endless. | |
Meerkerk Gardens includes 10 acres of display gardens surrounded by 43 acre of coastal woodlands. It was established by Ann and Max Meerkerk beginning in the 1960's. Before Ann's passing in 1979, she gifted the property to the Seattle Rhododendron Society. Today, the non-profit garden is open to the public with the mission to inspire visitors of all ages through the experience of a peaceful woodland garden showcasing rhododendrons.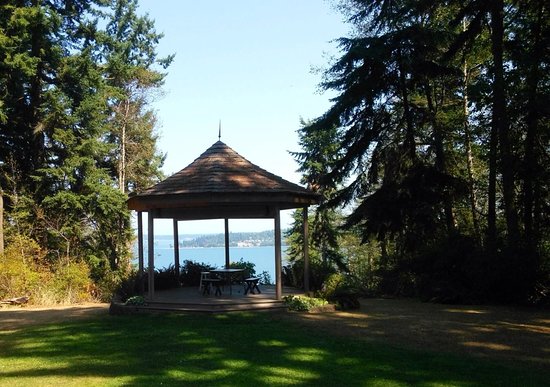 The garden features a variety of blooms from classic rhododendrons to a soft leaf variety called "Teddy Bear." Besides rhododendrons, the gardens have a tree collection which includes six varieties of magnolias, diamond bark maples, and the ever popular Katsura trees which smell like cotton candy in the autumn.
Staff is on hand to tell visitors about how to care for rhodies, where to site them in a garden based on sun/shade/drought tolerance, and how to choose new ones. Visiting the Specialty Nursery is a great way to learn more about our northwest rhodies and native plants.
Visitors enjoy four seasons of color throughout the year and Meerkerk Gardens is dog friendly! All dogs on leash are welcome to explore with their owners.
The Meerkerk Gardens events coming up includes a Mother's Day Concert in May featuring classical music, Fairy Making Magic in July where which children create fairies and woodland creatures from natural woodland materials, and a Bluegrass Concert in August featuring three regional bands for a great toe-tapping fun time.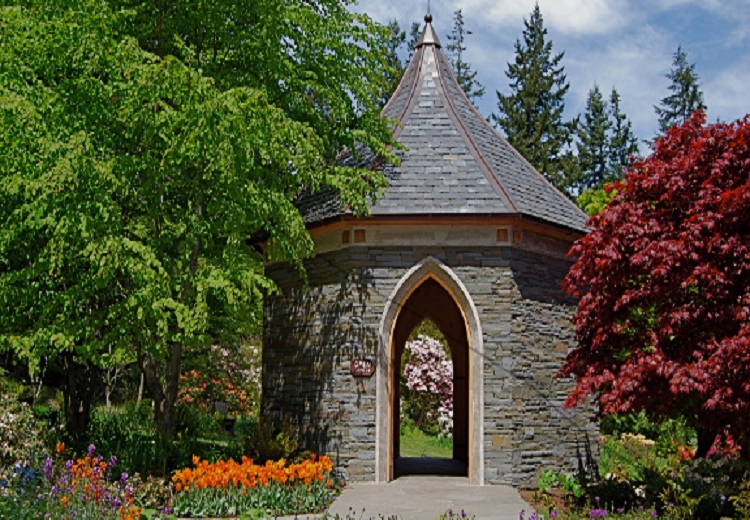 Founders Ann and Max Meerkerk would be pleased to see so many visitors enjoying their beautiful gardens strolling among the rhododendrons and surrounding themselves with woodland beauty.
Meerkerk Gardens is open every day of the year (including holidays) from 9:00 a.m. to 4:00 p,m, Admission is $5.00 for adults; children ages16 and under are admitted free.
Visit our peaceful woodland garden at 3531 Meerkerk Lane off SR 525 at Resort Road in Greenbank, Washington. The Meerkerk Gardens website: www.meerkerkgardens.org lists a calendar of events and classes. Look for Meerkerk Gardens on Facebook, Trip Advisor, Instagram, and Twitter.