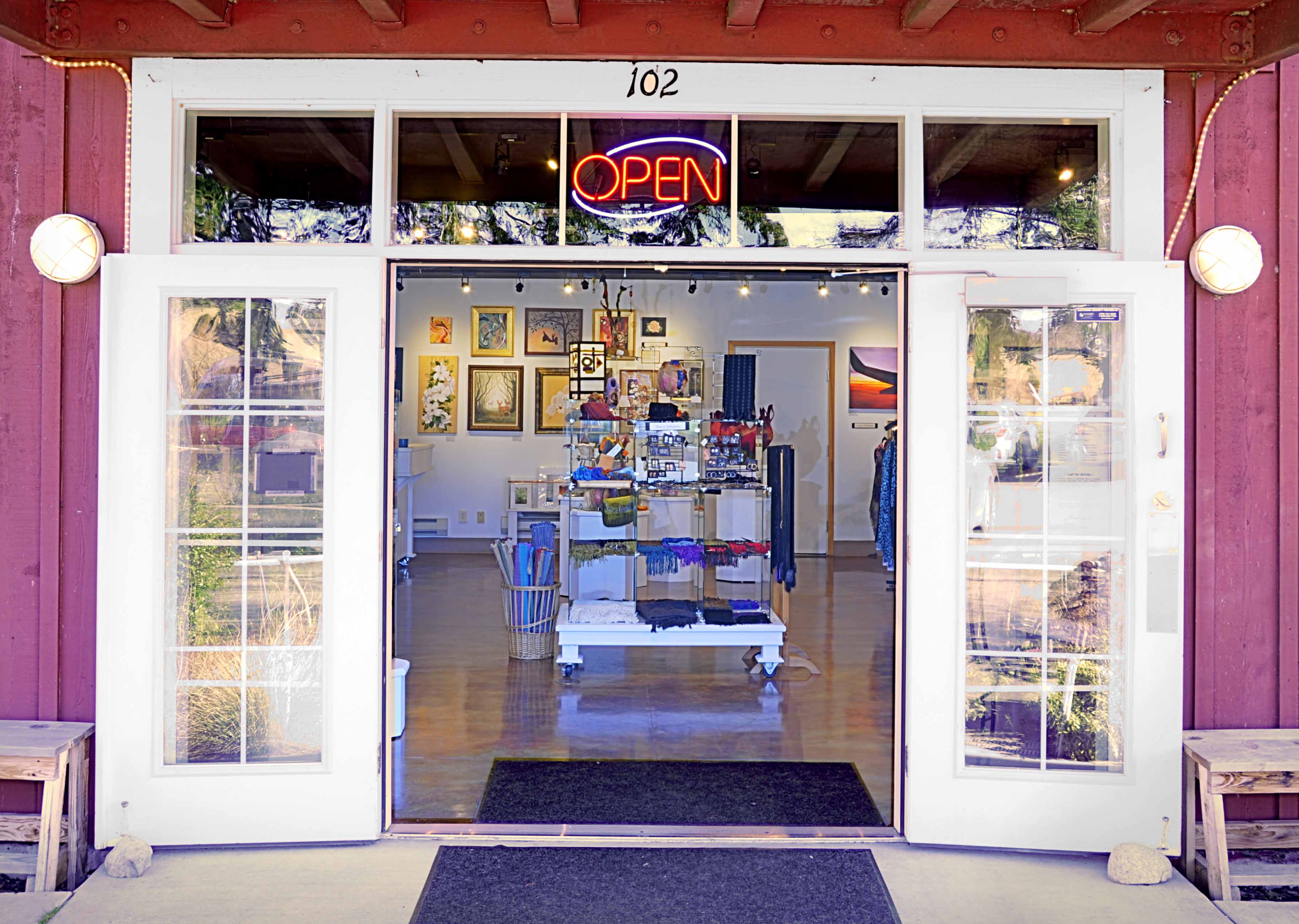 by Carolyn Tamler
Artworks Gallery was the first art gallery to come to Greenbank Farm in 2005. Founded as an artists' co-operative and originally planned for Langley, the gallery founders seized the opportunity to move into the business-incubator at Greenbank Farm as Barn C became available.
It is also a sign of the vigor of the art scene on Whidbey Island that the membership and art presented has evolved to a high level of variety and quality over the years. Artworks artists have updated their gallery with refreshing new bold paint, a new logo, new sign and new art. With 15 artists, visitors have plenty of award winning art to choose from:
Judith Burns – acrylics, collage, books
Marcy Johnson – woven scarves, rugs, rustic metal jewelry
Janet King – 3D felt sculptures, felt vessels, felt jewelry, felt handbags
Nan Leaman – fine wearable fiber art shawls and scarves
Barbara Marks – acrylics, oil
Barbara Mearing – pastels, miniatures, botanicals
Marcia Muchnick – pottery; porcelain and stoneware
John Olsen – black and white photography
Chris Crowell – pastels, oils, mixed media, books
Dottie Sanders – watercolor, mixed media
Kent Sanders – silver jewelry and nautical art
Kathy Lull – pastels, oil stick
Gaylen Whiteman – watercolor, oil, acrylic, books
Loren Iwerks - Ink: Pen and Brush.
Morgan Bell – 3D glass sculpture, glass jewelry, glass wall art
| | | | |
| --- | --- | --- | --- |
| | | | |
Greenbank Farm is an ever-evolving historic landmark on Whidbey Island in the central part of the island. The Farm is publicly owned and administered by the Port of Coupeville, which has its offices there. Barn C also includes the office for the Whidbey-Camano Land Trust, which plays an essential role in preserving the rural character of Island County. The popular Greenbank Cheese, Whidbey Pies Café and Greenbank Wine shop provide great food and drink treats.
The businesses at the Farm collaborate to host a First Friday reception every month. The galleries offer special shows then and visitors can stroll through the area sipping, munching, and listening to live music from 5:00 p.m. to 7:00 p.m.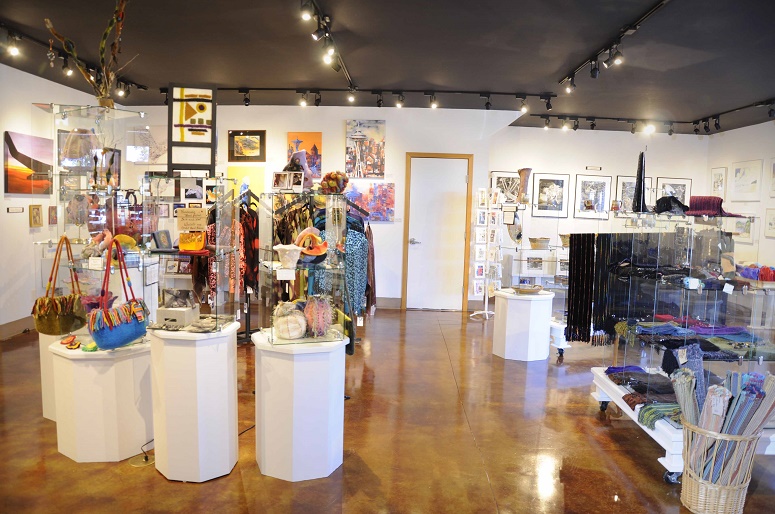 Artworks Gallery is open 11:00 a.m. to 5:00 p.m. daily, and from 10:00 a.m. to 5:00 p.m. Memorial Day though September 30th
Artworks welcomes inquiries from potential new members. A jury process looks for creative quality and a balance in styles and media for visitors to enjoy. Interested persons can learn more about membership opportunities on the gallery website (www.artworkswhidbey.com or by visiting the gallery.
---
Artworks features Photo-monoprints by John Olsen and Pottery by Marcia Muchnick in June
Artworks Gallery offers a special exhibit of photo-monoprints by John Olsen and new pottery by Marcia Muchnick in June, starting with a reception on the First Friday, June 2, 5:00-7:30 p.m.
The photo-monoprints are all on a specialty photographic paper that develops as a final B&W print, direct from the camera exposure. Each exposure makes one, and only one print. Olsen has chosen historic Whidbey scenes to explore this medium over the last 2 years, using three different camera formats, each of which offered their distinctive looks. The paper itself is out of production so this might be Olsen's first and last show along this line.
To celebrate this opening guitarist Marc Brodine will be entertaining with his eclectic mix of country blues, ragtime and acoustic fingerstyle instrumentals. A woodblock printer himself, Marc also performs in the duo "Blue Country Fire" and hosts a community radio show, "Marc's Blues Revue" in Ellensburg. This promises to be a lively evening.
Light snacks and beverages will be available. Other Artworks artists will be on hand to greet visitors and discuss their work as well.
---