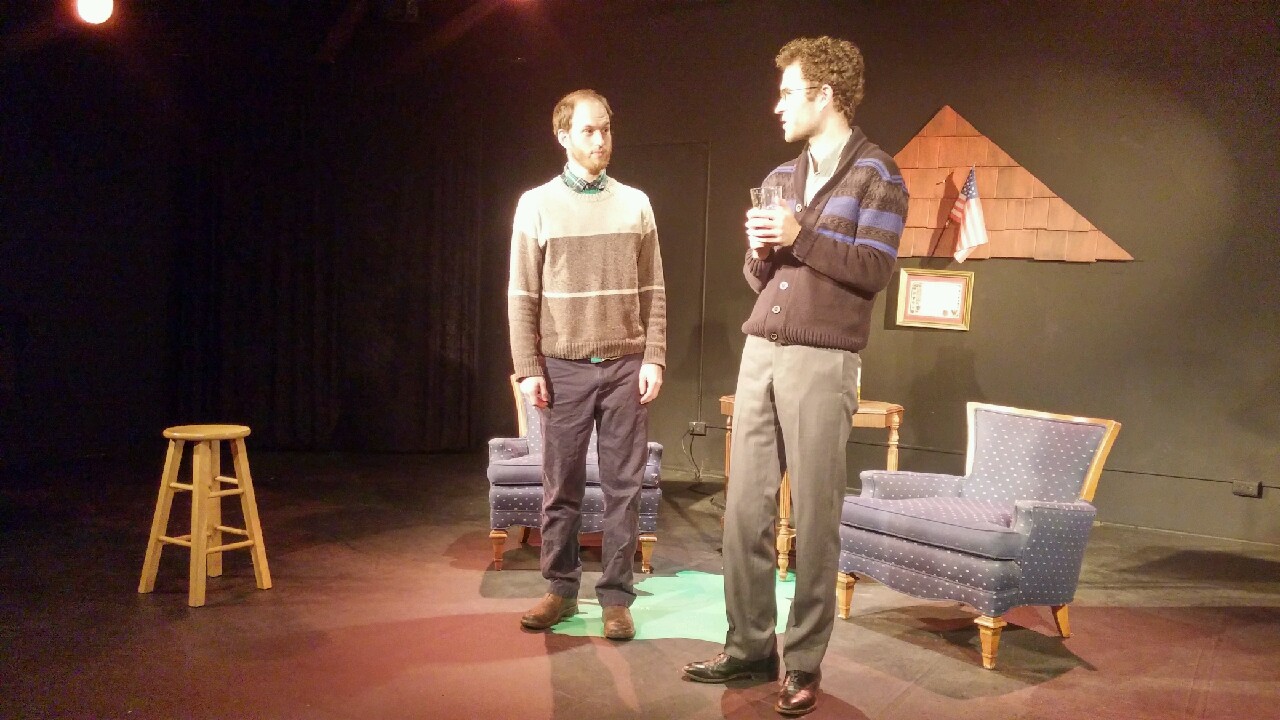 By Carolyn Tamler

Gabe Harshman and Matt Bell were the stars of the recent production of A Couple of Blaguards by Outcast Productions. They were the only actors in the show; Gabe was the director. The show, which had many sold out performances, was a tribute to the originality of the productions at Outcast, but also to the theater community offered to young people on Whidbey Island.
Gabe, who is now 27, and Matt, 29, are continuing an involvement with theater that began two decades ago when they met each other at the Waldorf School and formed a lasting friendship.
They both were introduced to theater at the annual show done at the school, but their real early education in theater started with Martha Murphy and Whidbey Children's Theater (WCT).
Their first production for WCT was Oklahoma, which was part of Martha's summer camps. Matt was heading to high school and Gabe was starting 7th grade, when the two shared this theater experience. Their friendship grew along with their involvement in theater.
Soon the two were spending more time together and becoming more involved with WCT. During their adolescent years, they performed in nearly every major WCT production.
While Gabe and Matt were attending South Whidbey High School, they linked up with several others who had a love of theater. Matt says "There were at least 10 of us who hung out together at high school and become involved in just about every production that WCT was doing." The friendships were also nurtured by the Children's Theater. Gabe comments, "WCT was our social world. It was a solid group of friends who knew they could trust each other."
Gabe also created an early friendship with Mark Arand who inspired the creation of Slap Happy, an acapella quartet that became a local favorite on Whidbey. Slap Happy, which includes Mark, Gabe, Matt and Cameron Gray, still performs a show or two whenever the members – who are each pursuing their individual careers – can come together and share their talents with their loyal Whidbey audiences.
Gabe and Matt are strong promoters of the value of theater for young people. Gabe says that "Theater is a co-ed experience that promotes communication skills and provides a base of emotional trust not found in many places where teenagers hang out." Matt concurs, "Sports and theater provide emotional outlets for young people, but theater allows young people to find the words to express their emotions." Matt explains what he experienced in the WCT environment: "My friends and I could experiment with how we put our emotions out into the world. Many of us didn't know what to do with our emotions at that age."
Matt was part of "Third Street Players" which was created at WCT as a special group within the theater that did appropriate and interesting productions for teenagers. At the time, there were several high school age actors who wanted to do more mature theatrical productions.
Gabe is now planning to build a career as a voice actor. Matt got a Bachelor's degree in music from Western Washington University and spent a year and a half teaching in Korea. His next adventure will begin this fall when he enters New York University's Tisch School of the Arts and begins work on his Masters Degree in Musical Theater Writing.
Both Gabe and Matt share a strong sense of gratitude for what they learned about theater from their many years with the Whidbey Children's Theater, and their appreciation for being able to continue their theatrical experiences through Outcast Productions.