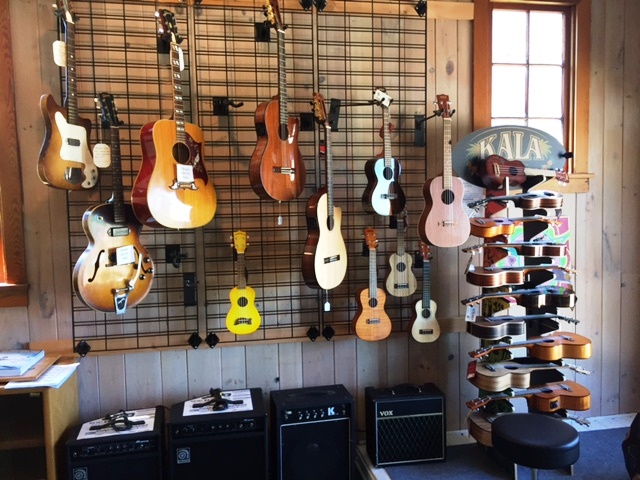 By Carolyn Tamler
When Joe's Island Music closed half a year ago, it meant that a south end musician had to travel to Oak Harbor or across the water to purchase supplies or an instrument. Keegan Harshman says that the opening of Blue Sound Music in Langley responds to the music needs of the local community. The Harshman family, which includes his father, Chris, the South Whidbey High School Band Director, supported Keegan in this new business venture.
The store opened on May 15th, and Keegan notes that many local people have stopped by to thank him and to purchase their needed musical supplies. He has even had significant business from people who don't live on Whidbey.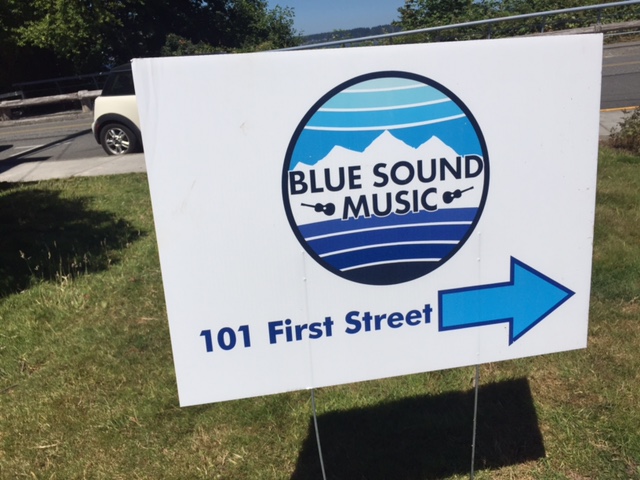 Keegan was just four years old when his family moved to the island to be close to other family members living here. Chris Harshman commuted to a job at Kellogg Middle School in Shoreline for a few years, until he was offered a position as Band Director for Langley Middle School. A few years later, he became the Band Director for South Whidbey High School.
As a young child, Keegan was encouraged and supported to pursue any musical direction that caught his interest. He began playing instruments in kindergarten and played several different ones before settling on the bass. His parents have a philosophy that "Kids should explore several instruments, and then choose whatever instrument resonates with their personality."
Keegan went to Cuesta College in San Luis Obispo to attend their extraordinary music program. He completed a two-year program and became a Certified Audio Engineer.

Before opening the music store, Keegan traveled extensively and played with many bands in many countries. He developed lots of friends in the music industry along the way. He traveled to Brazil and got heavily involved with Brazilian music and musicians, before moving back to San Luis Obispo.

While in San Luis Obispo, he participated in several music events and met his lovely girlfriend, Sierra. When she became pregnant, they began planning to live on Whidbey Island to be close to family (much of her family lives in Anacortes) and to be in the South Whidbey Community. They moved to Whidbey in early December of last year, just a month before Jazsper was born; Keegan says, "This is a great community in which to raise a family."
Keegan and his bass are well known on the island. He has played with many local bands and musicians including Bahia, Saratoga Orchestra, Nancy Nolan and Troy Chapman.
Keegan says that his first few months in business have been great. He receives feelings of gratitude nearly every day from people stopping by his store.
The store currently has a selection of many string instruments and a few horns, as well as a large selection of strings. He also has professional audio equipment for rent.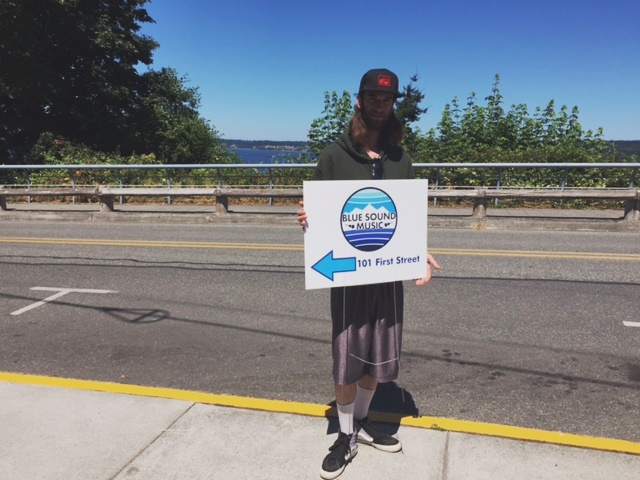 He can order any instruments and supplies that are not in the store.
Classes are currently being offered by Rubatano center (marimba), samba drum school on Thursday events, ukulele circle on Wednesday evenings and private lessons with multiple instruments and levels.
Keegan believes that every child deserves to be exposed to music, and he is planning to create a non-profit to help students purchase and learn to play instruments.
Current store hours are Wednesday – Saturday, 10:00 a.m. to 6:00 p.m., and Sunday, 10:00 a.m. to 5:00 p.m. Marimba classes are offered on Monday and Tuesday, by appointment. Blue Sound Music is generally closed Mondays and Tuesdays, but staff is available by appointment for special music needs.
0