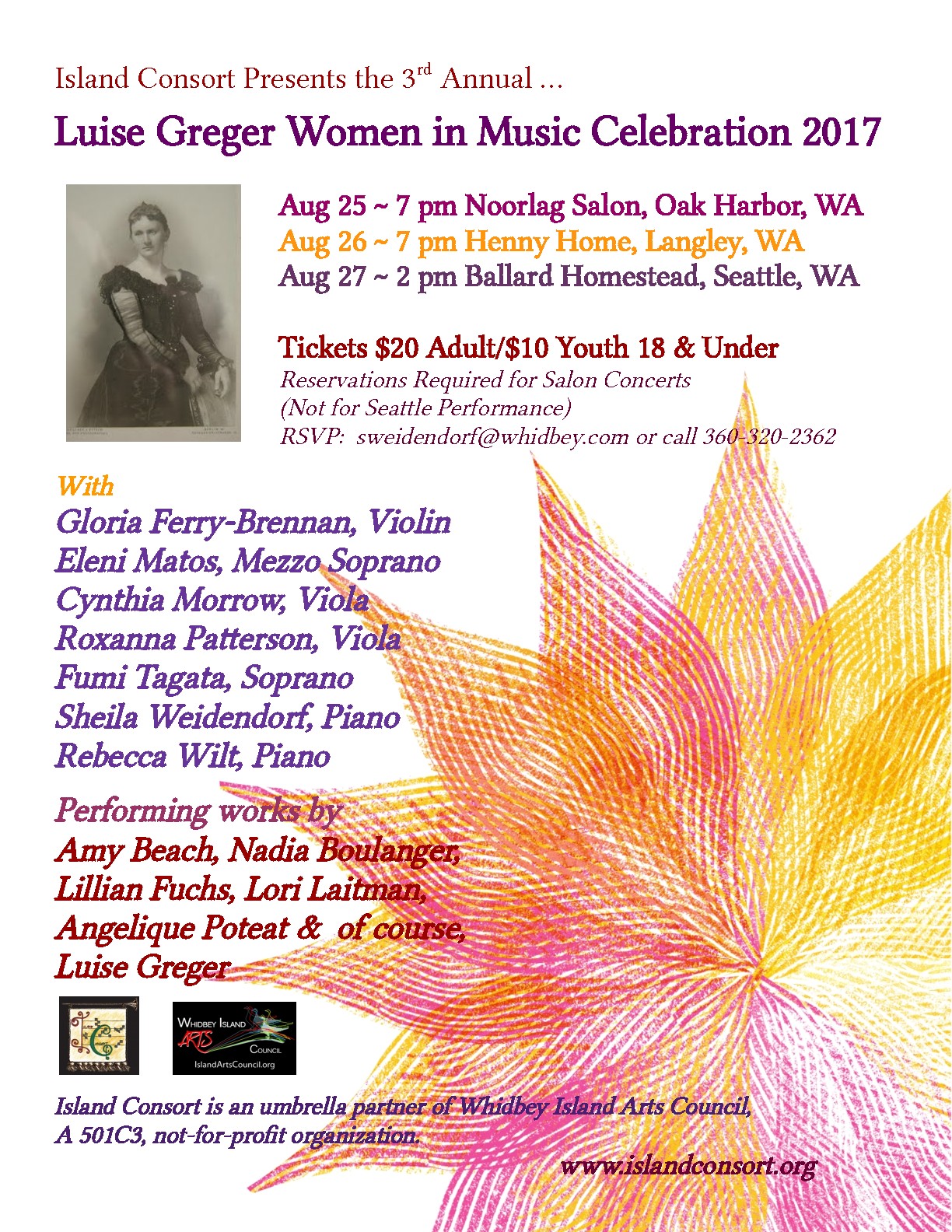 August 25-26-27, 2017 on Whidbey Island & in Seattle


Friday, 8.25 7pm Noorlag Salon, Oak HArbor (Whidbey Island)
Saturday, 8.26 7pm Henny Home, Bayview (Whidbey Island)
Sunday, 8.27 2pm Ballard Homestead, Seattle

Island Consort---Whidbey Island's resident chamber music ensemble--is pleased to present our third annual celebration of women composers. Named after Luise Greger--a prolific composer, a contemporary of Clara Schumann who was euthanized by the Nazi regime and whose great-great granddaughter has Island ties--this year's festival features music of Lili Boulanger (a composer in her own right and sister of Nadia Boulanger--the notable composer and conductor, who also taught composition to the likes of Aaron Copland, Philip Glass and Astor Piazzolla), Amy Beach, Lillian Fuchs, Whidbey native Angelique Poteat and, of course, Luise Greger.


Performing this year are mezzo soprano Eleni Matos and soprano Fumi Tagata, violists Roxanna Patterson and Cynthia Morrow, violinist Gloria Ferry-Brennan, and pianists Rebecca Wilt and Sheila Weidendorf, (Director of the festival and of Island Consort).


For more information, visit www.islandconsort.org or contact Sheila Weidendorf at sweidendorf@whidbey.com or call 360-320-2362.

This concert is made possible in part by the generous support of Robert Crawford and the REC Music Foundation (www.recmusic.org), Elizabeth Derrig and the Coldwell Banker Bain Community Partner Program, and sponsorship by Abbey Arts & Ballard Homestead (www.fremontabbey.org). Island Consort is an umbrella program of Whidbey Island Arts Council, a 501C3, not-for-profit organization.