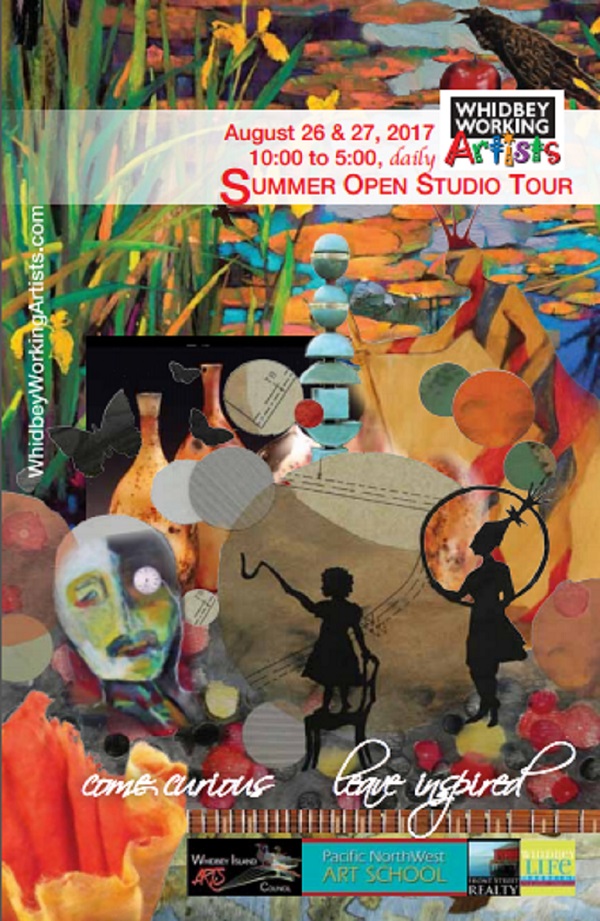 August 26 & 27, 2017, 10:00 to 5:00 daily
61 artists will have their studio doors open for you to visit and see how artists inhabit their space and create art.
Planning a weekend away on Whidbey Island? Take a ferry or the bridge and follow our map to start your journey through the backroads of Whidbey Island. Here you will find the studios where our community of artists create their one-of-a-kind works.
Visitors can meet and connect with artists in their studios, each demonstrating a different medium including sculpture, watercolor, print, fine woodworking, hand-blown glass, hand-thrown pottery, acrylic, oil, fiber, jewelry, photography, encaustic and mixed media. Artists will have works available for sale.
The Pacific Northwest Art School (15 NW Birch Street, Coupeville) will be providing refreshments and acting as a rest stop during the tour. The PNW Art School and the Whidbey Island Arts Council are sponsoring a raffle of artworks by tour artists. Bring your purchase receipts from the studios to the Art School and be entered to win.
The Summer Open Studio Tour attracts visitors from all over the world.
For more information, visit www.whidbeyworkingartists.com
Follow us on Facebook for updates and a chance to win tour dollars to spend during the tour weekend: www.facebook.com/WhidbeyArtists/
A list of participating artists can be found at www.whidbeyworkingartists.com/artists.html
View a tour map at www.whidbeyworkingartists.com/map.html
Brochures with a listing of artists and directions to their studios can be found at visitor centers and businesses throughout Whidbey Island. Or download a brochure at www.whidbeyworkingartists.com/catalogue.html
Come and enjoy a weekend of creativity on beautiful Whidbey Island.