| | | | | |
| --- | --- | --- | --- | --- |
| | | | | |
| Have You Got My Back | | Bunny Trail | | Stand by Me |
Artworks Gallery features Gaylen Whiteman during September starting with a First Friday reception at the gallery Sept. 1st 5-7:30 p.m. There will be light snacks and beverages and live entertainment by Sarungano vocal and mbira ensemble.Other Artworks Gallery artists will be on hand to greet visitors during the reception.
Whiteman is known for her work in diverse mediums, including watercolor, acrylic, mixed media and oils, and for her ability to paint in both realistic and abstract styles. Her current exhibit features watercolor paintings of Whidbey wildlife and includes special paintings from her "Essence of Nature" series depicting common, threatened and endangered wildlife. Gaylen hopes to raise awareness of the need to value and protect the animals with whom we share our world. She will donate 10% of her profit from each sale in this series to The World Wildlife Fund or another species-specific conservation organization.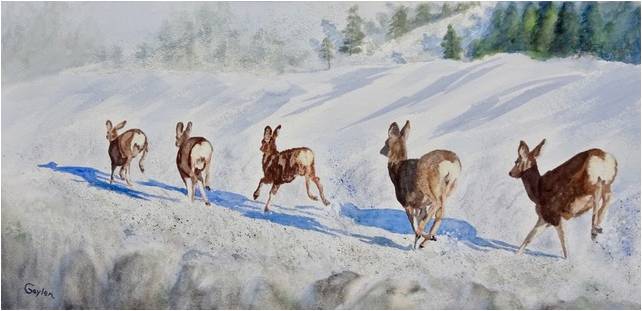 On the Run, watercolors by Gaylen Whiteman
Gaylen says, "The complex variety and co-dependence of all plants and animals, the forces of nature that shape the land and sea, and how these relationships affect our lives amaze me and inspire my art. I seek to go beyond realism to suggest the unseen mystery of intertwining life on earth as I attempt to convey the heart, beauty, spirit and connection of our natural world." Gaylen thanks you for your support!
Artworks Gallery is located on Greenbank Farm on Whidbey Island. For more information, visit the web site: artworkswhidbey.com or call 360.222.3010.

Open 10:00 am 5:00 pm everyday