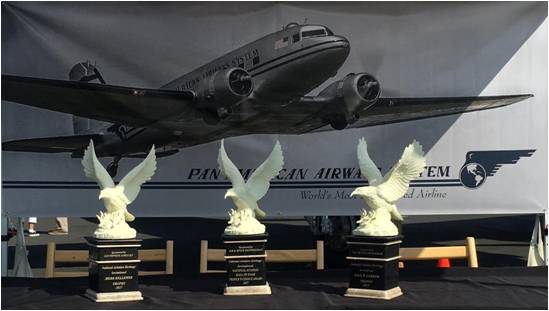 Historic Flight Foundation received three champion designations at the National Aviation Heritage Invitational on Sunday, September 10th, at the California Capital Airshow in Sacramento. HFF's 1944 Beechcraft Model 17 Staggerwing won in the Classic Aircraft category while its 1944 DC-3 won both the Large Aircraft and People's Choice awards. Considered by many the "Pebble Beach" of aircraft restoration competitions, it is highly unusual for a single competitor to win three of the five prestigious trophies. National Aviation Hall of Fame inductees Dick Rutan and Robert L. "Hoot" Gibson were among the presenters.
"NAHI was created 19 years to ensure our rich aviation history is kept alive by encouraging the restoration and preservation of vintage aircraft to flying condition. We bring together some of the finest examples of restored vintage aircraft in North America" stated co-founder and Executive Director, Ken Perich.
Founding sponsors of NAHI include Rolls Royce, The Smithsonian Air and Space Museum and the National Aviation Hall of Fame.
"This recognition is shared with all our restoration partners, suppliers, volunteers and staff who make it possible for us to inspire the next generation of aviation pioneers" stated Historic Flight Foundation CEO John Sessions. John piloted the Staggerwing Beechcraft to the competition.
For pictures of the award-winning aircraft: https://www.dropbox.com/sh/rsrdjn1pbniez5t/AACkqCUGHQfksvj_v84Jnb0pa?dl=0
CONTACT: Bree@historicflight.org