"Moonlight Stroll," mixed media on silk by Keiichi Nishimura
November 24 - December 31

Holiday Reception
Friday, December 2, from 5 to 7 pm
During Langley's First Saturday Art Walk
Light refreshments will be served
Music by "Duo Nouveau" - Keith Bowers & Kristi O'Donnell
This holiday season enjoy finding the perfect gifts created by over thirty of your favorite local and regional artists at Langley's Rob Schouten Gallery during its "Fine Art in the Season of Light" holiday show from November 24 to December 31. Celebrate those you love with a one-of-a-kind piece chosen especially for them.
Included in the gallery's beautiful displays are fabulous jewelry by three talented Whidbey jewelers, stunning sculptures in bronze, stone, wood and steel, original paintings in a variety of styles and mediums, and some extraordinary fine art glass including handblown, sculpted and fused glass. You'll also find elegant woodwork, charming encaustics, ceramics and fiber art, fresh witty assemblages, and a wonderfully wide array of beautiful art objects sure to delight.
"Dreaming," bronze sculpture by Sharon Spencer
In short, we are proud to exhibit quality fine art for budgets large and small, and for every art lover in your thoughts this season.
Please join us for our Holiday Reception on Friday, Dec. 2 from 5 to 7 p.m. in conjunction with Langley's 'First Saturday Art Walk" when Langley's galleries and shops are open until 7. We'll have wonderful live music by Duo Nouveau, the inimitable Keith Bowers and Kristi O'Donnell! Many of our gallery artists will be in attendance and light refreshments will be served. We'd love to see you.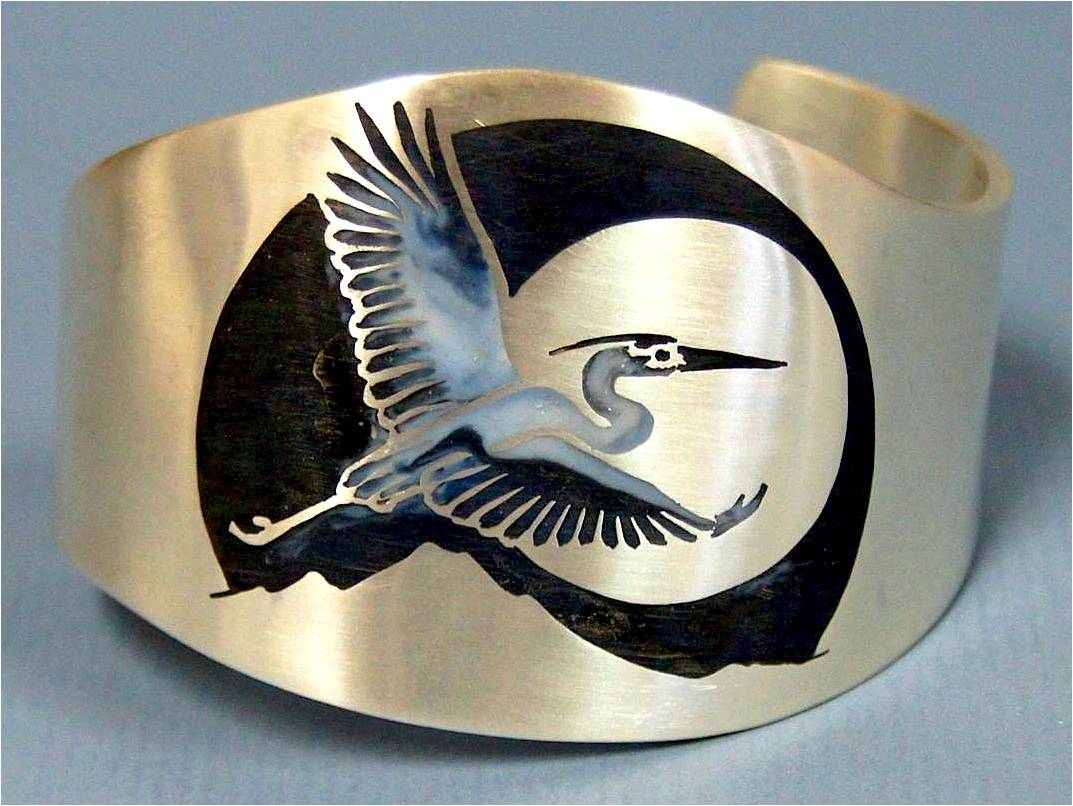 "Silver Heron Cuff with resin inserts by Mary Ellen O'Connor
Rob Schouten Gallery, a premier showcase for Whidbey Island and Northwest artists, is located at 101 Anthes Avenue, Langley WA at the corner of First and Anthes.
The gallery is open Weekends 10 - 5, Weekdays 11 - 4.
For further information, call 360.222.3070 or email info@robschoutengallery.com