By Carolyn Tamler
Dancing Fish Vineyards, a five star winery located at 1953 Newman Road in Freeland, is a visual and experiential destination on Whidbey Island. There is a beautiful barn that houses wine tasting and special events, fields of vineyards that are like a landscape painting, and the Vineyard House for overnight visitors. In the south facing pasture they are currently growing marine climate grapes such as: Madeline Angevine, Siegerrebe, Burmunk and three varieties of Pinot Noir. They also offer a broad selection of ultra-premium Washington wines.
| | |
| --- | --- |
| The land was originally developed as a farm in 1943. Nancy and Brad Thompson bought the property six years ago when they both decided to retire and pursue a vision: "We wanted to create a place where people will come and have a magical experience. People call and thank us for loving the property and often bring their friends to see what has been done." | |
They currently have live music on Friday evenings. During the summer months, when they offer outdoor games as well as wine tasting, people stop by for a relaxing afternoon.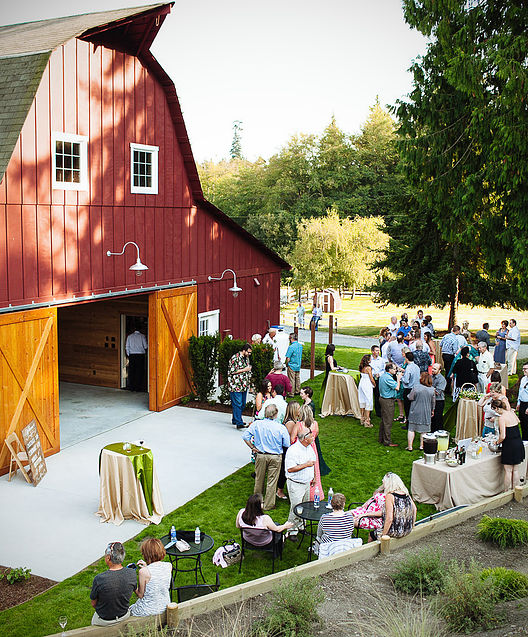 The name for the property came from a visual experience that Nancy had just before they purchased the 6-1/2 acre farm: Nancy was fishing on Mutiny Bay when a fish jumped out of the water and appeared to walk on its tail. She described her experience to Brad. The image stayed with the Thompsons and now it is the logo that appears on the barn, and on their wine bottles and promotional materials.
The Vineyard House is a recently remodeled, comfortable vacation rental that sleeps six to eight people, includes a gourmet kitchen and has space for guests to meet and mingle.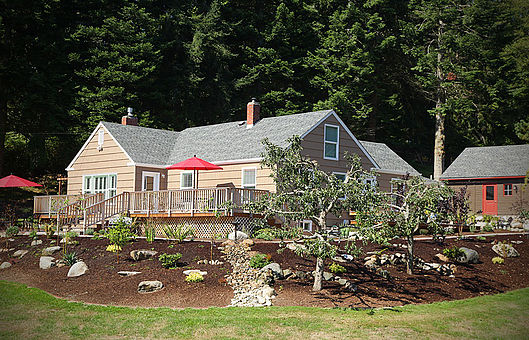 They renovated the 70 year old barn and created a catering kitchen and a venue for weddings, celebrations and corporate events. There is space for up to 125 guests. The tasting room & barrel room can handle up to 30 guests.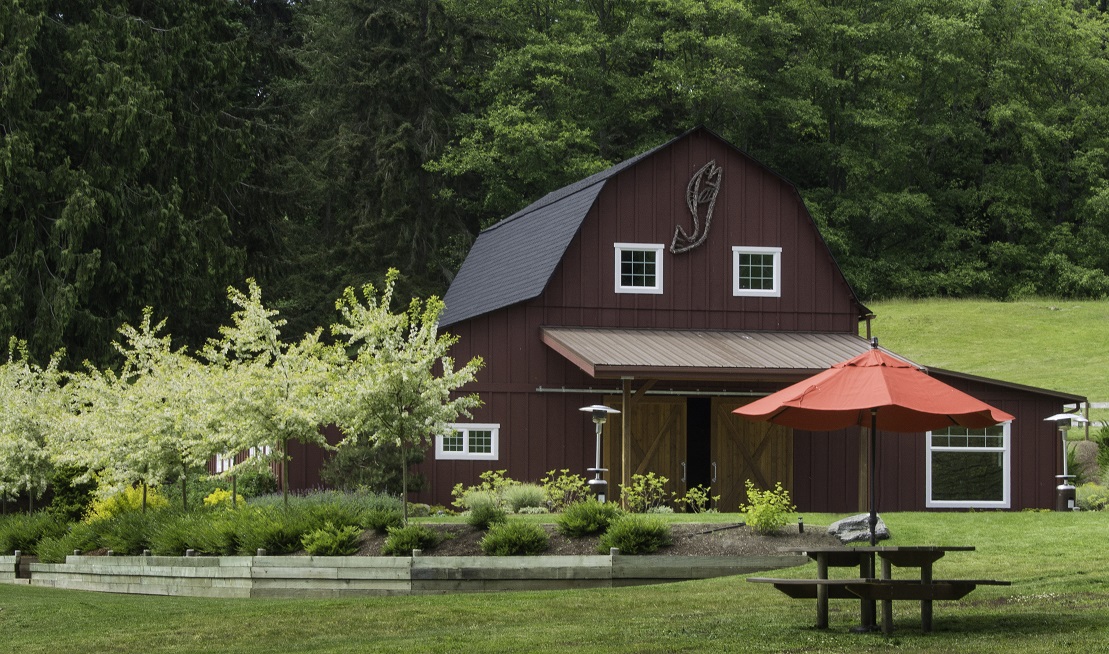 The Thompsons went to Oregon Vineyard Supply in McMinnville, Oregon for all their vineyard and grape trellis equipment, and Cloud Mountain Farm Center near Bellingham provided their grafted grape vines.
The property includes apple orchards and the tranquil beauty of a rolling farmland. Those who want to have the total Whidbey experience at Dancing Fish Vineyards can stay at the Vineyard House, receive a personal tour of the property and spend the day walking through the vineyards, playing lawn games, playing on the full-size bocce courts, exploring the entire property, and, of course, enjoying their outstanding wine.
They currently have six employees, plus part-time people who come to work for the special events. They see the need for more employees in the future as they expand the events and activities that will be hosted at Dancing Fish Vineyards.
Tasting room hours are Thursday through Sunday, 11:00 a.m. to 5:00 p.m. For the music on Fridays hours are extended to 7:30 or 8:00 p.m..
For more information about visiting Dancing Fish Vineyards or planning an event or tour of the property, give Nancy or Brad Thomson a call at 425-503-7655, or visit the website: http://www.dancingfishvineyards.com/
---
Musical Events Coming Up at Dancing Fish Vineyards in December

DEC 8 @ 5:30 PM
Music in the Barn: The Secrets

DEC 15 @ 5:30 PM
Music in the Barn: Small Town Poets Band
DEC 22 @ 5:30 PM
Music in the Barn: Rusty Fender & the Melody Wranglers
---