by Carolyn Tamler
Jennifer Krouse owned five coffee shops in East King County over a period of 15 years before she made a decision to purchase a business in Langley. First she purchased Sassy Siren, then she followed her desire to have a food and beverage business and opened Sprinklz Ice Cream Parlor on May 1, 2016. By the end of the year, she was doing much more business with Sprinklz, and she was able to extend the Sprinklz business into the space next door.
Jennifer had done research and had even developed a business plan for some type of café. As much as she was enjoying Sassy Siren, she still wanted to pursue her dream. She paid attention to talk in the community that people wanted an old fashioned ice cream shop.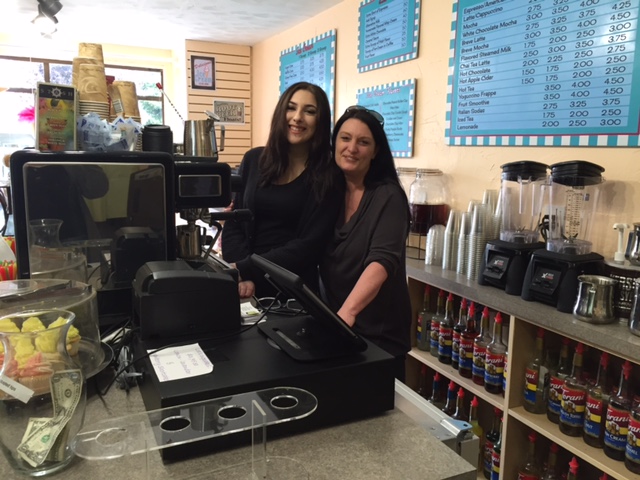 The expanded Sprinklz opened in December 2016. Jennifer is getting a lot of feedback from regular customers, as well as visitors, that this was a smart business move. "The last summer – our first summer in the expanded location – we were jammed!" People have been especially appreciative of having a comfortable seating area to enjoy their ice cream treats, espresso drinks, pretzels and hot dogs. She notes that kids love to come to Sprinklz after school: "Kids and parents feel safe here." In recognition of what she is now offering, Jennifer recently renamed her store and her Facebook page: Sprinklz Ice Cream and Coffee Shop.
She chose to sell Cascade Glacier Ice Cream following a long research process: "I tried 12 different kinds of ice cream before I settled on Cascade Glacier which is an extra premium brand." Jennifer also decided she needed to be more than just an ice cream store to create a successful business. She chose to create a retro novelty ice cream parlor offering many items not offered elsewhere.
She is continuing to find more silly fun novelty items to display: "People are always laughing as they try on the masks or read some of the jokes on the items for sale."

She also provides sprinkles on request for all of her ice cream items. One of her very popular special treats is vanilla ice cream cones just for dogs that include a small dog biscuit on top of the ice cream.

Jennifer is encouraging people to consider using Sprinklz Ice Cream and Coffee Shop for parties. She can help with themes, food selection and other ideas for helping to organize your special Birthday, shower, themed party….whatever you'd like to do at the shop.
Right now, Sprinklz is the only store open till 10 p.m. on Friday and Saturday nights in Langley, and Jennifer is pleased that many people mention they are stopping by after going to the movies or a performance at WICA.
Sprinklz Ice Cream and Coffee Shop is open seven days a week at 109 1st Street in Langley. Current hours are: Monday through Thursday, 11:00 a.m. – 8:00 p.m.; Friday and Saturday, 10:00 a.m. to 10:00 p.m.; and Sunday, 10:00 a.m. – 7:00 p.m. Jennifer expects to expand these hours when the summer tourist season is in full swing.