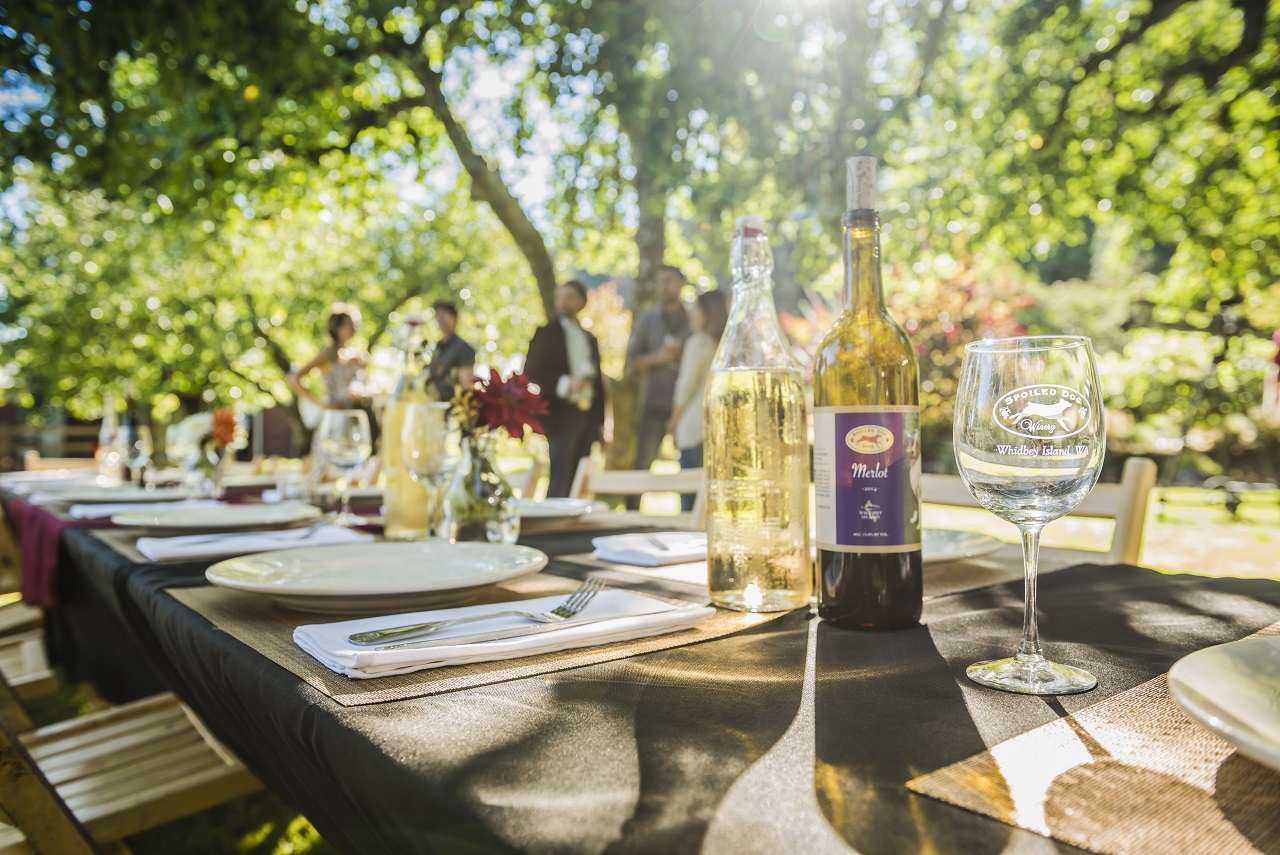 By Carolyn Tamler
Spoiled Dog Winery, owned by Jack and Karen Krug and Lindsay and Jake Krug, is a destination to discover. The tasting room and a walking tour of their vineyards provide a complete vine to bottle experience. Visitors get to sample award-winning wines while enjoying the beautiful view of the vineyard and farm.
The Krug family, now two plus generations running the vineyard and winery, believes great wines begin in the vineyard, and their grapes are their passion. They grow their grapes sustainably using organic practices. Pinot Noir is their flagship estate wine and frequent winner of Double Gold awards.
The name of the winery comes from their two Australian Shepherd dogs who love to greet visitors.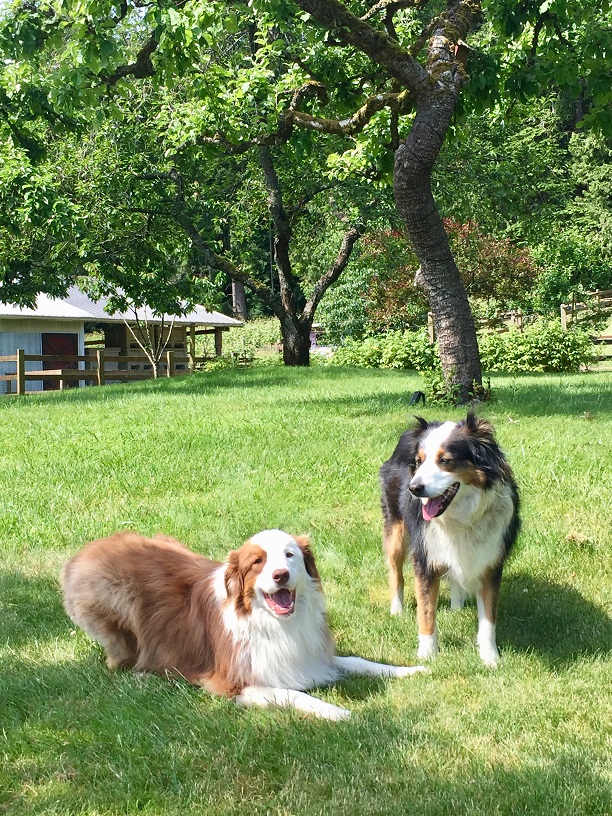 The Krugs are especially proud of their recent wine awards: Best of the Best of the Northwest 2018 wine competition, Platinum for the 2013 Estate Pinot Noir (puts Whidbey Island on the map for Pinot Noir grown in their vineyard) as well as Platinum for the 2014 Penn Cove Red (a Bordeaux blend of Cabernet Sauvignon-Merlot); Double Gold for the 2014 Deception (Merlot-Cabernet Franc-Malbec blend) named after Deception Pass; and Gold for the 2016 Sauvignon Blanc.
Karen Krug notes, "Wine Press Northwest created the Platinum Judging in 2000 as a way to determine some of the best wines of the Pacific Northwest. They chart more than 40 professionally judged wine competitions worldwide to track the gold medals won by fruit from Washington, Oregon, Idaho and British Columbia in 2017. Northwest wineries were awarded more than 2,300 gold medals at professional judging's for the year."
The Krugs moved to Whidbey from Colorado in 2003. They had sailed in the Puget Sound Area many times and were drawn to the climate of Whidbey Island. The move to Whidbey allowed them to follow their dream to start a vineyard and create a winery in a place perfect for growing Pinot Noir grapes. They explored and researched Pinot Noir grapes extensively and completed three planting phases, leading to a complex Pinot they describe as "full of spices, fruit and backbone." Their first harvest was 2007. Their first Double Gold Award came from their 2009 Estate Pinot Noir.

The award-wining wines produced by Spoiled Dog Winery include Bordeaux wines (red and white), all produced at their winery with grapes sourced from the best vineyards in the State. Their Bordeaux wines win Golds and Double Golds awards year after year.
The winery also offers very popular refillable growlers with a choice of Pooch Red wine (Syrah-Cabernet blend) or Pooch white wine (Chardonnay – unoaked). This is not a jug wine; it is a greener way to drink wine (no bottles, no cork, no label) and is less expensive, and the savings are passed on to the consumers.
The Spoiled Dog Winery and Vineyard is located at 5881 Maxwelton Road, Langley just ¼ mile from Highway 525. Winter hours are Saturday and Sunday, 12:00 to 5:00 p.m. Spring and summer hours, beginning in mid-March, are Wednesday through Friday, 2:00 p.m. – 5:00 p.m.; Saturday and Sunday, noon to 5:00 p.m. Visitors can call for appointments at other times 360-661-6226. For more information visit the website: www.SpoiledDogWinery.com
Watch an excellent video about Spoiled Dog Winery prepared by Kim Tinuviel: