A collection of American pop culture in fused glass
Langley, Whidbey Island, WA (February 27, 2018) The Hub Gallery in the Bayview Cash Store will be exhibiting the fused glass work of artist Gina Michel from March 10 – April 15, 2018. A newcomer to Whidbey Island, Gina will be introducing herself to the Northwest art scene, and has shown and sold her work in the Los Angeles area for the past several years.
The exhibition features several life-sized steampunk inspired electric guitars framed as wall art and a re-purposed 1923 piano covered with over 1500 hand made fused glass tiles. Several of the tiles are images of famous piano players like Billy Joel, Elton John, Ray Charles, Victor Borge, Stevie Wonder, Liberace, Beethoven and Mozart. The piano has built in cabinetry and is literally a functional wine bar.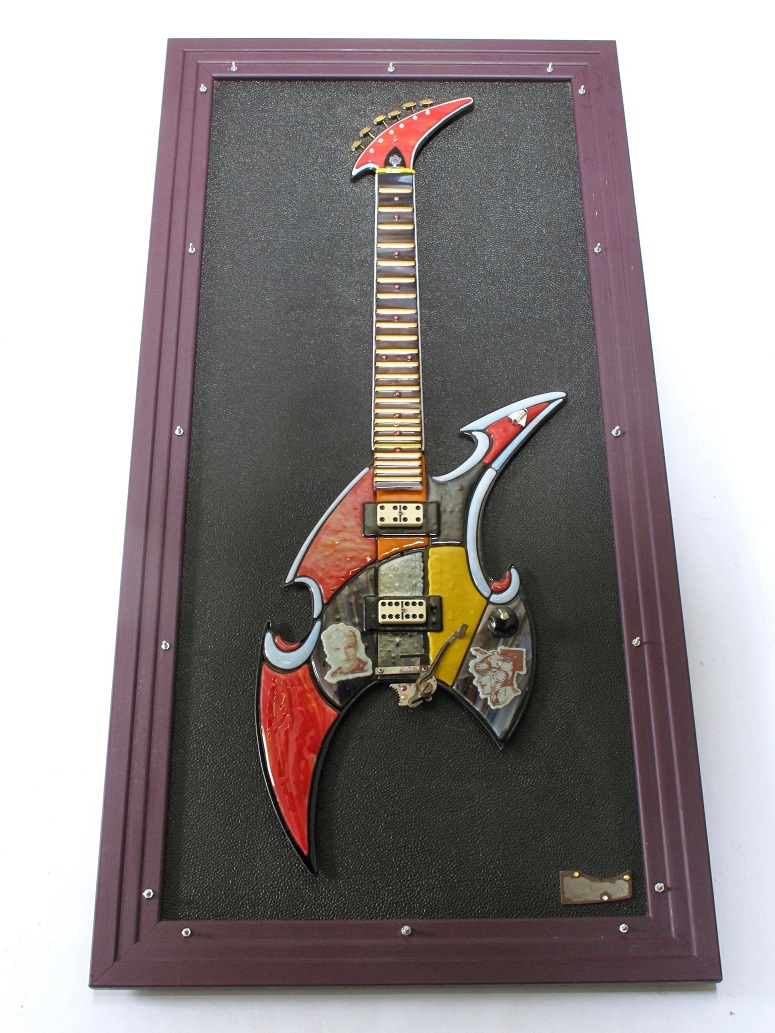 A reception for "Glassical Gas" will be held at the Hub Gallery on Saturday, March 10 between 5:30 – 7:00 PM. The address is 5603 Bayview Road, Langley, WA 98260. The show can be viewed daily from 10 AM to 7 PM through April 15th.
25% of the proceeds from the show will be donated to Whidbey Animals' Improvement Foundation (WAIF,) a non-profit organization for the care, shelter, and adoption of homeless pets on Whidbey Island. In addition, the artist will be offering "Steampunk Strat" to the highest bidder in a silent auction. This piece is valued at $1600, with the suggested starting bid at only $100.
Visitors to the Los Angeles area can view "Super String Theory," a re-purposed concert pedal harp covered in fused glass in the lobby of the prestigious Colburn School of Music, located across the street from the Walt Disney Concert Hall. The school purchased this piece in 2014.