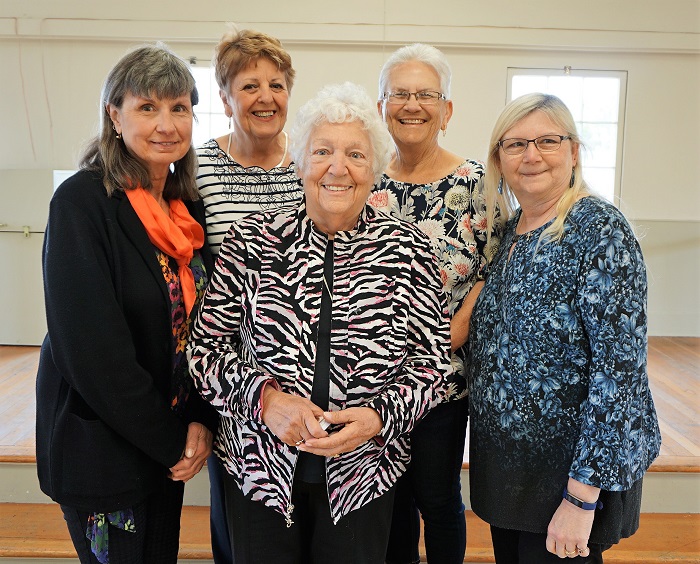 WhidbeyHealth volunteers in front row, Susan Hamilton, Betsy Eidsmoe, Pamela Schroeder, and in back row, Jan Boonstra and Diantha Douglas have donated more than 8,000 hours between them.
WhidbeyHealth Foundation staff invited hospital volunteers to lunch at the Coupeville Recreation Hall last week to celebrate their many hours of dedicated service.
The hall was decorated in bright pastel spring colors with multi-colored tulips adorning the tables. A buffet lunch of sandwiches, salads and fruit was served and volunteers were treated to a "sweet-tooth table" where they were encouraged to take home bags of penny candy and flower-iced cupcakes. Beautiful potted flowers were also given as door prizes to a lucky few.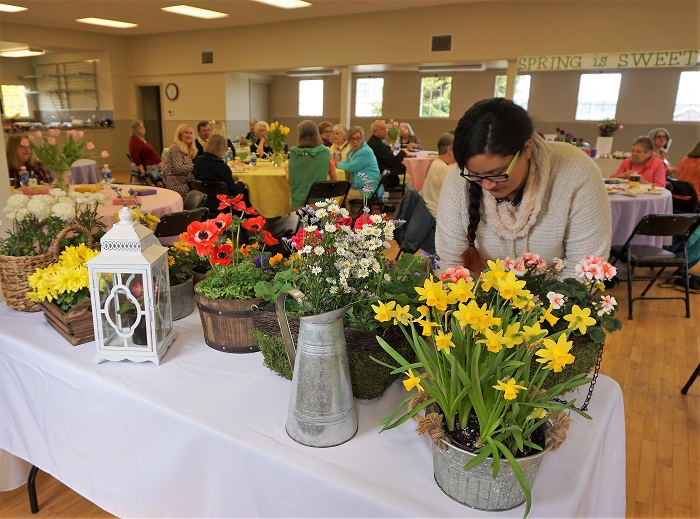 But the main event was to honor these volunteers for the important work they do for our healthcare system.
"We love our volunteers," said Foundation Volunteer Coordinator Heather Zustiak. "We want them to know how grateful we are for their time and dedication to WhidbeyHealth and that their work is invaluable to the hospital and clinics."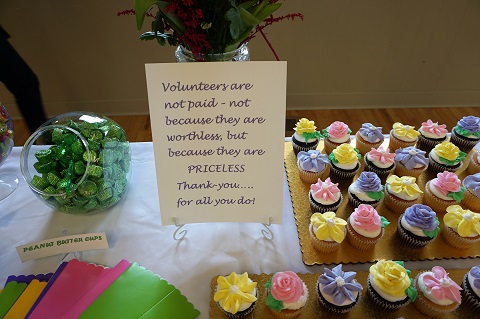 Several volunteers received commemorative pins for reaching notable service hours, including Betsy Eidsmoe and Alyssa Graham, who have each dedicated 5,000 hours to the hospital or clinics through years of volunteering. Other notable longtime volunteers include Susan Hamilton, Diantha Douglas and Vada McGuire who all have donated 1,000 hours; and Pamela Schroeder, Jan Boonstra, Margo Bottolsfson, Sarah Cash, Lynn Cushway and Jerry Jones, who have dedicated 500 hours to WhidbeyHealth. These volunteers do everything from working in the hospital gift shop to helping out at the clinics, in our Rehab Care Life Center or at our Lifeline Services office in Freeland.
Other volunteers at the event included some members of the Patient and Family Advisory Council who meet once per month in an effort to provide a bridge between patients, their families, hospital staff and the community to improve patient care and experience.
Also in attendance were WhidbeyHealth volunteer chaplains, and members of the Polly Harpole Guild, the last guild remaining from the original 20 hospital guilds established in 1957 to build the hospital.
The Foundation and the WhidbeyHealth administration extend their deepest gratitude to all these volunteers for the generous and vital service they provide to our community.