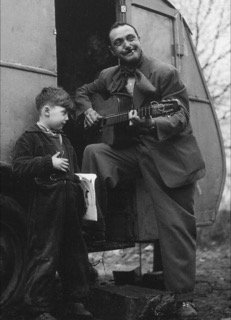 The Fairgrounds Campground announces Django Jammin' & Camping for musicians arriving on Whidbey Island for DjangoFest Northwest (DFNW) this September 18-23, 2018.
New this year is space dedicated to daytime and late night acoustic jamming in the "Caravan Field" of the Fairgrounds Campgrounds. Hours for acoustic jamming are 9:00 am to 5:00 am each day. Jamming is open to the public. Admission is free.
The Fairgrounds Campground offers affordable space for tent camping and RV hookups. The new "Caravan Field" location offers electricity and close proximity to restrooms and showers. In case of inclement weather, the "Caravan Field" is next to an historic barn to shelter the musicians and music loving visitors.
Quiet camping is available in the Upper Campground as well.
For details on camping, please click here to visit the Port of South Whidbey website
Camping is on a first come first-serve basis. We requests Caravan campers to fill out the inquiry form on line so we can assure campers of their electrical preferences. Payment is made at the time of arrival. Enter via Fairgrounds Rd. and Camano Ave. and follow the signs.
The "Caravan Field" is located within walking distance to DjangoFest Northwest gypsy-jazz festival, held at the Whidbey Island Center for the Arts (WICA), and downtown Langley, WA where visitors will find musicians jamming in cafés, in garden nooks and restaurants throughout town.
2018 marks the 18th year of the DjangoFest Northwest, North America's premier gypsy-jazz festival, held in the quaint seaside village of Langley, WA. Musicians from around the world gather to play the repertoire of guitarist and composer, Django Reinhardt, and to teach and learn from regional and global masters.
For tickets to DjangoFest Northwest visit: https://www.djangofestnw.com
The Port of South Whidbey thanks you for visiting our facilities on Whidbey Island.