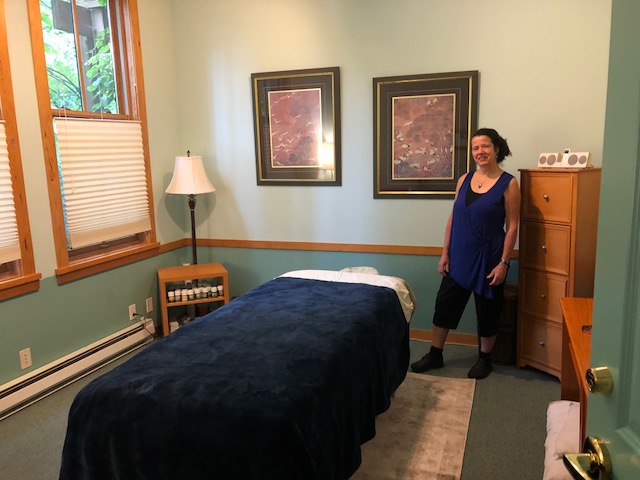 By Carolyn Tamler and Julia Tewksbury, LMT
In her new Radiant Center Massage studio in Langley, Julia Tewksbury is resuming the work that she loves doing. She offers massage sessions designed to focus on the specific needs of her client. Each appointment begins with a conversation of what their body needs -that day. Then, on the table, focus is given to that area followed by an exploration and connective strokes over the rest of their body.
One client commented to Julia: "What makes your work special is your holistic approach. You never begin without asking where I am at the moment. So when you start the massage, I know that you are in tune with me both emotionally and physically."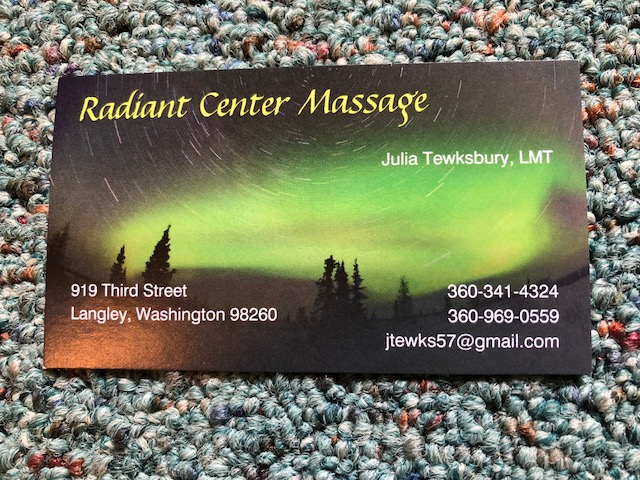 Julia specializes in detailed, focused work; slow and intentional in problem areas, with long connecting strokes to tie the whole body together.
Julia has found that she is often a coach for people's self-care. She sees the massage space not just as a place to rest, restore, and allow the body to do it's healing, but also a reminder that the body, mind, and spirit are all one.
Julia is originally from Ohio. Her family moved to the East Coast where she lived and went to school before moving to California. There she met her husband. He helped her go to school to train in Swedish/Esalan Massage. She had a successful body work practice for 12 years. They had their son, Jaimiey, and when he was ready for school they fell in love with the Waldorf Curriculum. It is Waldorf that brought the family to Whidbey where they proceeded to fall in love- with Whidbey!
Sadly, their relationship ended soon after they arrived. Julia's main focus then was to keep her son in the school and support him. The demands of raising a son as a single mother made taking time off to go to massage school, so she could get a license in Washington State, not possible. So she started and ran a successful holistic house cleaning business until Jaimiey had been launched into his life and career.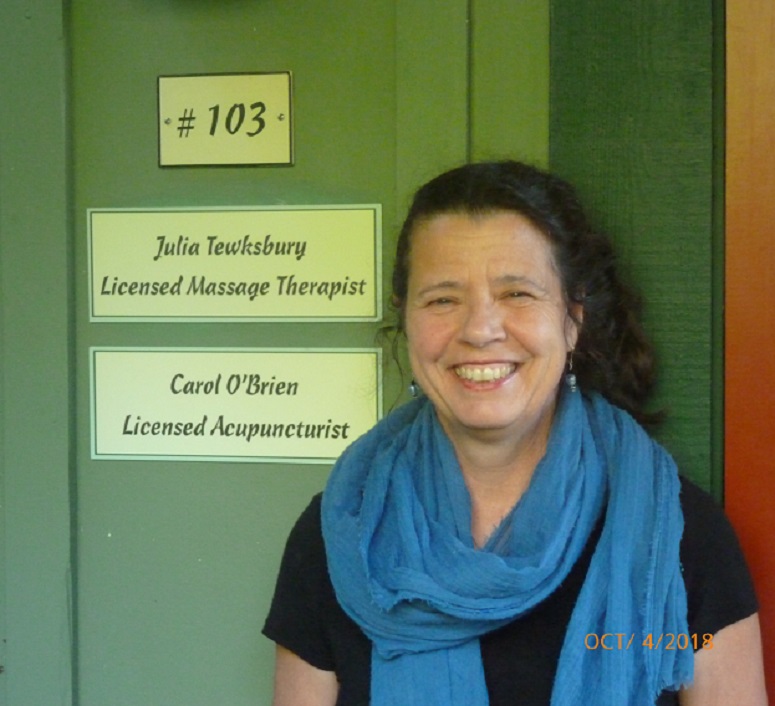 When looking at what she wanted to do next, she came back to realizing massage was her strength and passion. She completed the rigorous 14 month program at the Port Townsend School of Massage in November 2017 and, after passing the state exams, received her license in January, 2018.
Julia found a lovely space for her Radiant Center Massage in the Saratoga Creek Building, just outside Downtown Langley. She is looking forward offerring her skills to more people who are seeking a restful, nurturing, and restorative massage.
Julia says, "I love seeing a person's face leaving after a massage session. The person looks both deeply relaxed and energized."
Radiant Center Massage is in the Saratoga Creek Building, 919 Third Street, Langley, Suite 103.
To ask questions or schedule an appointment, call Julia: 360-341-4324; text 360-969-0559 or
Email to: radiantcentermassage@whidbey.com