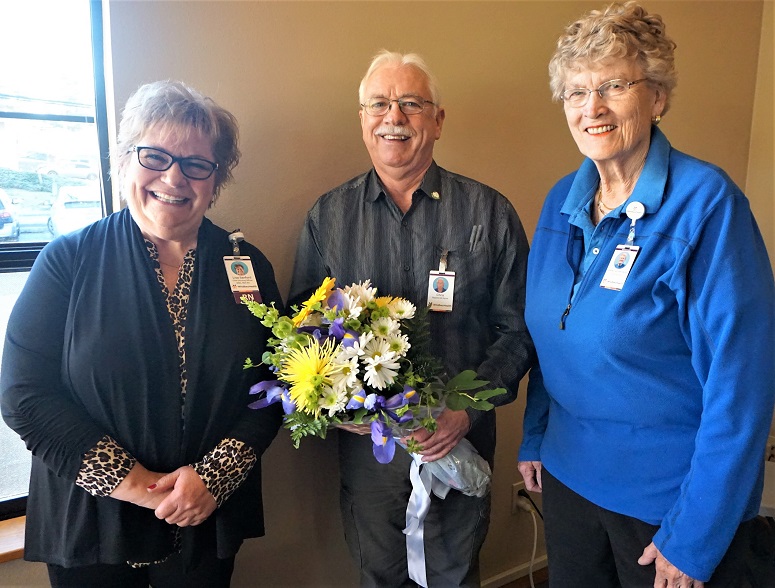 WhidbeyHealth CNO Lisa Sanford (left) and Hospital Commissioner Dr. Grethe Cammermeyer flank DAISY Award recipient Chris Carpenter, RN after he was surprised at a staff meeting with the honor.
Congratulations to the most recent WhidbeyHealth DAISY Award recipient, Chris Carpenter, RN, who is Case Manager for Hospice Care and serves patients on the north end of the island. The DAISY Award is given at WhidbeyHealth bi-annually to a LPN, RN, or ARNP who has been nominated by their colleagues or patients for extraordinary nursing care.
Carpenter started at Home Health about eight years ago, becoming one of the pioneer nurses in the early stages of WhidbeyHealth's Hospice Care service line. He has been nominated for a DAISY Award a record eight times by both patient families and co-workers. A familiar refrain heard about his work:

"Compassionate, respectful and caring, supporting both patients and families through the journey at end-of-life." One colleague wrote about a time when he pitched in on his day off to help with everything from directions to patient care.
"I have no life," Carpenter joked.
According to DAISY Committee Chair Gaila Palo, the DAISY values of Compassion, Respect, Leadership, Advocacy, Patient-Centered Care and Dedication were apparent in every nomination of Chris Carpenter, and WhidbeyHealth is fortunate to have such an extraordinary nurse at Hospice Care.
The award was a surprise for Carpenter when he received it unexpectedly at a monthly staff meeting on Thursday, Dec. 6, where Hospital Commissioner Dr. Grethe Cammermeyer joined WhidbeyHealth CNO Lisa Sanford, representatives of the DAISY Foundation, and multiple members of the DAISY Committee to honor him.
An acronym for Diseases Attacking the Immune System, The DAISY Foundation was formed in November, 1999, by the family of J. Patrick Barnes who died at age 33 of complications of Idiopathic Thrombocytopenic Purpura (ITP). The nursing care Patrick received when hospitalized profoundly touched his family.
WhidbeyHealth awards the DAISY through a blind, interdisciplinary process. All WhidbeyHealth LPNs, RNs and ARNPs are eligible for nomination. Nomination forms are available on the WhidbeyHealth website at https://whidbeyhealth.org/about/nominate-a-nurse/daisy-award-nomination-form.pdf/view.