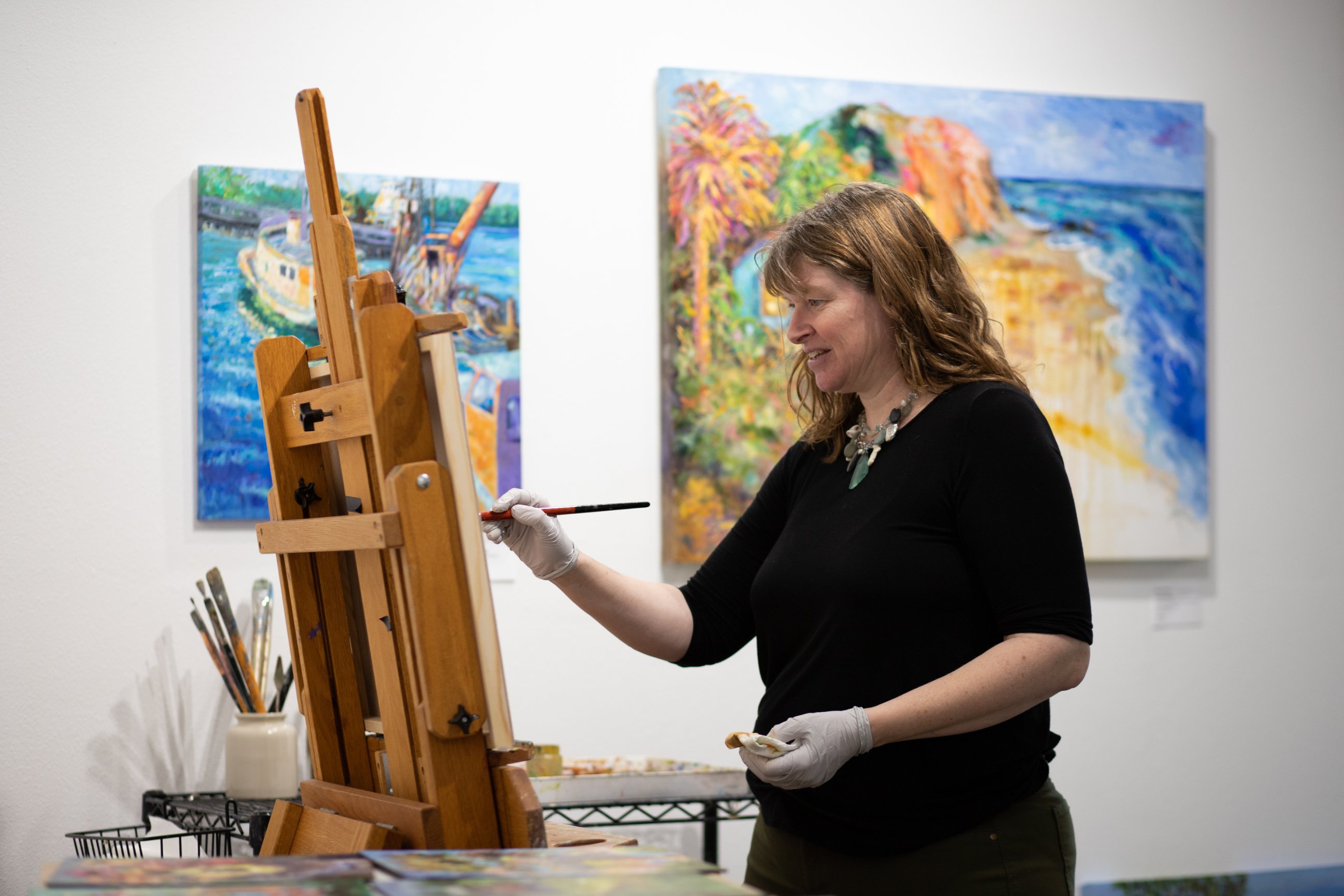 (Photos by R.E. Yelton)
Liesel Lund, new owner of Studio 106, is continuing to use the space as a working studio and a public art gallery. Artists Ginny O'Neill and Judi Nyerges also work and show there.
Studio 106, at 106 McLeod Alley in Langley, was originally built by John Braun for his art studio. John Braun started the Langley, arts festival, Chochokum. Later on, artist Phyllis Ray discovered the unused space and turned it into her working art studio in 2005. She invited Barbara Barry and Faye Castle to paint there with her. Last year, Ray began looking for someone who would continue to lease the space and maintain it as an art studio. Liesel had participated in the Open Studio Tour in 2017, at Janet Lewis' wood studio in Coupeville. She sold many of her works, including landscapes, still lives and flowers. Her success with the Open Studio Tour encouraged her to look for more opportunities to show her work.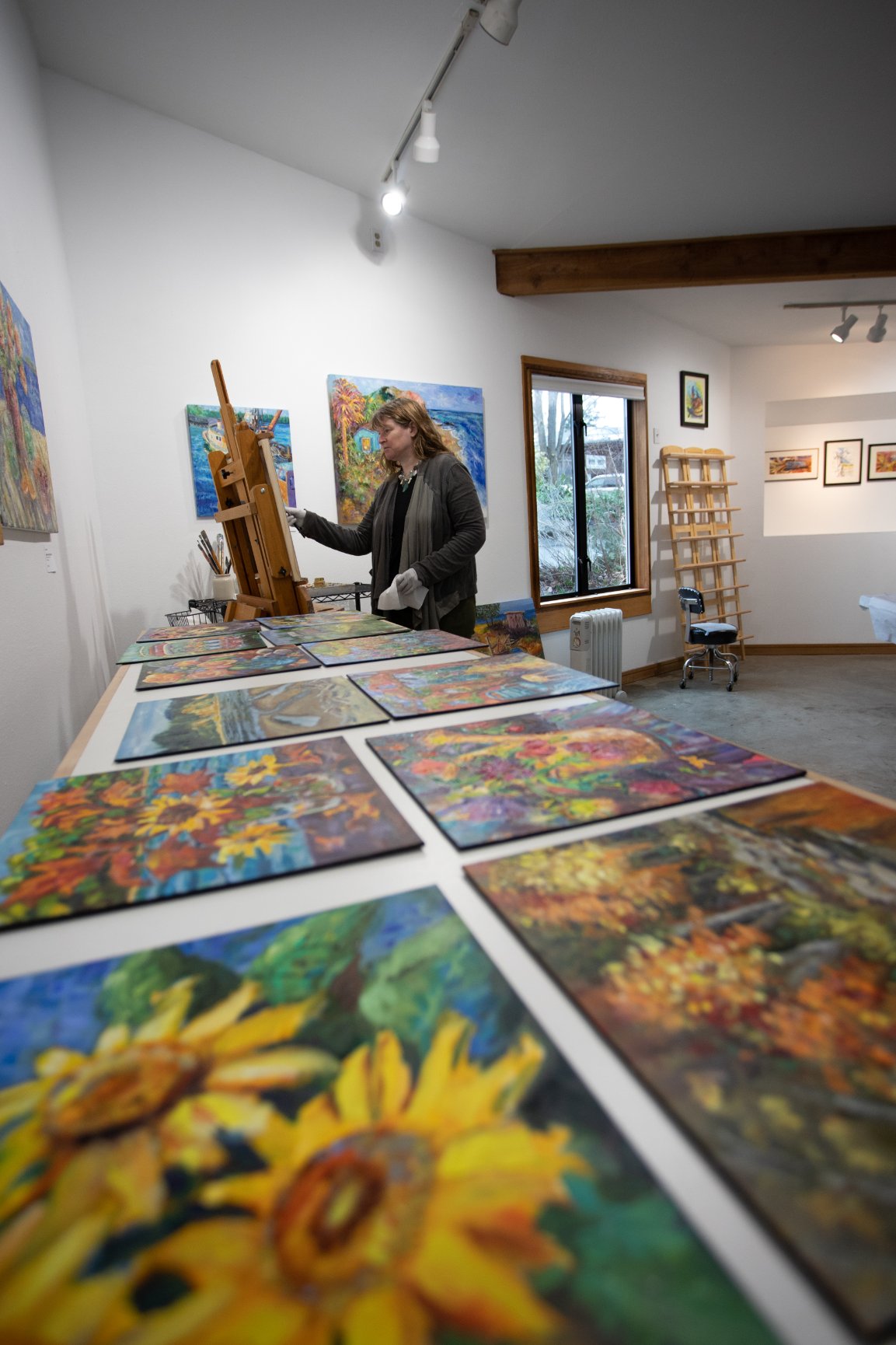 Liesel moved to Whidbey from Seattle in 2016. She became involved with the Whidbey Island Sketchers, which also included Phyllis Ray and Faye Castle, who eventually encouraged Lund to take over the Studio 106 space. Ginny and Judi had been exhibiting there and they agreed to stay in the space with Liesel.
Prior to pursuing a career in the fine arts, Liesel worked as a graphic artist designing exhibit signage for Woodland Park Zoo, children's books for Wright group, and textile prints for Tommy Bahama.. Later she designed and sold jewelry and taught art classes to adults.
The re-opening of Studio 106 marks the first time that Liesel will be using a public gallery space to show her own work. She has done a lot of refurbishing to open up the space to allow more room for classes and shows. "We all are very pleased with the new lights and brighter feeling of the gallery".
Liesel believes that people appreciate seeing an artist at work. "I enjoy being able to talk with people and explain the thought and technical process behind the work. Art can be such a mystery and many people are interested in knowing the story behind the work." She believes that "Creativity can benefit anyone," which is why she offers classes to adults and teens that don't require prior art experience. "I've seen so many people light up in class when they engage their own creative voices. There is no right answer in art; it is about finding what is right for you."

Studio 106 is now offering art classes every month including watercolors, art journaling, and oil painting. A complete schedule of the classes is available on the website. Liesel encourages people to sign up early because classes fill up quickly.
Studio 106 Gallery is located in 106 McLeod Alley, between 1st and 2nd, behind Sprinklz ice cream shop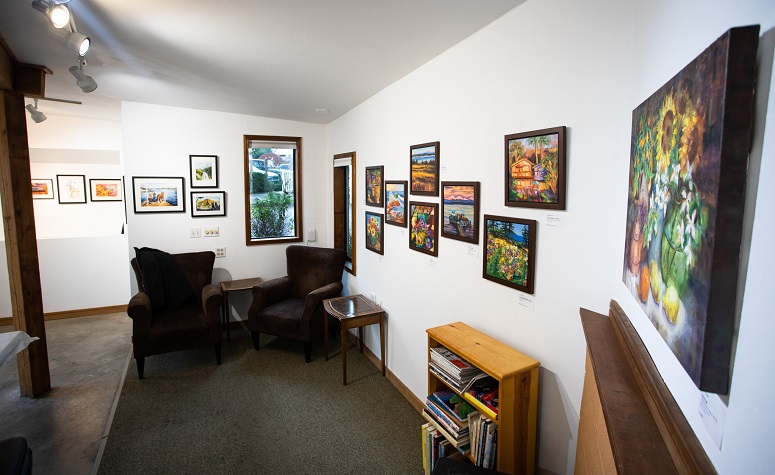 For more information about the Studio 106 Gallery, visit their website: https://studio106gallery.com/