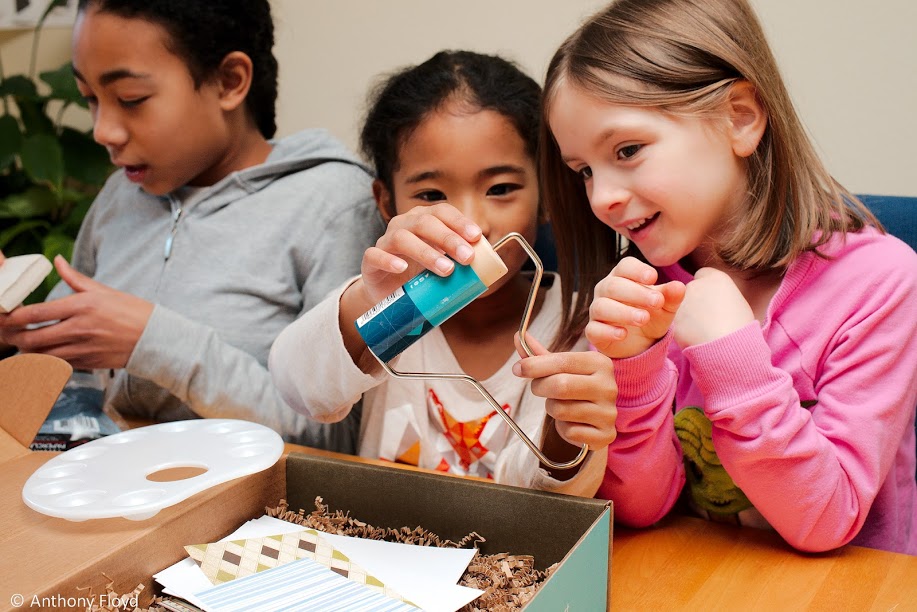 When Beth Herrild's children started elementary school, she noticed that there were no paid art teachers in many of the elementary schools. She has always believed that that if kids participate in visual arts, they do better in school, build their self-esteem, empathy, and develop problem solving skills that will benefit them greatly in their lives and careers. It was her response to this absence of art in the schools that led to her establishing her business:
: "Outside the Box Creation."
Beth is originally from Michigan. She moved several times as a young person, went to the University of Wisconsin where she got an undergrad degree in Fine Arts, and did a Masters course at Antioch University in Seattle in "Whole Systems Design."
Her professional life prior to moving to Whidbey included working for U.S. WEST Cellular (now Verizon) doing training & consulting; writing a book called "Comfortable Chaos" with another person; doing training programs for non-profits; and working for University Unitarian Church in Seattle for seven years as the Director of Education, Communications and Membership.
She married her high school sweetheart while she was still in college and later became a mother of three children. The family moved to Whidbey Island in September 2018 when they became convinced they wanted to "flee the suburbs" when the kids had graduated from high school. They wanted to live in a more rural location, but they wanted a place that had a strong sense of community. Beth's sister had already moved to Greenbank and urged her sister and her family to move to the island. Beth discovered a thriving arts community on Whidbey.
The idea for Outside the Box Creation came to Beth two years ago. She was an art docent and was aware of the lack of visual fine arts in most of the schools. She made a decision to use her educational and arts background to create this new business concept. Her business was launched in October 2016.
Beth says that Outside the Box Creation is an "art class in a box." The idea evolved from her experiences as a volunteer teacher. She wondered, "Why aren't there more art opportunities provided in the schools. She created art boxes for ages 5 to 11, and boxes for older young people and adults. Each box includes a generous supply of art materials and instructions. The overall concept is that the box provides "fun" for anyone who has ever wanted to do anything artistic. She notes, "There is enough structure so anyone can be successful; and there is the ability to advance to whatever level the person wants to achieve." There are materials in each kids' box for two people, and enough structure is provided so everyone can be successful. A monthly subscription is $35 and includes the art box and lessons for using the materials.
The Art With Friends boxes for adults are kind of like a girls' night in a box, date night in a box or they are great for quality family time. They come with enough supplies for 2 or 4 people, instructions, food and wine pairing ideas, and cocktail napkins.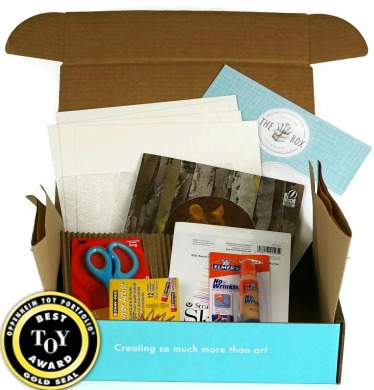 Beth says there are currently 55 subscribers who are children. The Art With Friends boxes for adults aren't subscriptions. They are sold individually. She has formed a partnership with the woman's prison in Gig Harbor that provides the materials for mothers and their children to do creative projects together.
She hopes to see her business grow as more people discover that art can be fun and beneficial, and doesn't have to be scary or intimidating. Beth is also adds: "I love the sense of community on the island and I am pleased that I will be teaching a kids' art class for South Whidbey Parks and Rec in the spring."
For more information about Outside the Box Creation, contact Beth Herrild at info@outsidetheboxcreation.com, or visit the website at www.outsidetheboxcreation.com. You can also give Beth a call at 425-417-6500.