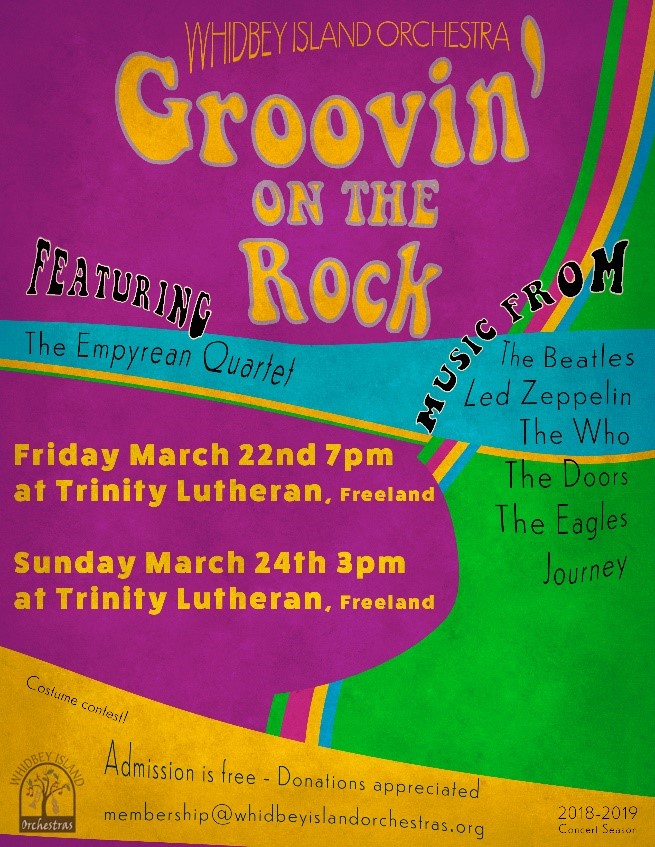 COME GET YOUR GROOVE ON with a concert of classical renditions of
Rock & Roll icons Beatles, Zeppelin, Who, Doors, Eagles, Journey!
Friday, March 22nd ~ 7 p.m.
Sunday, March 24th ~ 3 p.m.
Trinity Lutheran
18341 WA-525, Freeland
Costume Contest!
Come dressed in your favorite Rock Concert costume
One adult and one child outfit will be awarded a special prize by
Dr. Cynthia Morrow, Music Director and Gabriela Garza, Assistant Conductor
Featuring The Empyrean Quartet performing rock classics in strings arranged by our own James Hinkley!
Admission is free
(although donations are accepted and greatly appreciated) followed by a reception with orchestra & refreshments
Concert event put on by the Whidbey Island Orchestras,
a 501(c)(3) charitable organization
For more information contact
Christy Newman, WIO Board Member