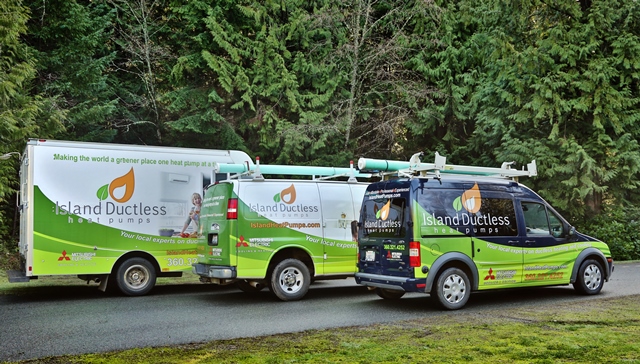 What is a "ductless heat pump?" If you don't know, you're not alone. But thanks to a business started just eight years ago on Whidbey Island, David and Dayle Gray are educating islanders about this highly efficient way of heating and air-conditioning. The Grays and their crew are now installing, servicing and maintaining ductless heat pumps on homes throughout the island.
The technology is widely known in other parts of the world. The Grays note that 80% of the heating and air-conditioning market in Asia, Europe and South America uses ductless heat pump systems; but this is true for only 15% of the market in the United States. It is now the fastest growing segment of the heating and air-conditioning sales in this country. It's no wonder when people learn how much money they can save in heating and air-conditioning costs using a system that uses electricity often generated by non-fossil fuels.
Office staff (from left to right): Mayia Pennington, Kimberly Cerra, Dayle Gray and in front is the office mascot, Molé.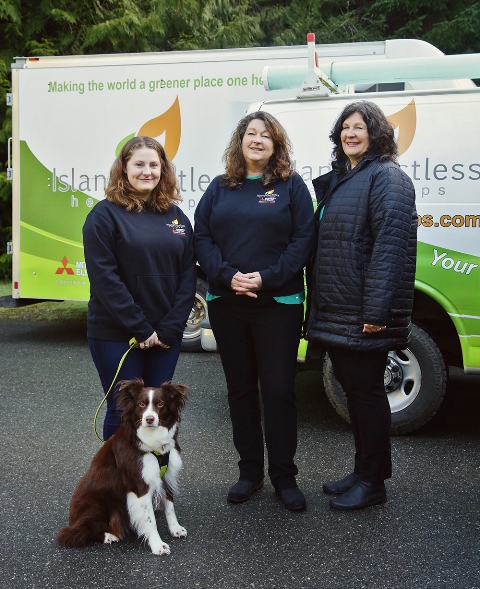 David was a master woodworker selling his beautiful furniture on Whidbey for several years. In 2009, a good friend told David about ductless heat pumps. David has a college degree in Physics, and the ductless heat pump concept fascinated him. He went back to college to complete an HVAC program (Heating, ventilation and air-conditioning) in 2010.
David and Dayle were ready to move into entirely new occupations when they established Island Ductless Heat Pumps in spring 2011. David comments that getting the business started was helped by his physics background, but he was still amazed by all it took to get the business up and running: "Business license, contractor licenses, suppliers, and marketing the business." Dayle was an educator on South Whidbey for 25 years before retiring and joining David in the business, spring of 2014.
Today, the crew for Island Ductless Heat Pumps has expanded to nine people. Bill Skubi and Charles Camatii are estimators and head the sales team on the north end of the Island. Nate Leavitt, Patrick Reilly and Anthony Julius are the field crew who provide the equipment installation, service and annual maintenance. Andrew Neff is an estimator and works with David on sales. Dayle oversees the office staff, including Kimberly Cerra and Maya Pennington. David is the Manager of the business and south end sales.
A maintenance contract with Island Ductless keeps your equipment in tip top condition working at optimal efficiency. Their heat pumps are manufactured by Mitsubishi and Daikin of Japan, the premiere manufacturers of ductless heat pumps equipment.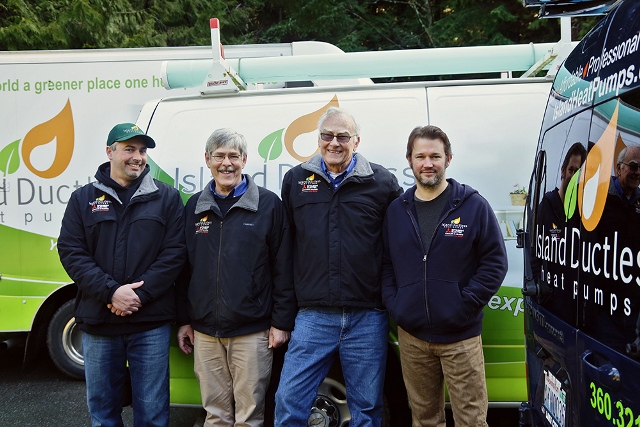 The crew (from left to right): Charles Camatii, David Gray, Bill Skubi and Andrew Neff
In the eight years since the business was launched, they have sold and installed heat pumps in over 1,000 homes on the island.
David and Dayle are looking forward to continuing to build the business and add to their team. "When people learn they can save 40 to 80% on their heating bills, and also have an air-conditioning system that uses the same unit, they are ready to hear what we have to say."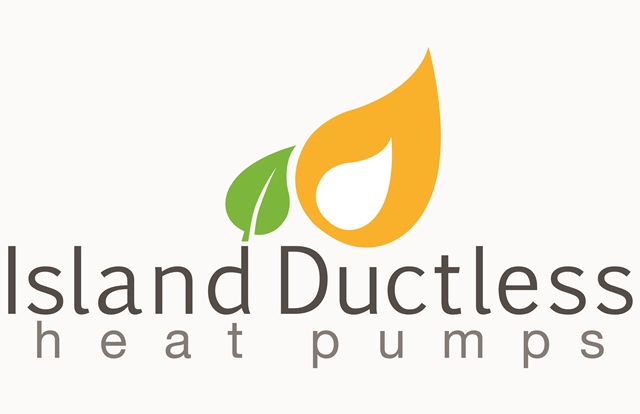 To find out more about Island Ductless Heat Pumps, visit their website: http://www.islandheatpumps.com, or give them a call and request a free home evaluation and estimate for an installation: 360-321-4252.