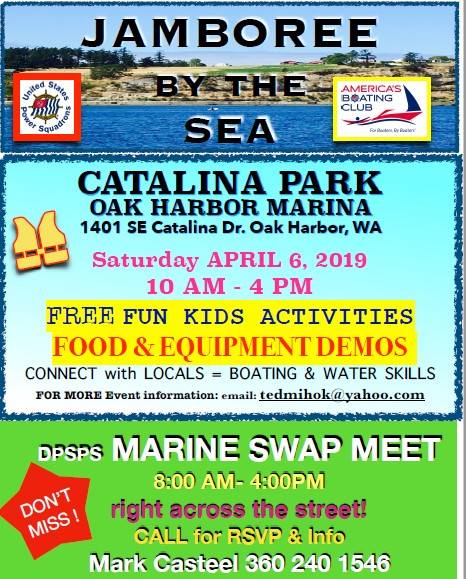 "JAMBOREE BY THE SEA" IS A COMMUNITY EVENT SPONSORED BY DECEPTION PASS SAIL & POWER SQUADRON,
SATURDAY APRIL 6, 10:00AM – 4:00PM CATALINA PARK (BETWEEN THE YACHT CLUB AND THE MARINA), OAK HARBOR, WA 98277
WHAT TO LOOK FOR AT THE 3RD ANNUAL JAMBOREE BY THE SEA:
FREE HOT DOGS & CHILI: PROVIDED BY THE OAK HARBOR ELKS @ OAK HARBOR YACHT CLUB BBQ, FROM 11:00AM UNTIL GONE!
ACTIVITIES:
WHIDBEY FIRE AND RESCUE: DEMONSTRATING PROPER USE OF FLARES
OAK HARBOR YACHT CLUB BUCCANEERS: PHOTO OPS WITH PIRATES AND THE PIRATE SHIP
DECEPTION PASS STATE PARK: WHALE HEAD SKELETON DISPLAY & LOTS OF KIDS ACTIVITIES FOCUSING ON THE PARK.
DPSPS: IN DEPTH INSTRUCTIONS ON BOATING SAFETY FOR KIDS
DPSPS: CONTINUOUS CLASSES RE. BOAT HANDLING & SAFETY, FIRST FLOOR OAK HARBOR YACHT CLUB
DPSPS: CRABBING INSTRUCTIONS AND DEMONSTRATIONS, CATALINA PARK
MACARONI KID, AMY HANNOLD, WILL HAVE KID ACTIVITIES RELATING TO THE SEA
NORTH PUGET SOUND DRAGON BOAT CLUB: TWO TEAMS GIVING RIDES (AM - STAYING ALIVE & PM – TSUNAMI)
INFORMATION TENT and BOOTHS:
S. CUSTOMS & BORDER PROTECTION: PRESENTING "CBP ROAM-TRAVELER," USED FOR REPORTING U.S. RE-ENTRY
SHERIFF'S HARBOR DIVISION: DISPLAY OF THEIR SERVICE BOAT, CATALINA PARK
OAK HARBOR YOUTH SAILING: INFORMATION ON SAILING CLASSES PLUS A DISPLAY, CATALINA PARK
MARINE MAMMAL STRANDING COMMITTEE, GARRY HEINRICH: THE IMPORTANCE OF LIVING IN HARMONY WITH MARINE MAMMALS.
OAK HARBOR YACHT CLUB WILL HAVE INFORMATION ABOUT THE CLUB AND BENEFITS INSIDE THE TENT
DPSPS WILL HAVE SIGN UPS FOR FREE BOAT INSPECTIONS, INSIDE THE TENT
DPSPS - INFORMATION ABOUT WHAT WE DO: BOATING CLASSES, ON-THE-WATER TRAINING, BOAT INSPECTIONS, GENERAL KNOWLEDGE AND THE BENEFITS OF BEING A MEMBER
SWAP MEET:
THE 13TH ANNUAL MARINE SWAP MEET
SPONSORED BY DPSPS
SATURDAY APRIL 6, 8:00AM – 4:00PM
IN THE MARINA PARKING LOT ACROSS FROM THE JAMBOREE