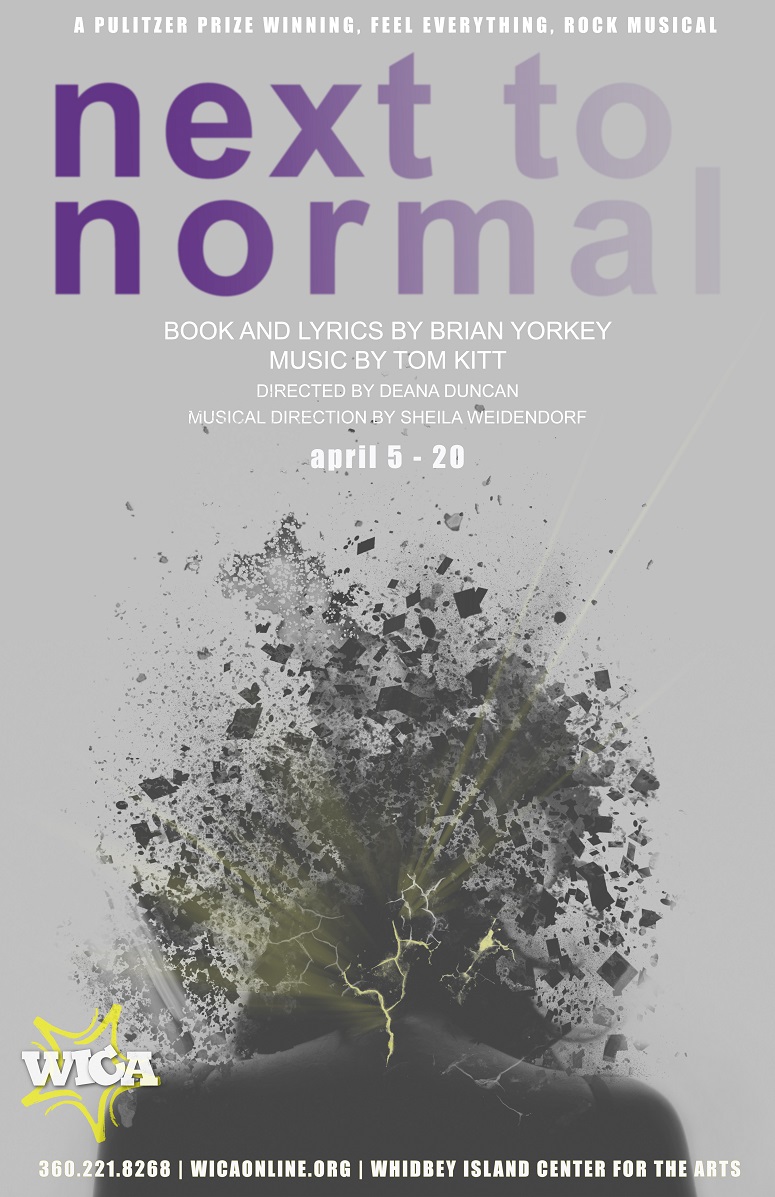 Langley, WA: Winner of three Tony® Awards, including Best Musical Score, and the 2010 Pulitzer Prize, Next to Normal, is an unflinching look at a suburban family struggling with the effects of mental illness, at Whidbey Island Center for the Arts, April 5 – 20, 2019.
Dad's an architect; Mom rushes to pack lunches and pour cereal; their daughter and son are bright, wise-cracking teens, appearing to be a typical American family. With an energetic pop/rock score, Next to Normal, book and lyrics by Brian Yorkey and music by Tom Kitt, is an emotional powerhouse that will take you into the minds and hearts of each character, presenting their family's story with love, sympathy, and heart. This show is suitable for mature audiences.
"Next to normal is the best kind of emotional storytelling. It's funny, heartbreakingly tender and stunningly beautiful. Come ready to "feel everything," but above all just come. This is one of the strongest cast, band, and creative teams WICA has ever assembled. This is a show and an experience you won't want to miss." – Deana Duncan, Director.
Next to Normal is directed by Deana Duncan, musical direction by Sheila Weidendorf, and features cast members Melanie Lowey, Ken Stephens, Ada Faith-Feyma, Josh Pulley, Gabe Harshman, and Alexander Matthews. A stellar live band of local musicians including Scott Small (drums), Troy Chapman (guitar), Gerry Reed (bass), Brian Kenney (violin), James Hinkley (cello), and Weidendorf on piano. Set Design and Lighting by David Mackie who works at the Village Theatre.
"This play is pertinent to anyone who has ever loved anyone who has struggled with mental illness, to anyone who has ever had to reach deep within to face their own demons or transcend their own limits--or to anyone who is human!" – Sheila Weidendorf, Musical Director.
Adult $24 / Senior $20 / Youth $17 / Matinee $15. Friday and Saturday @ 7:30 / Sunday @ 2:00. Piano Bar opens one hour before each performance. Thursday, April 4 is a Pay-What-You-Will at 7:30 p.m.
Tickets available at the WICA Box Office: (360) 221-8268 or online at https://tickets.wicaonline.org
Whidbey Island Center for the Arts is a registered 501(c)3 non-profit organization serving the community of South Whidbey Island and beyond. WICA's mission is to inspire, nourish, and enhance the artistic, social, and economic well-being of the community.