Carol Evans, who purchased the Whidbey Art Escape late last year, has moved the art studio to 111 Anthes in Downtown Langley. The Whidbey Art Escape, which opened in its new location on May 4th, provides a unique space for painting and pottery and allows people of all ages to explore their creative selves.
Carol was pleased to discover this special business when Tina Beard was looking for someone to continue Whidbey Art Escape after she decided to retire. Carol is especially pleased to find a new location for the business that is walking distance from her home.
One of the lures of Whidbey Art Escape is that it provides a time and place for socializing. Carol notes, "I love that people can be creative, make new friends, and that the Whidbey Art Escape appeals to all ages."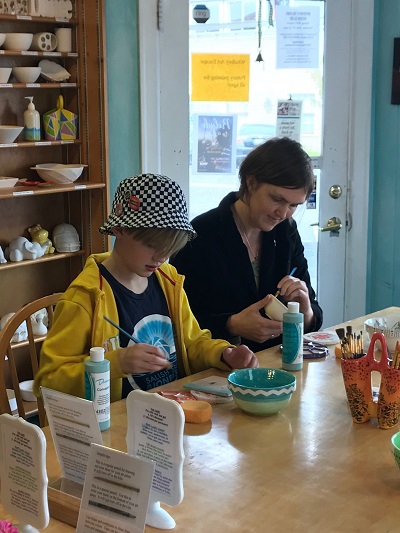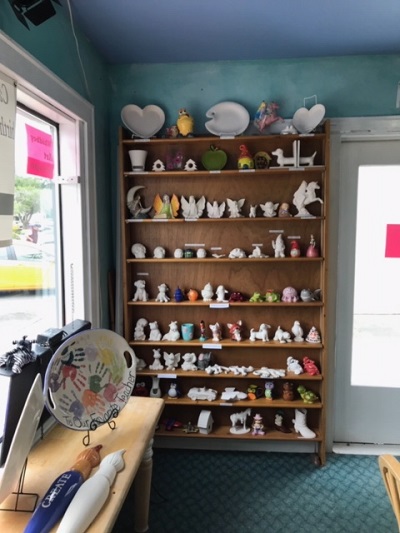 People feel instantly at home when they walk into the cozy studio. "Customers can take their time here. There are no studio fees. I want my customers to be happy with what they're creating," says Carol. The price on an unpainted object includes painting, glazing, and firing in the kiln. Several of her regular customers have told her they love to come to the studio because "It's so relaxing here."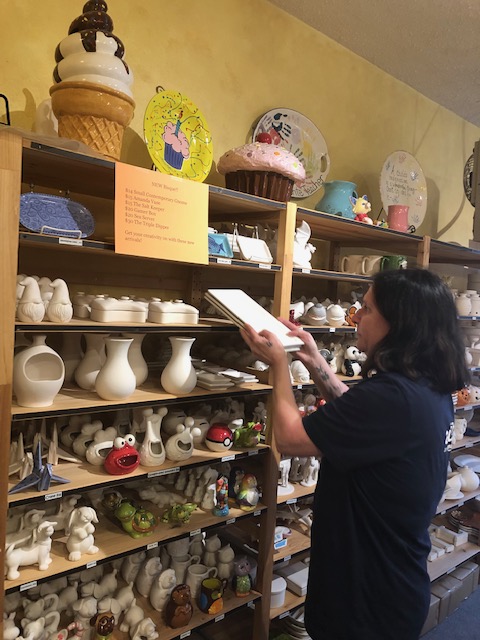 Whidbey Art Escape offers a creative haven for a variety of people. Carol welcomes people of all ages, and encourages people to use the space for meetings and events. She especially enjoys having the studio used for parties commemorating life milestones—baby footprints, birthdays, holidays, family reunions, or anniversaries. Once an art piece is painted, it is left for firing, usually for a four-day turnaround.
Some of the new elements that Carol is incorporating into her business include:
More open work space on two floors.
Comfortable outdoor deck space to work when the weather is nice.
Large supply of things for young children to do while their parents work on their projects;
Carol is open to new ideas for art pieces or types of artwork people would like to do.
She also notes, "We are the only place south of Oak Harbor that provides a studio for this kind of activity"
Drop-in customers are welcome during regular business hours, Monday's, Wednesday through Saturday, 10:00 a.m. to 6:00 p.m., Sundays 11:00 a.m. to 5:00 p.m. The studio is closed on Tuesdays. The second Wednesday of each month is a Ladies Night from 6:00 to 8:00 p.m., There are groups of regulars, who range in age from early 20's to over 60 who show up to paint and socialize; groups of six or more and after hours parties can be arranged by appointment.
She is looking into offering some painting classes during the summer months. That schedule is in the works and once dates are chosen they will be posted on the website. The website is currently under construction! Therefore the best source for what's happening is via the Facebook page. https://www.facebook.com/whidbeyartescape/
Carol Evans invites people to "Come create your own artistic memories."
Contact information:
Phone: (360) 331-3166
Email: wae@whidbey.com