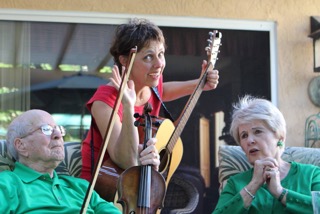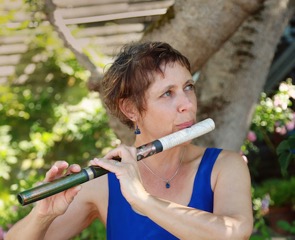 Dr. Barbara Dunn is a local music treasure on Whidbey Island. Besides having a reputation as a music therapist, she performs and uses her music as a way to contribute to community and encourage people to create bridges of communication with each other.
Barbara has several letters following her name including: PhD, LICSW and MT-BC. These credentials include:
PhD in Conflict Transformation and Music
Licensed Independent Clinical Social Worker
Music Therapist – Board Certified​ ​
In her more than 25 years as a music therapist Barbara has performed and assisted people in a wide range of settings, including private practice, hospitals, outpatient oncology, rehabilitation, home health, hospice, mental health centers, nursing homes, and group homes.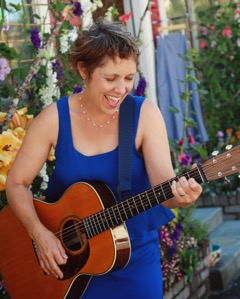 In addition to her skills as a therapist, she has written songs and books, created four albums, and performed on Whidbey Island and elsewhere.
She grew up in Detroit during the Civil Rights movement and lived in an integrated community. She saw as a young person how much music brought people together. From an early age, she saw herself as someone who could use her music skills to help build a more peaceful world.
She studied music therapy in college and interned in Texas. She moved to Boston, where she met her husband, David Wilder. They lived in New Zealand for a year, then in Seattle and finally decided to move to Whidbey in 1991 to grow vegetables and live more simply. They began with a four-acre farm in Clinton, but five years ago downsized and bought a home in Langley. Their two daughters have grown up on Whidbey.
Recently, Barbara Dunn formed a new organization, in partnership with Samantha Sinai, called "Common Sounds." Barbara says, "The intention of the organization is to bring people together who may not otherwise connect with each other, e.g., Democrats and Republicans or Muslims and Christians. The two groups are invited to engage in music making and meaningful conversation. The music helps to facilitate a way for us to hear each other and to gain a sense of common ground." Barbara and Samantha believe that Common Sounds provides a way forward in our divided communities.
For more information about Common Sounds, visit the website: www.commonsounds.net
Dr. Barbara Dunn's website provides a full description of her professional skills and future performances: http://www.barbaradunn.com/
Dr. Barbara Dunn, with Daughters of Harriet, will be facilitating A Circle of Song on Whidbey Island on Sunday, June 23rd, 7:00 – 8:30 p.m. at Unity of Whidbey, 5671 Crawford Road, Langley, WA 98260. This will be a participatory singing event filled with great energy and inspiration!!