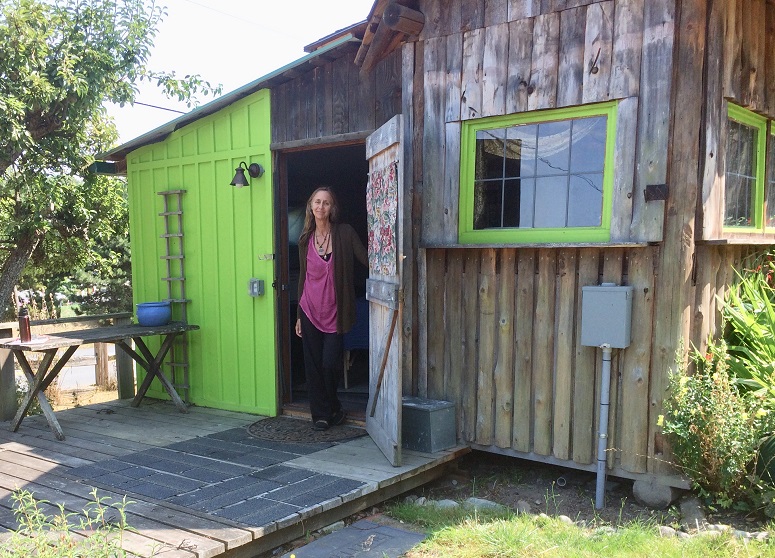 Laurie Keith has been practicing massage and teaching movement practices in Langley on Whidbey Island for almost 25 years. She is now opening her new studio, The Little Green Bodywork Cottage on Myrtle Avenue in Freeland. It's a private, rustic little cabin with beautiful breezes, soft accents and serenity in the walls.
Laurie continues to offer a place of refuge to come home to oneself, unwind the physical tension patterns as well as the deep mental and emotional tugs, pulls and baggage of modern life that can lodge in the soft tissues of our body.
You can step into the Little Green Bodywork Cottage seeking help with specific chronic pain patterns, injuries, traumas, or just to slip into a deep, quiet nurturing space. Laurie will listen to your specific situation and then bring her "toolbox" of skills acquired over the past 30 years to best support your body in its healing journey.
Laurie has years of training and experience working with specific therapeutic structural and neurological techniques that can assist better balance and function, and most recently has been working with techniques to specifically reawaken aliveness and sensation through unwinding and un-tethering fascial layers that can suffocate and deaden our sensory/neural input. When our brain isn't able to get the message about where our balance is, or what is going on in a challenged area; it isn't able to organize optimal healing in the body, and this affects many levels of health.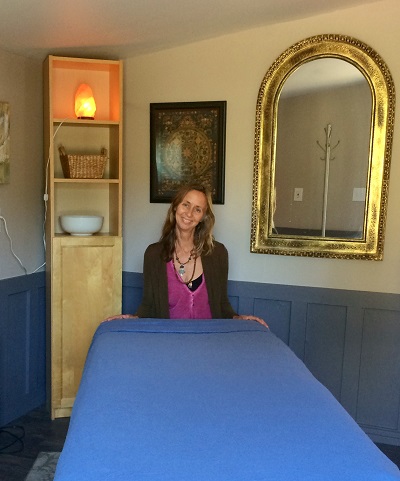 A lot of this work is new in the past 10 years and is based on new research on the connective tissues/fascia and how this represents a paradigm shift in how we understand what is happening in massage and movement. There have been mainstream articles in just the past year announcing that, "The New Largest Organ of the Body has been discovered" and it is part of the fascial system which previously had not been recognized. There are many implications to these discoveries, and working with this fascial system through touch and movement provides amazing healing benefits on many levels.
Laurie teaches classes on the Physiology of Touch and something called Fascial Flow or Fascial Priming to help people find empowerment in self-care, self-healing and healing movements as they begin to implement a new vision of how our bodies are put together. She is finding this work to be particularly beneficial to athletes/active people who want to continue to enjoy their moving bodies, especially as the years add up. Check out her testimonials page under "Fascial Priming" on her website to read some stories.
Please visit her website or give her a call to schedule an appointment or just chat and learn more. And feel free to stop by The Little Green Bodywork Cottage and just say "Hi" when you see the door open.
Laurie Keith, BA, LMP
The Little Green Bodywork Cottage
5530 South Myrtle Avenue, Freeland
360-899-8015