Nearly three years ago, Andre Feriante, who is an award-winning, Segovia-trained guitarist and composer, moved to Whidbey Island. Since moving to the island, Andre has enjoyed performing and collaborating with artists at many of the local venues including Whidbey Island Center for the Arts (WICA), Ott & Hunter, and Dancing Fish Winery. His main passion has been founding and organizing the Whidbey Island Guitar Festival.
His music is a creative blend of classical, flamenco and Brazilian styles that speaks to people from all walks of life.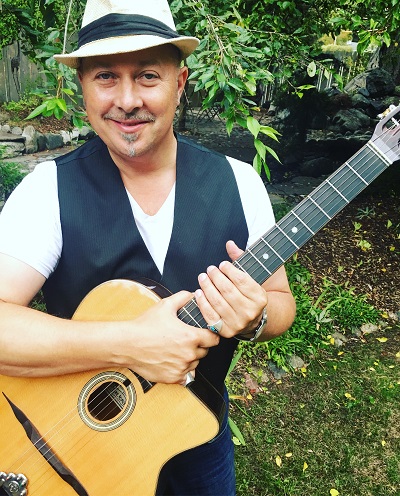 Andre Feriante was born in Naples, Italy. His mother was born in Sunnyside in Eastern Washington, and his Italian father grew up in an Italian community in San Mateo, California. The family moved to Italy in the 1950's where Andre and his sister were born.
Andre says he had a premonition about being a guitarist before he even touched a guitar. He recounts hearing a Flamenco group playing when he was 13 years of age. He was thrilled to begin taking Flamenco guitar lessons shortly afterwards. He studied with renowned guitarist Henry Rivas in Rome for three years. He completed conservatory materials and continued to study with Rivas in Bogota, Columbia for three months. He followed his years of training with traveling and performing in Rome.
The Feriante family moved back to the states when Andre was 17 and his sister was 12. They first returned to his mother's original home in Eastern Washington, but moved to Seattle in the late 1980's.
By the age of 21, Feriante had studied with the great Maestro Andres Segovia in Spain, played concerts in Europe and North and South America, and was part of the music faculty at two colleges. He really liked Seattle and was very pleased when he was offered a full time gig in Seattle at Il Terrazzo, where he appeared five nights a week for 13 years.
Feriante's long career has taken him to hundreds of stages, including Seattle's Benaroya Hall and The Triple Door. He has played the National Anthem at Key Arena and at a Sounders game at Qwest Field. He has shared the stage with The NW Symphony, Heart, and Alice in Chains. On several occasions, he has been invited to perform for the Jose Carreras International Leukemia Foundation at venues such as Carnegie Hall.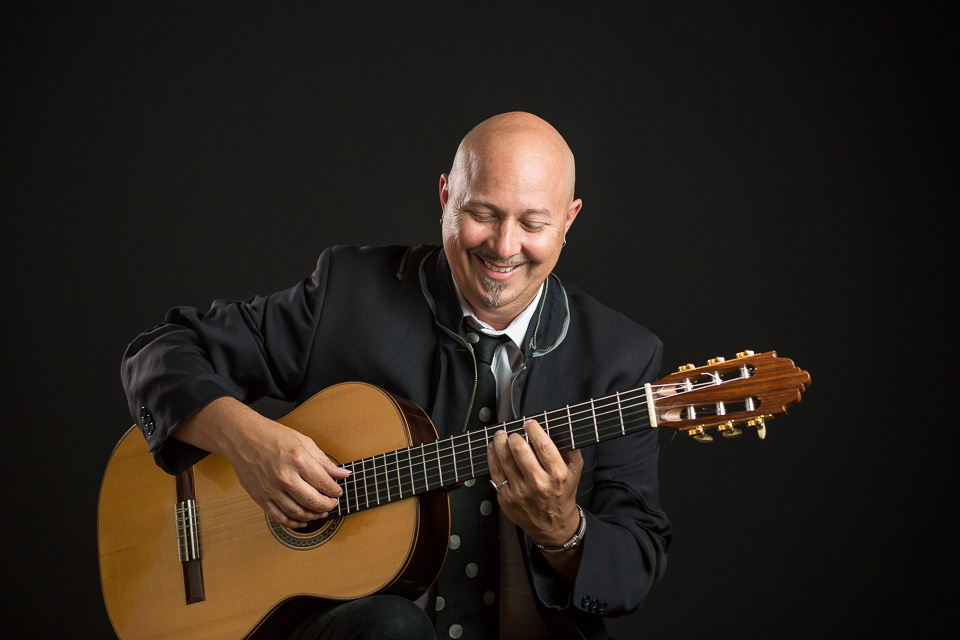 Maureen Girard heard him playing in Seattle and invited him to come perform at her 88 Keys venue on Whidbey Island several years ago, and he played at 88 Keys many times in the past several years. In the early years when he performed at 88 Keys, he had no idea he would be living on Whidbey in the future.
Besides Benaroya Hall, Andre is now a regular at the Ott & Hunter cabaret.
Since moving to the island Andre has continue to write poetry and plans on releasing a book of poems later this year. He is also very involved in offering his music in a healing context, Following his Ted talk on the healing powers of music he has been presenting sound healing sessions in Langley, at half Moon yoga and at various venues in Seattle.
Andre says, "The island has embraced me as an artist."
---
Find out more about Andre and his future performances at his website: https://andreferiante.com/ or his Facebook page:
Upcoming Shows for Andre Feriante
September 20: Gypsy strings at Ott &Hunter with Eric Fridrich, an amazing blues guitarist and vocalist from Chicago. This will be during Djangofest. Andre and Eric are known for their wild and inspiring solo guitar improvisations.
October 19: The Crawford house, a salon concert with Sheila Weidendorf and one other special guest, a world music presentation.
November 16, WICA: The History of the World According to the Guitar, Troy Chapman. Back by popular demand, Andre and Troy present the second version of Cythara, a journey into the many voices of strings from every continent.
December 8, Bayview hall, a poetry and flamenco extravaganza with Judith Adams, local poet.