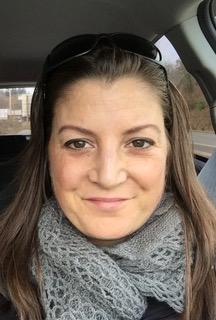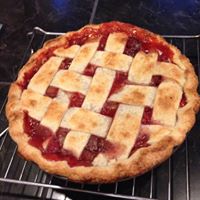 Heidi Hammer began her professional career with a degree in Veterinary Medicine specializing in animal behavior. She moved to Whidbey over twenty years ago after she came to visit her mother and decided she wanted to live on the island.
After working as a vet tech, she moved on to learn other things like bookkeeping and food service. She worked as a bookkeeper during the day and waited tables in the evening at Mike's Place in Langley where she worked under a fabulous chef who taught
her how to make pie.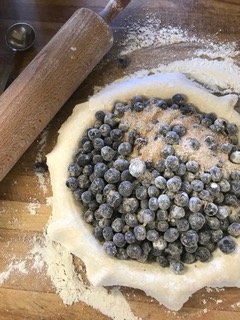 After making her first pie she was hooked. She had fallen in love with the delicious pastry and started making them regularly. Soon friends and family were telling her how fabulous these pies were. The restaurant was selling "Heidi's Pies." The reputation of Heidi's Pies began to grow, and people were ordering the pies and picking them up at the restaurant.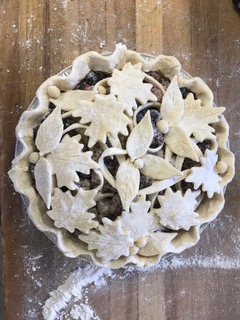 When Mike's Place closed, Heidi had nowhere to make her pies, so for a time she went on to doing other things with her life: working back in the medical field, marrying, and having a child. She prepared a pie for a raffle at her Dr.'s office where she worked, and people raved and wanted to know how they could get one.
She decided to focus on her passion and build a business making pies. She got a Cottage Food Permit from the Department of Agriculture, and began making small batches of baked goods, especially pies. And, she got busier and busier. Then the Goose asked her to provide them with her pies. "I couldn't make them fast enough. They were a big hit. I had to expand."
As her pie business grew, Heidi decided she needed a larger space. She was glad to find a kitchen she could use at the Langley Community Center (formerly the Langley Middle School).
Wild Crow Pies now makes 300 pies a week, and Heidi has seven employees. The pies are distributed all over South Whidbey and North Whidbey. She recently began distributing pies to Bainbridge Island, the Chimacum farm stand in Port Townsend, the Port Townsend Co-op, 3 Sisters Market, and Camano Plaza on Camano Island. Her business has been expanding so quickly that Heidi is considering opening a second kitchen.

Heidi now also offers classes and provides pies for community events. She says, "I get contacted all the time from people who want to learn how to make pie and I love teaching them." Check out their Facebook page: Wild Crow Pie Co. Whidbey's Organic Gourmet PIE Company. People can special order pies by calling our kitchen directly at 360-221-5707 or through our website at wildcrowpieco.com.