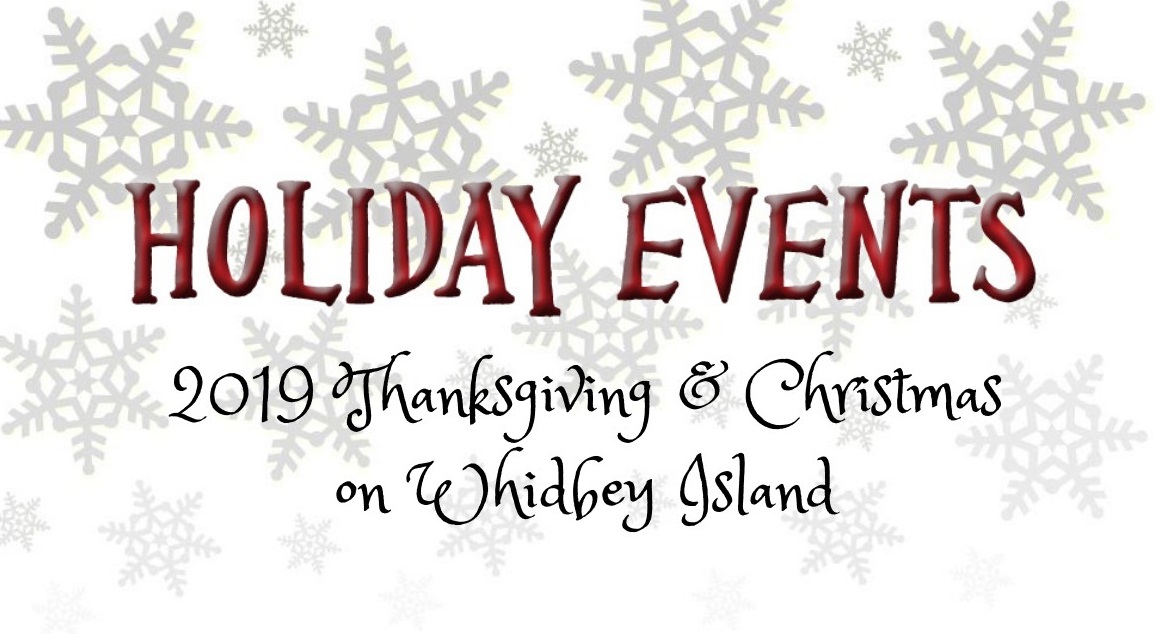 2019 Whidbey Island Holiday Events
Click on the following cities to find out local events.
Information is being added daily.
If you have something to add, please email to us at info@whidbeylocal.com
O
ak Harbor
OAK HARBOR

November 5th-26th
NWMS Community - Our Annual Fill the Bus Food Drive is
November 5th – 26th! Please help us overflow the shelves at North Whidbey Help House by sending in non-perishable, non-expired food items!

Most Needed Items:
*Canned Tuna/Salmon*
*Canned Chili/Stew*
*Canned Ravioli/Pasta*
*Canned Fruit & Vegetables*
*Peanut Butter & Nut Butters*

https://www.facebook.com/North-Whidbey-Help-House-267618856581791/
---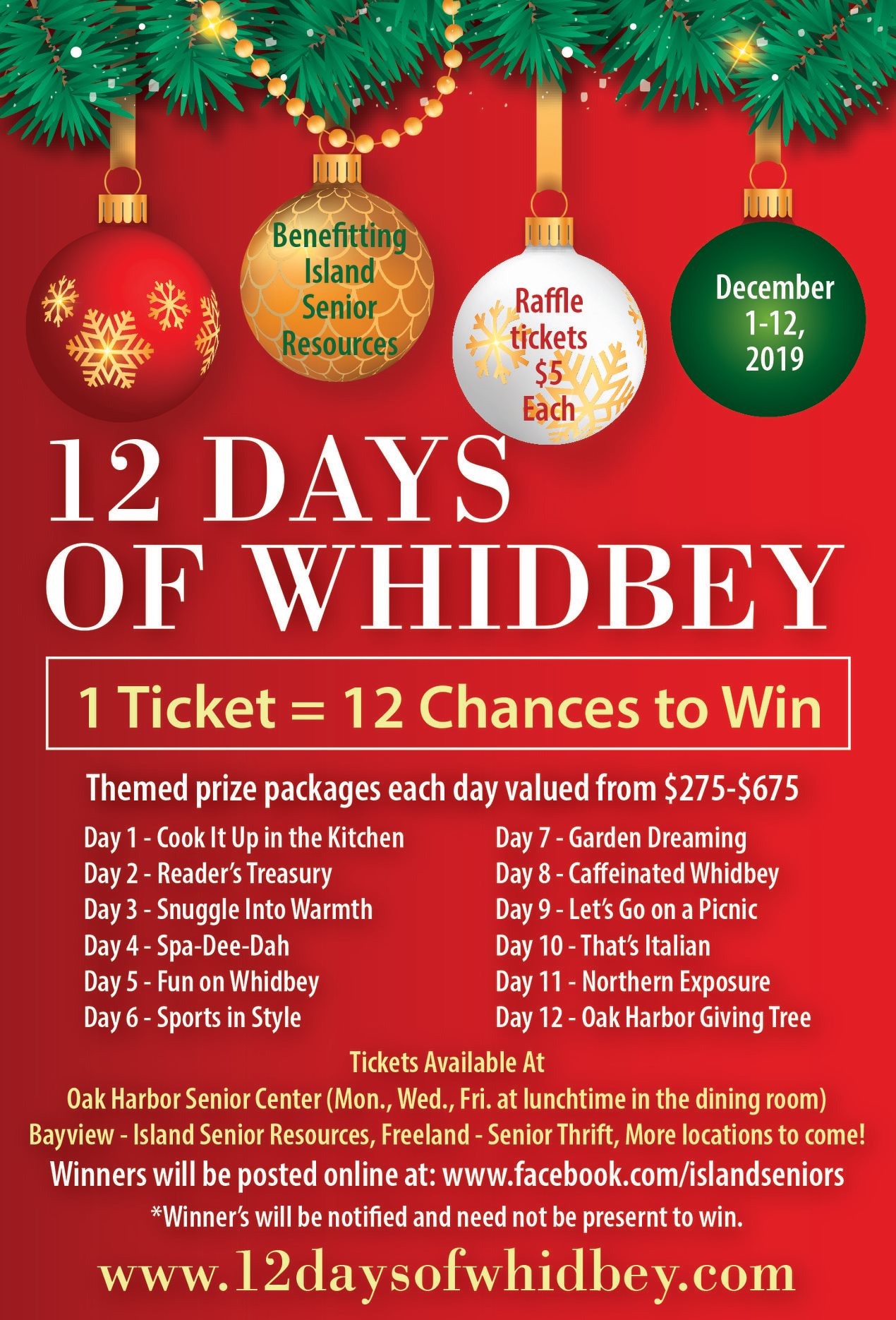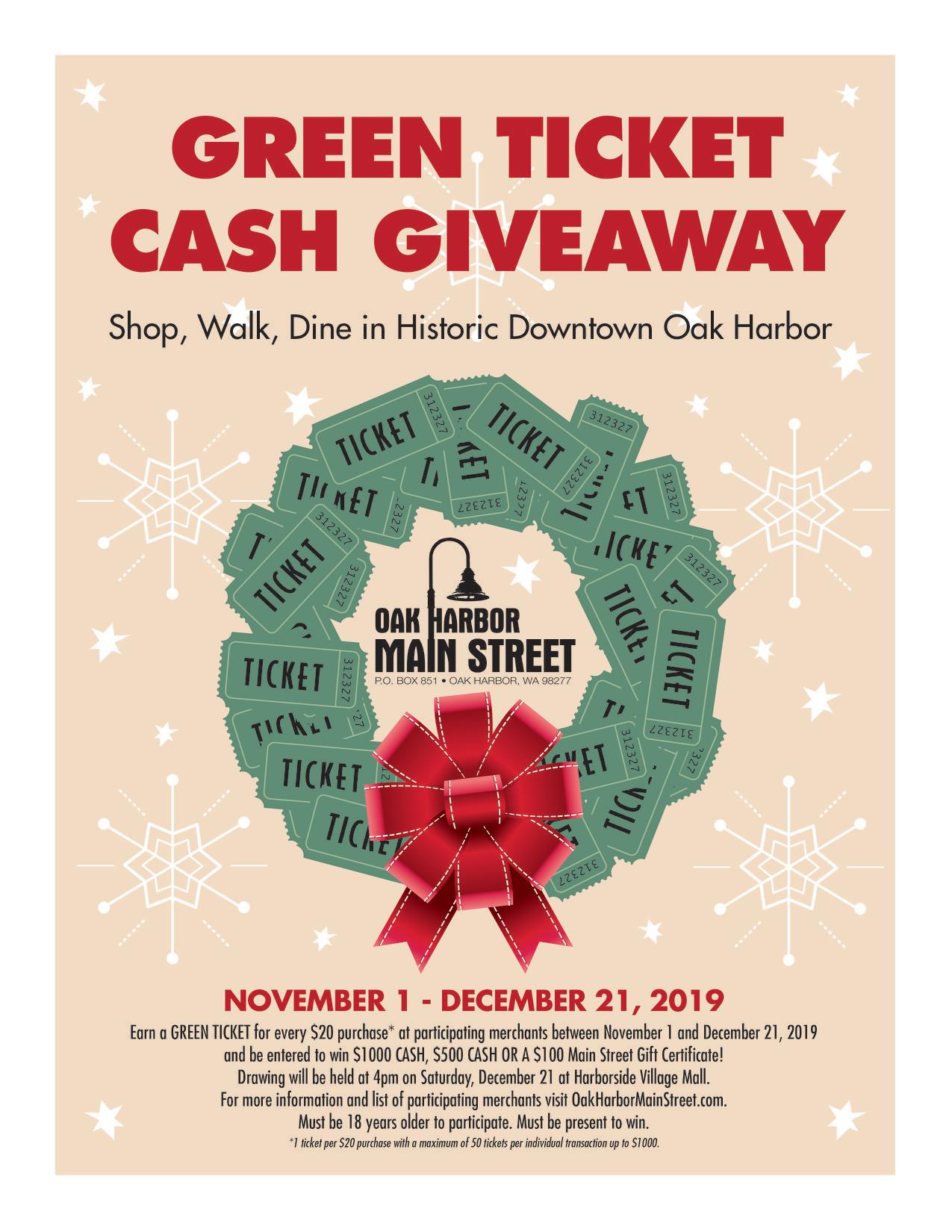 ---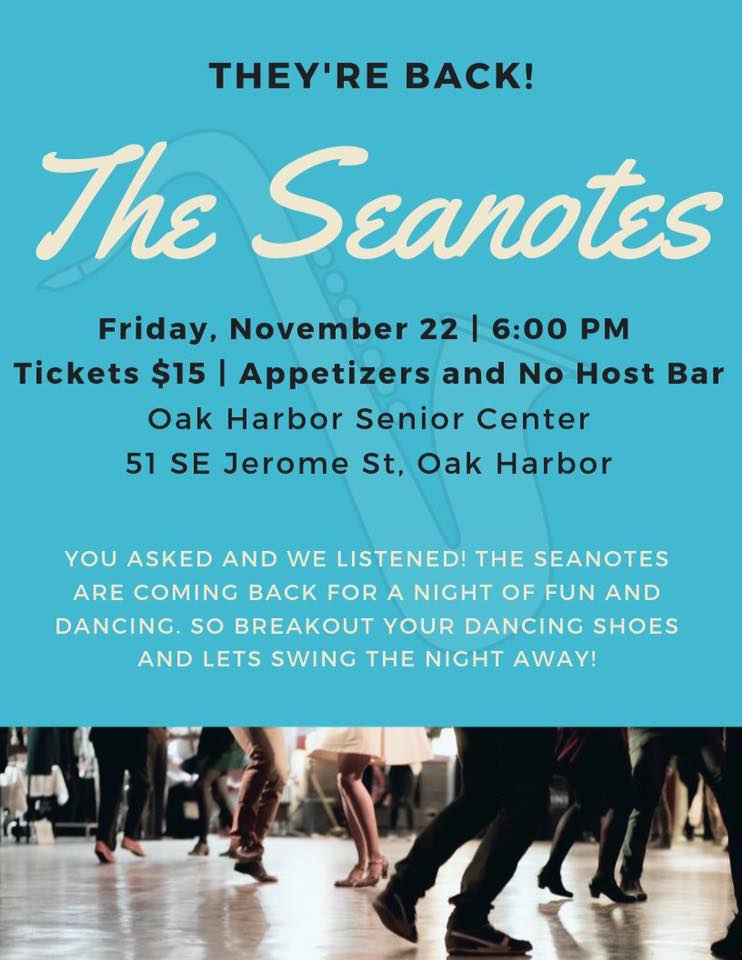 The Seanotes, November 22 at 6:00PM
---

19th Annual North Whidbey Community Harvest!!!
Thursday, November 28, 2019 at 11 AM – 4 PM
155 NE Ernst St., Oak Harbor, Washington 98277
We are a non-profit all volunteer organization providing a delicious no-cost Thanksgiving dinner to our community, and we hope you can join us in a day of fellowship and sharing.
Can't make it due to work, illness, or lack of transportation? We can bring a meal to you! Please call 360-240-9499 to request delivery, or to volunteer.
Your donations are appreciated, but all are welcome... so feel free to help us share the invitation!
---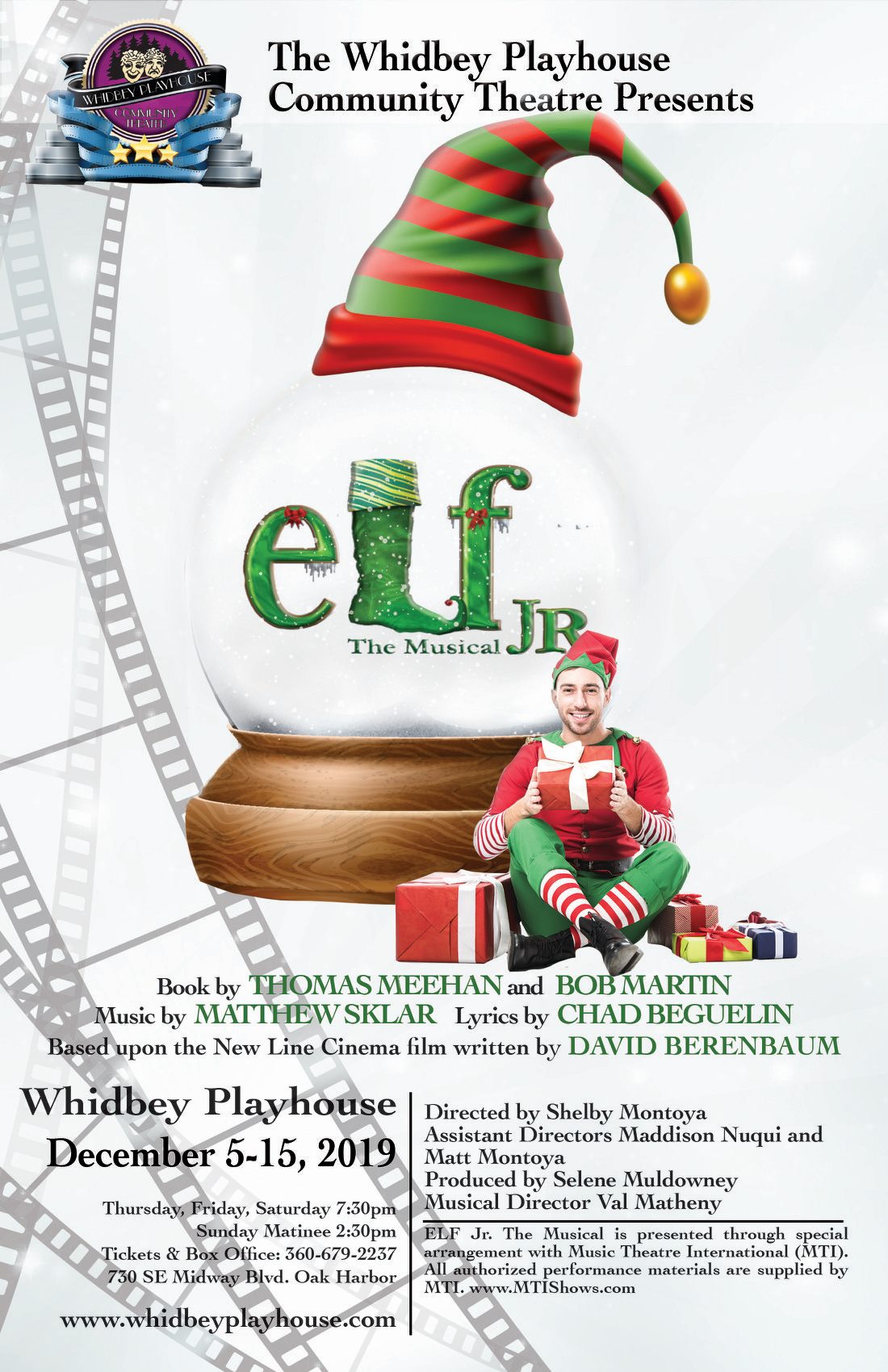 ---
Friday, December 6, 2019 at 7 PM – 9 PM
First Reformed Church Oak Harbor
Our annual Christmas Concerts: Friday night and Sunday afternoon.
---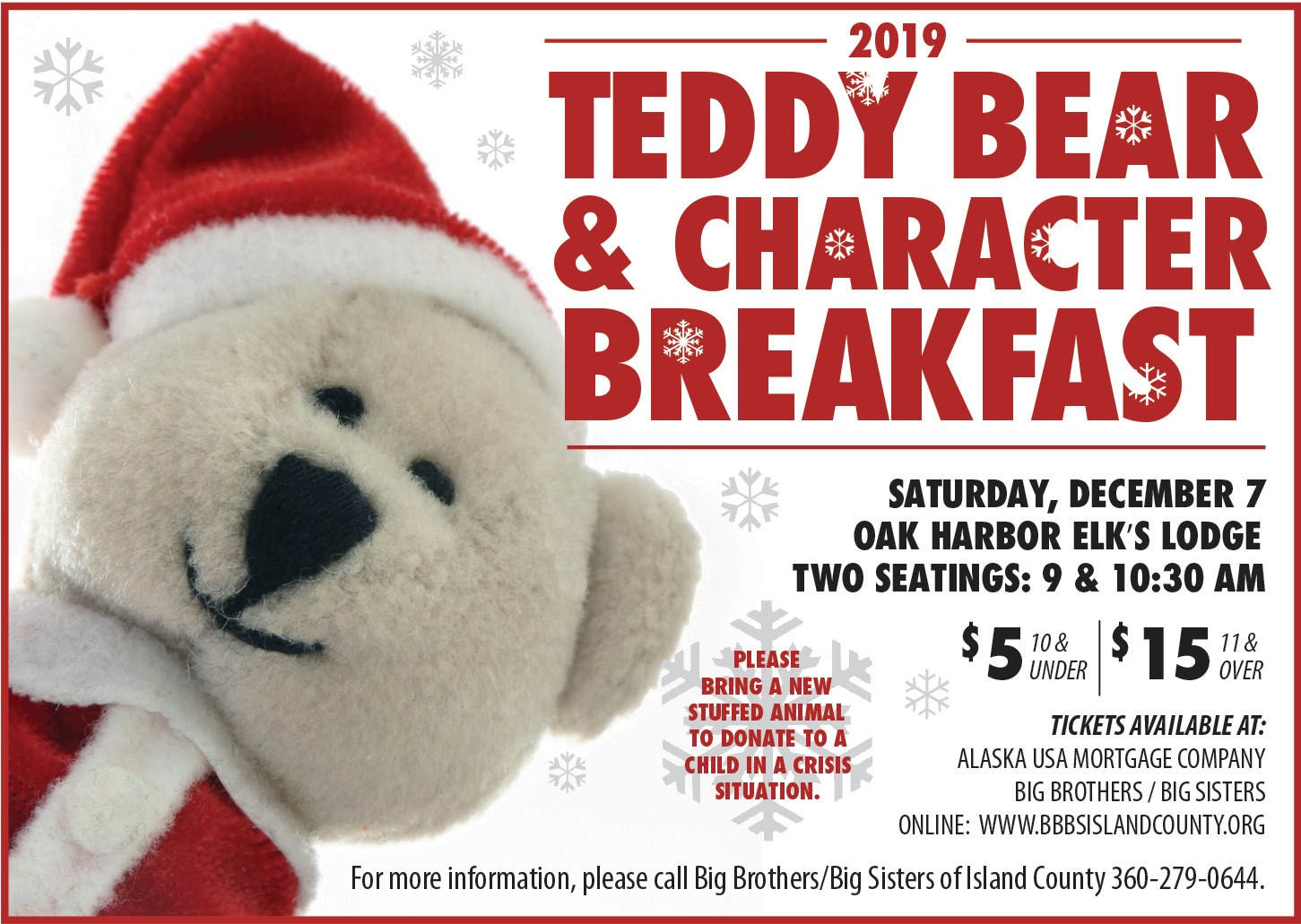 December 7th at the Oak Harbor Elk's Lodge
---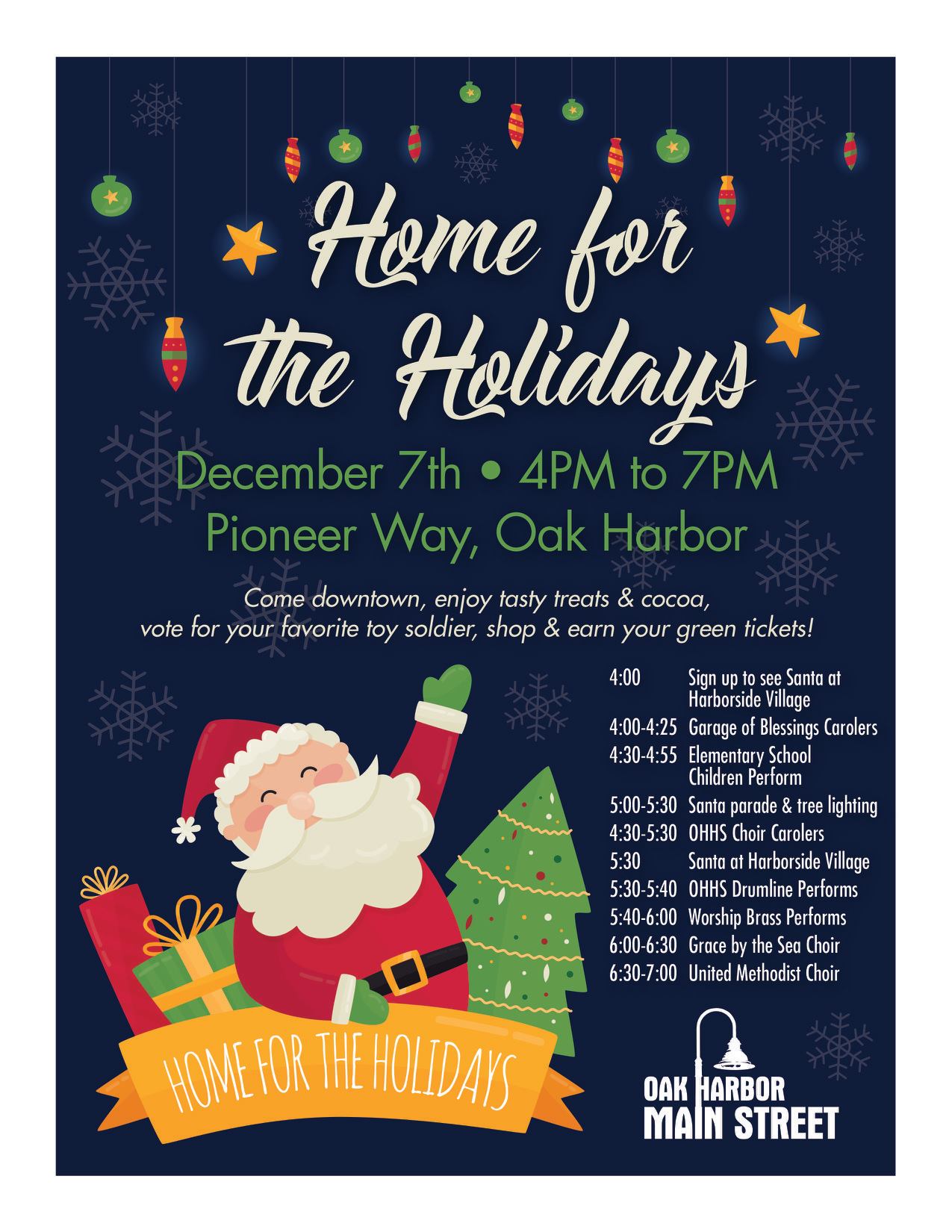 Home for the Holidays Pioneer Way
December 7th 4-7
---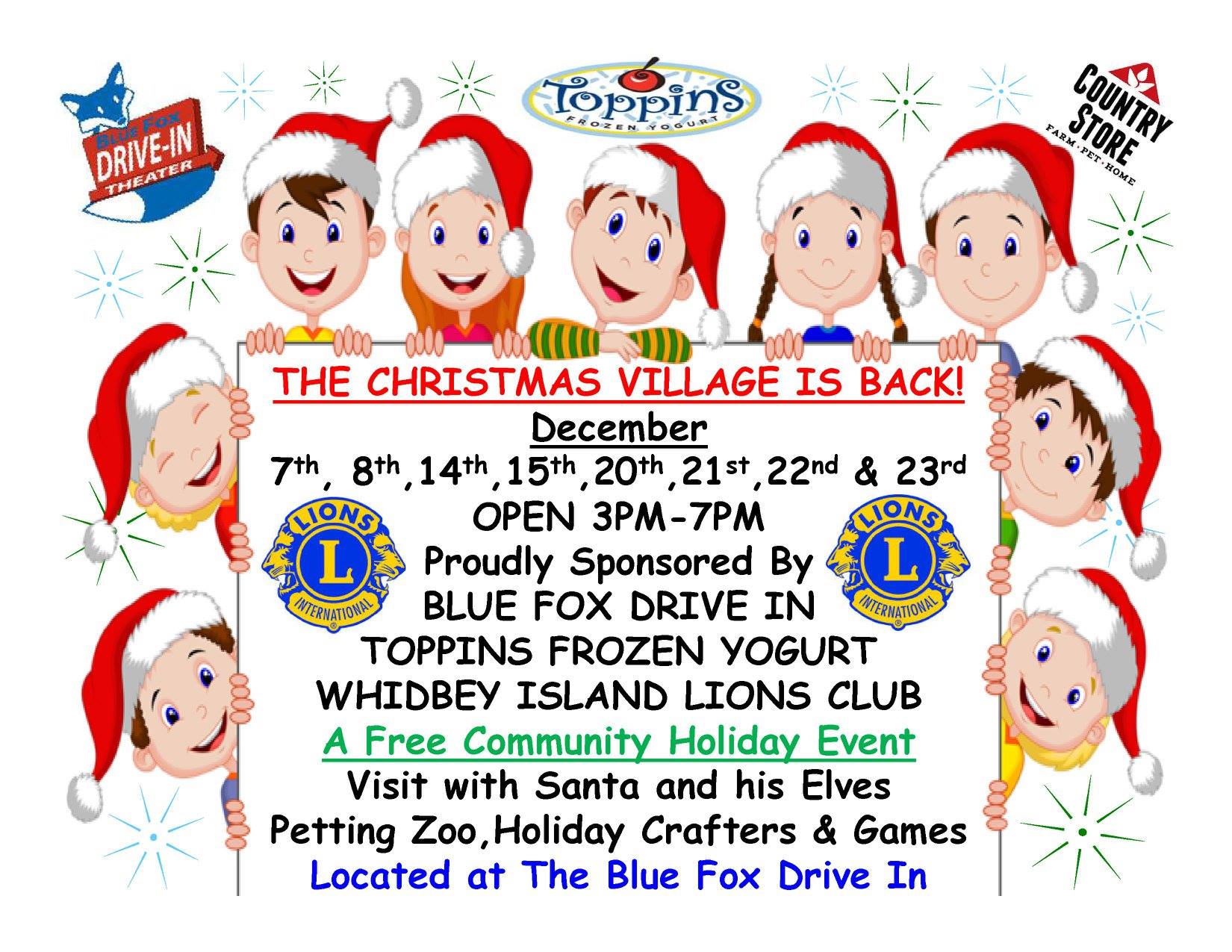 The Christmas Village at The Blue Fox Drive In
December 7,8,14,15,20,21,22,23
---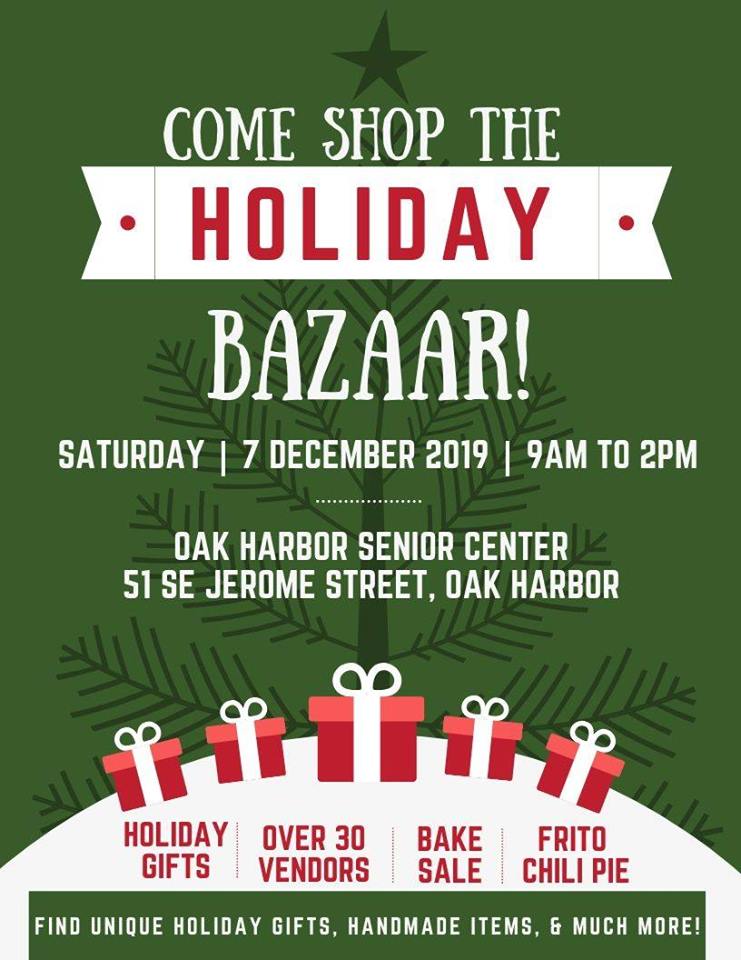 Saturday, December 7, 2019 at 9 AM – 2 PM at Oak Harbor Senior Center
The Oak Harbor Senor Center is hosting yet another Holiday Bazaar. There will be at less 30 other vendors at this event with wonder holiday items. Make sure to stop by and say hi and got some of your holiday shopping done.
---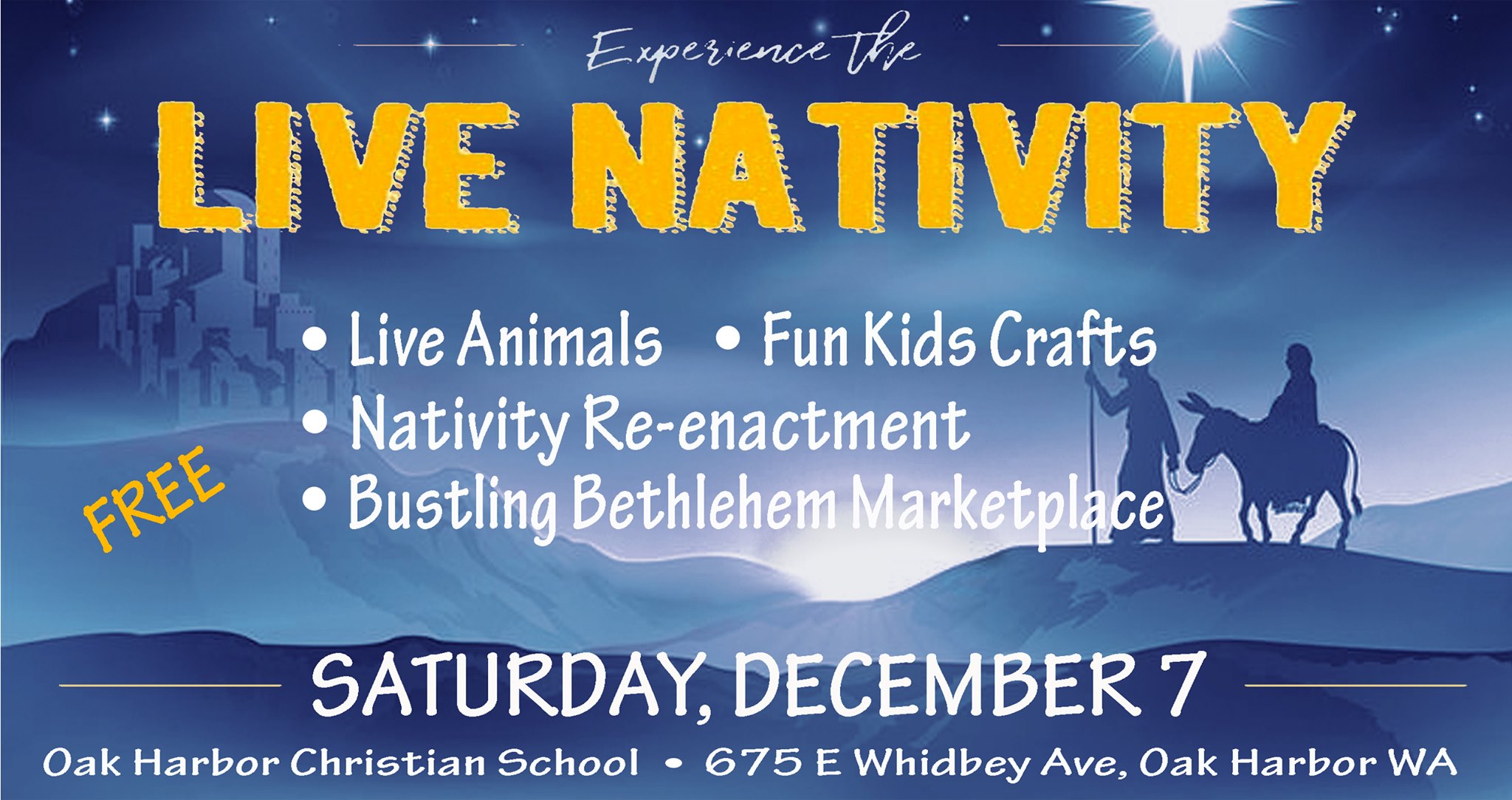 Saturday, December 7, 2019 at 1 PM – 4 PM
Oak Harbor Christian School
675 E Whidbey Ave, Oak Harbor
Join us for a live nativity with animals and crafts.
---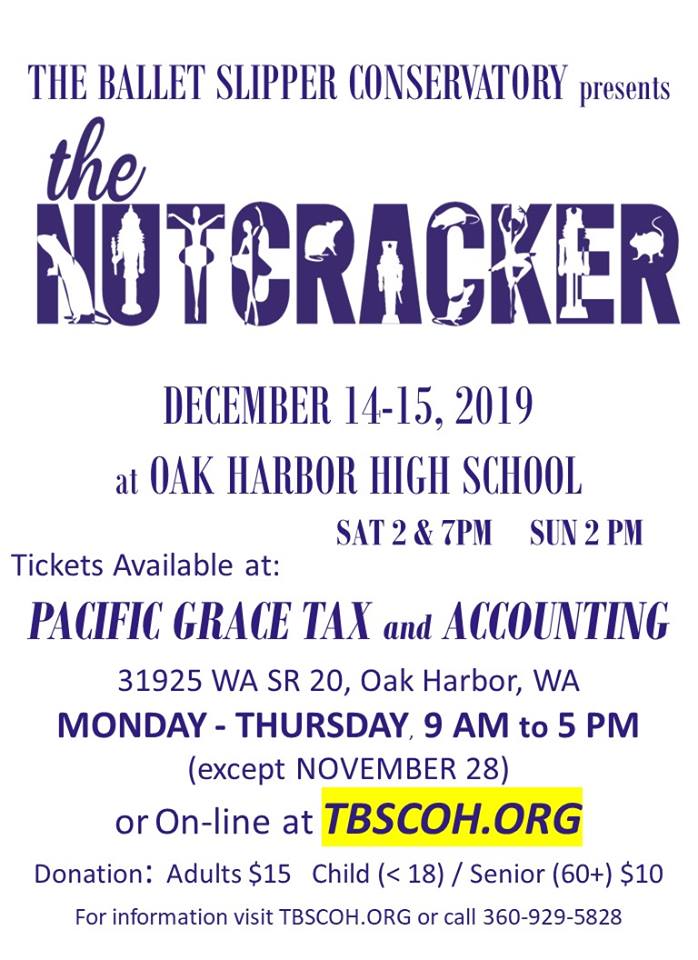 December 14-15 at Oak Harbor High School
---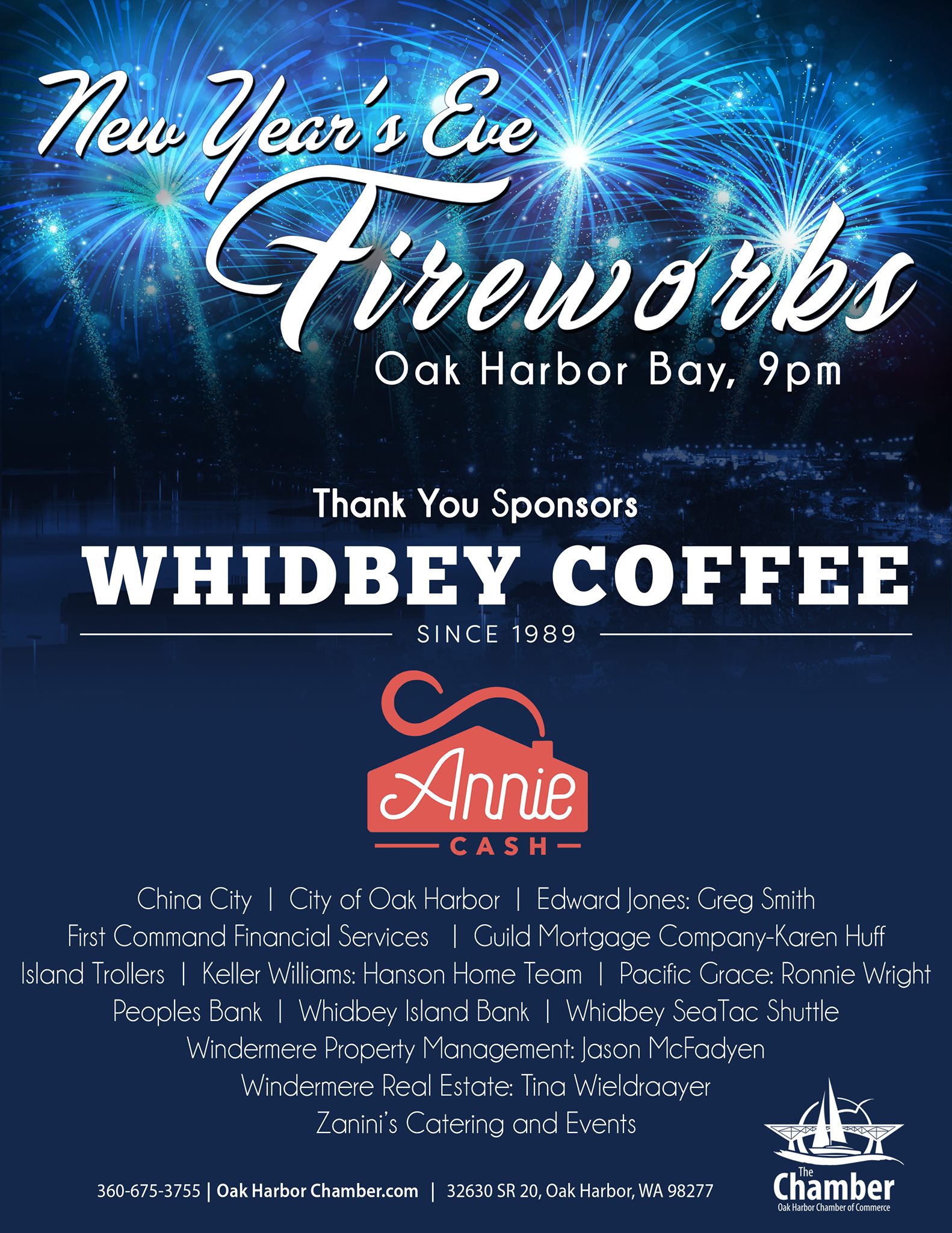 December 31st in downtown Oak Harbor
Join this annual celebration of New Year's Eve Fireworks!
Tuesday, December 31st, 9pm. See the fireworks in Oak Harbor Bay!
---


---
Coupeville
---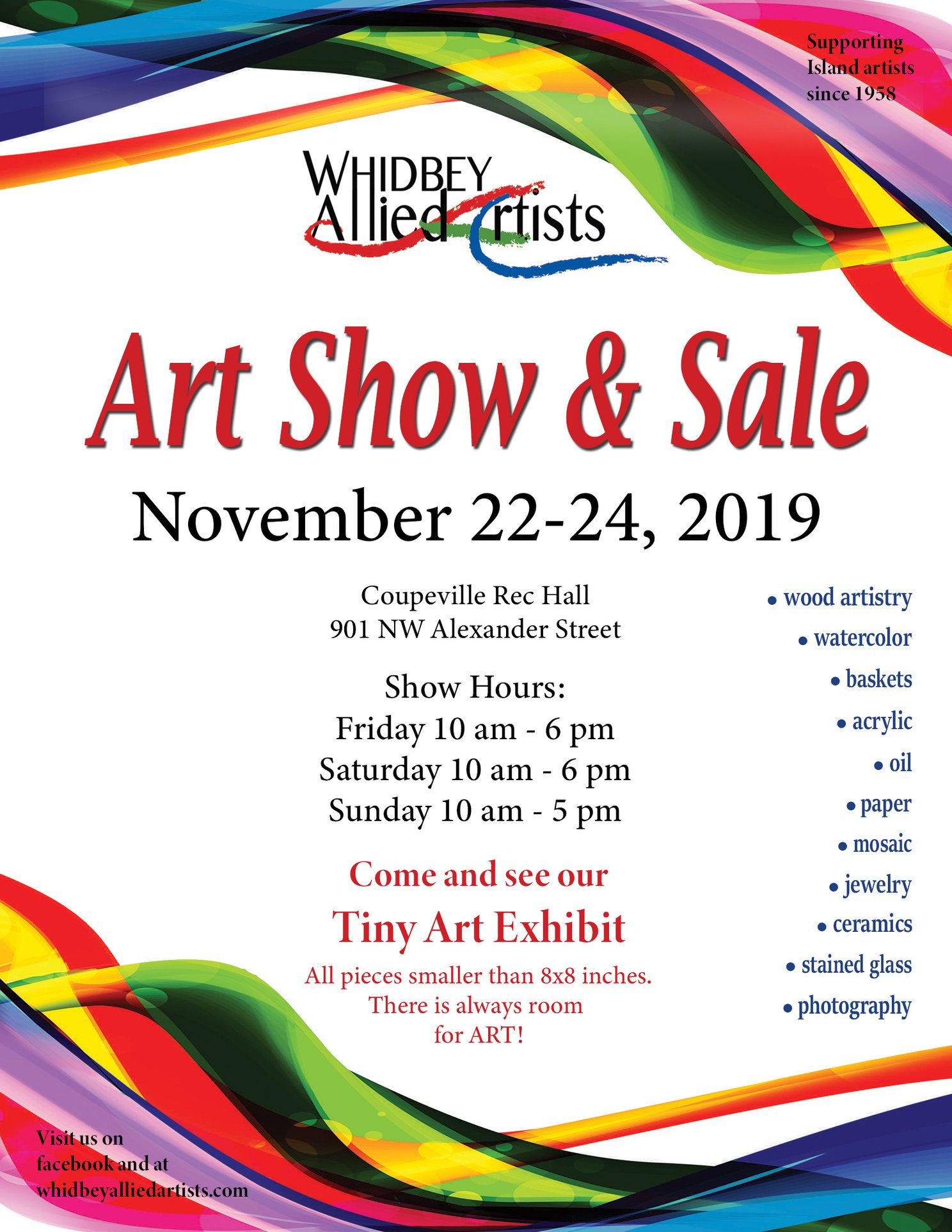 November 22-24 at the Coupeville Rec Hall
---

Bring the family, have a great time, drink some wine, heck if you even want to smoke a pipe like this guy, you certainly can by our outdoor fire pit!

Thanksgiving Dinner at Captain Whidbey Inn


Thursday, November 28th




Served 2 pm to 7 pm


A 3 Courses Prix Fix Dinner (plated)

>Appetizer
Farm Fresh Mixed Green Salad,
Port and Cinnamon Poached Pear, Hazelnut Dressing

>Entree
Roast Organic Turkey
Mashed Yukon Gold Potatoes, Chives and Crème Fraiche
Classic Rosemary Brioche and Dog Island Mushroom Stuffing
Green Beans Marcona Almandine
Candied Honey Yams
Brown Butter Sweet Corn and Peas

>Family Style Fixings
Rosemary Demi Glace Gravy
Caramelized Cranberry Orange Sauce
Crusty Artisan Rolls

>Dessert
Personal Pie, choice of: Apple, Pecan, Pumpkin

Adults - $59/person
Kids 12 & under version- $29/kid inc. beverage
+ tax + 20% gratuity

RESERVATIONS on Open Table or at https://www.opentable.com/r/captain-whidbey-restaurant-reservations-coupeville/?-US&restref=32518&corr-1529-4c50-8bd9-d1dfabfe2be6
---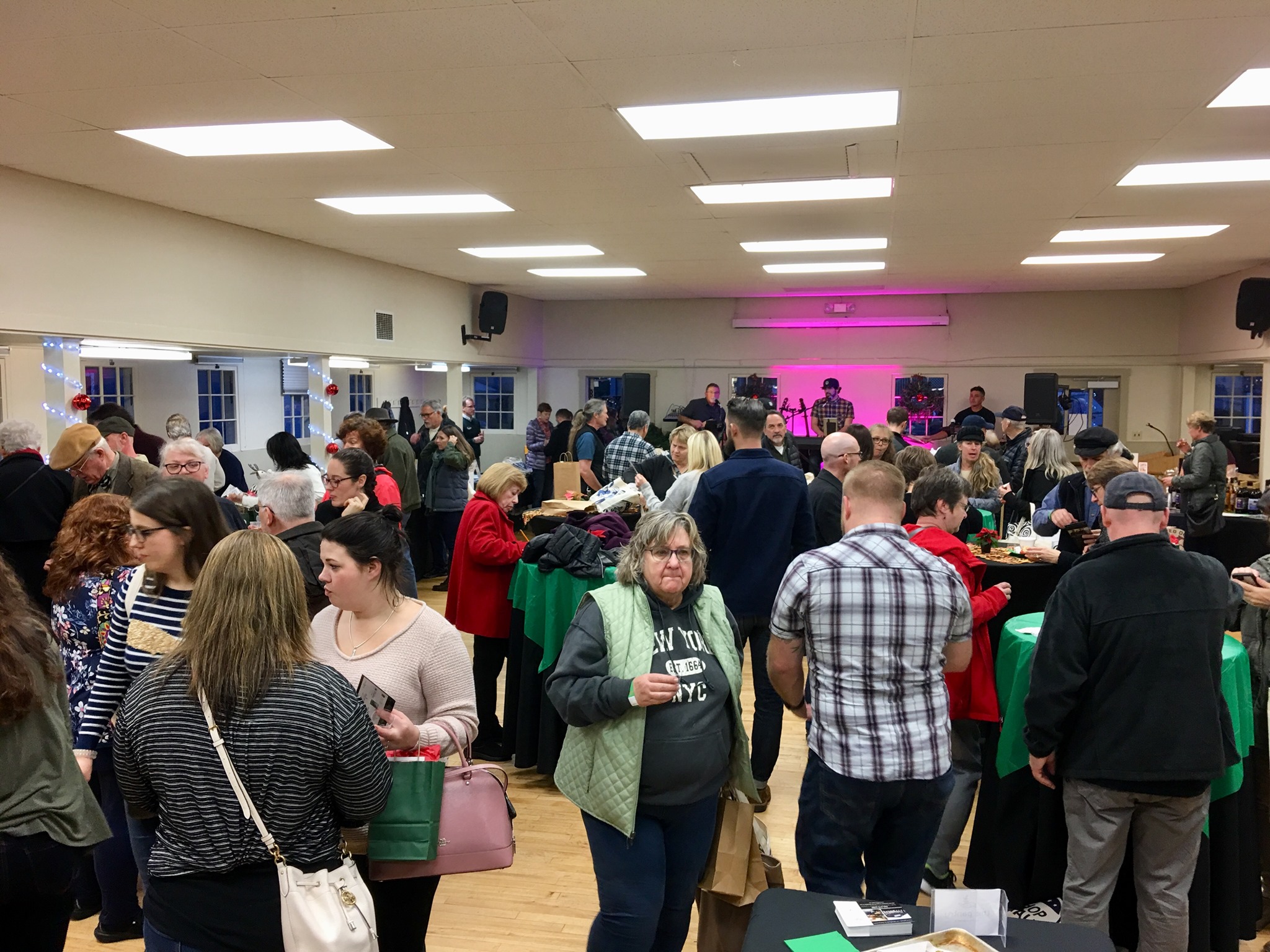 Join us for Sip 'n' Shop On The Cove,
Saturday November 30th 11am - 7pm.
Check in at the Chamber of Commerce to pick up your Gift Bag and spend the day shopping and exploring historic Coupeville for your one of a kind holiday gifts, have lunch in one of our local eateries, stroll the Wharf, or visit our Museum.
When you have finished Shopping you can start Sipping!!
From 4pm - 7pm end your day tasting local beverages from Whidbey Island Vintners, Distillers and Brewers, while sampling delicious food from local restaurants, included will be prize drawings and live music!
Your Sip 'n' Shop ticket gets you one of our bags that includes a special gift, a ticket for 8 tastings, two free drawing tickets and a list and map of participating businesses who are offering Sip 'n' Shop ticket holders special offers. Make a weekend of it and stay the night at one of our unique Coupeville lodgings. Sip 'n' Shop is brought to you by the Coupeville Chamber of Commerce. Must be 21 and over to participate in the afternoon event in the Rec. Hall.
---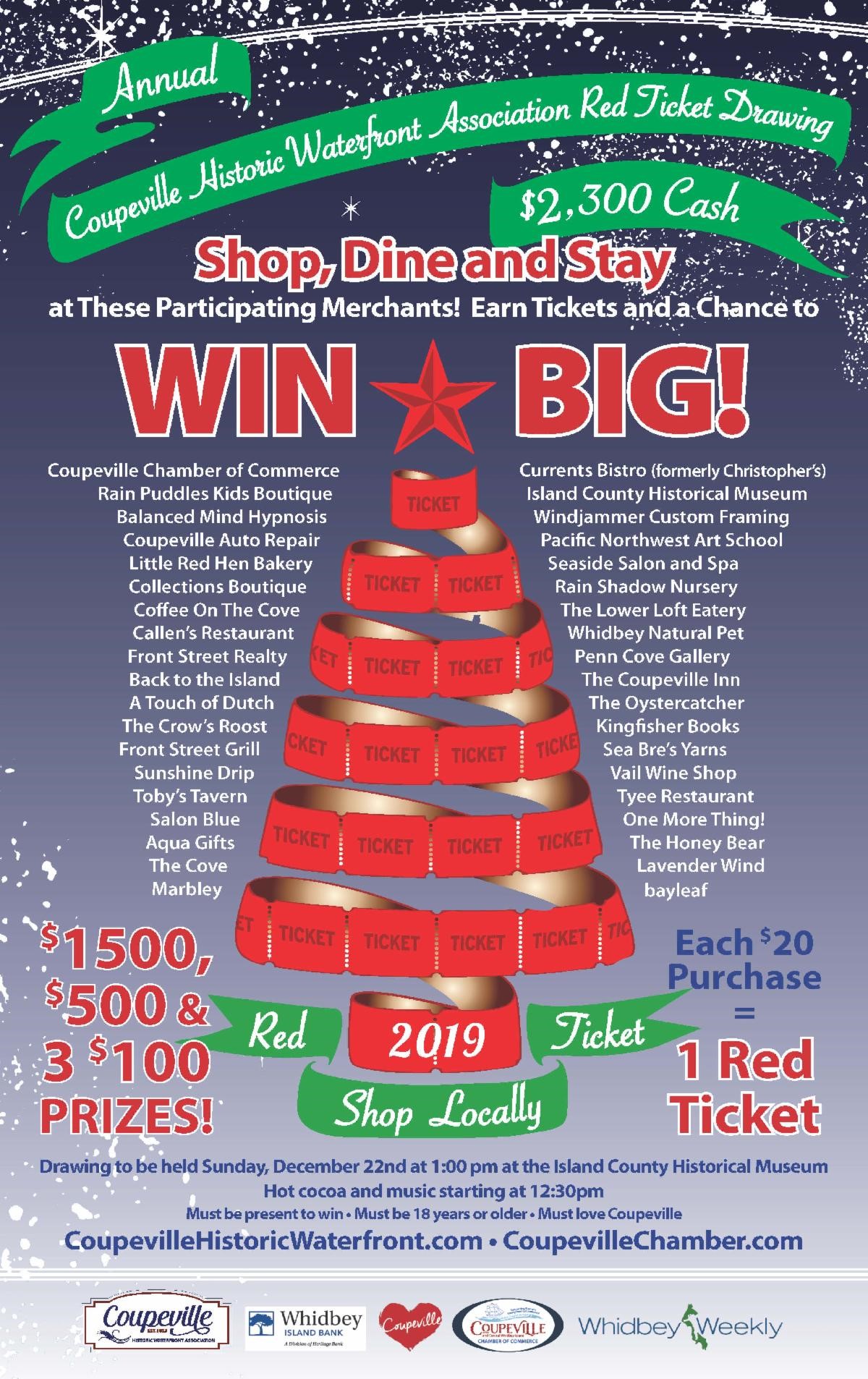 ---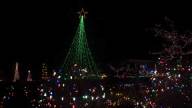 December 7 @ 4:00 pm - 6:00 pm
Greening of Coupeville Parade and Tree Lighting.
The parade winds through the beautifully decorated historic downtown. This is followed by the tree lighting at Cook's Corner Park. It is a picture perfect, local tradition, small town at its best.
Check back closer to the event for all of the details or call 360-678-5434.
---

Admiralty Head Light House in Coupeville December 7th from 11-4pm
---

Run, walk or stroll the 5k route through the unique and scenic trails of Camp Casey and Fort Casey State Park.
December 7th, 10AM-12Pm
Sweeping ocean vistas, Evergreen and Salal canopies, crisp winter air, and very likely an eagle or deer sighting – the Jingle Trail Run on Camp Casey Trails will be unlike any other run you've done.
Light refreshments and goodie bags provided.

Make a fun weekend of the event and join us for our small town, nostalgic tree lighting ceremony and Christmas parade,
late night shopping and art sales in our quaint downtown, and a lighted boat parade from the Yacht Club.


Location:
Camp Casey
1276 Engle Road
Coupeville WA 98239

Time:
10 AM Run Starts
9:30 Costume Prizes
8:30 – 9:30 Race Day Registration

Lodging:
Special lodging rates at Fort Casey Inn.
www.fortcaseyinn.com

*No dogs allowed on course
**Strollers not recommended because of terrain
***More information at www.jingletrailrun.com
---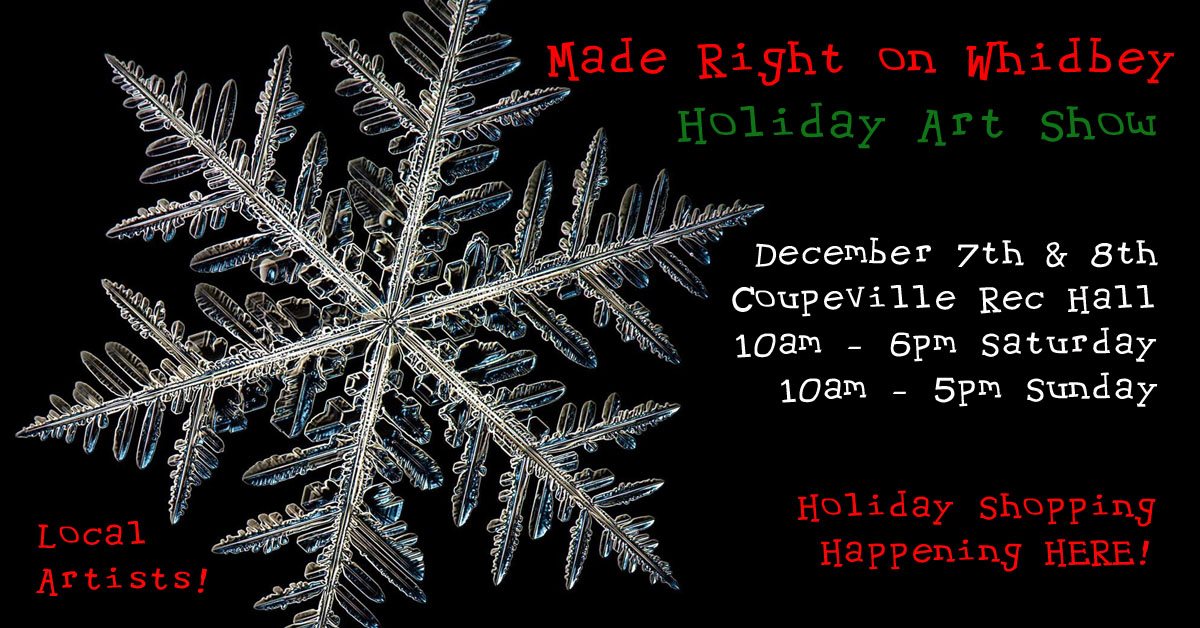 ❄️❄️Welcome to our Annual Holiday Art Show! ❄️❄️
December 7th and 8th from 10AM
Coupeville Rec Hall
We have 10 local Whidbey Artists that will have a beautiful display of art for you to choose from! Come down town Coupeville and enjoy the festivities,
stop by for some great company, art and goodies to nibble on.
Artists Participating are Clovy Tsuchiya, Timothy Haslet, Linnane Armstrong, Mary Ellen O'Connor, John Olsen, Janet Lewis, Johnathan & Jandellyn Ward (Winfield Designs),
Jordan Jones, Siri Bardarson, and Berit Bardarson.
We hope you will make us a part of your holiday tradition this year!
---

Winter Holiday Art Festival
December 14th from 11-5 at Coupeville Middle School
---


---
Greenbank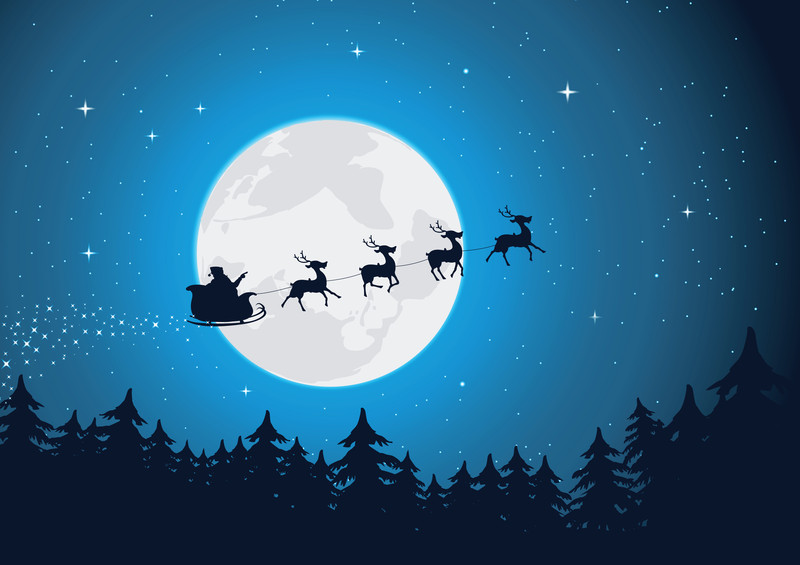 Greenbank Holiday Market is Back!
December 7 @ 11:00 am - December 14 @ 4:00 pm
Come join us for another holiday shopping season in the historic barn on the Greenbank Farm!
Back by popular demand, have access to 19 vendors while sipping hot chocolate and taking pictures with Santa Claus.
Hours are 11 AM to 4 PM, both Saturday and Sunday on December 7th and 14th, with a possible 3rd weekend of the 21st.
---

Artworks Gallery December Holiday Show
For the month of December, Artworks Gallery presents a Group Show featuring all 15 of our Whidbey Island Artists. Many of our artists are applying new techniques to their original creations, instilling their art with cutting edge vibrancy! For the month of December, in addition to their established art, gallery artists will fill Artworks with their unique Whidbey Island art created for holiday gift giving and decorating. Holiday art includes mugs, jugs and coasters, platters and bowls, trivets and cutting boards, holiday ornaments in many styles, holiday cards and small gifts, garden art, jewelry, fiber art, painting and prints.
Please join our very talented Artworks' artists for light treats and beverages at our Second Saturday Reception, December 14th, 2:00 to 5:00. p.m.
Artworks Gallery - showcasing a selection of wall art for your home or office, usable pottery and wood art to grace your kitchen, glass art, jewelry and wearable fiber art.
We look forward to seeing you at Artworks Gallery at Greenbank Farm.
For more information, visit the web site www.artworkswhidbey.com or call (360) 222-3010.
Open 11-4 Mon-Wed-Thu-Fri, 11-5 Sat. & Sun. Closed Tuesdays. Closed Christmas Day.
Artworks Gallery
18341 SR 525, Greenbank
(360) 222-3010
---


---
Freeland
---

Holiday Open House at the Red Rooster Antique Mall, November 24th from 12-5PM
---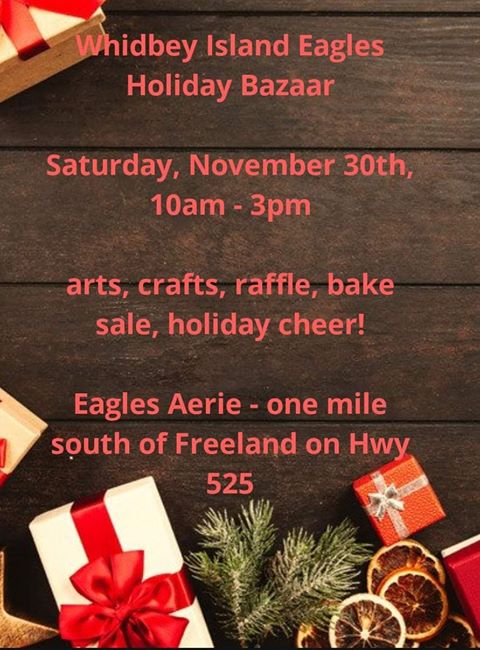 Holiday Bazaar, Saturday November 30, 10-3PM
Whidbey Island Eagles Aerie south of Freeland on Hwy 525
---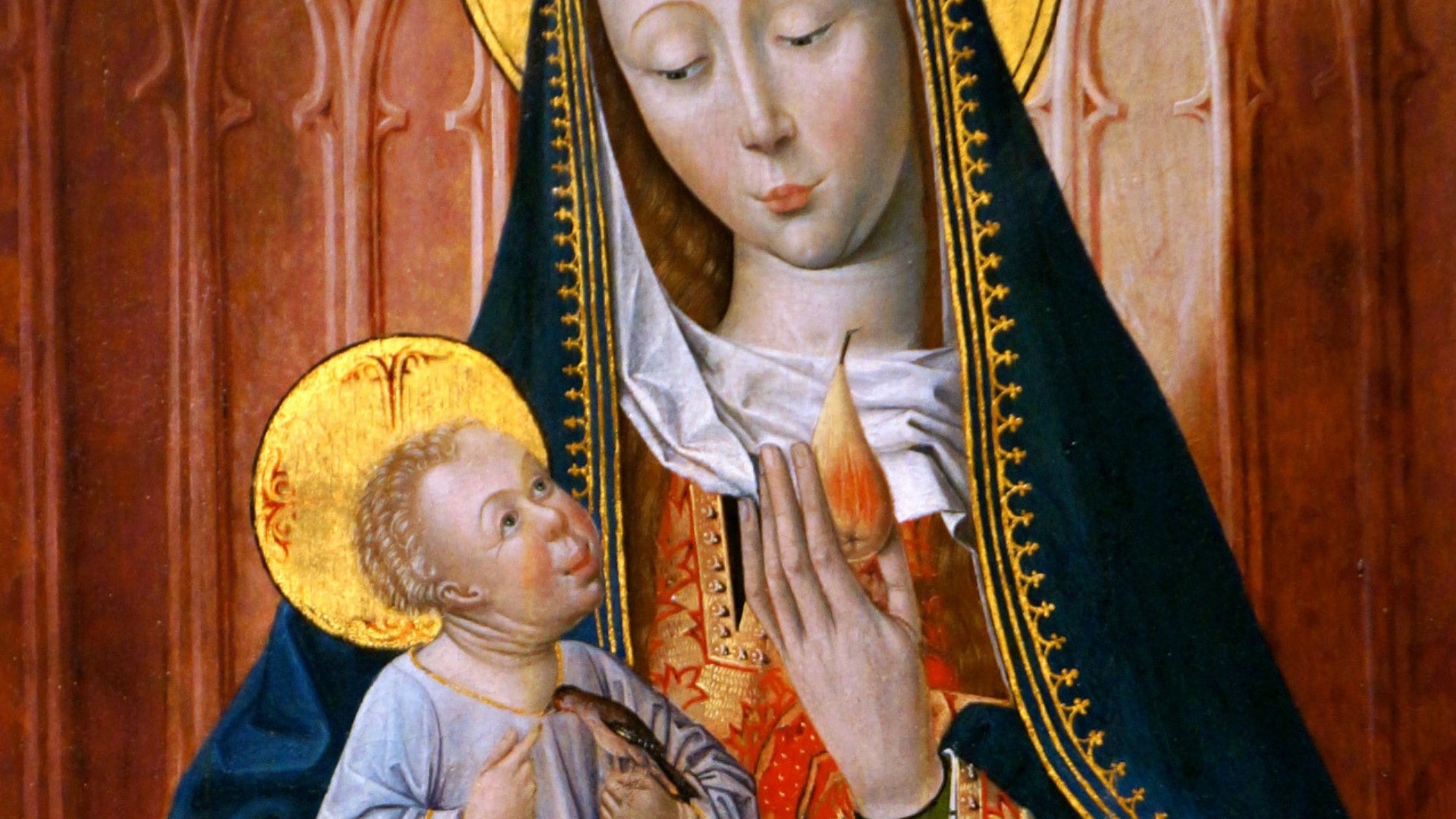 Saturday, December 7, 2019 at 7:30 PM – 9:15 PM
Pacific MusicWorks Underground and the Whidbey Island Music Festival present their third season of fun, informal,
Cabaret-style concerts in the beautiful parish hall of St. Augustine's Episcopal Church in Freeland.
Enjoy world-class performance along with insights into the stories behind the music, great company, and complimentary wine and refreshments.
Ring in the Holiday season with Henry Lebedinsky and the Underground House Singers as they offer up a blend of Renaissance and Baroque Christmas carols from the Celtic countries, France, England, and colonial America. Admission is just $25 ($20 seniors), 18 and under free.
---

Holiday Concert
Revel in the sounds of Everything Christmas! including joyful sing-alongs for a merry good time!
Friday, December 13th ~ 7 p.m.
Sunday, December 17th ~ 3 p.m.
Trinity Lutheran
18341 WA-525, Freeland
The Community is invited to the Whidbey Island Orchestra's
Everything Christmas! Holiday Concert
Dr. Cynthia Morrow, Music Director
Gabriela Garza, Assistant Conductor
Special solo performances by Brian Kenney on violin
and Steve Tarr on Trombone!
Admission is free
(although donations are accepted and greatly appreciated)
followed by a reception with orchestra & refreshments
Concert event put on by the Whidbey Island Orchestra,
a 501(c)(3) charitable organization
For more information contact
---


---
Langley

Walker Family Thanksgiving at WICA
Friday, November 22, 2019
7:30 PM9:30 PM
ABOUT WALKER FAMILY THANKSGIVING
Celebrate community, family, and the seasons at this special holiday variety show. Hollywood performing and songwriting duo Amy Walker and Nipun Nair, with special guests Claudia Walker, Tom Walker, and Paul Houser, will take you on a journey through original and beloved songs, comedy characters, spoofs, and more
---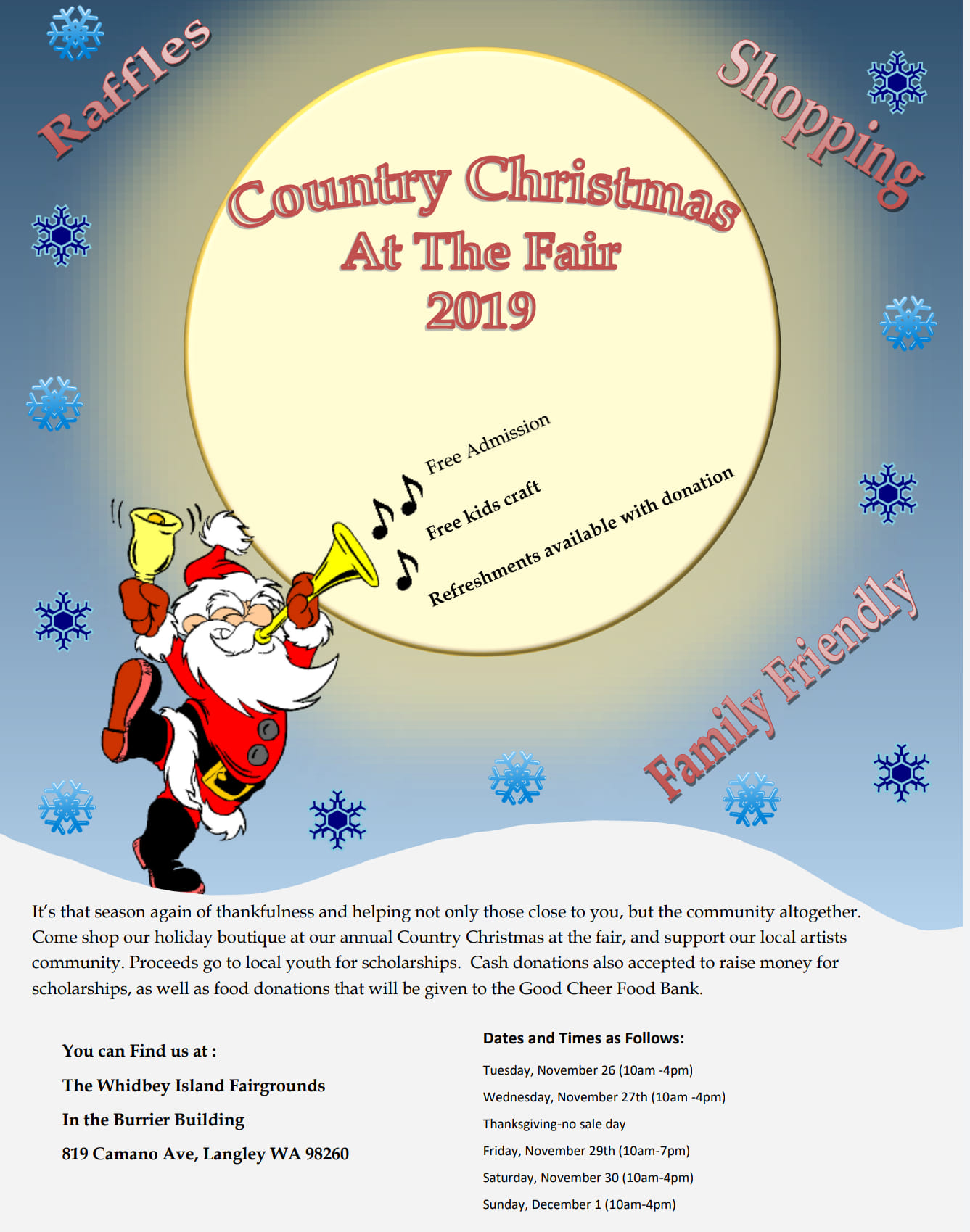 Come shop our holiday boutique and support local artists! Proceeds go to to raise money for local youth scholarships and we will also accept food donations for Good Cheer.
Tuesday, November 26, 10 a.m.-4 p.m.
Wednesday, November 27, 10 a.m.-4 p.m.
Friday, November 29, 10 a.m.-7 p.m.
Saturday, November 30, 10 a.m.-4 p.m.
Sunday, December 1, 10 a.m.-4 p.m.
Located in the Burrier Building at Whidbey Island Fairgrounds. Free admission, family friendly, free kids' crafts, refreshments available with donation.
Country Christmas at the Fair is a Holiday Bazaar where you can find all sorts of unique gifts and fun things for your home!
We will have crafts for kids available also free of charge. Donations accepted.
Refreshments are available with donations.
---

Holiday Wreath-Making Workshop Adults
Kick off the holiday season in this workshop where you will create a fresh and natural wreath to adorn your home. We'll provide basic instruction and all the necessary supplies to create an 18" mixed green wreath, and you'll choose from the available greenery to make a wreath that's uniquely you.
Not only will you create a wreath to enjoy this season, but you'll leave with the knowledge and components to create a new wreath the next time a Whidbey windstorm graces you with an abundance of greenery. Re-use your wreath form and wire year after year, and this wreath becomes free annual craft tradition.
Fee includes wreath form, wire, fresh evergreens and berries, and light refreshments. We'll provide clippers.
Optional: you may bring unusual hardy greens or your favorite ornaments to embellish to your wreath.
Instructor: Carrie Monforte, Recreation Supervisor and craft dabbler. programs@whidbey.com
Location: Make the mess in our space! SWPRD Room 111 at 5475 Maxwelton Rd, Langley.
Please register by Nov 27. Min 1 / Max 8.
Wednesday, December 4, 5:00-7:00pm, $34
---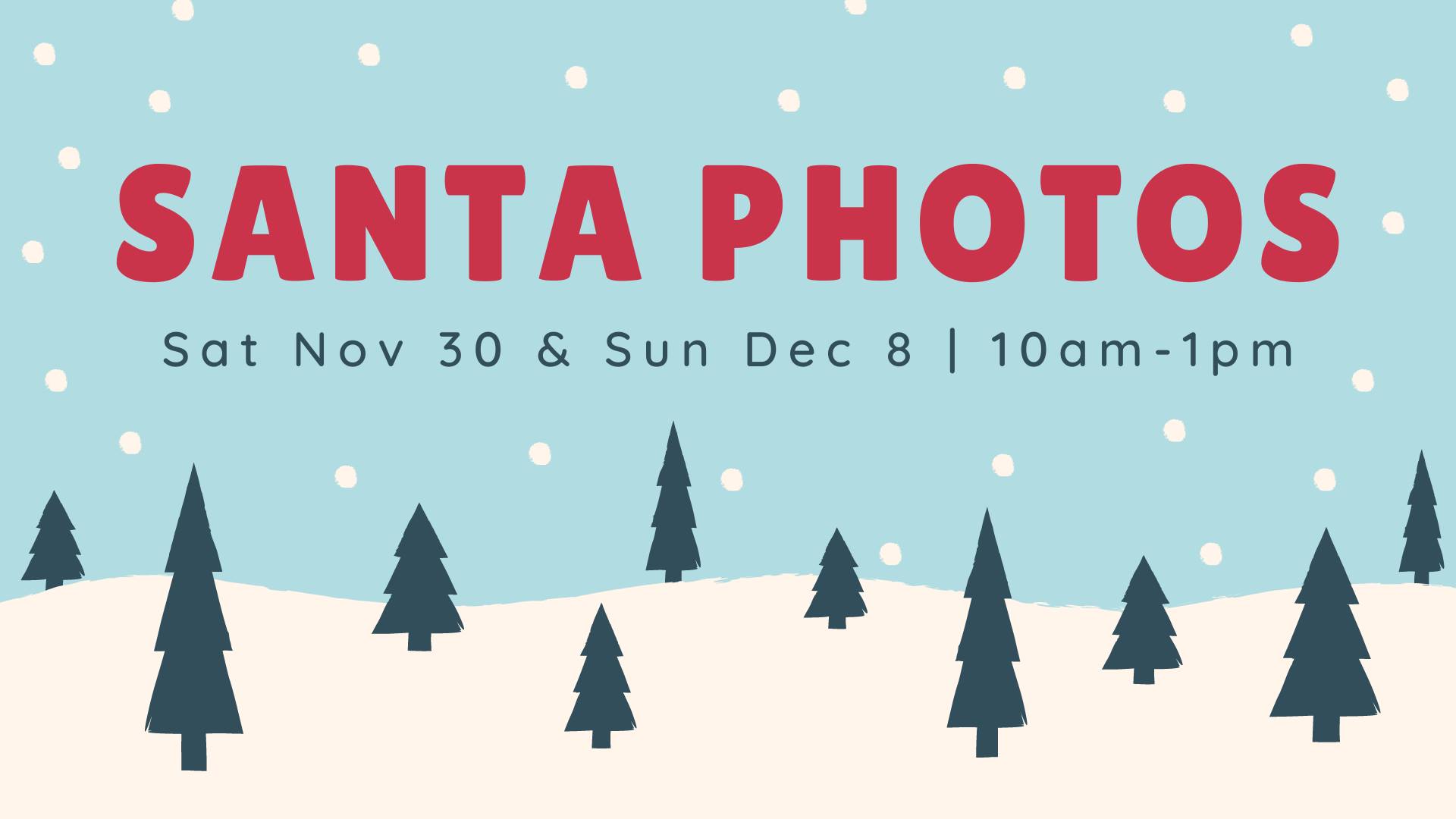 Join us for our annual Santa Photos in our greenhouse Holiday Market – this year with *two* opportunities to see Santa! Photos are happening both
Saturday, November 30th and Sunday December 8th from 10am-1pm.
The greenhouse has transformed into a winter wonderland and Santa is coming to town! Get your portrait with Santa taken by Farage Photography, pick out the perfect Christmas Tree and shop our Holiday Market for gifts, decor and holiday plants galore!
DETAILS:
• Get your portrait with Santa by Farage Photography (pricing packages below)
• Live & Cut Christmas Trees
• Holiday Decor & Greenery
• Holiday gifts
• Pastries and Hot Beverages available at Flower House Cafe
Portraits are first come first serve – no reservations. Get in line early!
PORTRAIT PACKAGES
Package A $30 (Print Package)
• 1 Digital File
• 2 5x7
Package B $10
• 1 Digital File
---

Holiday Market at Bayview Hall from 10-2 on Saturdays starting November 30-December 21
---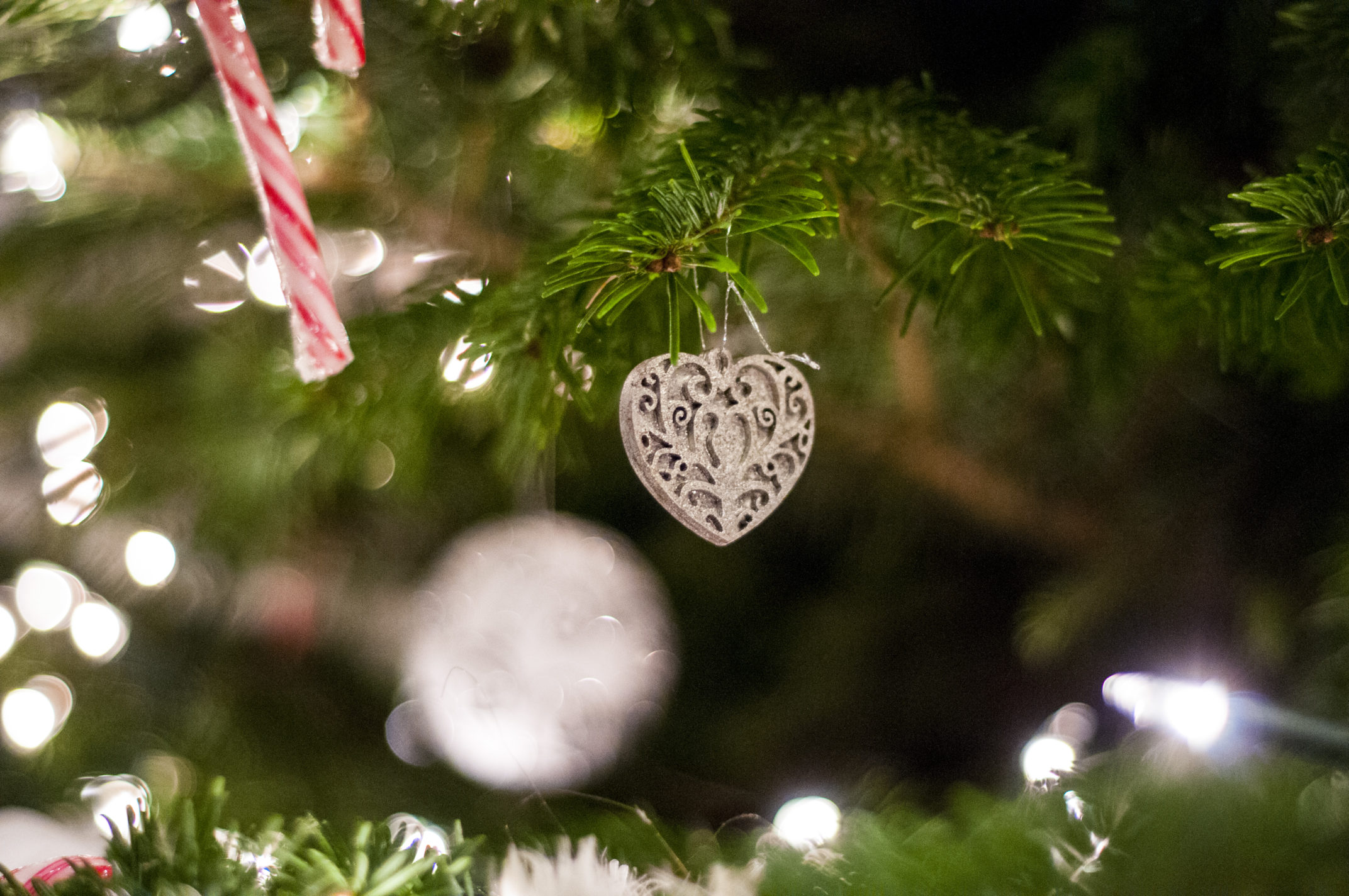 Langley sparkles for the holidays with the annual Lighting of Langley community celebration at 4 p.m.
Saturday, November 30, 2019

at Langley Park at Second and Anthes.
Enjoy singing carols, sipping hot cider and cocoa, and Santa! This annual tree-lighting kicks off the holiday season in the Village by the Sea.
---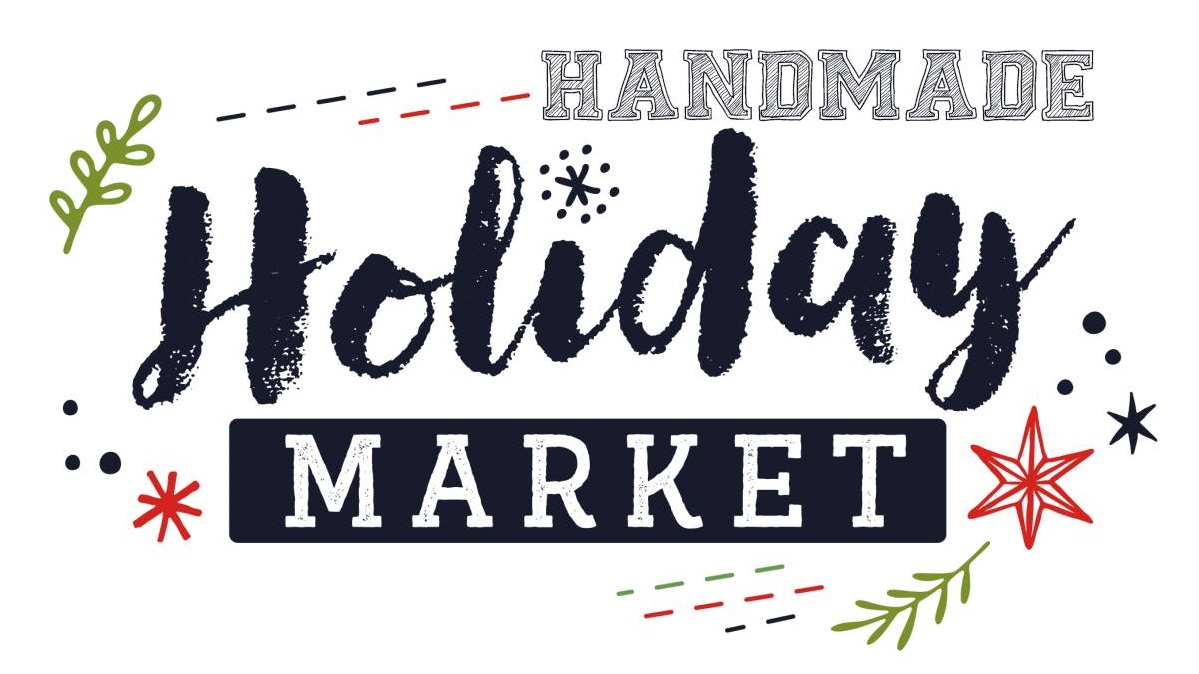 Come support local vendors and South Whidbey Elementary K-6 PTA (SWEPTA).
December 7th from 10-4pm
Join us for our 7th annual 'Shop Local. Shop Handmade.' Holiday Market! All booth fees, and PTA booth sales go to support our K-6 PTA programs.
We are back at our original elementary school location with WAY more parking and room for more vendors if then last year. Last years record number of more then two dozen (yes 24+) booths with a variety of handcrafted local goods and wares for all ages was a huge hit! This is one of the largest handcrafted exclusive events on the island.
Location:
South Whidbey Elementary School
North Campus Gym
5380 Maxwelton Rd
Langley, WA 98260
---

ABOUT IT'S A WONDERFUL LIFE
SCHEDULE & TICKETS
DEC 06 | 7:30pm
DEC 07 | 7:30pm
DEC 08 | 2:00pm
DEC 13 | 7:30pm
DEC 14 | 7:30pm
DEC 15 | 2:00pm
DEC 20 | 7:30pm
DEC 21 | 7:30pm
$24 | $22 Seniors | ages 18 and under are free
The beloved holiday film comes to life as a 1940's radio broadcast in the world premiere of a new adaptation by David Ossman.
A WICA Theatre Series production.
---

Langley hosts its annual holiday parade at 1 p.m. (note time has changed) on Saturday,

December 7, 2019

.
Musicians, service and youth groups, pets, families and floats will march up and down First and Second Street.
This year, we are giving away three crisp $100 bills!
Keep the cash or donate to your favorite charity. Cash awards will go to: the most festive entry, the entry with the most lights, and the entry with the most elves.
If you are interested in participating in the Holly Jolly Holiday Parade, Click Here to sign up. It's free to join in this festive march through town, and the more the merrier!
Once the parade is over, stay for lunch or dinner and a bit of shopping.
---
Whidbey Island Dance Theatre's 27th season of THE NUTCRACKER
A holiday delight for the whole family!​
WIDT's production of this classical ballet set to the music of Tchaikovsky features many of the beloved characters and themes of the traditional ballet but with a Whidbey Island twist.
​
Join us as Clara and the Nutcracker Prince travel through a hidden magical cave deep in the Puget Sound where mermaids swim among silky strands of seaweed and dance on pearls. Share their wonder as they stroll through the wild and lush Enchanted Forest where they meet our graceful Faerie Queen and Forest King, and confront a dreadful Dragon. Marvel at the fleeting elegance of our beautiful flowers and swallowtail butterflies. And of course, meet the matron of all forest creatures, Madame Bumble, who introduces us to some of the most adorable critters we have ever seen.
WIDT takes pride in our local version of the classical ballet. The high quality of production and the amazing skill of our dancers combine to provide you with a show rivaling what is available in cities 10 times our size. Many have made this show a family holiday tradition! We invite you, and your family, to join them - spare yourself the ferry, traffic, parking, and cost of Seattle productions and enjoy this wonderful Whidbey show this holiday season.
​
SHOW TIMES & PRICES
Online sales reflect a $5 across the board discount from At-the-Door purchases. A 10% discount for Seniors (65 and over), Youth (17 and under), or Military (with military ID) is also available with online purchases. Just Click on the Eventbrite LINK Below for the show that you wish to purchase tickets for.
​
OPENING NIGHT SPECIAL! ALL SEATS $10 ONLINE -$15 AT-THE-DOOR. No other discounts available.​
all seats $15 ONLINE - $20 At-the-Door. Senior/Youth/Military discount available these shows ONLINE ONLY.
all seats $15 ONLINE - $20 At-the-Door. Senior/Youth/Military discount available these shows ONLINE ONLY.​
all seats $15 ONLINE - $20 At-the-Door. Senior/Youth/Military discount available these shows ONLINE ONLY.​
all seats $15 ONLINE - $20 At-the-Door. Senior/Youth/Military discount available these shows ONLINE ONLY.​
all seats $15 ONLINE - $20 At-the-Door. Senior/Youth/Military discount available these shows ONLINE ONLY.
---


---
Clinton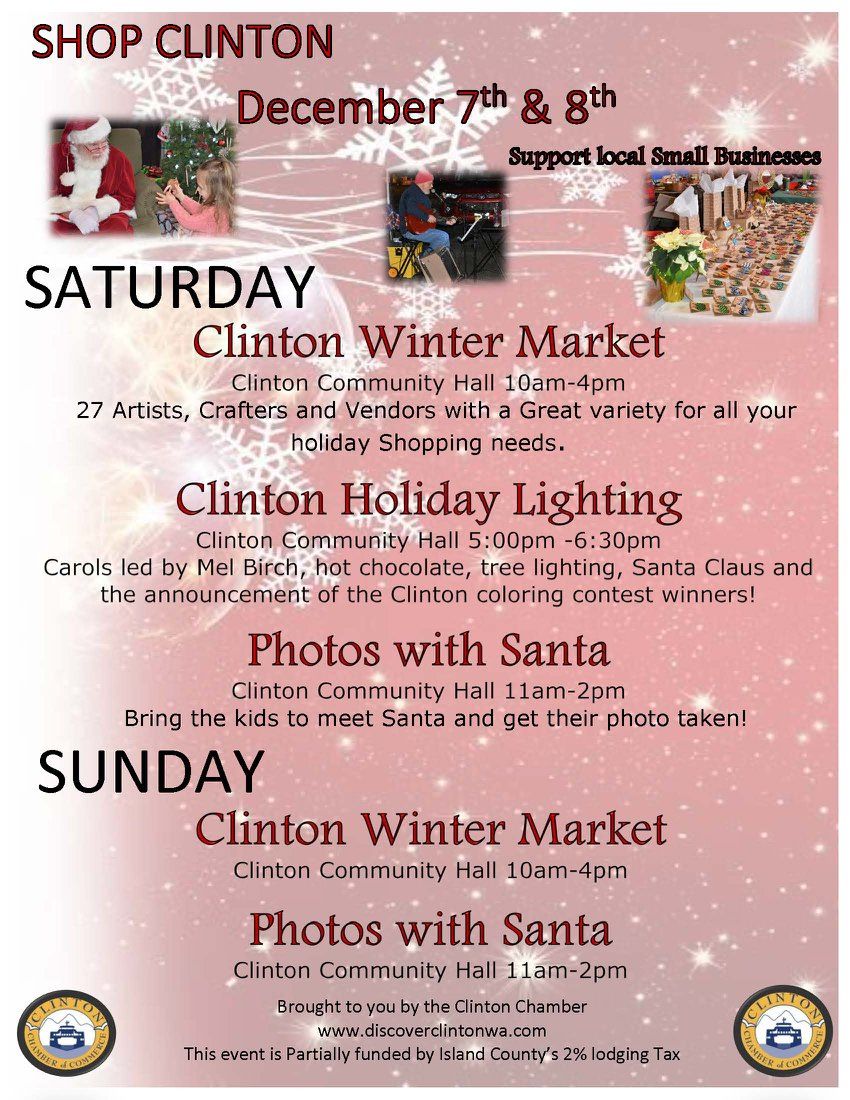 Saturday and Sunday December 7th & 8th10am-4pm
27 Artists, Crafters and Vendors with a Great variety for all your holiday Shopping needs.11am-2pm




Bring the kids to meet Santa and get their photo taken! Donations are gladly excepted. Saturday Night 6:00pm -7:30pm Carols led by Mel Birch, hot chocolate, tree lighting, Santa Claus and the announcement of the Clinton coloring contest winners!
---


---
Navy

Saturday, November 23, 2019 at 9 AM – 11 AM
NASWI FITNESS CENTER
Gobble up this annual SATURDAY run on the station! Open to base access ID cardholders and their guests. Pet-friendly, kid-friendly, baby jogger friendly!
5k is along the Seaview Trail
10k is Seaview Trail and Nortzgate Trail
FREE!
Enjoy random drawing for 3 TURKEYS!
MEDALS to the first 200 finishers!
Register for this free event with myFFR# 610223 or at the NASWI Fitness Center Front Desk. 360-257-2420
---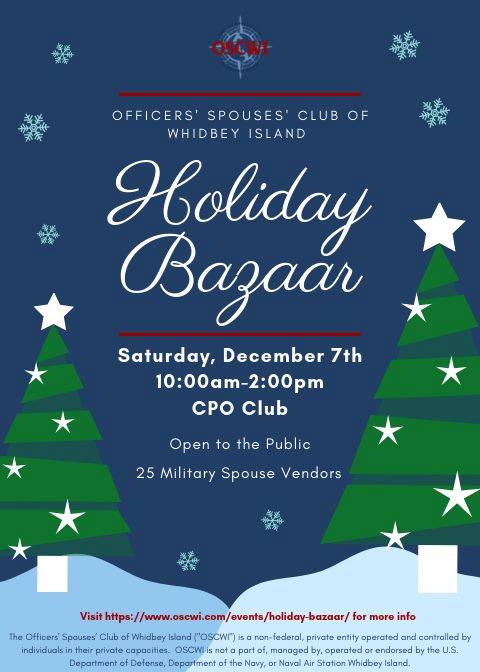 Holiday Bazaar, December 7th from 10-2pm CPO Club (Open to the public)
---