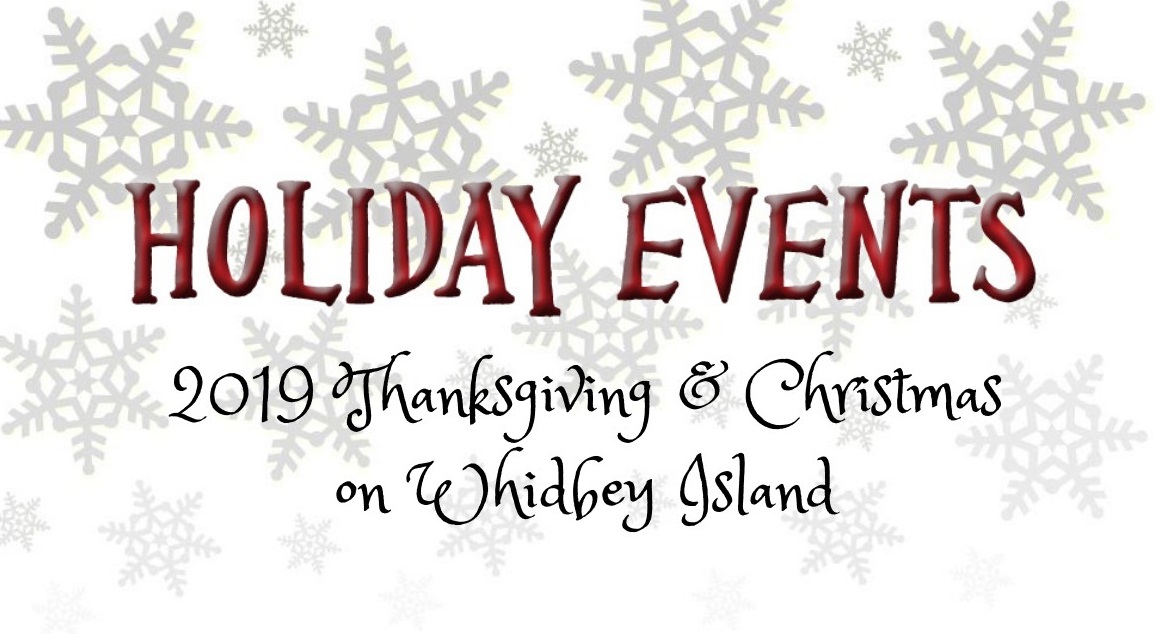 2019 Whidbey Island Winter Holiday Events
Information is being added daily.
If you have something to add, please email to us at info@whidbeylocal.com
Click on the following cities to find local events.
O
ak Harbor
OAK HARBOR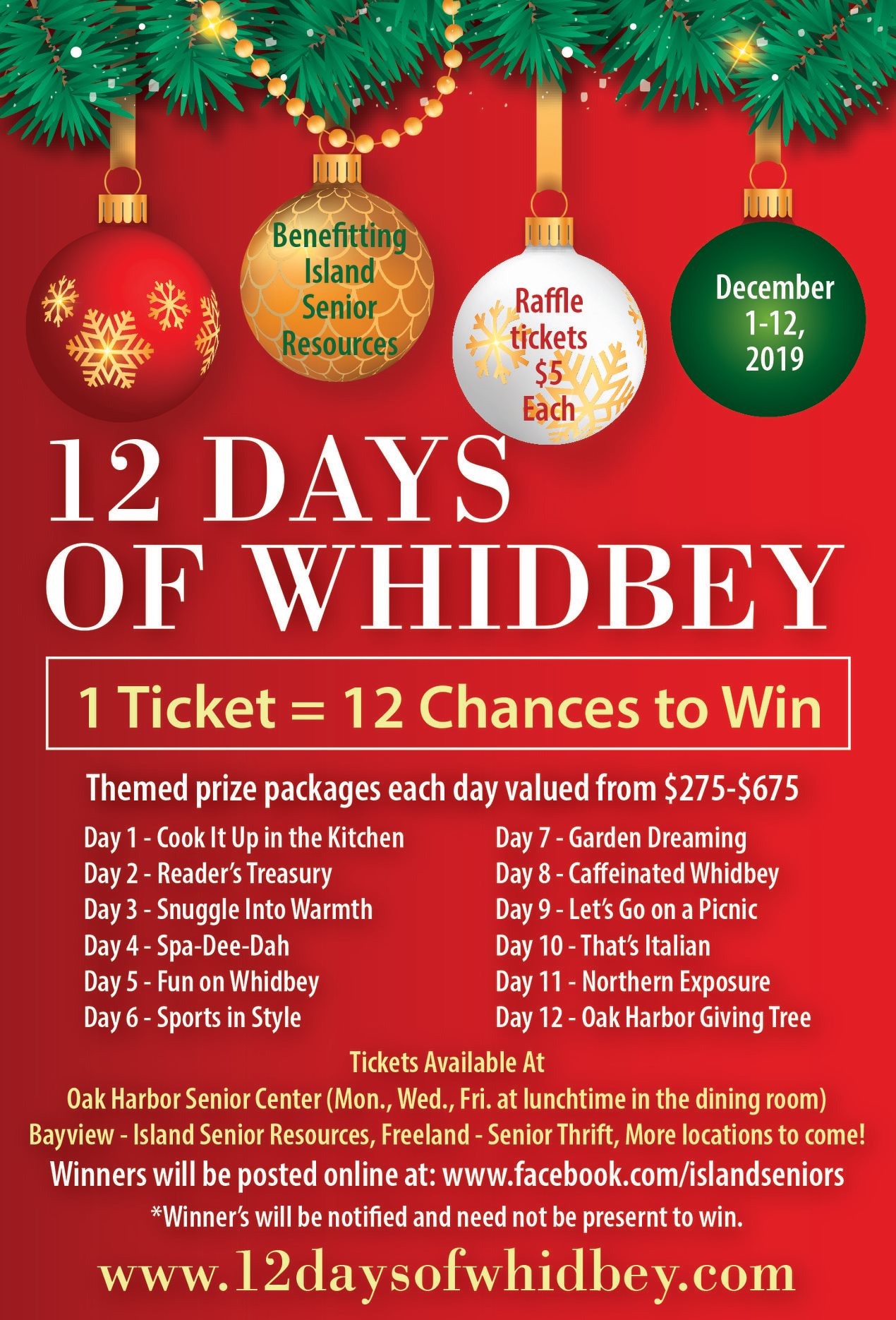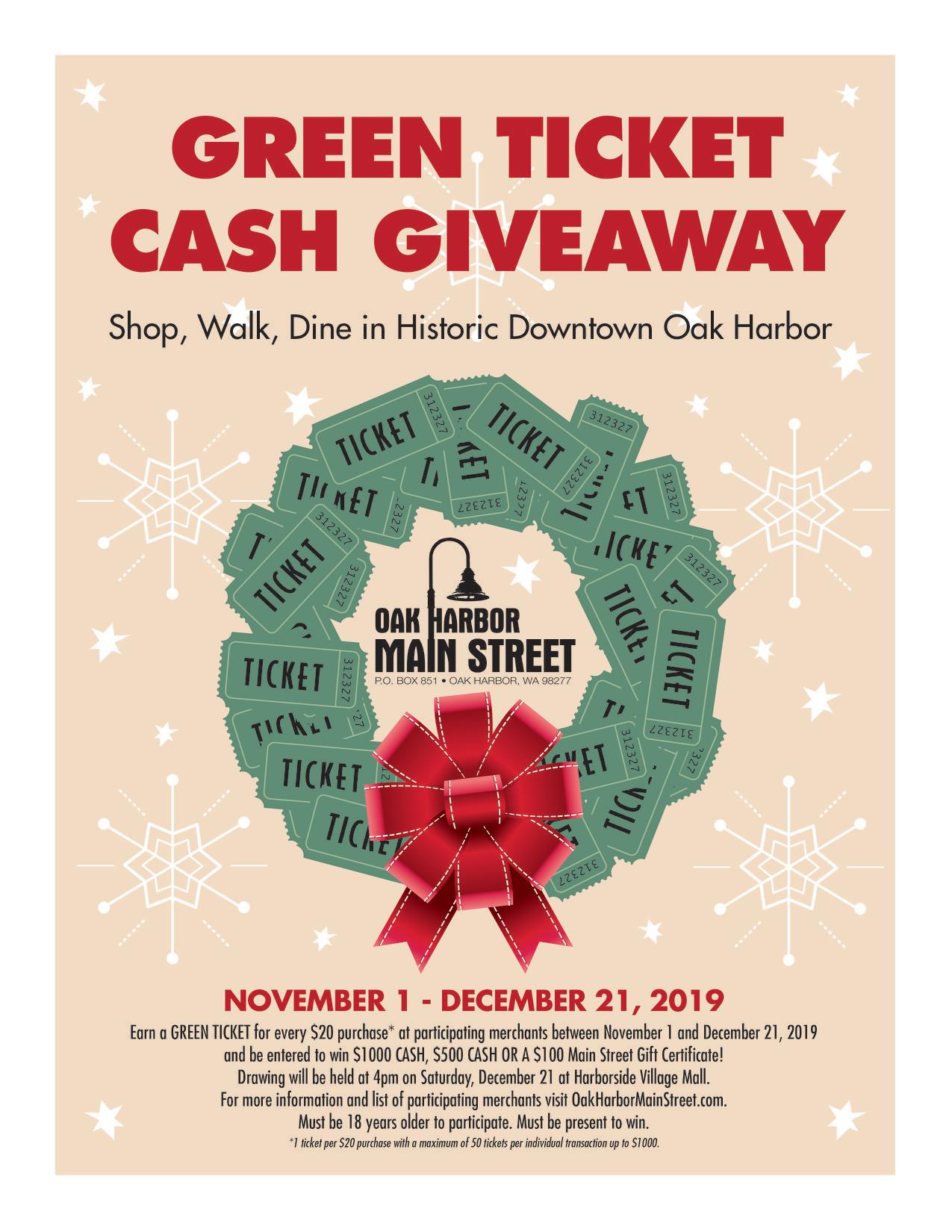 ---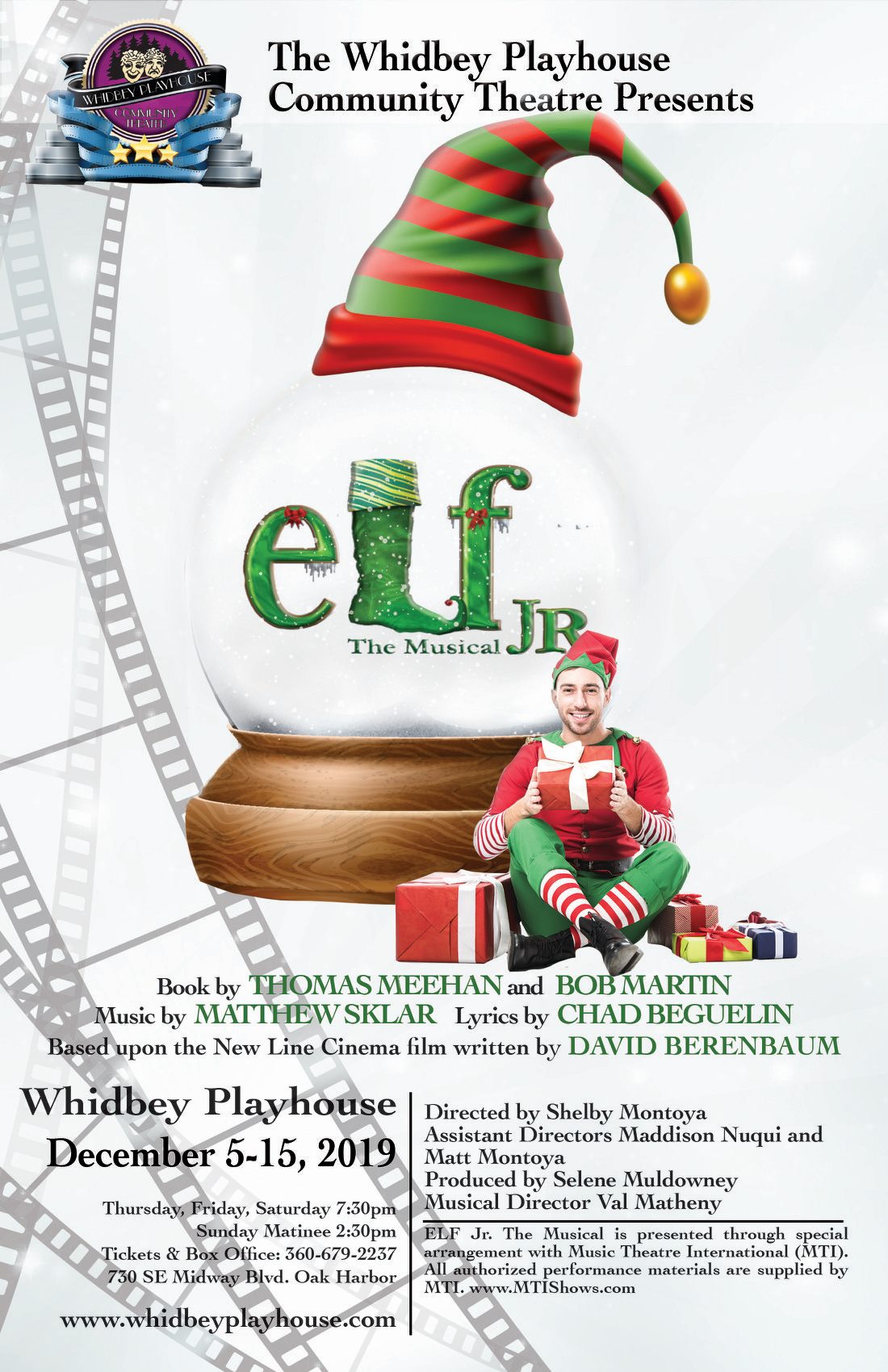 ---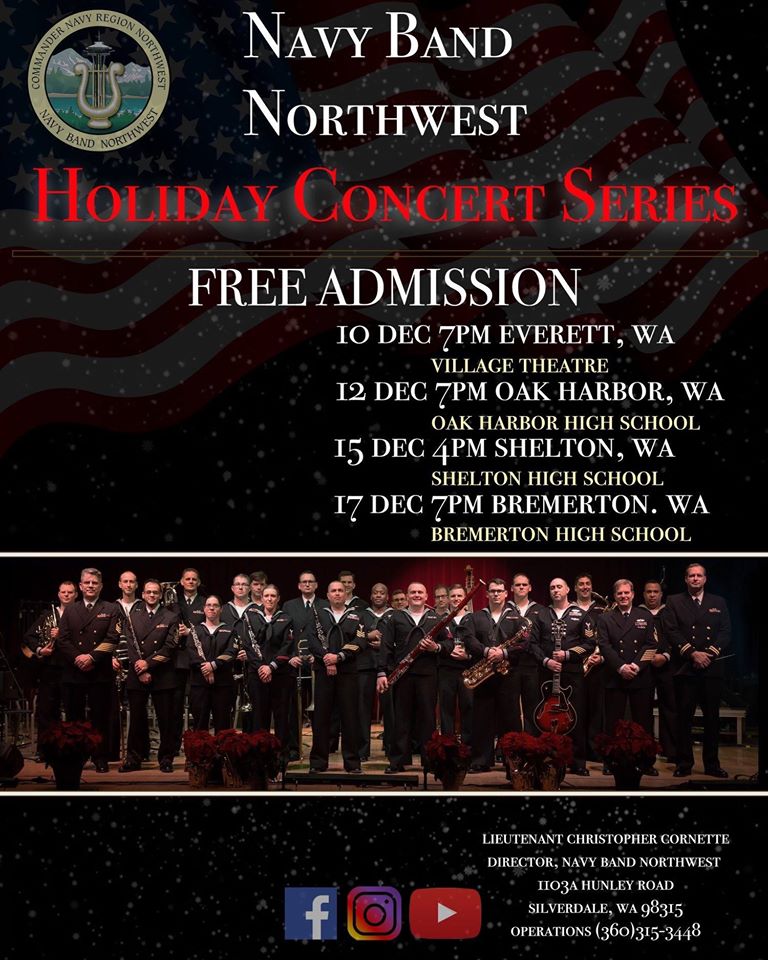 December 12th, 2019 7-8 PM At Oak Harbor High School
Navy Band Northwest is holding their annual holiday concert series. There is nothing quite like some good music to really bring out holiday cheer in all of us!

The concerts are free to attend.

Your Northwest Navy family thanks our local Northwest communities for all their continued support - so come on out, enjoy the performance and have a wonderful holiday season.
---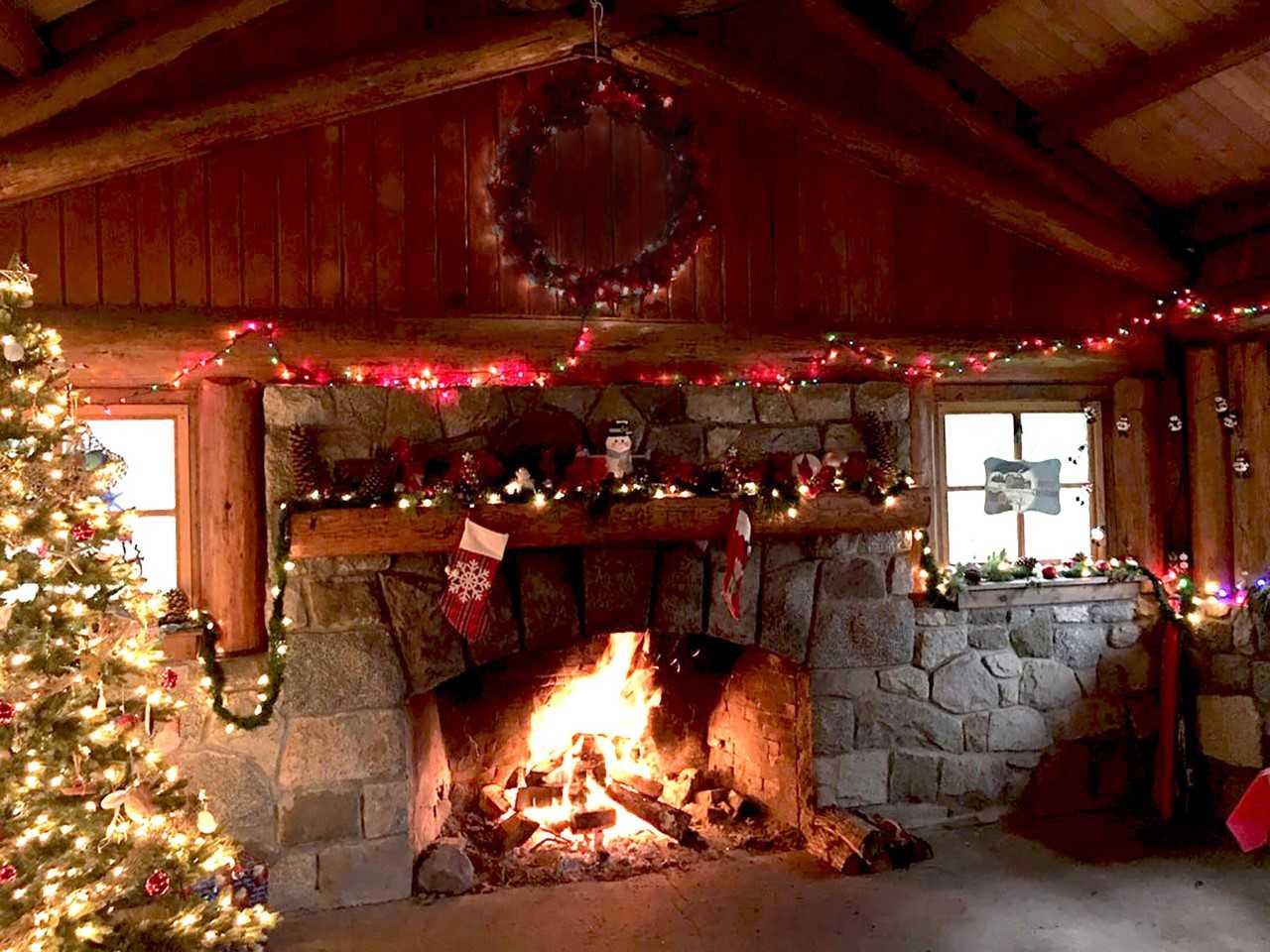 5th Annual Bowman Bay Holiday Event!
December 14th, 2019 Bowman Bay Campground
Come celebrate a night of lights, fun and festivities at Bowman Bay! Complimentary hot chocolate and fires in the stove will keep you warm while the kids work on crafts and write letters to our service men and women! There will be pictures with Santa, tasty treats, caroling and more. We suggest you dress warm, wear boots and bring a flashlight for maximum comfort.
**This event is family friendly and directly supports the Deception Pass Foundation's mission of resource protection through education. A $5 dollar suggested donation for parking is appreciated and spots are limited so carpooling is encouraged!
Donations will be gladly accepted throughout the night in support of the Foundation and we will have a Toys for Tots drop-box for all unwrapped toy donations
The annual Bowman Bay Holiday Event, supports the Foundation's main goals to connect with visitors in a fun and festive way during the off season, and build stronger relationships with the community and other organizations. We hope to see you there!
---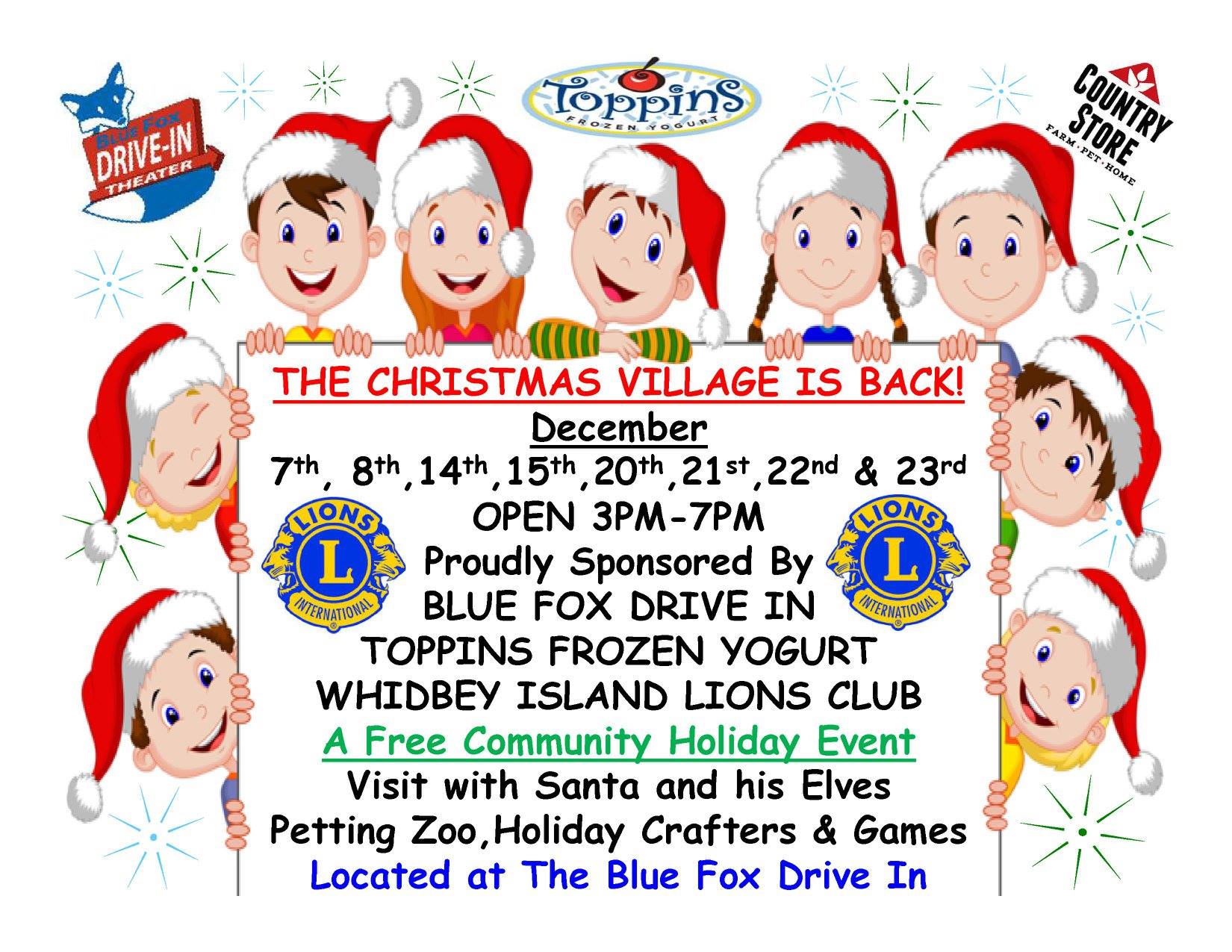 The Christmas Village at The Blue Fox Drive In
December 14,15,20,21,22,23
---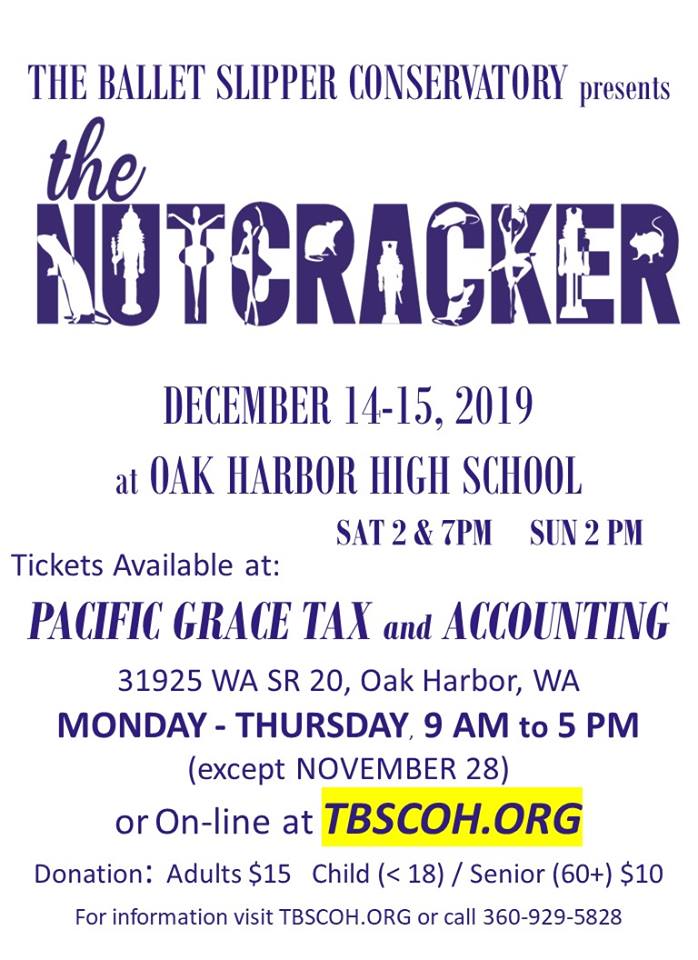 December 14-15 at Oak Harbor High School
---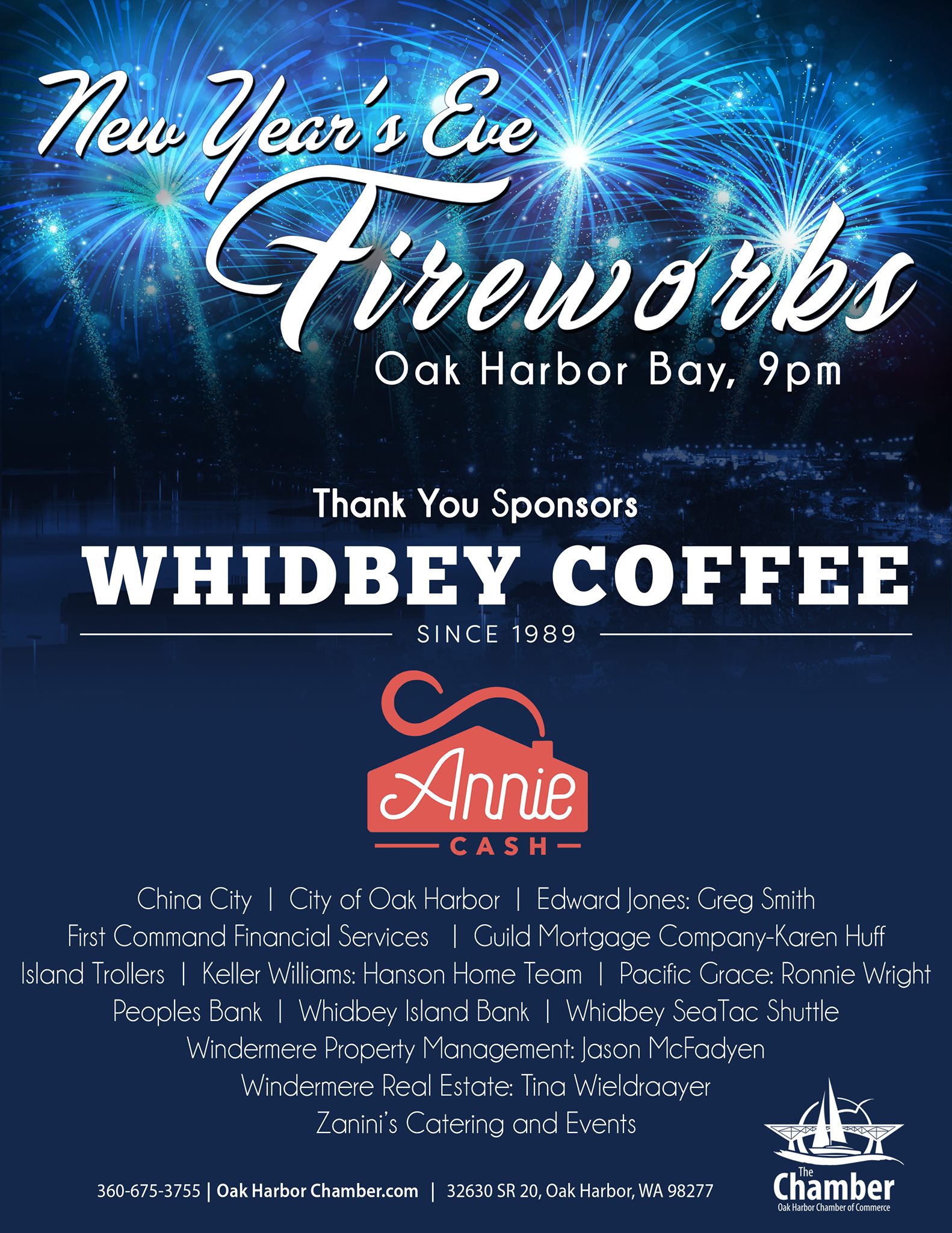 December 31st in downtown Oak Harbor
Join this annual celebration of New Year's Eve Fireworks!
Tuesday, December 31st, 9pm. See the fireworks in Oak Harbor Bay!
---

Let's Go Hiking!
When: 10 am January 1, 2020
Where: West Beach Picnic Shelter
Hikes:
Sand Dunes: 0.5 mi (easy)
North Beach: 2 mi (moderate)
On January 1st, join us at 10am for our annual First Day Hike at the West Beach Shelter!
Starting at 10:15am and 10:30am, two fun and easy (½ mile) guided hikes will leave from the West Beach Shelter and head along the Sand Dunes Trail. For those look for more of an adventure, a more challenging guided hike (2 miles) will also begin at 10:15am and proceed from the shelter along the North Beach Trail. Coffee and snacks will be provided. Please dress weather appropriate.
This is a FREE DAY in the Park, a Discover Pass will not be required!
Additional questions, please contact Connor Hall, Interpretive Naturalist, at Connor.Hall@parks.wa.gov (360-675-3767).
---


Coupeville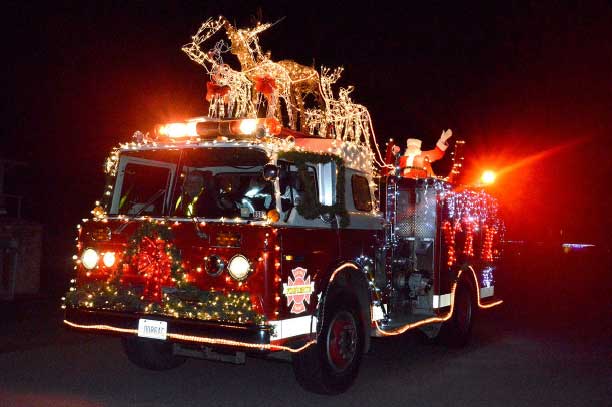 Follow Santa as he makes his rounds with Central Whidbey Island Fire & Rescue!
Santa's neighborhood tours start at 5:30pm each night.
We accept non-perishable food bank donations!
Parker Road, Long Point, Rhodena, & Harrington Lagoon 12/09/19
Ledgewood, Bon Air, Teronda, & Elwod Drive 12/11/19
Holmes Harbor & North Bluff Road 12/16/19
Lagoon Point, Dines Point, & Honeymoon Bay 12/18/19
Race Road, Shangri La, & Admirals Cove 12/20/19
ALL DATES ARE SUBJECT TO WEATHER CONDITIONS.
---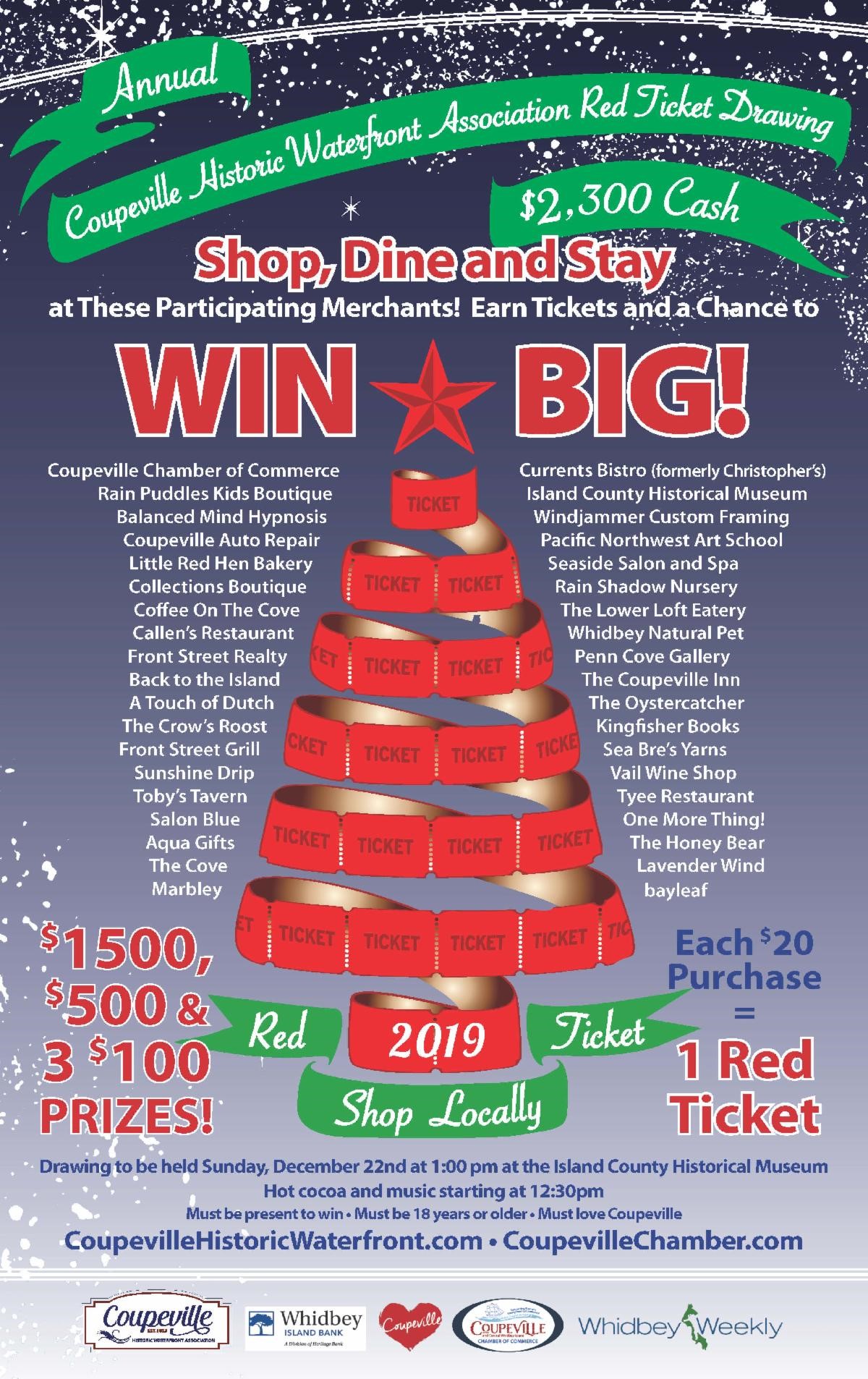 ---

Winter Holiday Art Festival
December 14th from 11-5 at Coupeville Middle School
---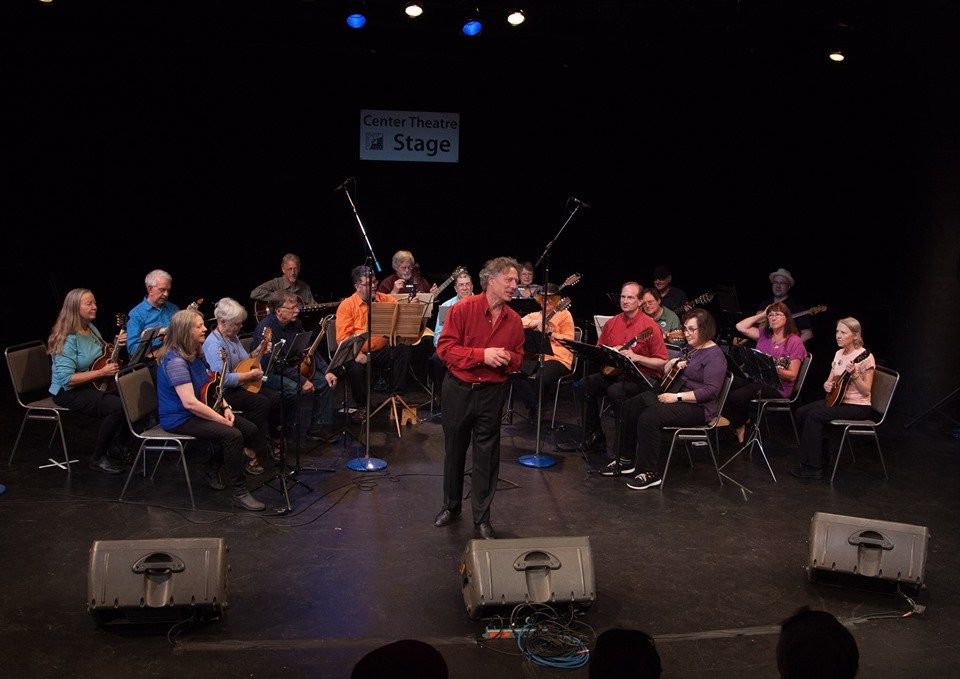 Holiday Concert: Coupeville
December 15th at the Coupeville Library from 3-4PM
We're excited to bring our holiday program to libraries around the Puget Sound region (going a little further afield than we have in previous years). We'll play Christmas and Hanukkah favorites from here at home and around the world. Bring the kids and enjoy the show. We might even ask you to sing along!
Do your Christmas shopping at the library too: pick up a T-shirt or copies of our holiday CD, Rejoice, for family and friends! Admission is free.
---

Annual This Looks Like Fun Holiday Show
Many artists make the fun at the This Looks Like Fun Annual Holiday Art and Gift Show on Red Ticket
Weekend Dec 21-22

from 10-5 at Coupeville Rec Hall

.
Participants include: Bob Flores, Katrina Hude, Marcy Johnson, Jordan Jones, Janet Lewis, Jim Short, Mariana Shawver, Tammi Sloan and Clovy Tsuchiya.
---


---
Greenbank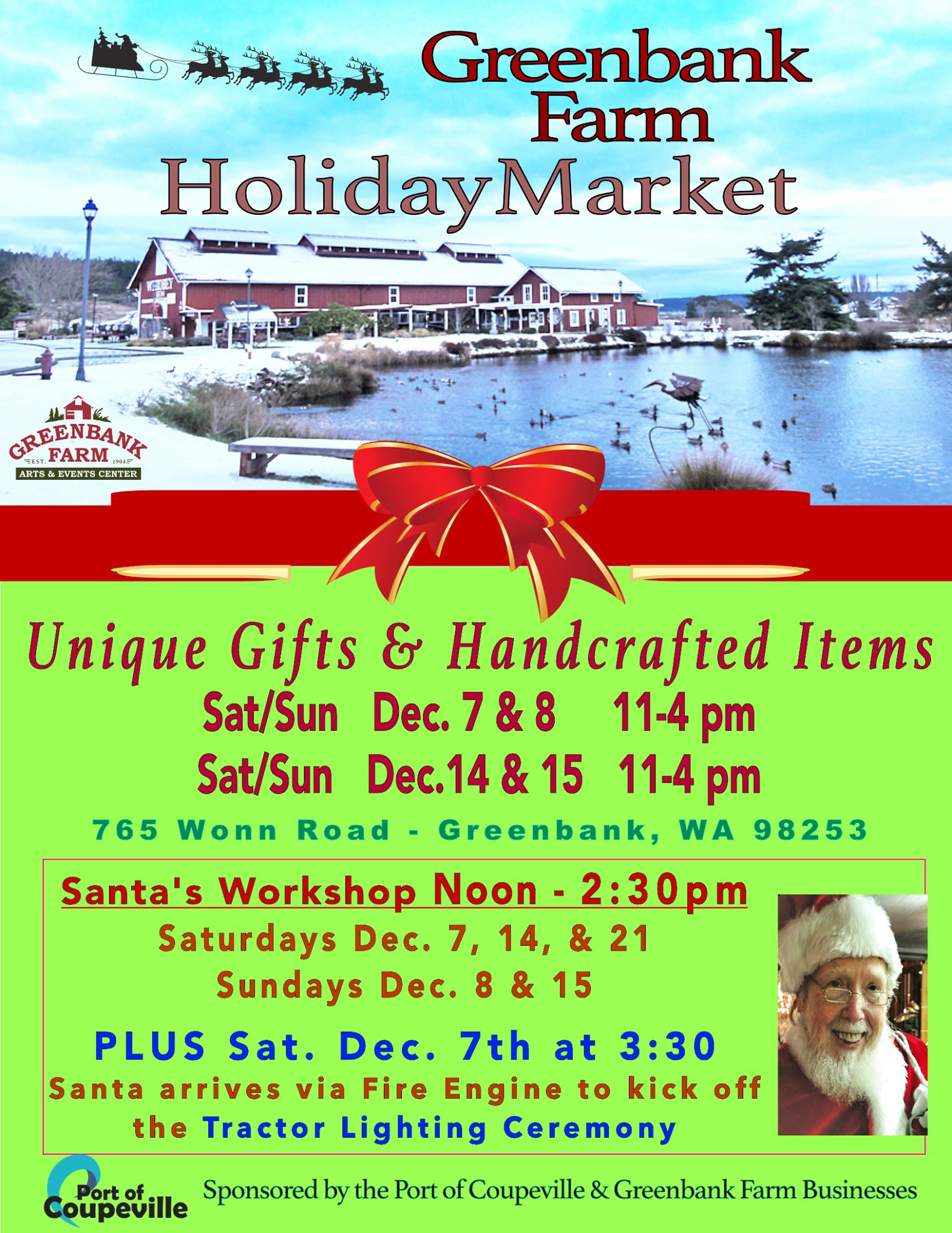 Greenbank Holiday Market is Back!
December 7 & 8 @ 11:00 am - December 14 & 15 @ 4:00 pm
Come join us for another holiday shopping season in the historic barn on the Greenbank Farm!
Back by popular demand, have access to 19 vendors while sipping hot chocolate and taking pictures with Santa Claus.
Hours are 11 AM to 4 PM, both Saturday and Sunday on December 7th and 14th, with a possible 3rd weekend of the 21st.
---

Artworks Gallery December Holiday Show
For the month of December, Artworks Gallery presents a Group Show featuring all 15 of our Whidbey Island Artists. Many of our artists are applying new techniques to their original creations, instilling their art with cutting edge vibrancy! For the month of December, in addition to their established art, gallery artists will fill Artworks with their unique Whidbey Island art created for holiday gift giving and decorating. Holiday art includes mugs, jugs and coasters, platters and bowls, trivets and cutting boards, holiday ornaments in many styles, holiday cards and small gifts, garden art, jewelry, fiber art, painting and prints.
Please join our very talented Artworks' artists for light treats and beverages at our Second Saturday Reception, December 14th, 2:00 to 5:00. p.m.
Artworks Gallery - showcasing a selection of wall art for your home or office, usable pottery and wood art to grace your kitchen, glass art, jewelry and wearable fiber art.
We look forward to seeing you at Artworks Gallery at Greenbank Farm.
For more information, visit the web site www.artworkswhidbey.com or call (360) 222-3010.
Open 11-4 Mon-Wed-Thu-Fri, 11-5 Sat. & Sun. Closed Tuesdays. Closed Christmas Day.
Artworks Gallery
18341 SR 525, Greenbank
(360) 222-3010
---


---
Freeland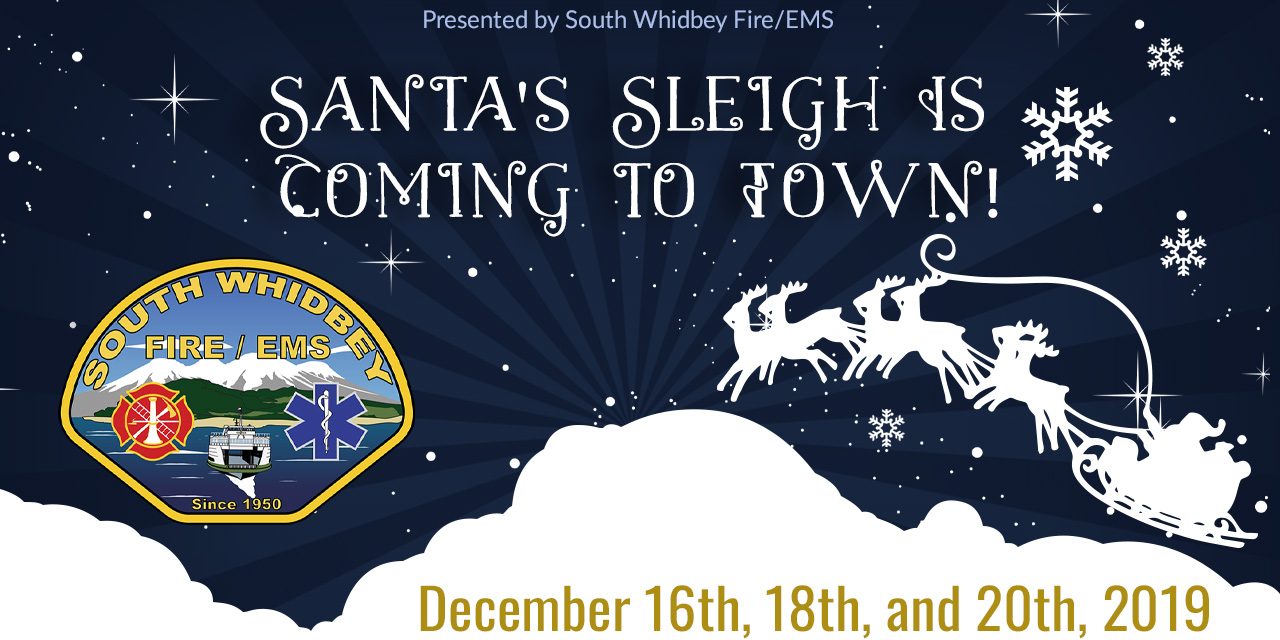 Santa's Sleigh includes new Bayview Station
Santa's on his way, and this year he's taking a new route! A holiday tradition since 1995, the volunteers and staff of South Whidbey Fire/EMS will be visiting communities three nights on December 16, 18 and 20. A change this year is an extended stop at your new Bayview Station 36 on Monday night where you'll have more time to take pics with Santa and check out the new fire station bay and apparatus.
Here's the approximate schedule, but weather can be a factor, with updates posted on the department's social media:
Monday, December 16
At 6 p.m., meet Santa and elves at the Payless Foods parking lot. At 6:15 p.m., the team travels to Honeymoon Bay Road, Chipshot Way, Antelope Drive, Spinnaker Drive, Honeymoon Bay Road, Sealawn Blvd., Haines Road, and Harbor Hills Drive. At approximately 7:30 p.m., come join Santa and the elves at the new Bayview Station 36.



Wednesday, December 18
At 6 p.m., meet Santa and elves at Bailey's Corner Store parking lot. At 6:15 p.m., the team travels to: Blakely Avenue, Harper Street, Decatur Avenue, Casey Street, Guemes Avenue, Harper Street, San Juan Avenue, Hat Street, and Blakely Avenue; Haven Way, Meadow Lane, Lake Shore Drive, and Brook Street; and then Wintergreen Drive, Timberline Road (to Pineridge Lane). At approximately 8 p.m., join Santa and the elves at Ken's Corner Red Apple.
Friday, December 20
At 6 p.m., meet Santa and elves at Clinton Foodmart. At 6:15 p.m., the team travels to: SR525, Cedar Vista Drive, Cedar Cove Lane, Shadowood Drive, and back to SR525; Tartan Way, Heather Drive, and Tartan Way; and then Ridenour Street, Hodges Avenue, and Herring Street. At approximately 7:30 p.m., join Santa and the elves on Second Street in Langley, behind the Star Store, in front of Callahan's Firehouse.
South Whidbey Fire/EMS provides emergency services to 15,600 people over 66 square miles. The fire district has some full-time and part-time personnel but relies primarily on volunteers to respond to an average of 2,700 calls a year.
https://www.swfe.org/santas-sleigh-includes-new-bayview-station/
---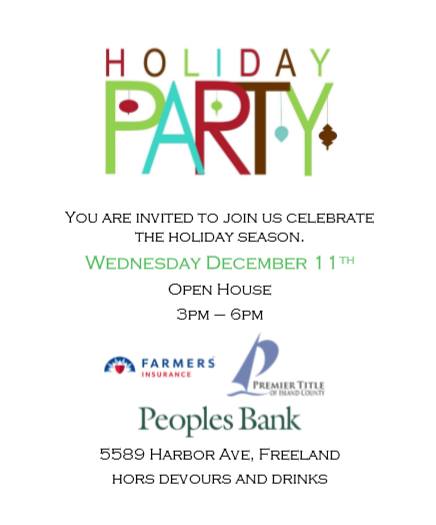 Wednesday, December 11th, 2019
Come celebrate the Holiday Season!!
---

Music at Trinity present the eighth annual Jazzin' with the Classics for Christmas, an exuberant jazz/classical celebration of the holiday spirit at Trinity Lutheran Church. This unique program provides new perspective on the inspiring music of the season both new and from previous centuries.
Monday, December 16, 2019 at 7:00 PM


JAZZIN' with the CLASSICS for CHRISTMAS
• Tom Collier ~ vibraphone
• Jeffrey Cohan ~ flute
• Martin Lund ~ piano, clarinet & flute
• with special guest Karl Olson ~ baritone
Renowned classical and jazz artists meld their musical perspectives in this unusual collaboration and festive celebration of the Yuletide season that is guaranteed to generate an abundance of Holiday cheer.
For centuries instrumental musicians have "jazzed up" familiar melodies in the style of their day, and this team's virtuoso improvisations on Yuletide favorites, and their renditions of classical standards, will bridge contemporary improvisational jazz with art music of the Baroque and Renaissance by way of the joyous melodies of the season, bringing together the best of jazz and classical worlds.
Martin Lund, Jeffrey Cohan and Tom Collier team up with baritone Karl Olsen, a member of the renowned "Brothers Four" and music director at Trinity Lutheran Church, along with a magical combination of instruments.



---

Holiday Concert
Revel in the sounds of Everything Christmas! including joyful sing-alongs for a merry good time!
Friday, December 13th ~ 7 p.m.
Sunday, December 17th ~ 3 p.m.
Trinity Lutheran
18341 WA-525, Freeland
The Community is invited to the Whidbey Island Orchestra's
Everything Christmas! Holiday Concert
Dr. Cynthia Morrow, Music Director
Gabriela Garza, Assistant Conductor
Special solo performances by Brian Kenney on violin
and Steve Tarr on Trombone!
Admission is free
(although donations are accepted and greatly appreciated)
followed by a reception with orchestra & refreshments
Concert event put on by the Whidbey Island Orchestra,
a 501(c)(3) charitable organization
For more information contact
---


---
Langley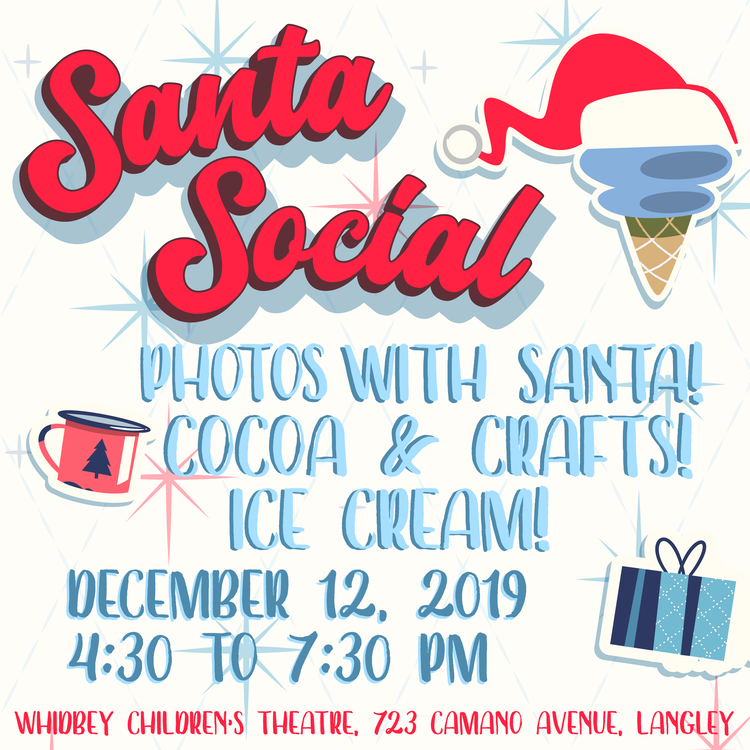 Santa is coming to Whidbey Children's Theatre!
Make your plans to have your Santa photos taken at WCT on Thursday,

December 12th, from 4:30 to 7:30 p.m.!
Doors open at 4:30 p.m., and Santa arrives at 5 p.m.!

Warm up in our lobby with complimentary cocoa and coffee, and entertain the kiddos with fun holiday crafts while they await their turn with Santa!
Sprinklz Ice Cream will be there, scooping up delicious and generous scoops of ice cream! Don't forget the sprinkles!

Santa photos will take place on our Mainstage and well-behaved pets are welcome! Photos tickets are $15 and include a mini photo session with Santa and professional photographer Joe Menth! You will receive one glossy, full color 8 x 10 photo (available at the event or for pick up at Fine Balance Imaging in Langley post-event).
Santa Social is a fundraiser for Whidbey Children's Theatre. Thank you for your support, and for joining us for this fun and festive holiday event!
---

Cookie Walk
December 14, 10-11:30 a.m.
@ Langley United Methodist Church

For a $15 donation you can fill a box with a delightful selection of home baked holiday cookies. Buy several boxes for holiday gifting or to freeze for holiday gatherings! Proceeds from the sale are donated to local nonprofits such as Good Cheer Food Bank, Friends of Friends, HUB Teen Drop in Center and Helping Hand among others. Leave some of the holiday baking to us while supporting your Whidbey Island community! This annual Holiday Cookies event is held upstairs at the Langley United Methodist Church on 3rd and Anthes. This is a popular event so arrive early for the best cookie selection
---

Holiday Market at Bayview Hall from 10-2 on Saturdays starting November 30-December 21
---

ABOUT IT'S A WONDERFUL LIFE
SCHEDULE & TICKETS
DEC 13 | 7:30pm
DEC 14 | 7:30pm
DEC 15 | 2:00pm
DEC 20 | 7:30pm
DEC 21 | 7:30pm
$24 | $22 Seniors | ages 18 and under are free
The beloved holiday film comes to life as a 1940's radio broadcast in the world premiere of a new adaptation by David Ossman.
A WICA Theatre Series production.
---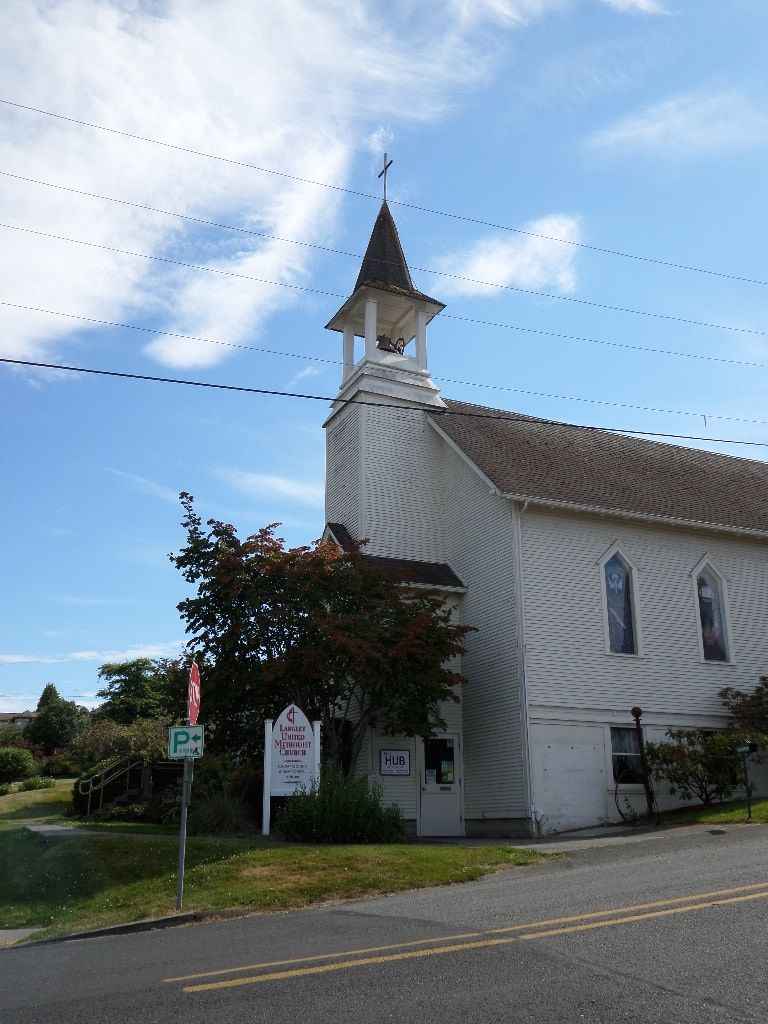 Longest Night Service

Friday, December 20, 6pm in the Fellowship Hall


This is a contemplative, healing service for those for whom this season is a difficult one because of loss or grief.

Christmas Eve services


4:30pm Family service




7pm Candlelight Communion service



Langley UMC is a greening, reconciling, and advocating congregation on the corner of Third and Anthes in beautiful downtown Langley.
Find on Facebook or langleyumc.org
---
Whidbey Island Dance Theatre's 27th season of THE NUTCRACKER
A holiday delight for the whole family!​
WIDT's production of this classical ballet set to the music of Tchaikovsky features many of the beloved characters and themes of the traditional ballet but with a Whidbey Island twist.
​
Join us as Clara and the Nutcracker Prince travel through a hidden magical cave deep in the Puget Sound where mermaids swim among silky strands of seaweed and dance on pearls. Share their wonder as they stroll through the wild and lush Enchanted Forest where they meet our graceful Faerie Queen and Forest King, and confront a dreadful Dragon. Marvel at the fleeting elegance of our beautiful flowers and swallowtail butterflies. And of course, meet the matron of all forest creatures, Madame Bumble, who introduces us to some of the most adorable critters we have ever seen.
WIDT takes pride in our local version of the classical ballet. The high quality of production and the amazing skill of our dancers combine to provide you with a show rivaling what is available in cities 10 times our size. Many have made this show a family holiday tradition! We invite you, and your family, to join them - spare yourself the ferry, traffic, parking, and cost of Seattle productions and enjoy this wonderful Whidbey show this holiday season.
​
SHOW TIMES & PRICES
Online sales reflect a $5 across the board discount from At-the-Door purchases. A 10% discount for Seniors (65 and over), Youth (17 and under), or Military (with military ID) is also available with online purchases. Just Click on the Eventbrite LINK Below for the show that you wish to purchase tickets for.
​
OPENING NIGHT SPECIAL! ALL SEATS $10 ONLINE -$15 AT-THE-DOOR. No other discounts available.​
all seats $15 ONLINE - $20 At-the-Door. Senior/Youth/Military discount available these shows ONLINE ONLY.
all seats $15 ONLINE - $20 At-the-Door. Senior/Youth/Military discount available these shows ONLINE ONLY.​
all seats $15 ONLINE - $20 At-the-Door. Senior/Youth/Military discount available these shows ONLINE ONLY.​
all seats $15 ONLINE - $20 At-the-Door. Senior/Youth/Military discount available these shows ONLINE ONLY.​
all seats $15 ONLINE - $20 At-the-Door. Senior/Youth/Military discount available these shows ONLINE ONLY.
---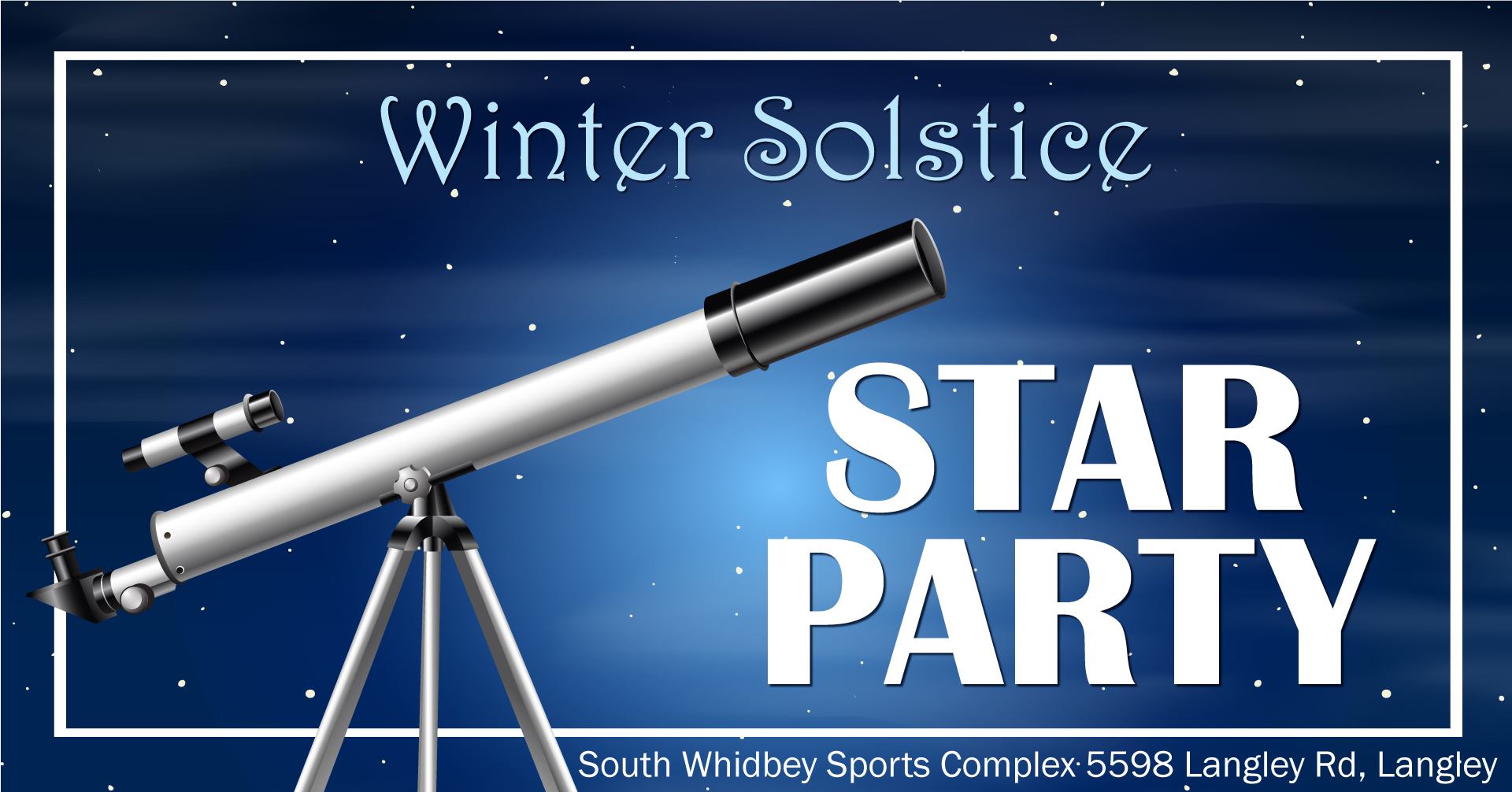 Star Party December 21st




ALL AGES WELCOME


Explore the night sky and view distant galaxies, planets and nebulas at this free public Star Party hosted by the Island County Astronomical Society. No telescope is needed and people of all ages are welcome. Be sure to dress warmly!
Note: the event will be cancelled if the weather is cloudy or worse.
Warning: The park and parking areas will be extremely dark with some uneven ground or hazards. Flashlights may be used, but please turn them off around the event area so our eyes can adjust to the darkness for optimal star gazing. Dim red lights may be helpful.
Location: Soccer Fields at South Whidbey Sports Complex at 5598 Langley Rd., Langley WA 98260
Participation is at-your-own-risk, and by participating you consent to our standard waiver/release of liability:
I agree to hold harmless the South Whidbey Parks & Recreation District, Island County Astronomical Society, Island County, and their officials, employees and agents for any and all claims for personal injury and damage in which damage and injury is or appears to be proximately caused by my participation, or the participation of the child for whom I am responsible, in this recreation program. Furthermore, I hereby consent that images (photographs, video recordings, etc.) of me or my child engaged in above activities may be used for promotional purposes.
---
The Night Before Christmas Holiday Concert
Whidbey Island Center For the Arts (WICA)
Sunday, December 22, 2019
7:30 PM-9:30 PM
A musical celebration of the season featuring Whidbey Island Orchestra and storyteller David Ossman.
---

New Year's Eve At Bayview Hall
December 31, 2019
More info to come. Not gonna wanna miss this one!
---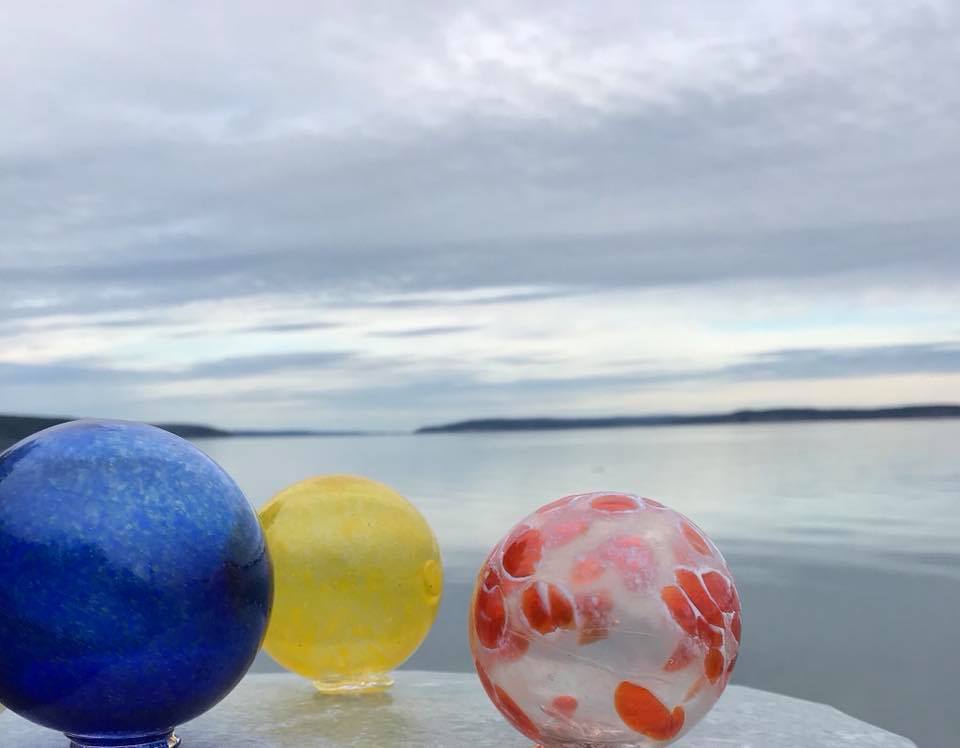 Sea Float Scramble
Saturday, January 4, 2020 at 11 AM – 11:30 AM
Seawall Park, Langley
Hunt for one-of-a-kind glass-blown sea floats hidden in plain sight along Seawall Park in Langley! Everyone, young and old, can join in the scramble for free, and if they are lucky, go home with their own glass treasure!
Come early to catch up with neighbors and friends and stay after for a tasty lunch with family or a bit of shopping.
---


---
Clinton
---


---
Navy

'A Beautiful Day In The Neighborhood' (PG)
NAS Whidbey Skywarrior Theatre
Open to all base access ID cardholders and their guest(s).
Regular movie rates apply.
2 Dates · Dec 21 - Dec 22
21st @ 6:30PM
22nd@ 2:30
Two-time Oscar-winner Tom Hanks portrays Mister Rogers in A Beautiful Day in the Neighborhood, a timely story of kindness triumphing over cynicism, based on the true story of a real-life friendship between Fred Rogers and journalist Tom Junod. After a jaded magazine writer (Emmy winner Matthew Rhys) is assigned a profile of Fred Rogers, he overcomes his skepticism, learning about empathy, kindness, and decency from America's most beloved neighbor.
CAST
Tom Hanks
Matthew Rhys
Chris Cooper
Susan Kelechi Watson
Maryann Plunkett
---