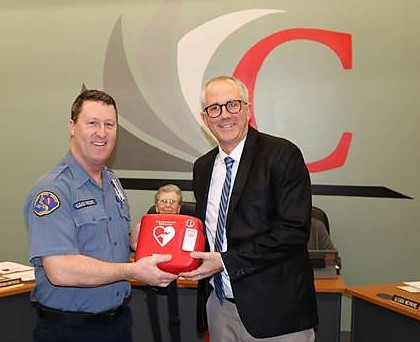 It all happens when you least expect it. You don't have time to think; minutes count with cardiac arrest.
Saving lives is everything behind WhidbeyHealth Emergency Medical Services' ongoing installations of free, life-saving Automatic External Defibrillators (AEDs) all over the island. The Coupeville School District is the most recent recipient. EMS installed a second AED and alarmed wall cabinet in the school district's Performing Arts Center at the high school on Jan. 27. It also installed one at the district's Mickey Clark Field behind the elementary school this past fall.
"The importance of having these life-saving devices in public cannot be understated. Data shows that having an AED on site increases the chances of survival by three times for victims of sudden cardiac arrest," says WhidbeyHealth Lead Paramedic Robert May.
May and other members of WhidbeyHealth EMS presented the $1200 AED and cabinet as a gift, with funds donated to EMS and facilitated by the WhidbeyHealth Foundation.
Unless treated within minutes, sudden cardiac arrest is fatal for 95 percent of victims. It's also important that potential lifesavers know how to recognize a cardiac arrest, to call 911, how to perform hands-only CPR and how to use the device.
May gave instructions on all of it, including how to use the AED, and said he was grateful for the overwhelming commitment to safety in our schools under the leadership of Coupeville District Superintendent Steve King, who was there to formally welcome the gift.
Nine AEDs were already installed by EMS at:
The bus stop in front of Whidbey Telecom in Freeland
South Whidbey Community Park
South Whidbey Sports Complex
Red Apple Prairie Center Market, Coupeville
Knead 'n Feed restaurant on Front Street, Coupeville
Port of Coupeville Wharf
Coupeville Boat Launch
Coupeville Mickey Clark Field
Fort Nugent Park, Oak Harbor
Get ready to save a life! Take a hands-only CPR and AED use class, or receive a one hour, free, refresher class with Lead Medic Robert May of WhidbeyHealth EMS. Call 360.914.3171 to register.
WhidbeyHealth EMS will also offer "ACT To Save a Life" training at 6 p.m. Thursday, Feb. 20 at the Robert and June Sebo Health Education Center on the lower level of the hospital. This free, one-hour first-aid training focuses on three skills you can use to save a life in the first few minutes of an emergency including, administering antidotes to counteract opioid overdoses, providing CPR for sudden cardiac arrest, and applying tourniquets to control serious bleeding. ACT stands for Antidote + CPR + Tourniquet. Call 360.914.3171 for details and to register.
Photo above: WhidbeyHealth EMS Lead Paramedic, Robert May, presents Coupeville School District Superintendent, Steve King, with an AED/Defibrillator and AED Cabinet on Jan. 27 at the school district board meeting.