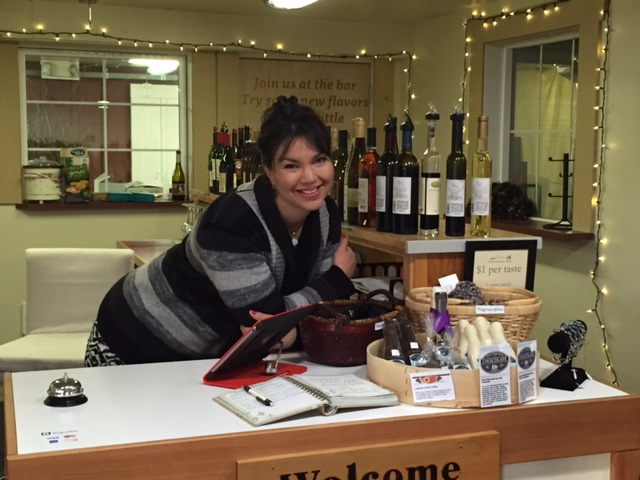 When choosing a wine to pair with your Thanksgiving dinner consider these enticing options;
Whites
Sun Garden Gewürztraminer $12.95 is a delightfully aromatic off-dry white wine. The flavor is spicy with hints of peach and mango. Medium bodied with an optimal balance between rich fruit flavors and bright acid.
Blooms Dry Riesling $15.95 made on Whidbey Island is a refreshing bone-dry version offering floral aromas and flavors of honeysuckle, pear, yellow apple and limestone.
Sweet Cheeks Riesling $14.95 is a sweeter-style Riesling offering aromas of peach, honeycomb and hints of chamomile. It has round, silky notes of ripe nectarine, melon and honey with a light burst of refreshing lime, leaving a pleasant, lingering finish.
Reds
Cedergreen Gamay Noir $25.95 aged 18 months in barrel, is no Beaujolais nouveau! This Thanksgiving favorite delivers delicate tannins and a silky, smooth mouthfeel, along with vibrant expressions of youthful fruit, reminiscent of bright crushed strawberries and raspberries as well as deep floral notes of lilac and violets. Gold winner - 2019 San Francisco Chronicle Wine Competition
Spoiled Dog Vineyard Estate Pinot Noir $37.95. This organically grown Whidbey Island Pinot Noir spent 18 months in 25 percent new French oak. The nose is exceptional with cherry, Mud Pie crust and earth. Inside, there's beautifully bright red fruit akin to cherry pie with a Graham cracker crust.
Fruit Wines and Desserts
Pasek Cellars Cranberry Wine $15.95 A holiday favorite, the perfect amount of sweet and tart is present in this 100% cranberry wine. Add a little sparkling wine to create the perfect cranberry spritzer which will liven up your Thanksgiving table.
Finnriver Spirited Apple $25.95 Using organic farming practices and heirloom fruit, Finnriver has created an amazing apple port by adding apple brandy to apple wine to stop the yeast before fermentation is complete and all sugars have been converted into alcohol. Notes of caramel and oak, with woody roots, rich apple depth and warming brandy heat. Perfect after dinner this time of year.
---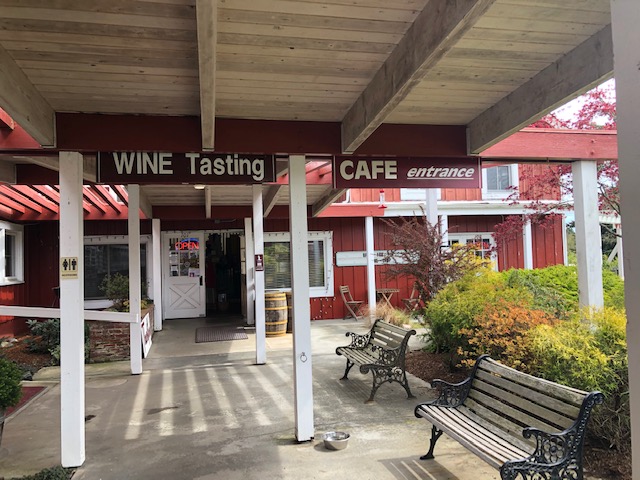 Hollie Swanson, in partnership with her parents, Gerald and Teresa Swanson, became an owner of the Greenbank Farm Wine Shop at the end of 2015. Hollie says embarking on this venture allowed her to pursue one of her life passions: "It is so fun to meet people from all around the world and help match their preferences to the right bottle of wine." The Swansons are long-time residents of Puget Sound. Hollie moved to Whidbey Island in 2005
Prior to becoming a wine shop proprietor, Hollie followed a broad range of careers. She studied aviation, and then atmospheric science at the University of Washington, worked in validation and testing for Boeing, and was a professional firefighter for the City of Kent.
Early in 2015, Hollie began talking with her parents about creating some kind of family business. In April, she saw that the Greenbank Farm Wine Shop was for sale. She realized that this was an excellent opportunity to run a family business in a well-known location mid-island. Hollie notes, "The Greenbank Farm is a gorgeous property with a compelling history."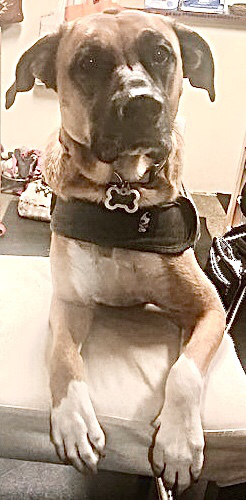 Current beverage items on the shelves include wines from local wineries, fruit wines, dessert wines, hard ciders, wines made from organic and biodynamically grown grapes, loganberry products, craft beer and honey mead. Various gift items also adorn the shop including: luxurious hand-dyed scarves created on Whidbey Island by Treehouse Studios; Dreamsheet Retreats 2020 (for colored pencils) coloring sheets with unique imagery, designed to relax, enrich and connect; handcrafted jewelry, produced on Whidbey Island by Rising Sun Studio/10 Friends Productions; and the softest handmade faux fur hats, scarves and fingerless gloves by Pandemonium Millinery, Seattle, WA.
Hollie says, "Every person enjoys a glass of wine uniquely based upon their taste buds and their previous experience and knowledge with wine. Wine is personal, and the enjoyment of it ranges as far and wide as the wine drinkers themselves."
Stop by to say hello to the new dog, Frankie, who is getting along well with the professional shop dog, Mr. Myer. Frankie is a rescue dog, and Mr. Myer is doing great teaching her the routine.
With the coronavirus pandemic, it is just Hollie keeping the shop open for those Greenbank Farm dog walkers and Island residents who prefer to buy wine from a local wine shop. Other comfort foods available at Greenbank Farm are Whidbey Pies, sold via Old Spots Bistro, and cheese and gourmet food items via Greenbank Cheese Shop. Buy goodies to go along with your wine without having to stand outside of a grocery store waiting for the maximum 25% occupancy to allow you inside. Shop following a nice walk on the wide-open Greenbank Farm trails. Business hours are Thursday through Sunday 11:00 a.m. to 5:00 p.m, with extended hours the week of Thanksgiving, Mon. 11/23 - Wed. 11/25.
To get more information about the wines available at Greenbank Farm Wine Shop give them a call: 360-222-3797. Shipping is available, as is delivery on Whidbey Island, south of Coupeville. For deliveries north of Coupeville, please call to arrange (a minimum purchase may apply).