Callahan McVay opened his glass blowing studio and art glass gallery in the former Fire Station at 179 Second  Street in Langley in July 2009.  The gifted artist invites people to see the lovely glasswork on display for purchase, many of which show the influence of Dale Chihuli.  They can also create their own a one-of-a-kind artwork.
A Whidbey Island native, Callahan McVay has studied with masters from all over the world. He not only sells his own amazing pieces, he also makes them before a mesmerized crowd.  Some say he is re-defining the 3,000 year old art form of glass blowing.
In 1988, when Callahan was only 14 years old, he discovered he had special talent for blowing glass..  He had worked with stained glass at an alternative high school in Everett, and says, "I knew at 14 that working with glass was what I wanted to do."  He trained with several glass artists on Whidbey before opening his own studio in his Clinton home in 2000.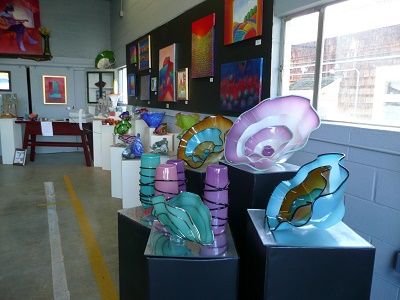 As he became known for his glass works, Callahan began looking for a larger, more commercial location to develop a concept where he would continue to do his work and offer a space as a glass blowing studio where others could create their own art pieces.
The 3,090-square-foot fire station became surplus when Island County Fire District 3 moved to its new station on Camano Avenue late last fall.  When Callahan learned about the vacancy, he checked out the space and knew this was what he wanted. 
The business is officially Callahan's Firehouse Studio.  The site includes a "hot shop" where he can demonstrate his glass blowing skills and teach glass blowing to individuals or groups as large as 10 people.  Callahan says, "Retail isn't the primary focus of this space," because showing others how to work with glass is his greatest pleasure.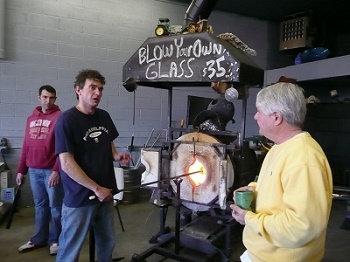 The gallery and studio viewing area are open to the public and are handicap accessible. Callahan invites invites people to walk in for a glass blowing class with him: "You can blow a float, chile pepper, paperweight, or a seasonal item," he adds, or "You  can also take a one-hour blow-your-own-creation class".
Those who wander in through the doors to make a purchase often find themselves walking out with something much more – bragging rights to a new skill and memories that will last a lifetime.
Callahan's Firehouse Studio is at 179 – 2nd St. in Langley; hours are 10 a.m. to 5:00 p.m., Monday through Friday.  Give him a call at 360-221-1242, or for more information visit the website:  

www.callahansfirehouse.com