By Carolyn Tamler
The Orchard Kitchen, which opened this past July, is the culmination of a vision that owners Vincent and Tyla Nattress created years ago when they were living in Napa Valley, California. They made a "Vision Board" that was a picture of how they wanted to live and how they wanted to make a living. The first need was to find a place in a beautiful setting with affordable land where they would have a farm to grow the crops for a unique farm-to-table experience.
In 2011 they found a five-acre property on Whidbey Island near Bayview Corner that matched their needs. They got help with funding for their project through Whidbey Island Local Lending (WILL) and a successful Kickstarter campaign; Island County Commissioner Helen Price Johnson helped them navigate through the various county regulations.
Besides the Farmhouse dinners that are offered Friday and Saturday nights, they also have cooking classes on the weekends. As Vincent says, "Our dinners and cooking classes reflect what gets us jazzed that's seasonal, available, and, of course, delicious."
Even though the quality and variety of the food offered at the restaurant is definitely high end, the atmosphere is not. Tyla describes the experience as "Intimate dining. We want people intimately involved with their food and the joy of sharing a wonderful meal with others."
Vincent and Tyla met in 1998 in the Napa Valley of California. Both had come from backgrounds that prepared them for the endeavor on which they have now embarked. Vincent grew up in Coupeville on Whidbey Island in the 1970's and 80's when it was largely a farming community. He left the island after high school graduation and attended Fairhaven College in Bellingham, where he got a B.A. degree and immediately became a chef working in the restaurant of a friend. He moved to Napa Valley in California shortly afterwards to expand his knowledge of the culinary arts and stayed there for 16 years.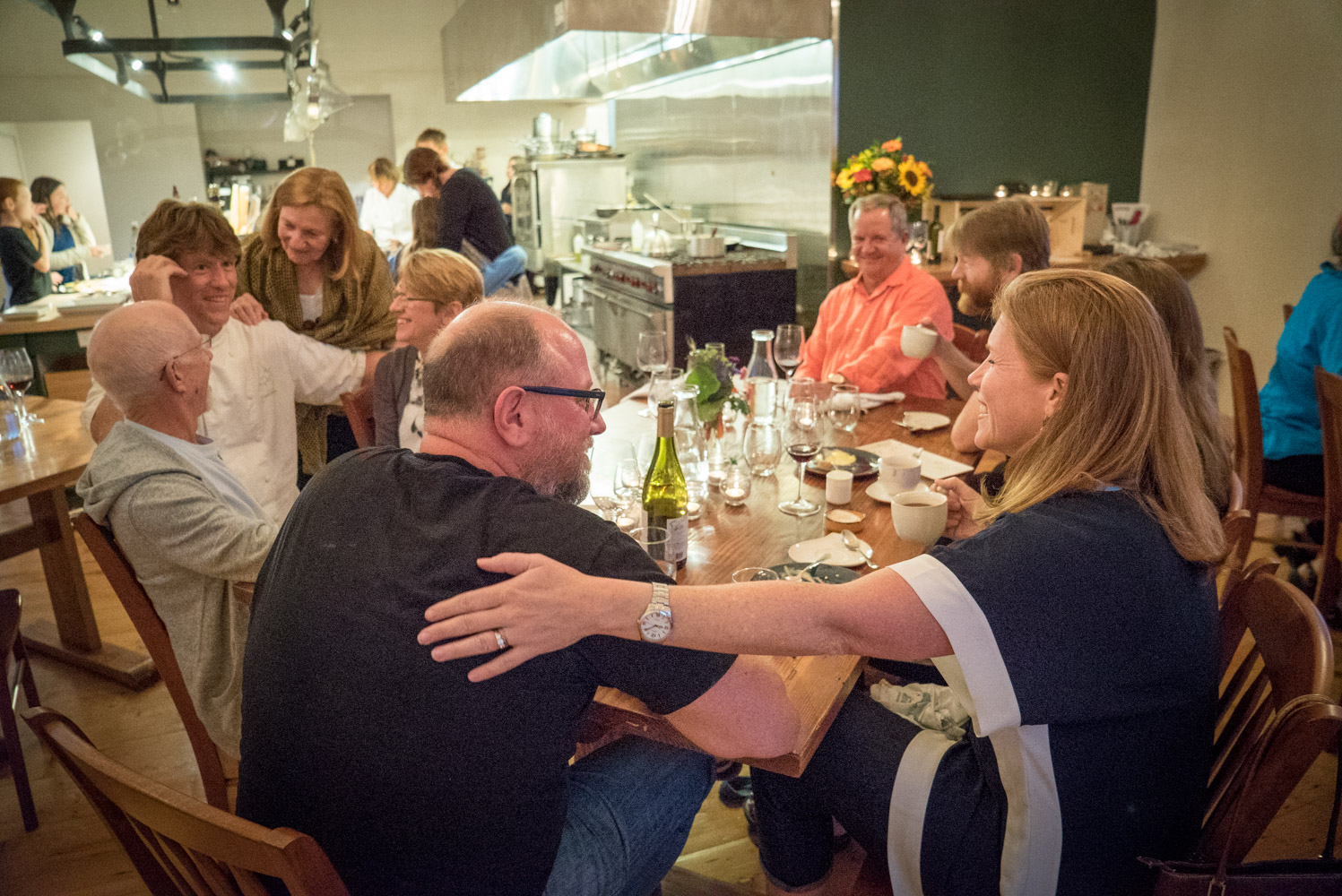 Tyla grew up in Maine (which she says looks a lot like Whidbey Island in many places) and Vermont. After high school, she moved to San Francisco to learn about food and wine. She got a Bachelor's of Science that included a lot of chemistry, which proved to be valuable for working with wine. She got a job with Robert Mondavi Winery and learned more about wine, as well as hospitality.
A mutual friend in Napa Valley introduced Vincent and Tyla, and they soon were sharing a love of wine and food, as well as each other. They married in 2000, opened their first restaurant in St. Helena following year, and had three years of great reviews. Then world economics impacted their success and the restaurant was closed in 2004.
For the next five years, Vincent worked as the Executive Chef at Meadowood Restaurant in Napa Valley. During that time, the Nattresses welcomed two daughters, who are now 12 and 9, and Vincent worked 15 hour days.

That's when the Vision Board was created. Their move to Whidbey Island is fulfilling all of their visions. They currently have six employees, who are treated as well as the customers. The price for dinner is $50 to $55 per person, plus wine, tax and an 18% gratuity so that the employees receive a good living wage.

Farmhouse dinners are served Friday and Saturday and generally last about 2-1/2 hours. Vincent greets each person at the door and lets them know how appreciative he is that they are at the Orchard Kitchen for dinner. The meal begins at 6:00 p.m. with hors d' oeuvres. The first of four courses is served at 6:30 p.m.. The meal is served family-style which contributes to the friendly atmosphere. Vincent smiles, "We often notice people exchanging phone numbers at the end of the dinner."
The cooking classes are on the weekends at 10:30 a.m. and last until 1:15 or 1:30 p.m. (depending on how long guests want to linger). There are different themes each week based upon the local food available and suggestions from students. The one and a half hour cooking class is followed by a lunch and is $75 per person.
Vincent and Tyla pride themselves on preparing and serving great food without pretention: "People leave here feeling like they have been nourished in many ways," Vincent notes.
For more information, visit their website: http://www.orchardkitchen.com/#foodweb-1
or their Facebook page. To make a reservation call: (360) 321-1517.