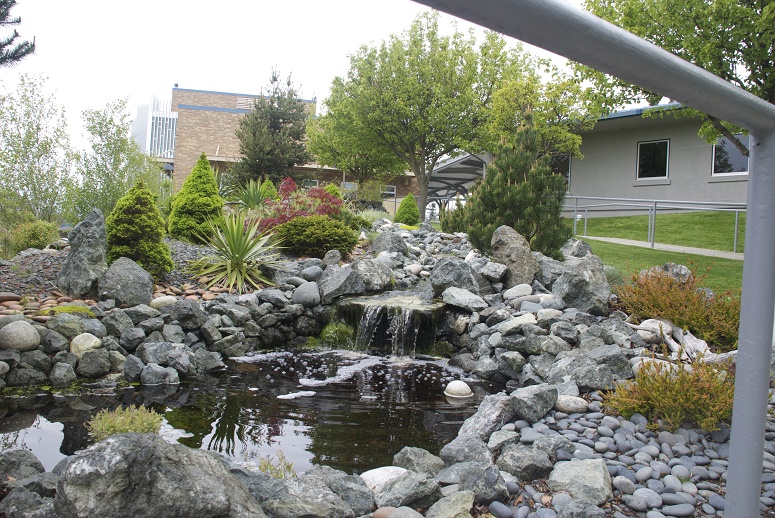 Located adjacent to Oak Hall on the Whidbey Island Campus in Oak Harbor, the waterfall and rockery installment is a favorite respite enjoyed by students and faculty.
By Carolyn Tamler
Skagit Valley College is based in Mount Vernon, but it is a growing presence on Whidbey Island, Anacortes and the San Juans.
The Whidbey Island campus is located in Oak Harbor, while the Anacortes, San Juan and South Whidbey locations operate as "Centers." The South Whidbey Center, currently located at Ken's Corner in Clinton, will be moving to a larger space at South Whidbey High School beginning with winter quarter in January.
The Whidbey Campus and the three Centers now have 1,000 full-time students; many attend classes at the Campus or Centers, but about half take classes on-line. The college provides transfer degrees as well as work force preparation. There are one-year certification programs as well as two-year Associate of Technical Arts degrees.
In a recent interview with Dr. Laura Cailloux, the Vice President for the Whidbey Island Campus, she described how the college has been responding to employer needs through the increasing development of their Marine Technology Center.
"Our Marine Technology program is one of only two in Washington State. It has been in existence since the 1970's, but since it relocated to the marina in Anacortes five years ago, there has been an increasing interest in the program." She notes there are currently 20 second year students and 30 incoming freshmen.

The Marine Technology program is considered to be a Center of Excellence for providing future employees in marine manufacturing, one of only 11 such Centers for all subjects in Washington State.

While some recent four-year degree graduates have been having trouble finding jobs to match their educations, the Marine Technology graduates are in demand as fitters, workers in repairing electrical systems on boats and entry-level trade work.

Students at work
Dr Cailloux

Dr. Cailloux has been impressed with how the programs offered by Skagit Valley College, have been drawing students from California, Colorado and other states, as well as international students. The faculty travels to national and international trade shows to spread the word, and the word has definitely gotten around.

Dr. Cailloux has been with Skagit Valley College for 18 years. She has extensive experience working as a small business owner and working for non-profits. She believes that one of the major benefits of the college is that it provides a small, intimate educational experience, with an excellent faculty and a 17:1 student/faculty ratio that makes it far easier to work directly with teachers and receive individual attention.
"We offer a quality education that is affordable." Dr. Cailloux believes that attending the college also "gives kids time to figure out what they want to do in their professional lives."

Information about Skagit Valley College and the Marine Technology Program can be found on their website: https://www.skagit.edu