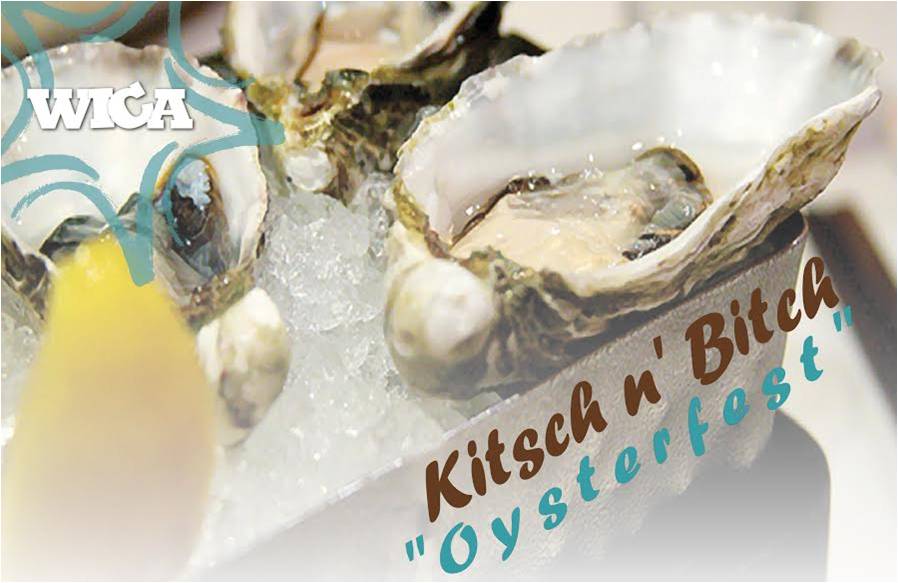 Langley, WA: Whidbey Island Center for the Arts (WICA) is proud to present Kitsch 'n Bitch "Oysterfest" on Saturday, November 7th at 7:30 p.m.
Kitsch 'n Bitch host Sue Frause returns to present this "ode to oysters" featuring special guests Bill Whitbeck and Kevin Lungren, with Rita and Carl Comfort at the bar and musical guest Nancy Nolan. We'll hear about everything from creating your own oyster farm to shucking those buggers!
"Oyster Bill" Whitbeck is the Seattle area sales manager for Taylor Shellfish Farms, a fifth-generation, family-owned shellfish farm based in Shelton, WA. The Connecticut native first became interested in shellfish farming while operating a photography studio in an old oyster house on Long Island. After moving to the Seattle area, he became involved with the local shellfish scene and co-authored "The Joy of Oysters" in 2001. Today, Bill coordinates Taylor's sales and deliveries to more than 200 Puget Sound area restaurants. He is on the Board of Directors of Fields Oceans Ranches Kitchens Stewards (F.O.R.K.S.) which works with chefs and the greater food community to celebrate local foods and foster a more sustainable food supply. In addition to his fishy resume, Bill is a photographer, writer, musician, and a seasoned mariner.
Kevin Lungren is the President of the Fishin' Club of Whidbey Island and, in his spare time, works as a financial advisor for Edward Jones Investments on South Whidbey. His fishy background, in terms of oysters, is that he served oyster stuffing on Thanksgiving while growing up in Indiana. When he moved to Freeland 25 years ago with his wife Mary Jane, he had the good fortune to live next door to Taylor Shellfish guru and marine biologist Kurt Johnson. Kevin calls himself an "everyman oysterman." He loves living on Holmes Harbor and tending his saltwater garden. For obvious safety reasons he always wears a necktie while oystering.
Rita and Carl Comfort of Comforts of Whidbey will be at the bar serving their award-winning wines grown and produced right here on Whidbey Island. Overlooking the Puget Sound, the Comfort family-run farm and winery on south Whidbey Island has close to 6000 plants on the four acre vineyard including: Siegerrebe, Mandeleine Angevine, Madeliene Sylvaner, and Pinot Noir. This is a perfect opportunity to taste their wines and get to know about what's up at Comforts of Whidbey.
Musical guest Nancy Nolan will be at the piano and promises some good ole "shucking" songs. Join us for an entertaining and informative evening about all things oysters!
All Seats $15

Zech Hall Piano Bar opens one hour before the show
Online tickets are available until noon the day of the show at www.wicaonline.org. For tickets by phone, call the Box Office at 360.221.8268 or 800.638.7631. You may also buy tickets in person at the Box Office at 565 Camano Ave in Langley between 1 and 6 p.m. Wednesday through Saturday, or two hours before any show.
Whidbey Island Center for the Arts is a registered 501(c)3 non-profit organization serving the community of South Whidbey Island and beyond. WICA's mission is to inspire, nourish, and enhance the artistic, social, and economic well-being of the community.