Customer and company contributions positively impact thousands of community members
BELLINGHAM, Wash (January 23, 2018) — Today Haggen announced its annual giving total of more than $352,000 in 2017, made possible by its loyal customers and community partners. As part of its year-end review, Haggen compiled a list of major fundraisers and community support programs that it sponsored throughout the past 12 months.
Many of the donations were the result of matching-fund or pass-through donations made by customers at Haggen's 15 Washington locations. Most of the fundraisers are annual events hosted by Haggen year after year, and customers have come to count on this simple way to support the causes they care about. In total, the company contributed to more than 100 different nonprofits in the communities surrounding its stores.
"To us, giving back is an integral part of what we do at Haggen. It's been in our DNA since day one," said Tricia Jones, marketing manager for Haggen. "When we work with our customers to support our community, we're helping our neighbors, our friends, our kids' teachers and our coworkers thrive. The impact that we can have together on individual lives is immeasurable and invaluable."
In 2017, Haggen made donations to local animal service organizations totaling more than $15,000, gave $17,000 to Toys for Tots, $27,000 to the Beef Counts program for food banks, $40,000 to the National Multiple Sclerosis Society—Washington Chapter; $46,000 for community food banks; $63,000 to local schools through DonorsChoose.org; $69,000 to the American Red Cross; and more than $75,000 to a wide variety of nonprofits in the communities surrounding Haggen's stores.
Over its 84-year history in Northwest Washington, Haggen has demonstrated a commitment to community support made possible by Haggen shoppers. Since opening its first store on Holly Street in Bellingham in 1933, Haggen has been donating food to the hungry.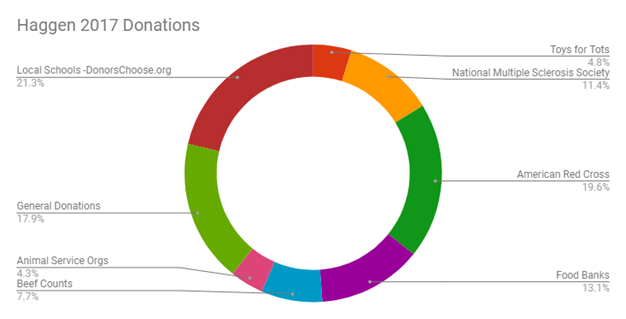 "We couldn't do this without the loyalty and generosity of our customers," said Kaily Hetherton, Haggen's marketing event coordinator. "There are so many important organizations helping keep our community strong, and we're very proud to be able to support their work and help make a difference."
Haggen's latest giving campaign is running now through January 30, inviting customers to donate at the cash registers to help fund local school projects through DonorsChoose.org.
ABOUT HAGGEN
Founded in 1933 in Bellingham, Washington, Haggen has built its business on providing guests the freshest and most local products with genuine service, while supporting the communities it serves. Throughout more than eight decades in business, the company has supported regional farms, ranches, fisheries and other businesses, creating a lasting and sustainable food economy. For more information about Haggen, visit haggen.com.