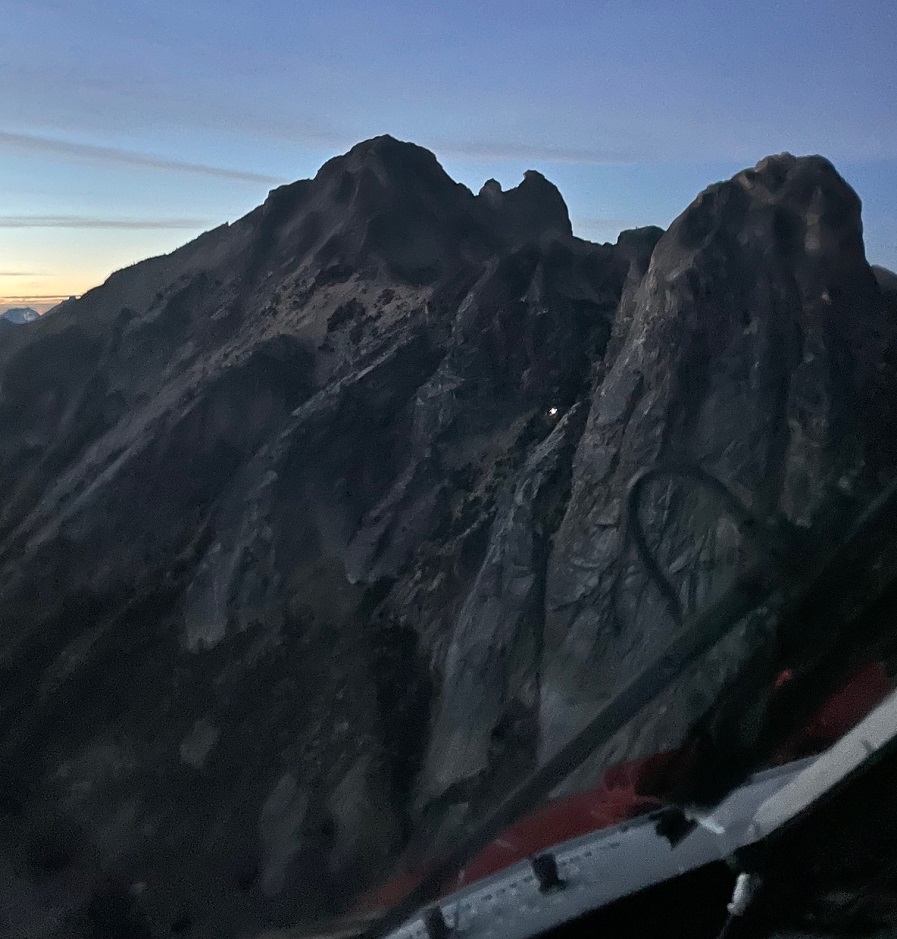 NAVAL AIR STATION WHIDBEY ISLAND, Wash. – A Search and Rescue (SAR) team from Naval Air Station (NAS) Whidbey Island assisted a U.S. Forest Service (USFS) SAR team in the rescue of a 35-year-old man in the North Cascades Sunday evening, October 3.
NAS Whidbey Island received the alert late Sunday afternoon of a hiker who suffered a compound fracture of his ankle in the eastern part North Cascade mountain range within Okanagan County. The SAR team launched from the base shortly after 6 p.m. and made it on scene by 7 p.m. The USFS SAR team was on site and
After locating the injured hiker on a small shelf at in a chute along a cliff face at 7,200 ft., and making approach adjustments, a rescue team rappelled to the scene to prep the patient for transport. With the assistance of the USFS SAR team on site, the Whidbey crew was able to expeditiously secure and hoist the patient aboard the aircraft by 7:45 p.m. The crew flew to Omak to refuel before transporting the patient120 miles southwest to Harborview Hospital in Seattle.
Naval Air Station Whidbey Island SAR has conducted 40 missions this calendar year, which includes seven MEDEVACs, 29 rescues, and four searches.
The Navy SAR unit operates three MH-60S helicopters from NAS Whidbey Island as search and rescue/medical evacuation (SAR/MEDEVAC) platforms for the EA-18G aircraft as well as other squadrons and personnel assigned to the installation. Pursuant to the National SAR Plan of the United States, the unit may also be used for civil SAR/MEDEVAC needs to the fullest extent practicable on a non-interference basis with primary military duties according to applicable national directives, plans, guidelines and agreements; specifically, the unit may launch in response to tasking by the Air Force Rescue Coordination Center (based on a Washington State Memorandum of Understanding) for inland missions, and/or tasking by the United States Coast Guard for all other aeronautical and maritime regions, when other assets are unavailable.