Whidbey Island Holiday Events and More!
(click city below)
Christmas Tree Sales

Shults Christmas Tree Farm
x
Oak Harbor
xxxxx
xxxxx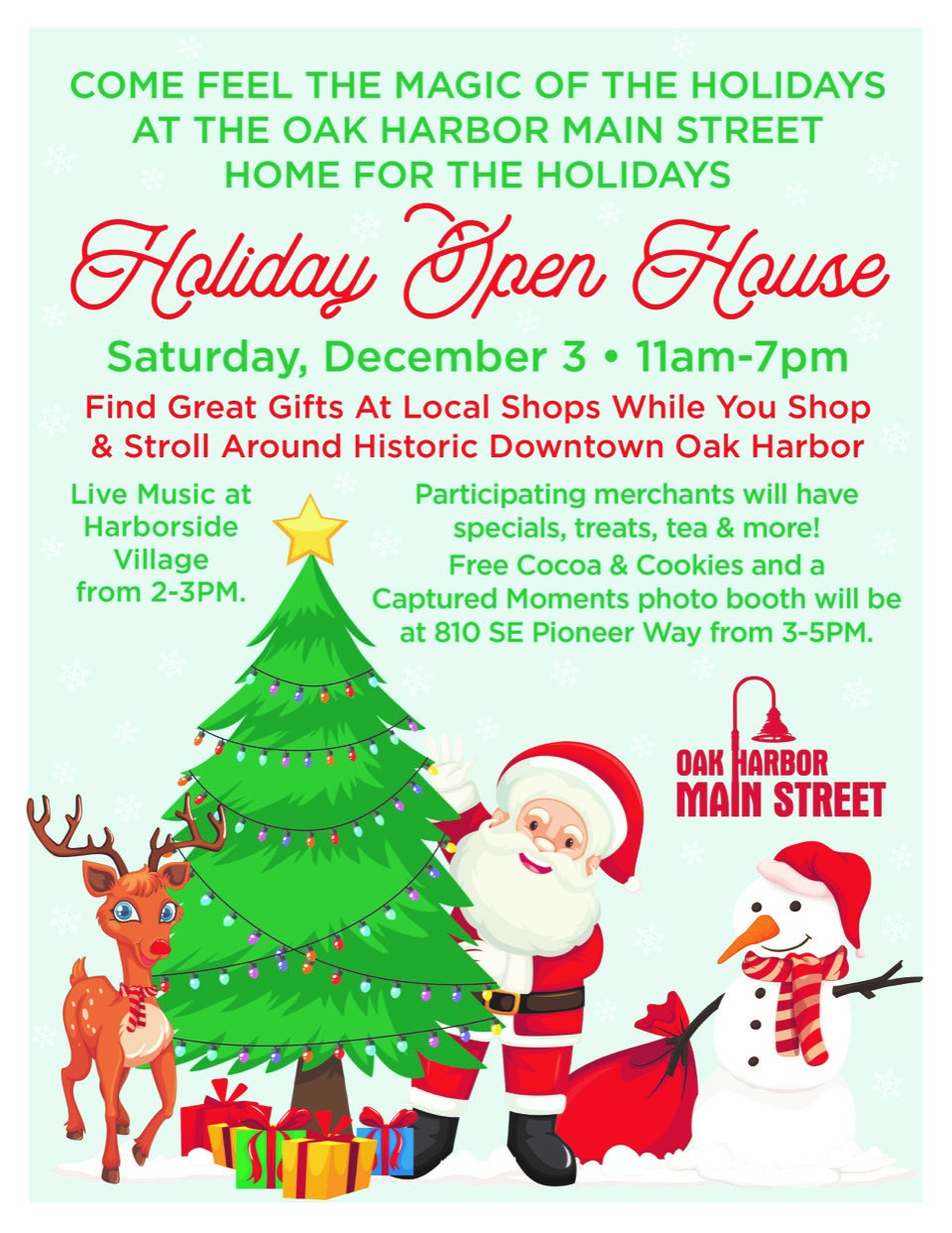 ---

Festival of Trees Community Day
Sat, Dec 3, 12 – 2 PM
Elks Lodge
155 NE Ernst St, Oak Harbor, WA
Come view this year s stunning trees before they get delivered to their new homes! Buy holiday d cor and ornaments to help support BBBSIC s life changing work!
---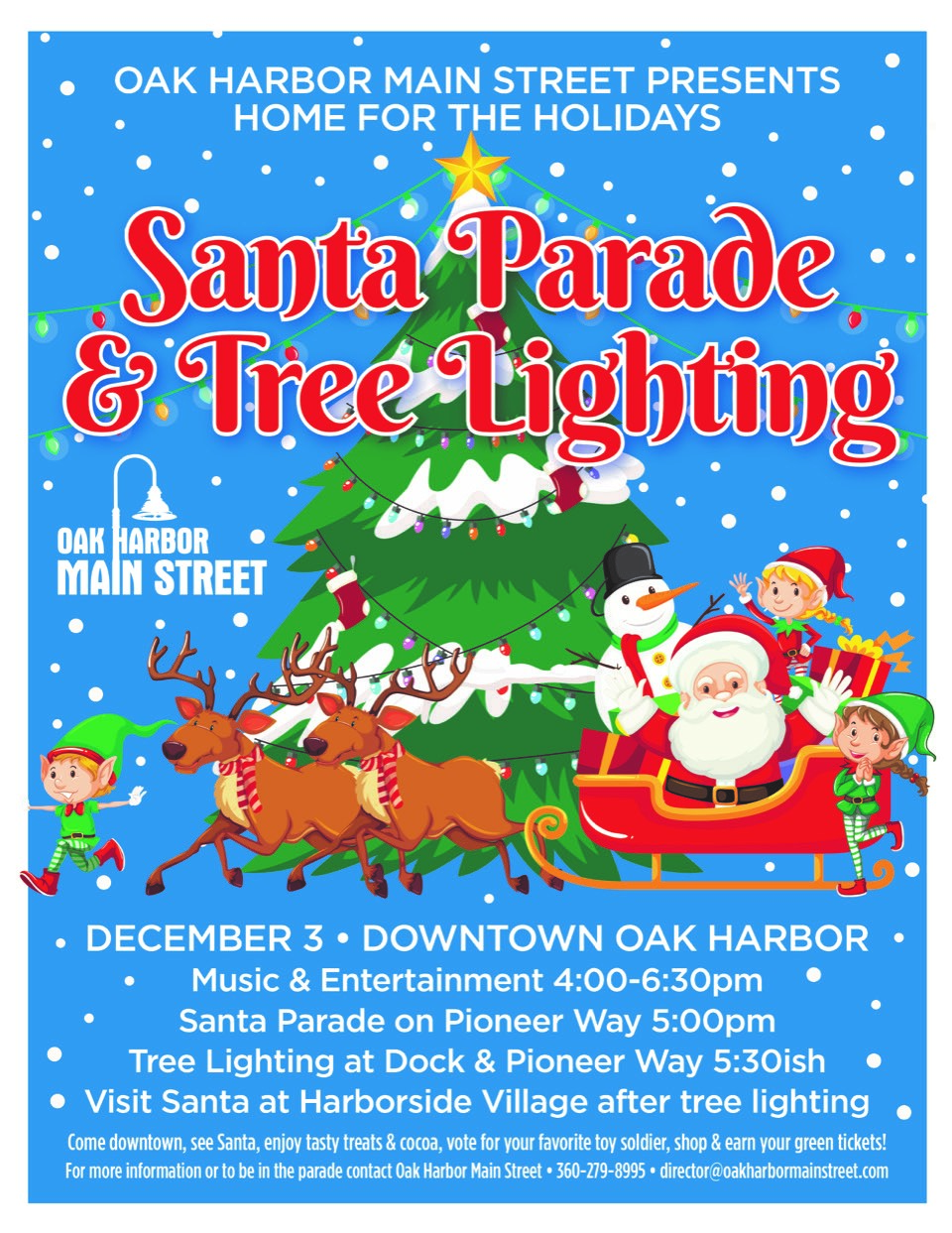 ---

Holiday Lunch
The Center in Oak Harbor
Enjoy a plated meal of holiday favorites. While you're enjoying your meal there will be live holiday music and a program.
Register by Friday, Dec. 16th $30 for non-members, $20 Member
TUESDAY, DECEMBER 20, 2022 AT 11 AM
---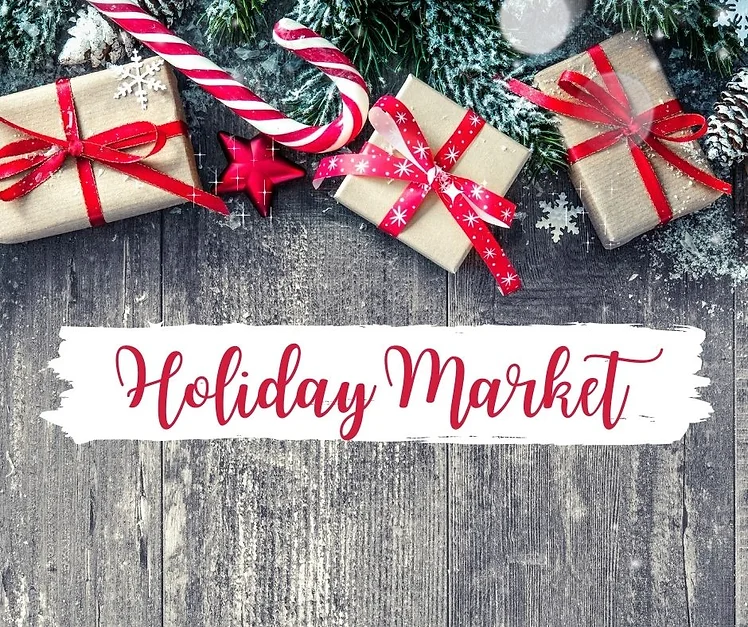 WHIDBEY FARM & MARKET OPENS HOLIDAY MARKET FOR THE SEASON
Holiday Market runs from November 17 to December 18, 2022
Oak Harbor, WA | November 16, 2022: After a short closure, Whidbey Farm & Market is reopening on November 17 at 11AM as a Holiday Market. The Market will run from 11AM to 6PM Thursdays to Mondays until Sunday, December 18.
"Creating a Holiday Market for our community and visitors to Whidbey Island is such a joy for our team," said Shannon Hamilton, owner of Whidbey Farm & Market. "We want to create an experience where people can enjoy the magic of the holiday season. Not only is the Market fully stocked for holiday shopping, but visitors can enjoy delicious seasonal coffee beverages and cider at our espresso bar."
Whidbey Farm & Market Espresso Bar will serve peppermint mochas, eggnog lattes, cranberry white chocolate mochas, candied orange mochas, gingerbread lattes, pumpkin spice lattes as well as surprise daily specials.
A range of holiday activities are planned including free photos with Santa and crafts while you wait on December 3 from 11.30AM to 2.30PM presented by Amelia Johnson with Tucker Realty and a Christmas tree lot to benefit YoungLife starting Saturday, November 26 with Boy Scout wreaths. On December 17th, Oak Harbor-based Hanson Home Team will host a community event with free hot chocolate, bonfires, s'mores and more. Please check www.whidbeyfarmandmarket.com and social media for more details about all holiday events.
"This year we are working with Whidbey Island Angels again to support families in need," said Hamilton. "Please visit our Giving Tree to select a gift card that will provide a list of items requested by a child or a senior who needs some extra holiday magic this season." The Market will also be running a food and household goods drive. "Please visit our website to see a list of items that are often in demand at Whidbey Island Angels' Food Pantry and then bring items to the Market and place them in the donation bin."
'We are so pleased to be partnering with Whidbey Farm & Market and other local businesses to bring holiday cheer to our community," said Whidbey Island Angel's founder, Cindy Buchanan. "Last year, we were able to provide 650 children and adults on Whidbey Island with a holiday gift thanks to the generosity of people who support these businesses. Island strong and proud, one family at a time, one step forward, we rock the rock Island Angels,"
Whidbey Farm & Market is located at 1422 Monroe Landing Road, across from the Blue Fox Drive-In.
---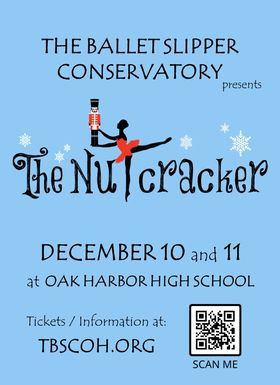 The Ballet Slipper Conservatory of Oak Harbor continues its most joyous holiday gift to the community with its beloved production of The Nutcracker.
The Ballet Slipper Conservatory Nutcracker features nineteen dancers in roles of mice, soldiers, flowers, and sweets.

A wonderful ballet for the entire family, The Nutcracker is the perfect holiday tradition to introduce children of all ages to the power and beauty of classical ballet. The Nutcracker tells the story of a little girl named Clara who is given a magical nutcracker on Christmas Eve. She encounters the frightful rat king before embarking on a journey through the Land of Snow and the Kingdom of Sweets.

The Ballet Slipper Conservatory of Oak Harbor is a non-profit performing arts group. Several months and hundreds of hours of practice are put into The Nutcracker performance. The director, Miss Diane Geragotelis, not only produces and choreographs, but also hand sews every costume. Come join us to share in this production's special beauty and holiday splendor.

Tickets are available for purchase at tbscoh.org. Adults $16; Seniors (60+) $11; Child (<18) $11. Advance tickets are highly recommended. Any remaining tickets will be sold at the door.

For more information please call (360) 929-5828.
---
Coupeville
xxxxx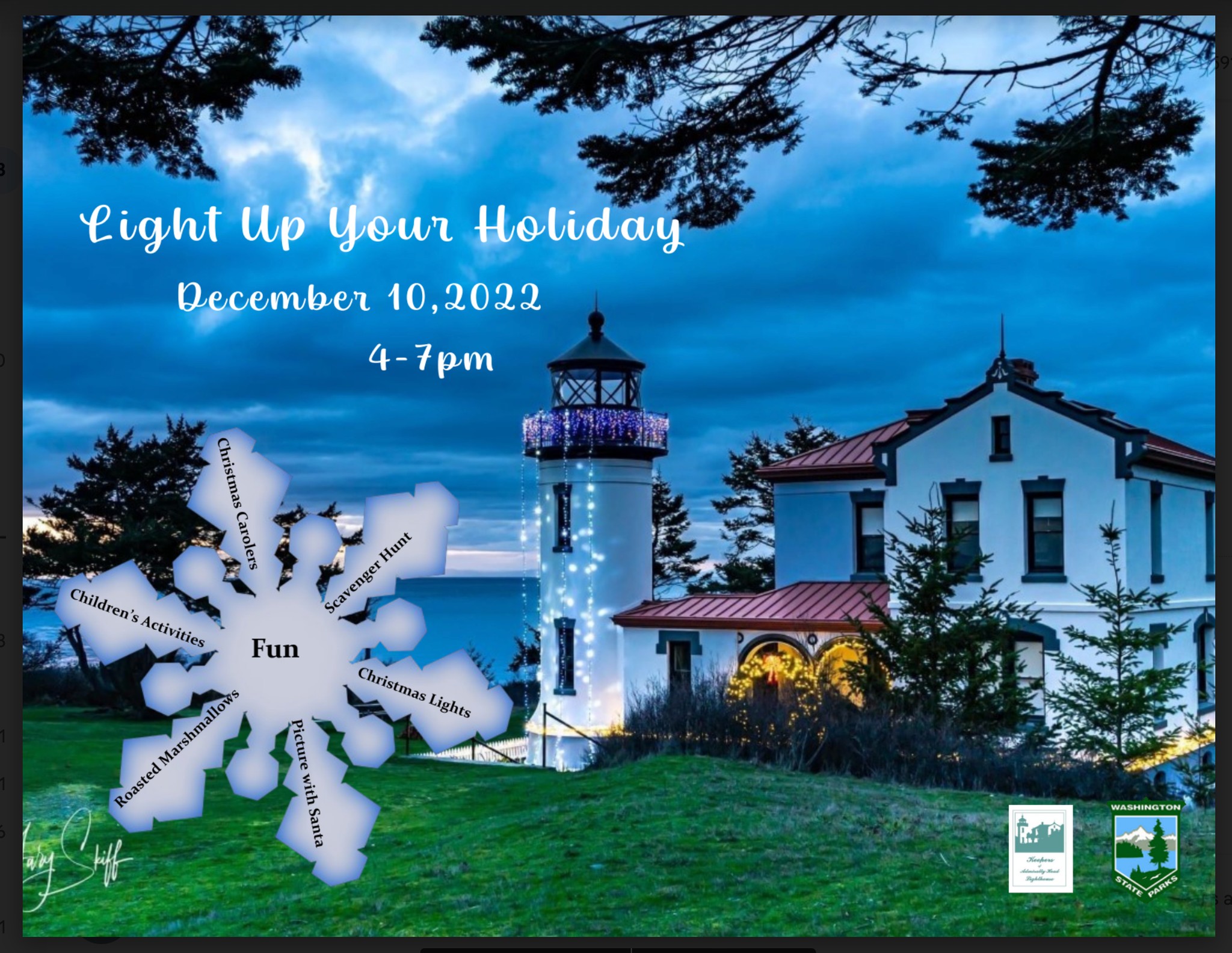 December 10th from 4-7PM at the Lighthouse in Coupeville
---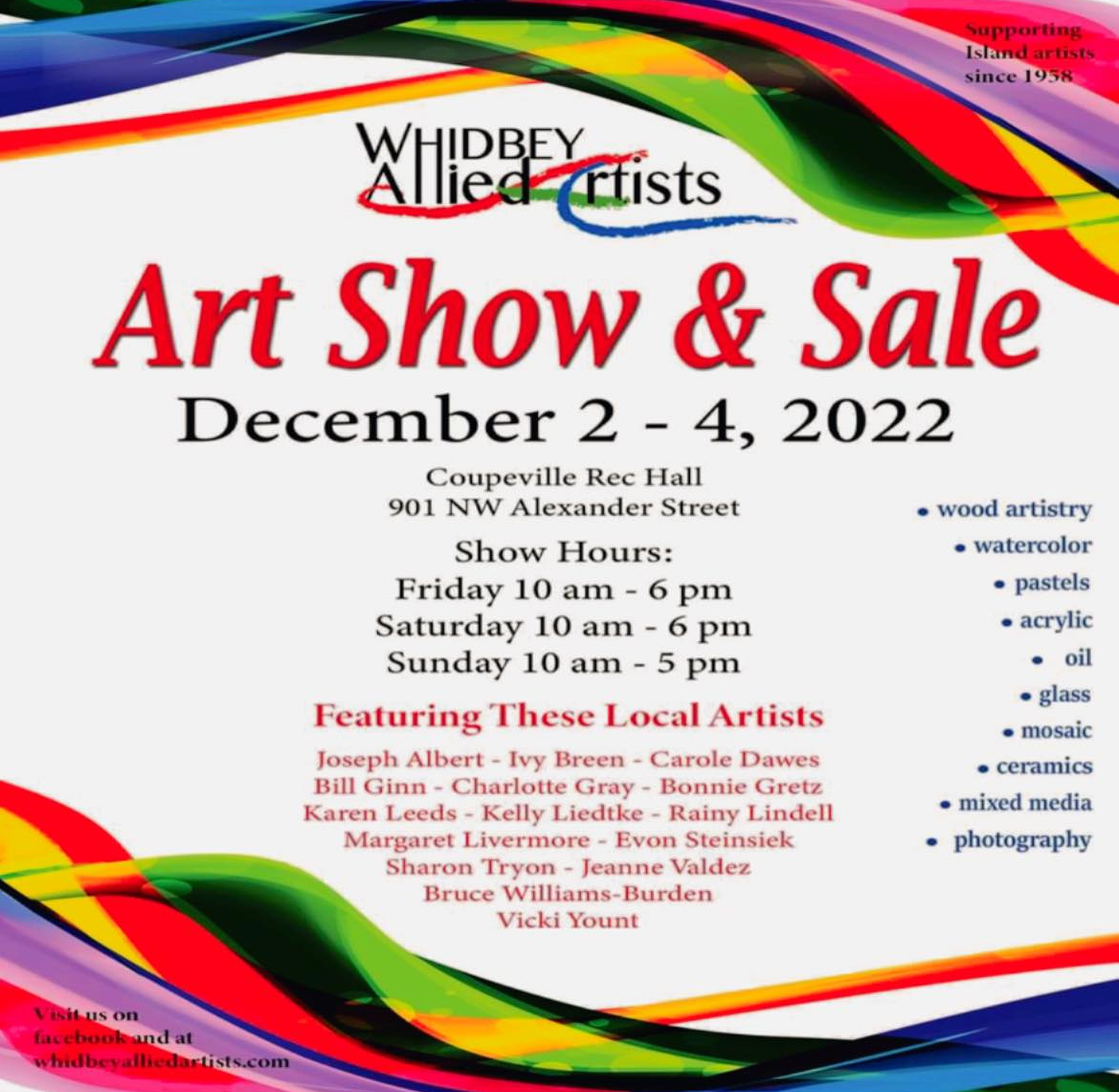 ---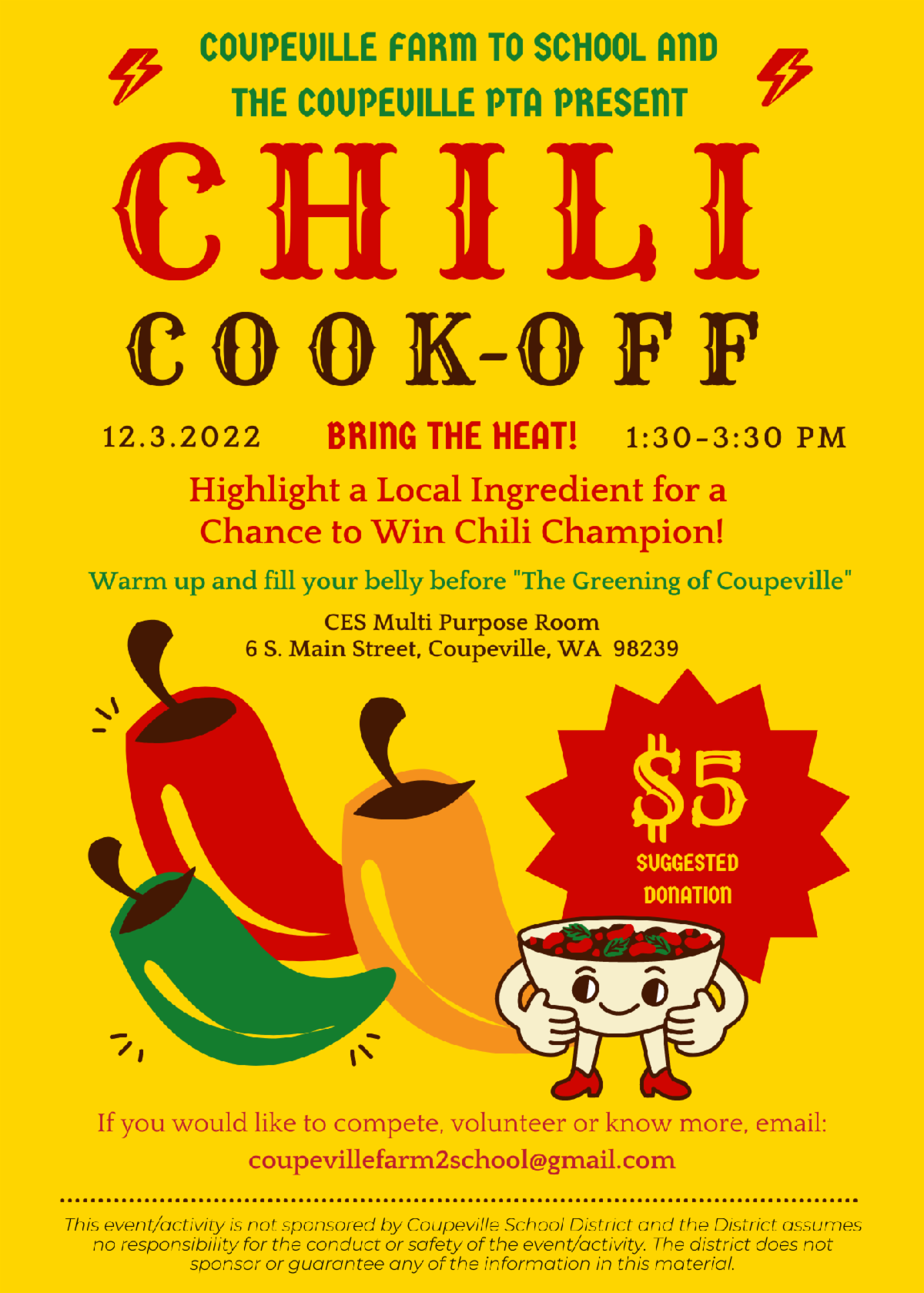 ---

The Greening of Coupeville is coming on Saturday, December 3
---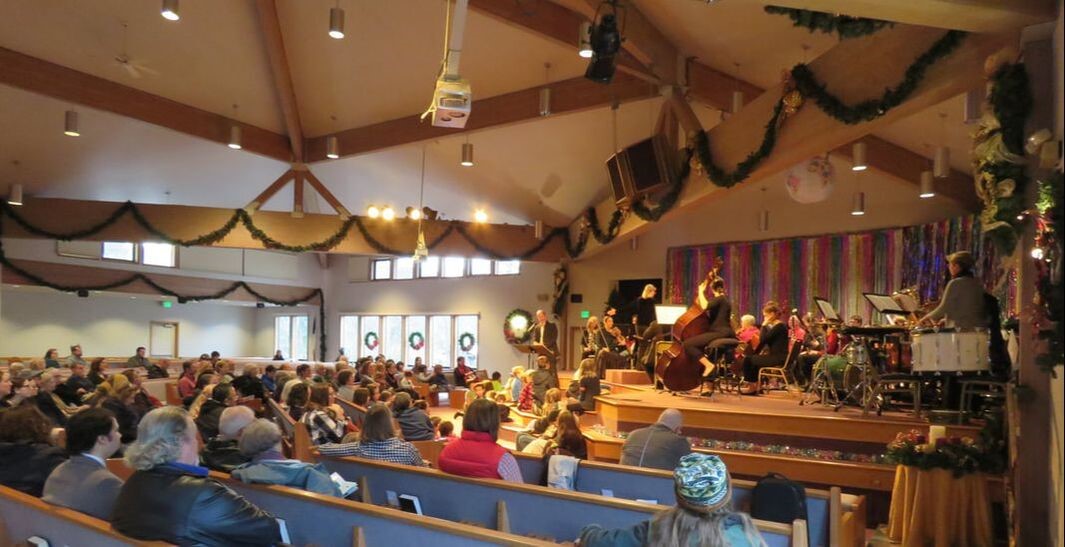 CELEBRATE A VERY MERRY WHIDBEY CHRISTMAS AND SING-ALONG MESSIAH WITH WHIDBEY'S SARATOGA ORCHESTRA
Whidbey's Saratoga Orchestra, under music director Anna Edwards, invites you to warm up your vocal cords for a festive and fun concert of holiday tunes including a sing-along
of G.F. Handel's "Messiah" on Saturday December 17, 2:00pm at Coupeville High School Commons.
Audience members will be invited to sit in specially designated sections arranged by voice range and participate in singing the chorus sections of the Messiah. One need not sing to attend as enthusiastic listeners are needed as well and general seating will be available. Please bring a vocal score if you own one, a limited number of scores will be available for rental on a first-come, first-serve basis. Soloists include Liz Hendricks, Eva Nelson and Karl Olsen.
The Rain Shadow Brass, a local group of professional and student musicians from Whidbey will begin the program with music of Giovanni Gabrieli. Special guests also include the ever lovable The Shifty Sailors and the sensational vocalist, Christina "The Singer Tina" Atteberry, bringing us festive tunes of the Holidays
General Admission concert tickets are $30 for Adults, $25 for Seniors/Military and free admission for students 17 and under.
Pre-concert ticket sales with cash or check at Click Music in Oak Harbor, bayleaf in Coupeville and Blue Sound Music and Moonraker Books in Langley. Cash/Checks/Credit Cards accepted at the event.
More information including FAQs at: www.sowhidbey.com or 360-929-3045.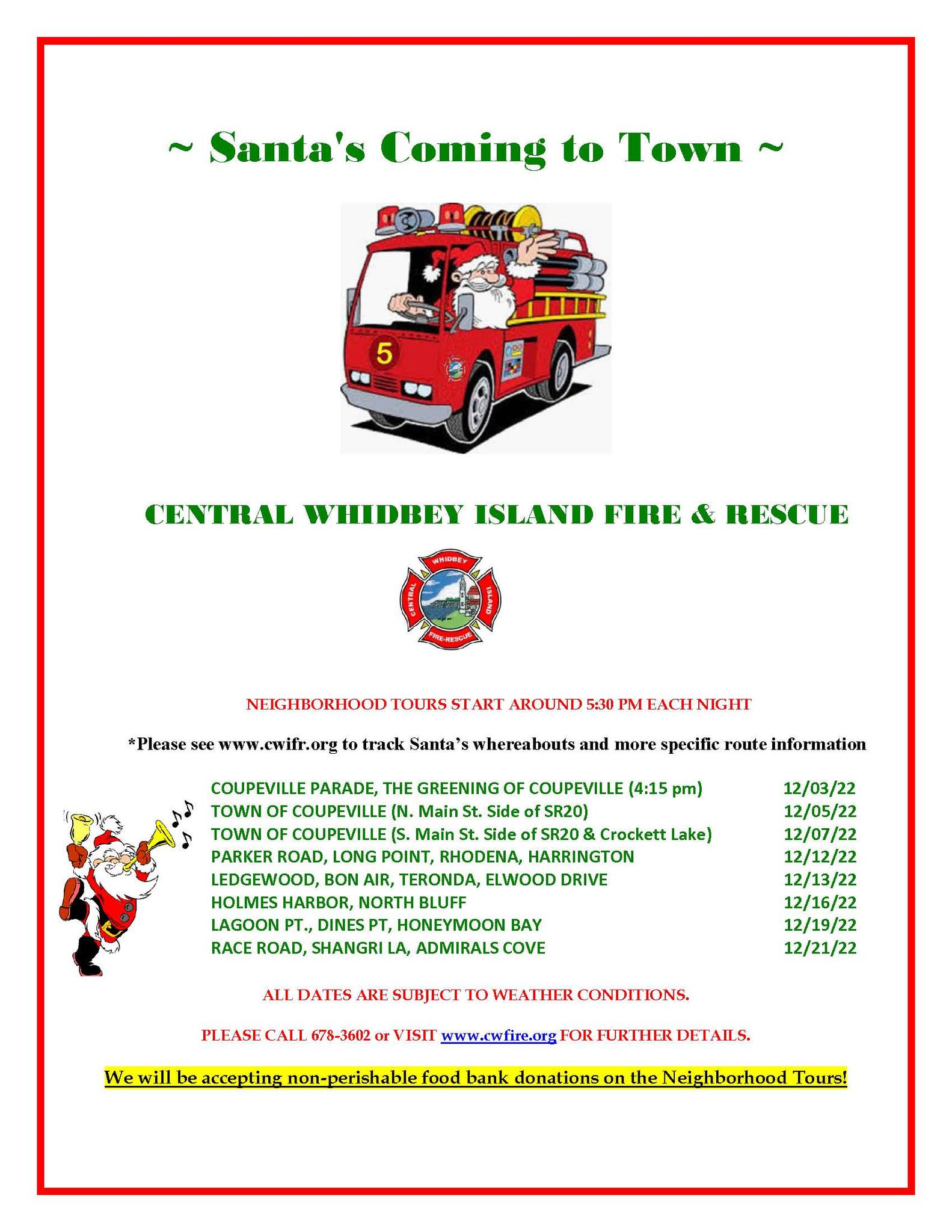 ---
Greenbank
xxxxx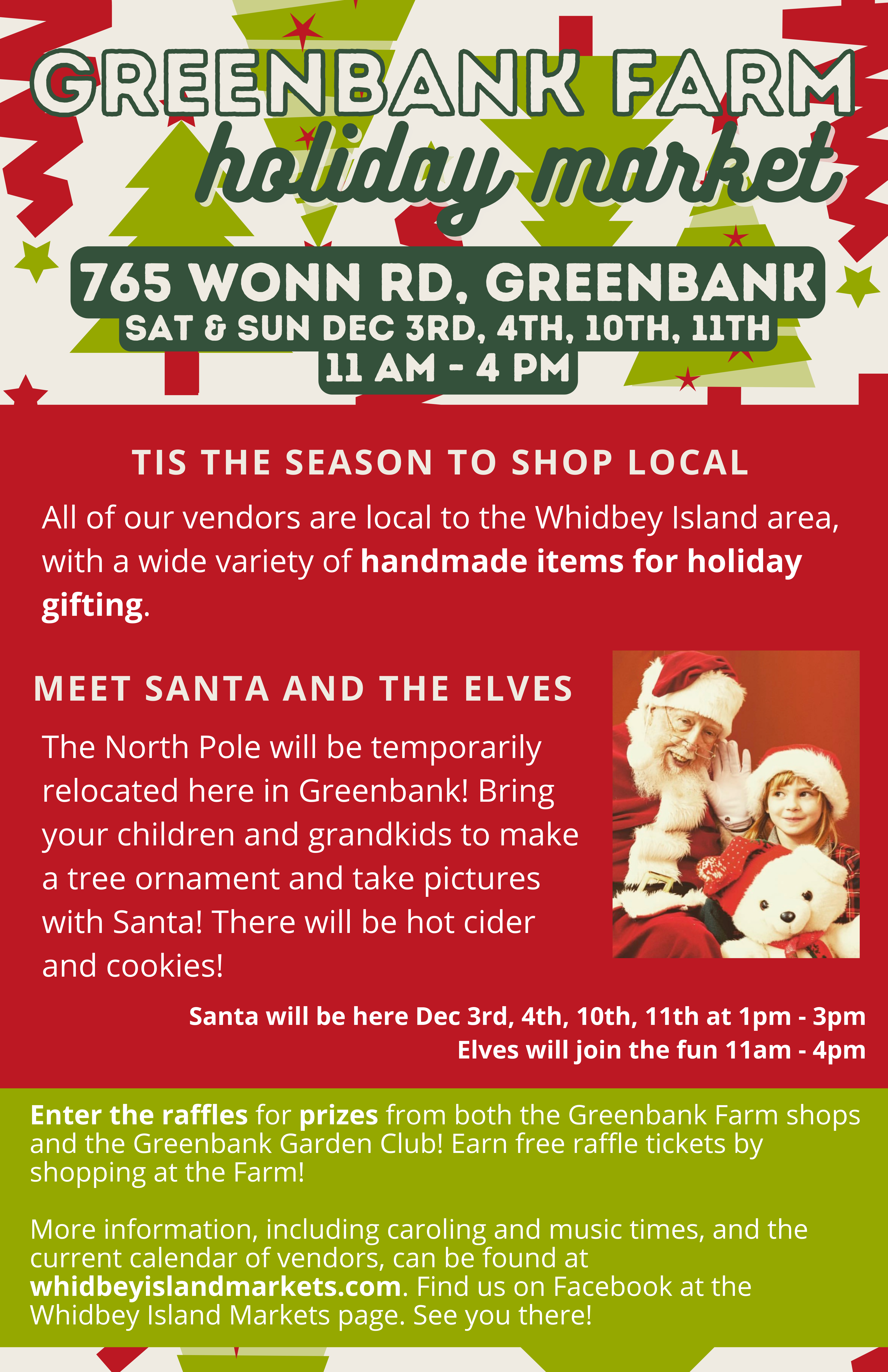 ---
Freeland
xxxxx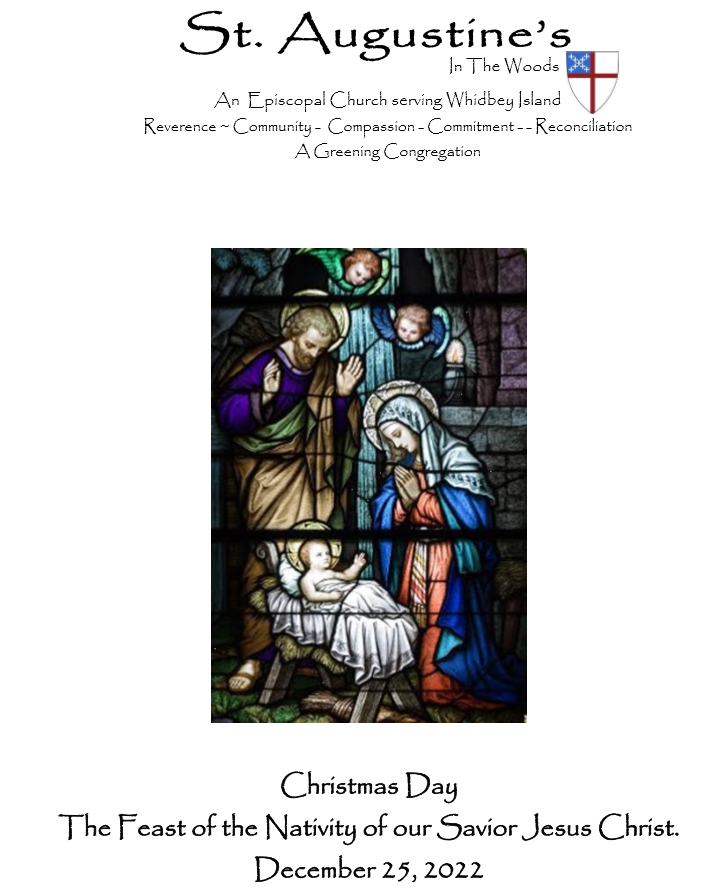 10:30 am - 11:30 am
FREE
---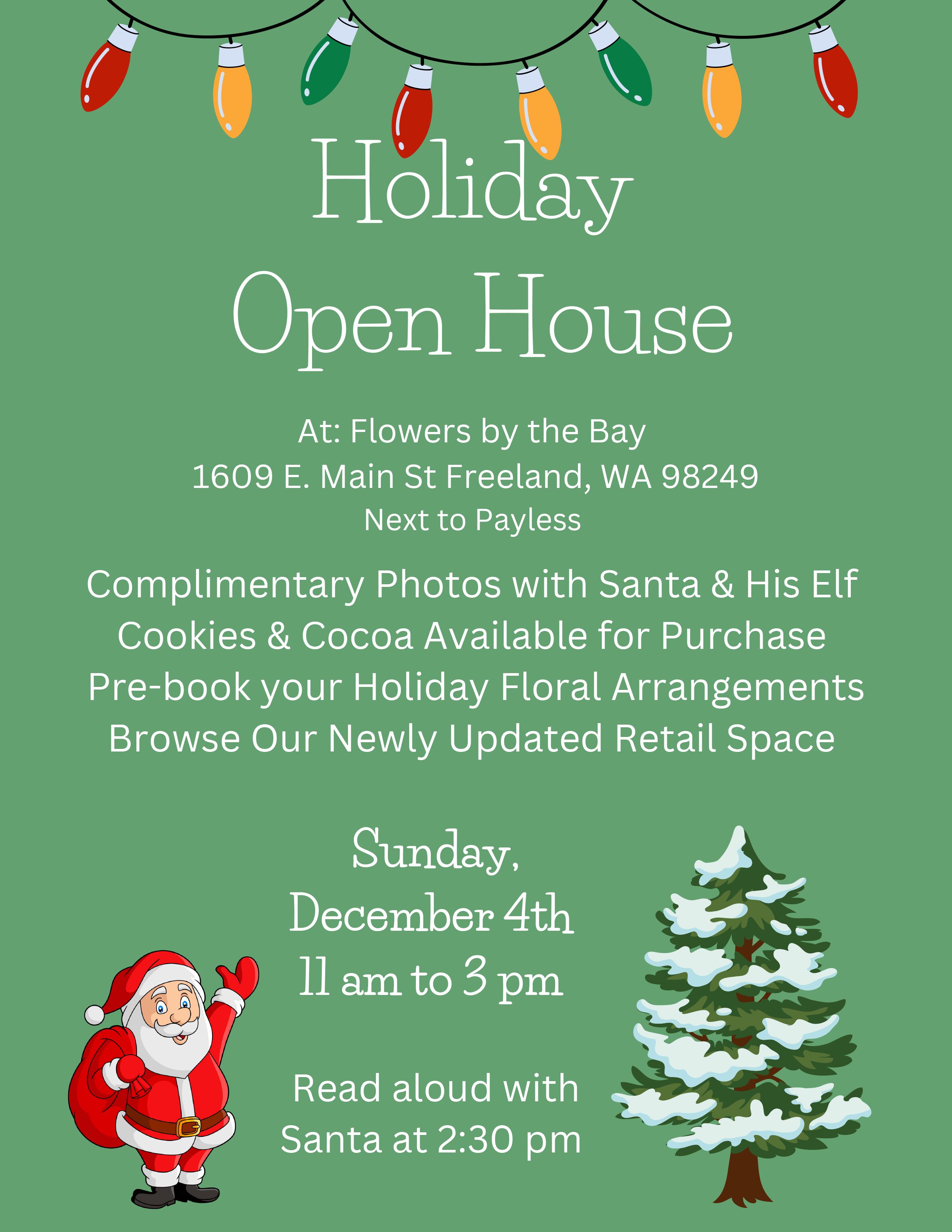 ---
Langley
xxxxx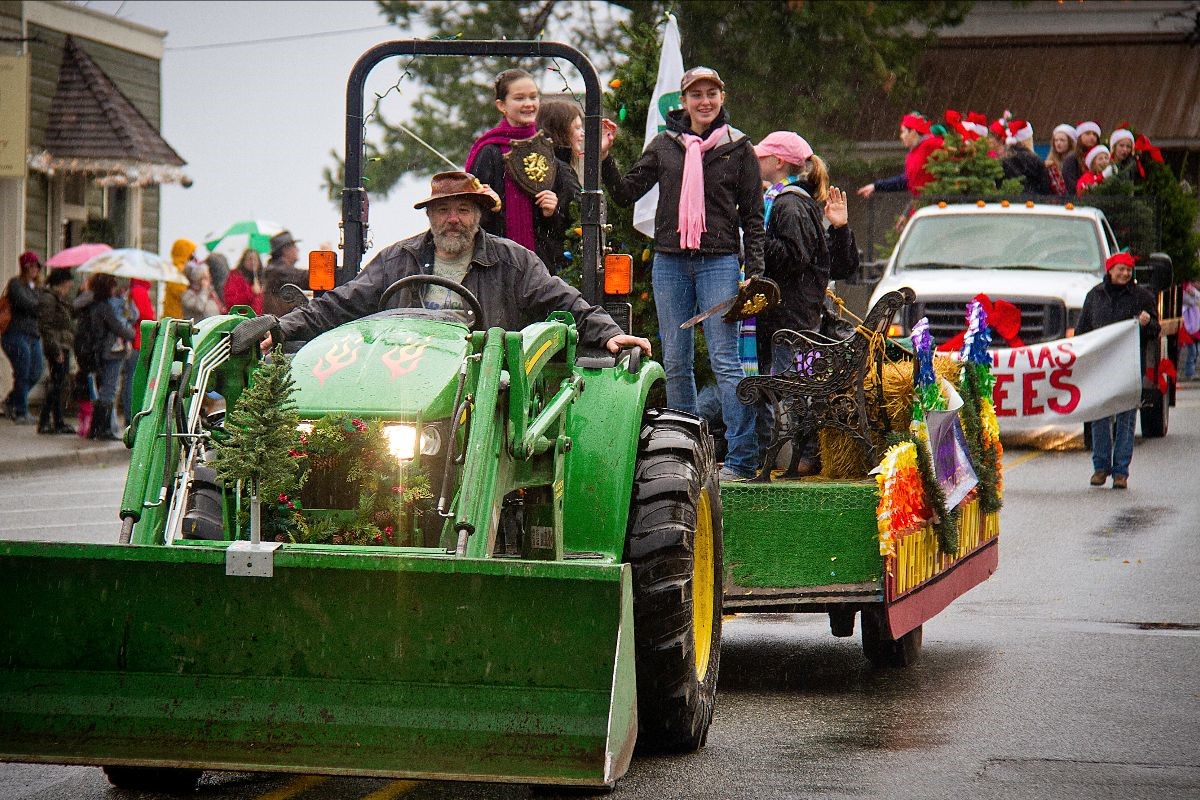 Kids, Animals, Groups and Businesses
Holly Jolly Parade is Back for 2022


This much loved local event will take place on December 3rd at Noon.
---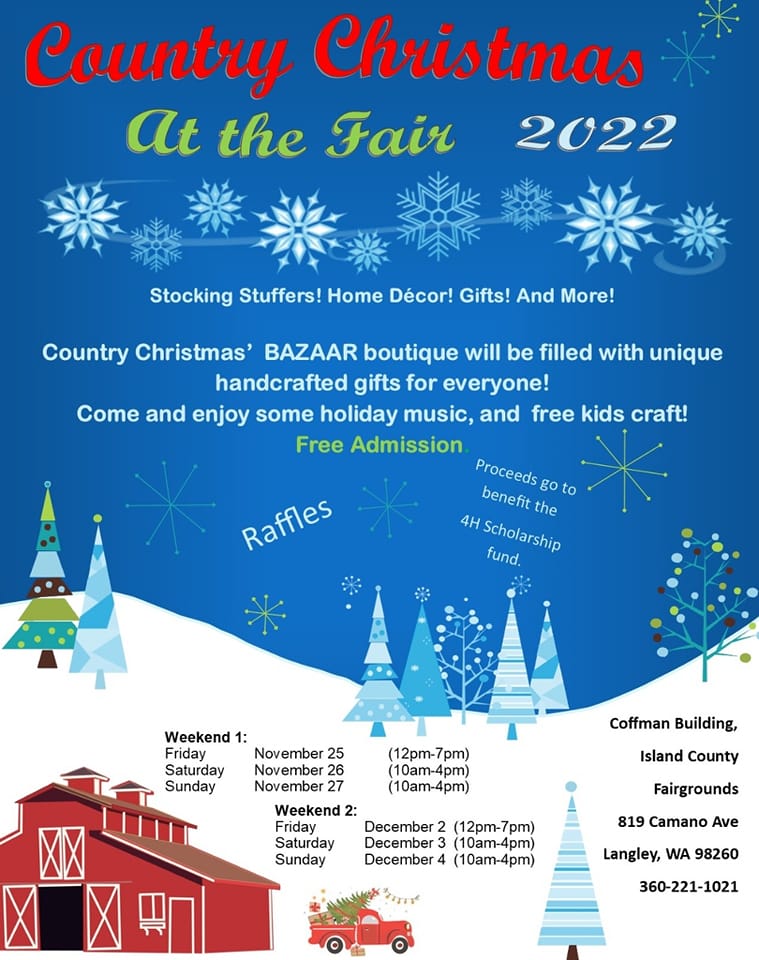 ---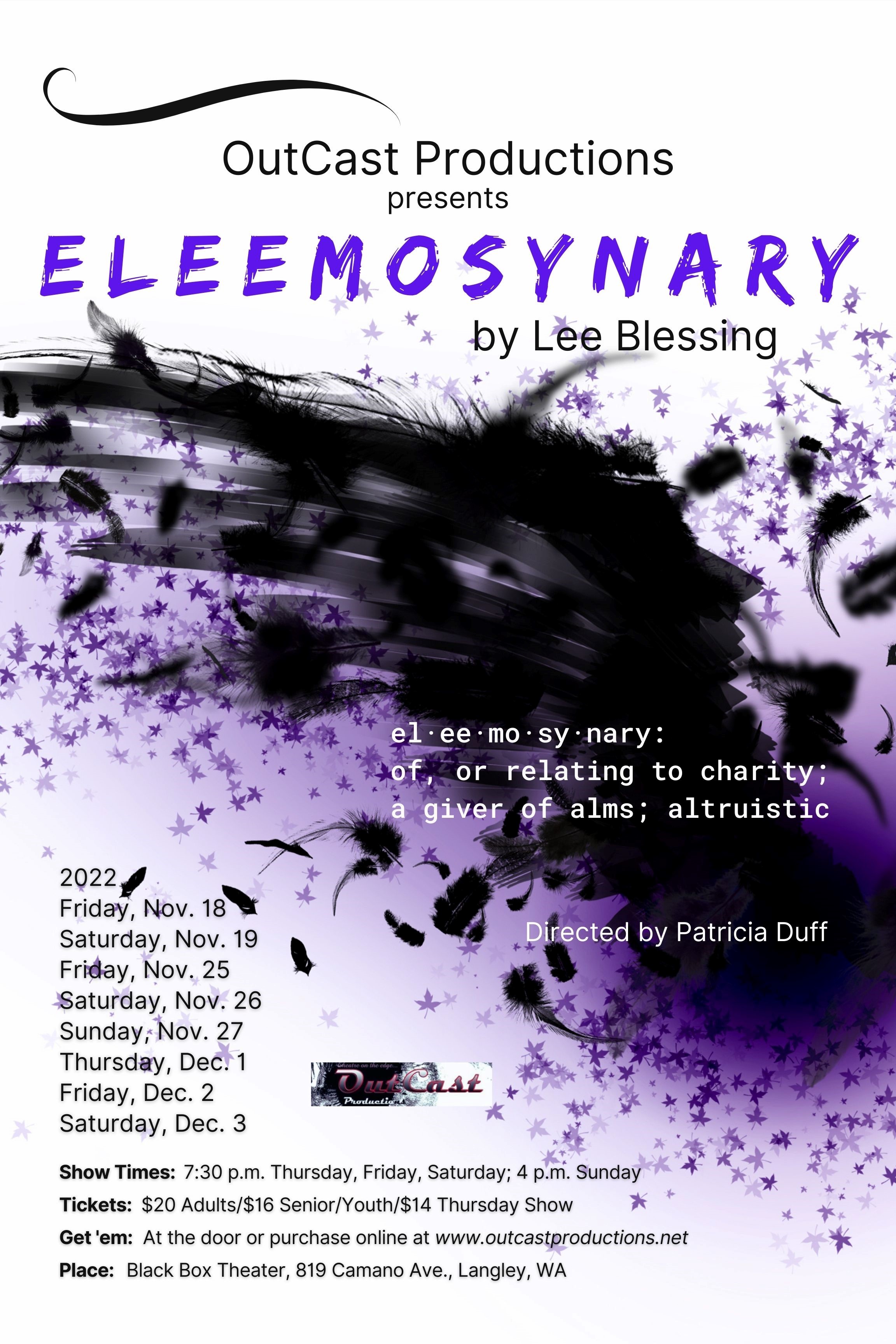 Eleemosynary" at OutCast Black Box Theater at the Fairgrounds November 25 – December 3

Staged with utmost simplicity, using platforms and a few props, "Eleemosynary" by playwright Lee Blessing probes into the delicate relationship of three singular women: the grandmother, Dorothea, who has sought to assert her independence through strong-willed eccentricity; her brilliant daughter, Artie (Artemis), who has fled the stifling domination of her mother; and Artie's daughter, Echo, a child of exceptional intellect—and sensitivity—whom Artie has abandoned to an upbringing by Dorothea.
One theater goer said of the show, "It's been awhile since I've seen a show where every element was so carefully considered and presented; so creative. Of course, the script is tasty. but all three actors just knocked it out of the park!"
Directed by Patricia Duff, with Shelley Hartle, Marta Mulholland and Rysha Maier through Dec. 3 at OutCast. This show is selling fast, so don't wait to buy tickets!

You can purchase tickets online at: https://outcast-productions.ticketleap.com/eleemosynary/
or reserve seats and pay at the door by emailing us at ocp@whidbey.com.


Fridays, November 25, and December 2 @ 7:30pm
Saturdays, November 26, and December 3 @ 7:30pm
Sunday November 27 @ 4pm
Thursday December 1 @ 7:30pm
$16 student/senior (62+)
$20 adult
Thursday, 11/17 – all seats $14
---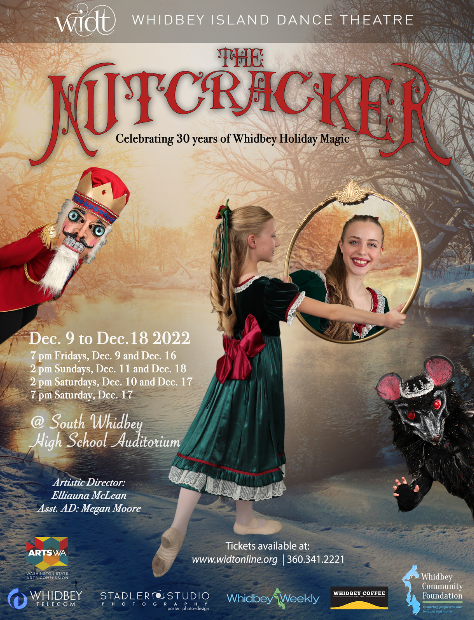 WIDT presents its 30th annual Nutcracker
Among the whirlwind of the holiday season, there is that undeniably lovely and tempestuous affair fluffed with snow and tulle and cute children in creature costumes that few can resist. That is "The Nutcracker," of course, and Whidbey Island Dance Theatre (WIDT) is back on the SWHS Auditorium stage with the holiday ballet.
WIDT is particularly excited to present its 30th season of "The Nutcracker" which opens
Friday, Dec. 9 and runs through Sunday, Dec. 18.
The company manages to combine the traditional and the deliciously daring in a production in which more than 75 characters come to life. As always, WIDT's production is full of color and fun, newcomers and familiar faces, and new twists in choreography, along with the artistry of several professional guest dancers and the charming collective of an all-ages cast. Don't miss this Whidbey Island treat!
---

'TWAS THE NIGHT BEFORE CHRISTMAS, 1776 | THEATRE SERIES
Sunday, December 8TH - 18TH, 2022
2:00 PM 3:30 PM
Whidbey Island Center for the ArtsPO Box 52 | 565 Camano AvenueLangley, WA 98260
Come enjoy our heartwarming Holiday Musical. Discover the origins of America's beloved poem, 'Twas the Night Before Christmas'. Enter exciting times as George Washington prepares to cross the Delaware River and Kindness becomes a real treasure. Clement C. Moore's famous poem (published 1823) gave America its own special Santa Claus who put gifts into "stockings hung by the chimney with care" and named his first reindeer!
Romance, Adventure, Christmas Carols, Original Songs, Colonial Music.
---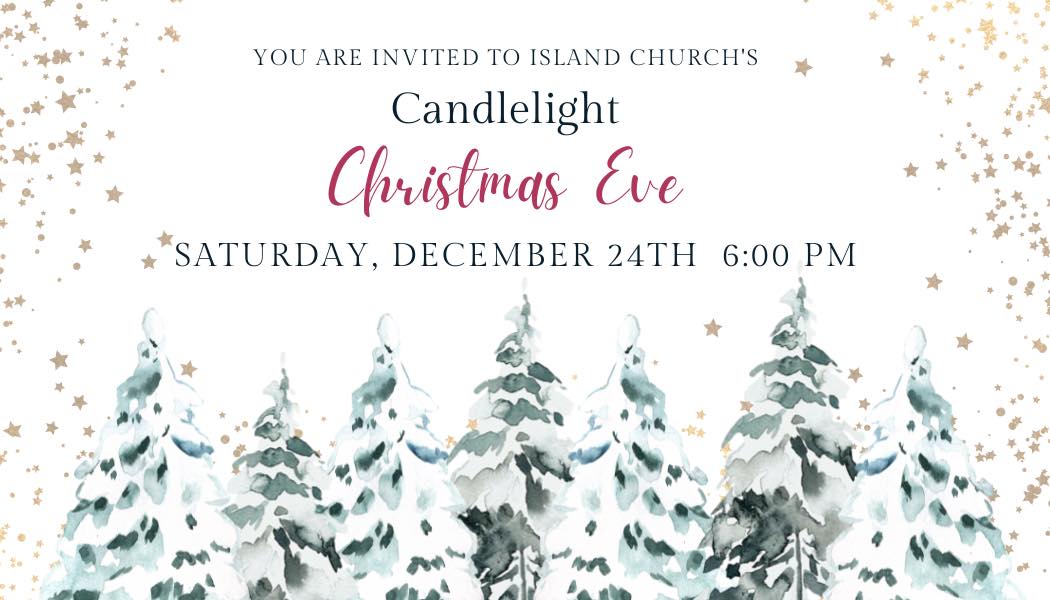 503 Cascade Ave, Langley, WA, United States, Washington
---
Clinton
xxxxx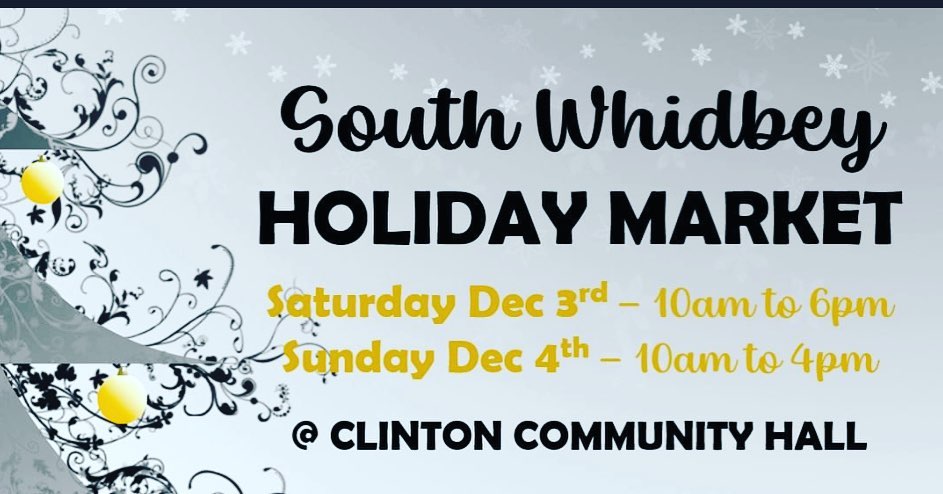 Sa
Come join us for the 1st Annual South Whidbey Holiday Market @ the Clinton Community Hall!
Saturday and Sunday December 3-4th at Clinton Community Hall