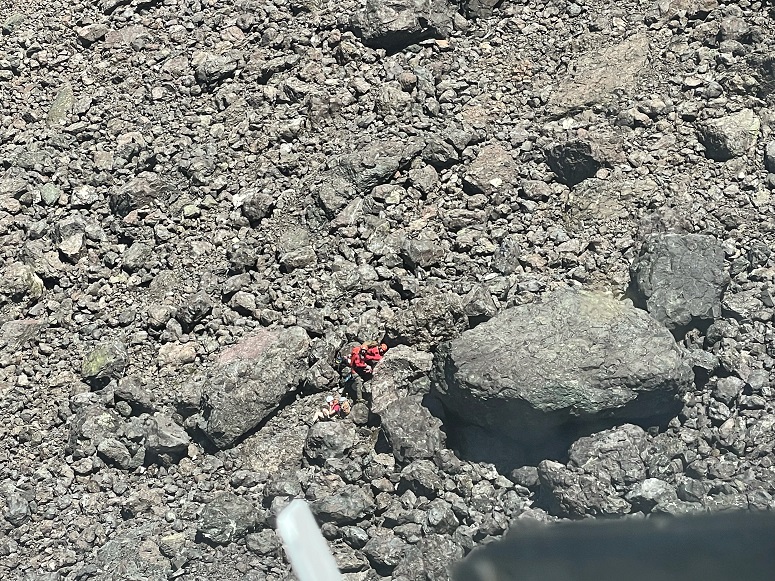 Rocky Terrain in the Olympic National Park Wilderness area surround two hikers, one of whom suffered a significant injury that necessitated a rescue from the NAS Whidbey Island Search and Rescue Unit on Sunday, July 10, 2021.
NAVAL AIR STATION WHIDBEY ISLAND, Wash. – Search and Rescue (SAR) teams from Naval Air Station (NAS) Whidbey Island conducted five rescues this past weekend from the Olympic National Park Wilderness Area to east of Seattle and up in into the northern Washington Cascades from July 9 to 12, 2021.
Early Friday, July 9, NAS Whidbey's SAR rescued a 32 year-old hiker off of Mt. Sauk who fell off a cliff and broke her leg. Mt. Sauk is located on the eastern end of Skagit Valley. After locating and prepping the injured woman the crew flew her to St. Joseph's Hospital in Bellingham.
That same day, shortly after noon local time, the crew responded to a request that originated from Chelan County Sheriff's Office to assist with the rescues of 54-year-old man who suffered a broken leg on the Snow Lakes Trails, approximately nine miles west southwest of Leavenworth. The crew arrived on scene about 2 p.m. and transported the injured man to the Leavenworth Fish Hatchery Landing Zone where he was delivered to an awaiting ambulance.
The next day SAR received a late night alert for a 34-year old woman suffering from a possible broken ankle in the Alpine Wilderness east of Seattle. The crew located this injured victim at an altitude of approximately 5,500 ft. and transferred her to Harborview following her extraction
On Sunday, July 11, SAR received notification that a 44 year-old man suffered a significant laceration after falling on rocky terrain in the wilderness areas within the Olympic Mountain Range that morning. After departing around 1 p.m. the crew was able to locate the injured man and another hiker in less than 15 minutes after departure. The crew quickly extracted both men and flew the patient to Harborview in just over an hour.
Early Monday morning, SAR launched on another mission, this one near Mt. Stuart in the Cascade Mountain Range, where a female hiker had fallen 300 feet and suffered significant knee and hand injuries. The SAR crew was on the scene by about 6 a.m. and rappelled two crewmembers down to prepare the patient for transport. By about 7:15 a.m. the SAR crew hoisted the patient aboard the helicopter and met an awaiting ambulance at the Leavenworth Fish Hatchery within about 5 minutes.
Naval Air Station Whidbey Island SAR has conducted 24 missions this calendar year, which includes five MEDEVACs, sixteen rescues, and three searches.
The Navy SAR unit operates three MH-60S helicopters from NAS Whidbey Island as search and rescue/medical evacuation (SAR/MEDEVAC) platforms for the EA-18G aircraft as well as other squadrons and personnel assigned to the installation. Pursuant to the National SAR Plan of the United States, the unit may also be used for civil SAR/MEDEVAC needs to the fullest extent practicable on a non-interference basis with primary military duties according to applicable national directives, plans, guidelines and agreements; specifically, the unit may launch in response to tasking by the Air Force Rescue Coordination Center (based on a Washington State Memorandum of Understanding) for inland missions, and/or tasking by the United States Coast Guard for all other aeronautical and maritime regions, when other assets are unavailable.