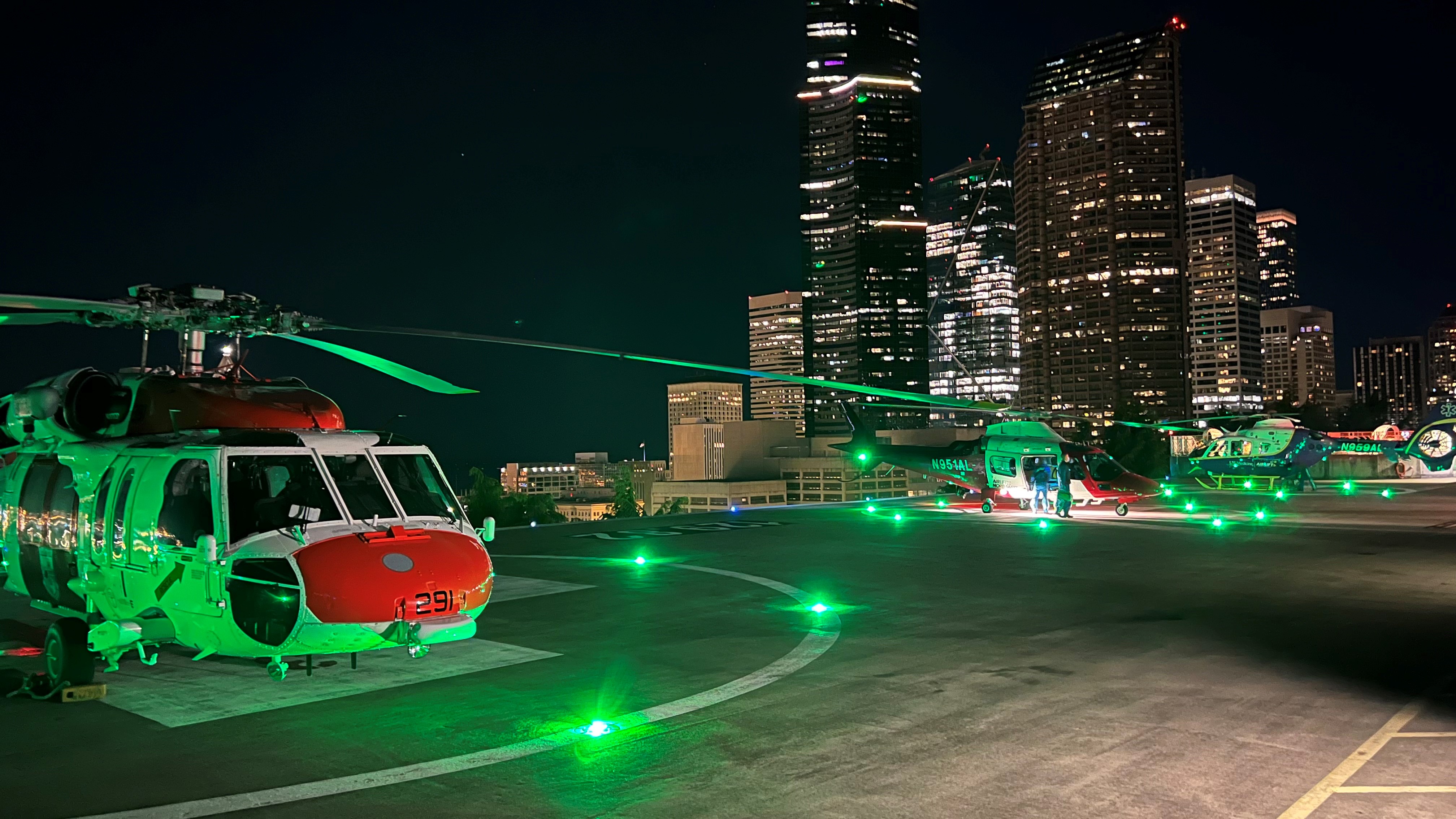 NAS Whidbey Island SAR Rescue 91 on deck at Harborview Medical Center on May 21, 2022. Official Navy Photo
NAVAL AIR STATION WHIDBEY ISLAND, Wash. – A Search and Rescue (SAR) team from Naval Air Station (NAS) Whidbey Island supported a ground team with an injured hiker on Mount Teneriffe in the Cascade Mountains Saturday, May 21, 2022 and rescued a 20-year-old man from the Entiat River Sunday, May 22, 2022.
The first patient, a 50-year-old male hiker, had fallen 250 feet down a slope then another 40' off a cliff, suffering a broken femur and head injuries on Saturday. A ground rescue team was able to reach the hiker in the evening, but their progress down the mountain was slow in the difficult terrain having taken two and a half hours to go one mile. The Air Force Rescue Coordination Center requested NAS Whidbey Island SAR team support and the SAR helicopter launched a little after 11 p.m.
The SAR crew found the ground rescue team at approximately 2,600 feet along the Kamikaze Trail and two crew members executed a 200 foot rappel onto the 45 to 50 degree slope to prepare the patient for a hoist. Once the patient was hoisted on board he was flown to Harborview Medical Center where they landed at about half past midnight.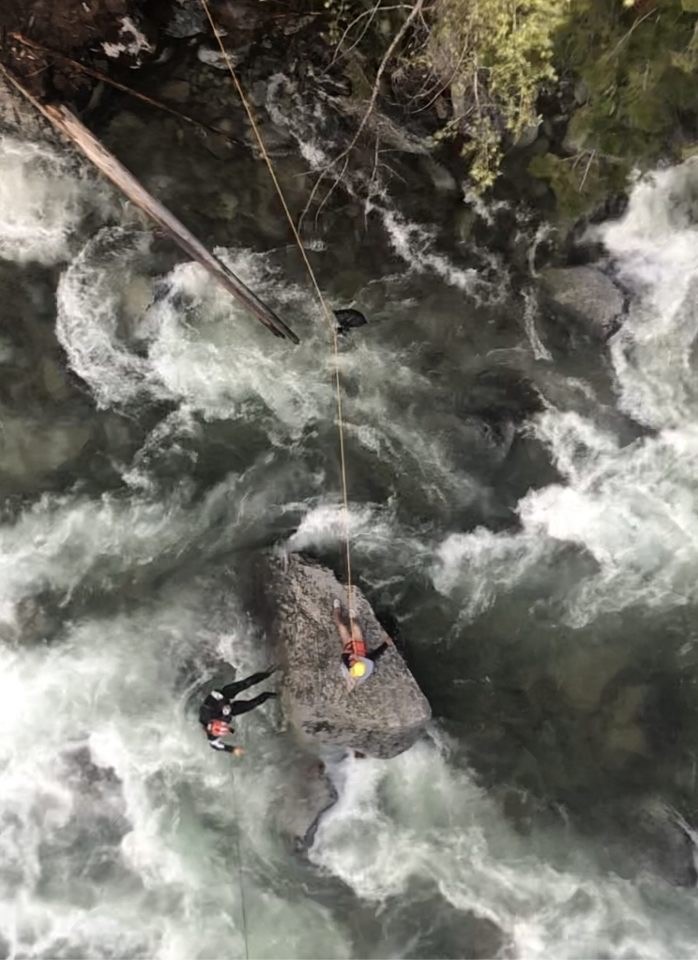 A NAS Whidbey Island SAR crewmember moves into position during a rappel to rescue a 20-year-old stranded on a rock in the Entiat River on May 22, 2022. Official Navy photo
The next evening, around 6 p.m., the SAR crew received an alert for rescue assistance for a 20-year-old man clinging to a rock in the middle of the Entiat River at Lake Creek Campground. The Chelan county Sheriff's Office were on the scene following an alert from the campground for the young man and a 14-year-old girl who had reportedly been washed away. Close to 40 personnel representing several agencies responded to the scene. NAS Whidbey Island's SAR team successfully hoisted the young man from the rock he clung to and dropped him off at a waiting ambulance from Ballard. The teenage girl was pronounced dead at the scene after rescuers were able to reach her.
Naval Air Station Whidbey Island SAR has conducted 14 missions this calendar year, which includes eight MEDEVACs, four rescues, and two searches.
The Navy SAR unit operates three MH-60S helicopters from NAS Whidbey Island as search and rescue/medical evacuation (SAR/MEDEVAC) platforms for the EA-18G aircraft as well as other squadrons and personnel assigned to the installation. Pursuant to the National SAR Plan of the United States, the unit may also be used for civil SAR/MEDEVAC needs to the fullest extent practicable on a non-interference basis with primary military duties according to applicable national directives, plans, guidelines and agreements; specifically, the unit may launch in response to tasking by the Air Force Rescue Coordination Center (based on a Washington State Memorandum of Understanding) for inland missions, and/or tasking by the United States Coast Guard for all other aeronautical and maritime regions, when other assets are unavailable.