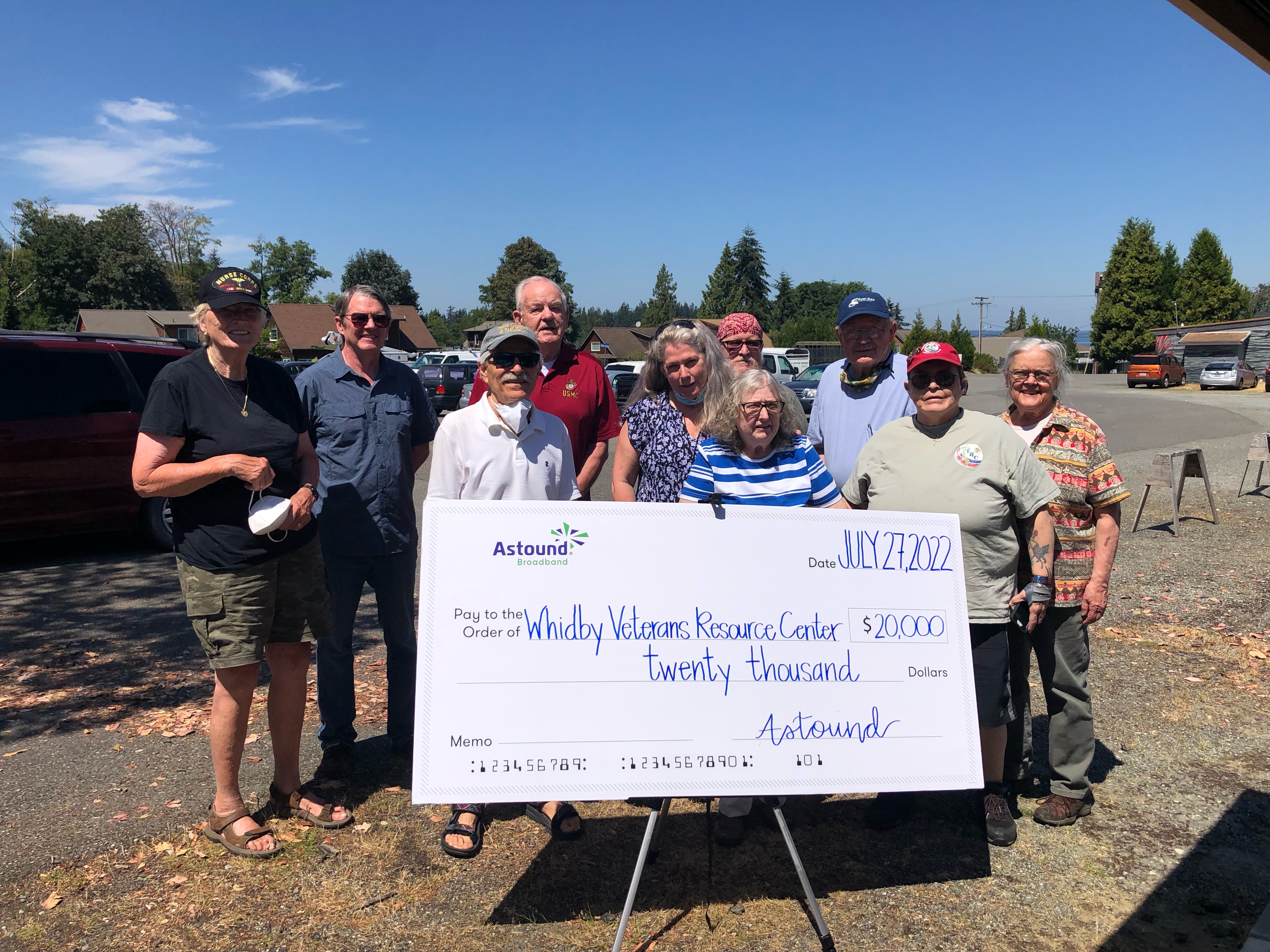 Veterans and friends of the WVRC
The Stanwood-Camano YMCA and Whidbey Island Veterans Resource Center receive funding from local broadband provider to further support community programs
Stanwood, WA and Oak Harbor, WA – July 28,2022 – Astound Broadband Powered by Wave this week donated a total of $65,000 to two local area non-profits. Recipients of Astound's donations include $45,000 to the Stanwood-Camano YMCA and $20,000 to the Whidbey Veterans Resource Center. Astound Broadband Powered by Wave has been part of the area's community for years, as an employer and a provider of fiber optic internet connectivity for thousands of consumers and businesses throughout Northwest Washington. Its parent company, Astound, is dedicated to its employees and communities in ensuring equitable opportunities for all, in consideration of gender, ability, religion, orientation, or socioeconomic, racial, and ethnic backgrounds.
The partnerships with the Stanwood-Camano YMCA and the Whidbey Veterans Resource Center help assure success is achievable for every member of these communities. The funds recently donated will help support the missions of each non-profit that are in line with broader values that Astound wholeheartedly supports – literacy opportunities, mentorship programs for youth, housing, food security, and social services for all.
"These organizations represent the very best of community service in Northwest Washington," said Kevin Stamey, senior director of operations for Astound Broadband Powered by Wave. "We want to thank both the Whidbey Veterans Resource Center and the Stanwood-Camano YMCA for their dedication and hard work in providing critical services for the community. We look forward to continuing to support organizations that provide essential services as well as a sense of belonging and inclusion."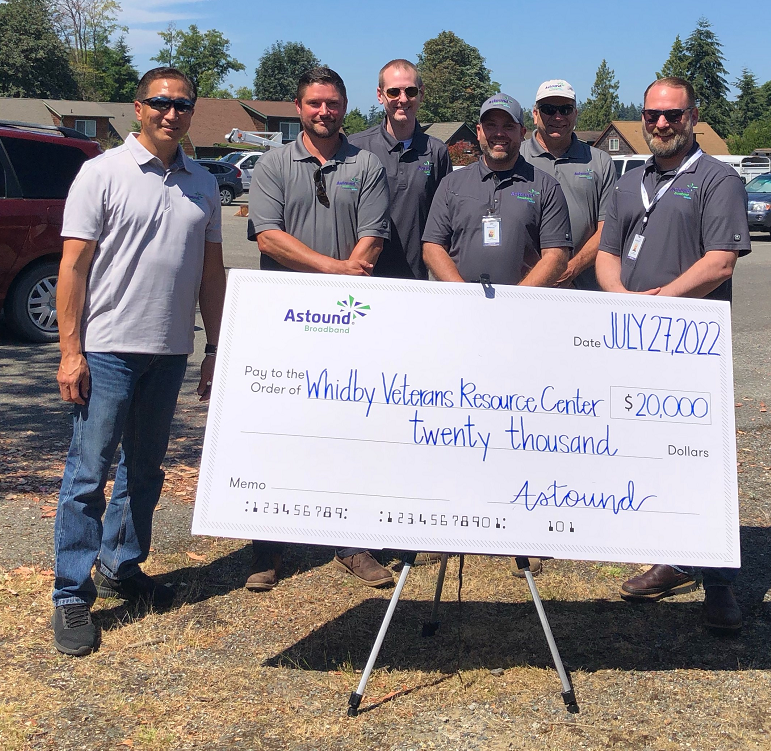 Astound employees are (left to right): Dean Marubayashi, Kevin Stamey, Eric Bryant, Jason Shaffer, Bernie Post, Jerrod Hagen
"This donation will support our programming for people of all ages, whether it be for recreational, educational support programming, or community wellness," said Dan Powell, executive director for the Stanwood-Camano YMCA. "It will also help assure that we can provide financial assistance to anyone who might not be able to afford this programming on their own, leveling the playing field and creating equity in the community."
"For veterans and their families in our communities, this contribution will further our ongoing mission to connect, educate, and serve," said Dana Sawyers, programs and operations manager for Whidbey Veterans Resource Center. "Island County has the highest number of veterans per capita in the state, as well as an older population, so helping veterans access VA health care and other benefits is extremely important in our area."
Astound continues to be powered by passionate local teams dedicated to the people and communities it serves, bringing customers astounding services and products. To learn more about Astound, please visit https://www.astound.com/.
About Astound Broadband
Astound Broadband (astound.com) is the sixth largest cable operator in the U.S., providing award-winning high-speed internet, broadband communications solutions, TV, phone services, and fiber optic solutions for residential and business customers across the United States. Astound Broadband is comprised of organizations formerly known as RCN, Grande Communications, Wave Broadband, and enTouch. The company services Chicago, Indiana, Eastern Pennsylvania, Massachusetts, New York City, Maryland, Washington, D.C., Texas, and regions throughout California, Oregon, and Washington.