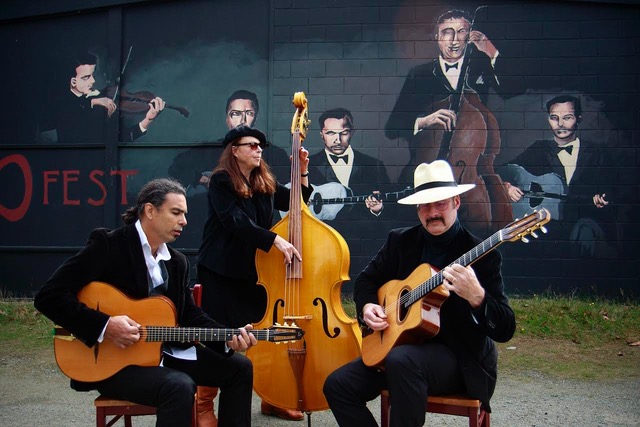 Image by David Welton
The Hot Club of Troy is fulfilling Troy's musical desires. After performing with the Seattle Gypsy Jazz band, Pearl Django, from 2011 – 2016, Troy decided to form his own Hot Club band on Whidbey Island.
The Hot Club of Troy plays music in the style of the renowned Quintet of the Hot Club of France, and its legendary leader: guitarist Django Reinhardt. Reinhardt, along with the immortal violinist Stéphane Grappelli, created a genre sometimes called Gypsy Jazz, Gypsy Swing, Manouche Swing, or just plain Django Music. The Hot Club of Troy's music swings with a wild abandon that allows sparkling melodies to rise from the pulsing rhythm guitars and bass.
Guitarist Troy Chapman, deeply versed in the playing style of the great Gypsy guitar master, introduces audiences to the grooving dance tunes and the haunting melodies of an earlier time that sound as joyful and fresh today as the day they were written. The core ensemble is comprised of Troy Chapman and Keith Bowers on guitar and Kristi O'Donnell on double bass, with the addition of special guests. Beginning in 2019, soulful vocalist Molly Felder and drummer extraordinaire Mickey Grimm joined the group. The Hot Club of Troy features Eric Vanderbilt-Mathews on wind instruments and keyboards for the September 21st DjangofestNW performance.
Troy's love for music began when he was gifted his first guitar at seven years of age. At the age of 13 he moved to Canada with his mother and began taking lessons. He spent 20 years in Montreal, which he says, "Is home to many coffee houses: community meeting places as well as performance spaces for musicians." He comments, "Any time I walked into a coffee shop in Montreal, it was always filled with people playing music."
From Montreal he moved to Chicago where he spent the next 20 years taking lessons, playing, raising a family and working as an air traffic controller. His first professional performance as a musician was 1978.
In 2001, two significant events aligned. Troy reconnected with a teenage friend, Julie Quiring, who lived in Langley WA, and DjangofestNW was a budding Manouche music festival. Troy moved to Whidbey Island to marry Julie and has lived the years since deeply involved with America's premier Django festival, DjangofestNW. The Hot Club of Troy has opened the festival every year since 2015. In 2017, the group performed on the international stage for the Django Sur Lennon Manouche Festival in County Donegal, Ireland, birthplace of bassist Kristi O'Donnell's grandfather.
The Hot Club of Troy performs regionally and locally at several vibrant Island venues and festivals including Ott & Hunter, Dancing Fish and Comforts' Wineries and Double Bluff Brewery, Blueberry Fest and Oak Harbor Music Festival, as well as for private parties.
Troy is especially pleased that his group is a platform for music written by him. He likes to say, "I love taking people on a musical journey with me" and adds, "I love the life on Whidbey and I truly appreciate Whidbey audiences."
---
Wednesday, September 21st, The Hot Club of Troy opens DjangofestNW, "America's Premier Gypsy Jazz Festival", 7:30pm at Whidbey Island Center for the Arts (WICA) in downtown Langley WA. Tickets are available here. For more about The Hot Club of Troy, visit their website: http://www.thehotcluboftroy.com/
---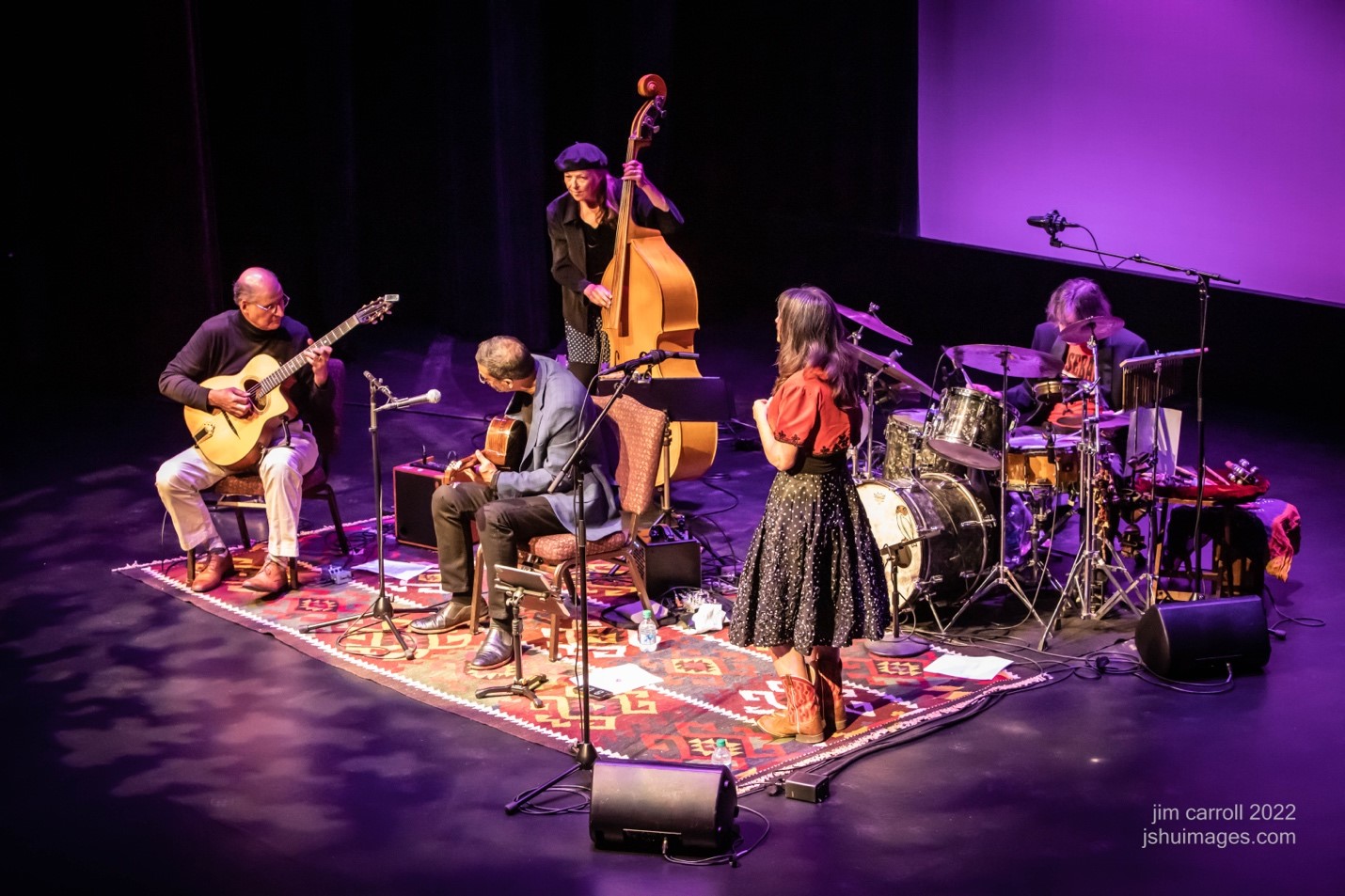 From bassist to band leader, Kristi O'Donnell's Café Impromptu
Thanks to the encouragement of Troy Chapman, bassist for the Hot Club of Troy, Kristi O'Donnell, has formed her own band: Café Impromptu.
Kristi was at a late-night jam during DjangofestNW in 2014. She met over a dozen women playing this genre of music and swingin' it. By the next year, she, along with fellow musicians Irene Ypenberg and Siri Bardarson, created Café Impromptu as "a female ensemble playing and a place that welcomes women in Django jazz to play." Their first Café Impromptu was held at Ott & Hunter Winery in Langley in 2015.
Fast forward to September 2022: Café Impromptu is also a Quartet, Quintet or ensemble of women playing this style of music as well as a place for women to play together. "The September 2022 performance schedule has blossomed into several days with a spectacular selection of musicians." O'Donnell says.
Café Impromptu 2022 live shows at a glance:
Friday September 23rd, 11:00-1:30pm, Freeland Library, 5495 South Harbor Ave. Freeland, WA.
Café Impromptu Quartet plays acoustic Django inspired music as visitors and travelers on Island Transit make their way to the Sno-Isle Freeland Library. Freeland Library staff will present a program on the history and importance of Django Reinhardt in the musical world. This program is free and open to the public, with support from The Friends of Freeland Library.
Friday September 23rd and Saturday September 24th, 3:00-6:00 p.m., Double Bluff Brewery, 112 Anthes Street, Langley WA 98260
Café Impromptu Sextet kicks off each day. Featuring our core ensemble: Christi Lao and Jennie Mayer, guitar. Adrienne Reed, accordion/vocals. Janna Kushneryk, violin. Molly Felder vocals/percussion. Kristi O'Donnell, upright bass. Following is an all women jam at 4pm. The fellas join in at 5pm. This is a free event thanks to the Double Bluff Brewing Company and the tipping generosity of attendees to the shows.
Sunday September 25th 1:00-3:00pm, Ott & Hunter Winery Cabaret, 204 First Street, Langley WA 98260
Café Impromptu Octet featuring special guests guitarists Lisa Lui and Christi Lao with Tobi Stone on wind instruments.
Tickets are $25 per person by reservation by calling 360-221-3171. Seating is limited. Beverages and small plates will be available for purchase. For more about Café Impromptu, visit their website or contact: Kristi O'Donnell kristio@whidbey.net