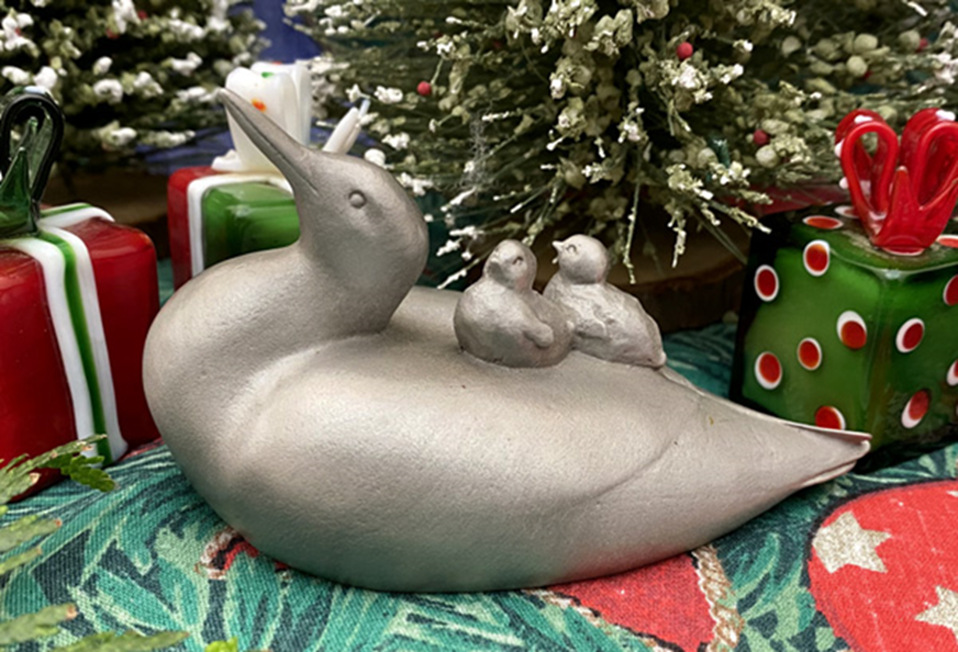 Whidbey Community Foundation is excited to announce its 6th annual partnership with renowned sculptor Georgia Gerber and her husband Randy Hudson on the Holiday Sculpture Fund. This year's pewter sculpture is the Loon with Chicks. Also available for purchase are the 2021 Penguin Pair, 2020 Three French Hens, the 2019 Dashing Turtle, the 2018 Sheepish Rabbit, and the 2017 Settling Owl. Georgia and Randy will work with Whidbey Community Foundation on donating the proceeds from sculpture sales to Whidbey nonprofits.
In their words:

"We are excited to bring you our 24th annual Holiday Sculpture. This is the sixth year we have collaborated with Whidbey Community Foundation (WCF). Last season was our most successful to date, having raised over $45,000 from sculpture sales. To date, we have been able to provide grants nearing $100,000 from the Holiday Sculpture Fund held at WCF. We thank WCF for all they do. We also want to thank the Rob Schouten Gallery for helping us with distribution again this year.
What started out long ago as Christmas gifts for family and friends expanded into an annual fundraising effort in support of local social service organizations on Whidbey Island. The project has helped make a difference in the lives of many people — particularly children since our main focus has been providing for organizations that assist families during the holiday season"
Sculptures can be purchased online by visiting Whidbey Community Foundation's website: www.whidbeyfoundation.org. Sculptures are available for pick-up at Rob Schouten's Gallery on the corner of Anthes Ave and 1st Street in Langley.