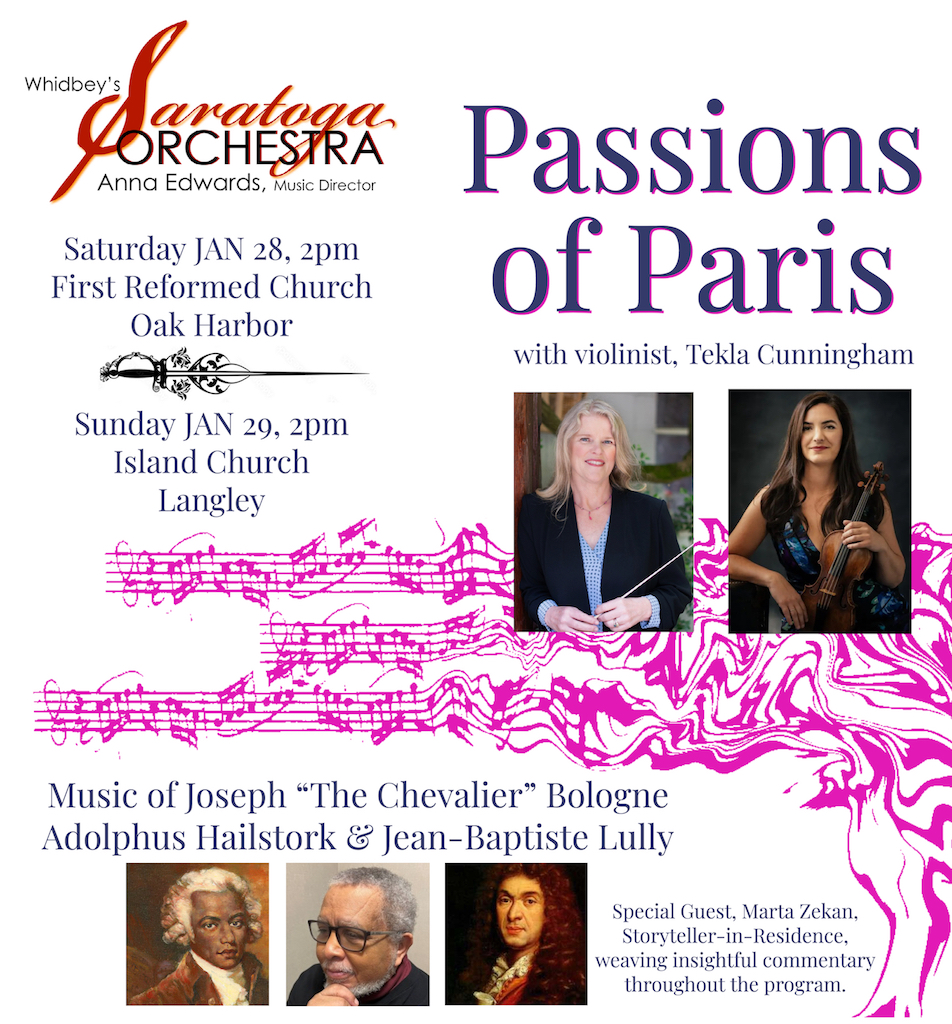 Whidbey's Saratoga Orchestra presents PASSIONS OF PARIS, a set of programs on January 28, 2:00pm at First Reformed Church in Oak Harbor and January 29, 2:00pm at Island Church in Langley.

Music Director Anna Edwards and special guest, Tekla Cunningham, will lead the musicians of the orchestra in a program of French Baroque masters including Joseph Bologne, Jean-Baptiste Lully and one of this country's most prolific postmodern composers, Adolphus Hailstork.

Tekla Cunningham, baroque violinist and founder of Whidbey Island Music Festival will perform Joseph Bologne's Violin Concerto, Op. 7 No.1. Joseph Bologne Chevalier de Saint-Georges was the son of an enslaved Senegalese woman and a French plantation owner. He was a contemporary of Mozart and Haydn, a champion fencer and music instructor of Marie Antoinette. In recent years, a revival of Bologne's music has sparked an interest in his incredible life story including an upcoming theatrical film release, "Chevalier'' in April.

Jean-Baptiste Lully is often considered the master of French Baroque music and composer of many popular operas and music for ballet and theater. He may be most notably known as the conductor who died as the result of a workplace accident. If you would like to learn more about these composers and their music, Marta Zekan, Saratoga Orchestra's "storyteller-in-residence" and former classical radio host, will be weaving insightful commentary throughout the program.

General Admission concert tickets are $30/Adult and $25/Seniors (65+) and Military. Students 17 and under are admitted free. Tickets available at Click Music in Oak Harbor, bayleaf in Coupeville, and Moonraker Books & Blue Sound Music in Langley. Online tickets and further information at www.sowhidbey.com or 360-929-3045.