Vern Olsen got five friends together 30 years ago to perform songs at the Island County Historical Museum in Coupeville to promote the sale of an historical book about trade and transportation on Whidbey Island from 1850 to 1900. It was called Sails, Steamships and Sea Captains.
Everyone who participated said "It's great fun singing these songs, let's do it again!" Each Shifty Sailor show led to another. Those who came to see the shows enjoyed the songs of the sea and the old shanties that were written and sung mostly on tall ships by sailors around the world in the 1700-1800's.
Vern Olsen passed his director's baton to Jim Lightner last October. Jim says he is pleased to be leading one of the few groups keeping the spirit of these songs alive in the United States.
The Shifty Sailors have thrilled crowds as well as the sailors at the Tall Ship Festivals on the West and East Coasts and Europe. They perform shows throughout the Pacific Northwest on a yearly basis and are back to a full schedule after the pandemic interrupted their time on the stage.
The group currently includes 16 members. Over the years the size has varied but the quality of the sound and the professional presentation has remained consistent. They are one of the few shanty groups that sing in harmony, which adds to the entertainment value. All the guys sing, but three of them also play tenor banjo, guitar or accordion which gives the songs a more robust sound than just singing a 'Capella like most shanty groups do. The members live on Fidalgo or Whidbey Islands, most are on Whidbey. They are all islanders and proud of it. In 2022 they did 11 shows, and in 2023 they plan to do 16 shows. Below is the concert schedule for 2023.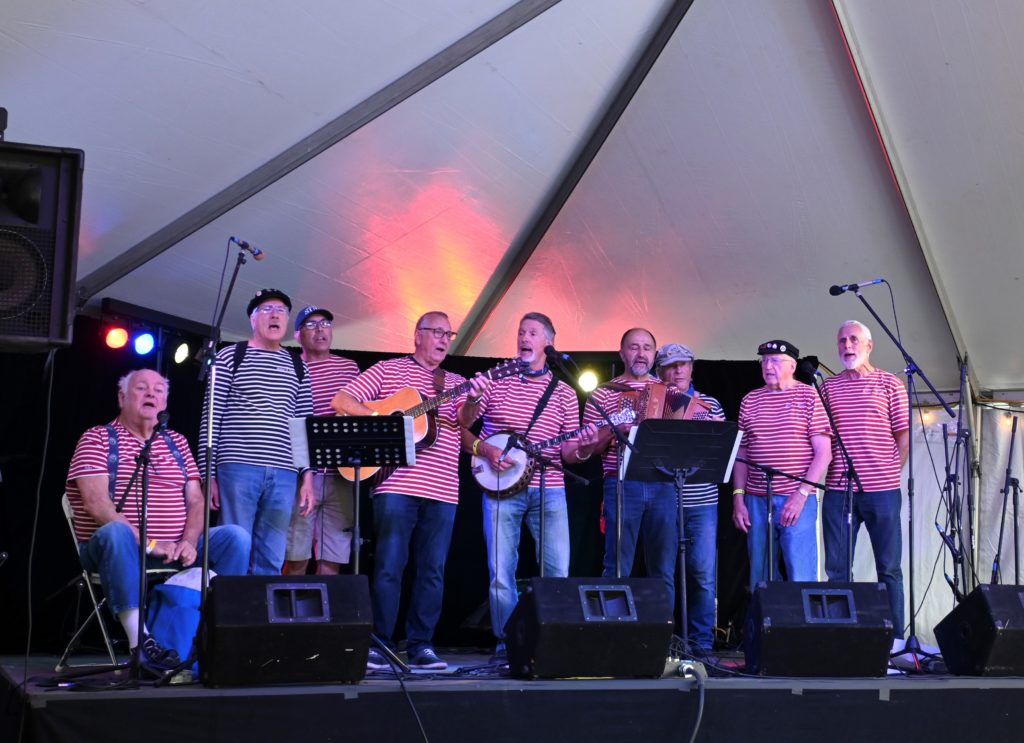 Come to one of their shows and enjoy the fun and entertainment of Whidbey Island's own Shifty Sailors.
You can also log into their website at www.shiftysailors.net to view more information on the group or to purchase any of their 6, CD's.
The Shifty Sailor Concerts, 2023
St. Paddy's Day Bash: March 17, Rec Hall from 5:00 to 8:00 p.m. Coupeville.
Full Irish corned beef and cabbage dinner with desserts and 2 drinks
for $40 each. 3 hours of Shifty Sailors shanty and Irish songs
and Eclectically Celtic instrumental Irish music. Tickets are available
through Brown Paper Tickets. com, or at Bay Leaf, Coupeville.
---
Fort Casey kids camp: April 14, mid-day (time TBD)
Penn Cove Water Festival: May 13, (time TBD) Coupeville.
Anacortes Water Festival: June 3, Noon, Anacortes.
Cape Disappointment Concert-: June 10, Ilwaco, WA. At the park. 7:00 p.m.
Columbia River Maritime Museum: June 11. 1:00 p.m. Astoria, OR.
Whidbey Island Fair: July 29, Noon, Langley.
Drayton Harbor Maritime Festival: Aug 5, Noon, Blaine, WA.
Wooden Boat Festival: Sept 9, Port Townsend (Time TBD)
Cider Festival: Sept. 30, Mid-day, Greenbank.
Fisherman's Fall Festival: Oct 7, Mid-day, Ballard.
---