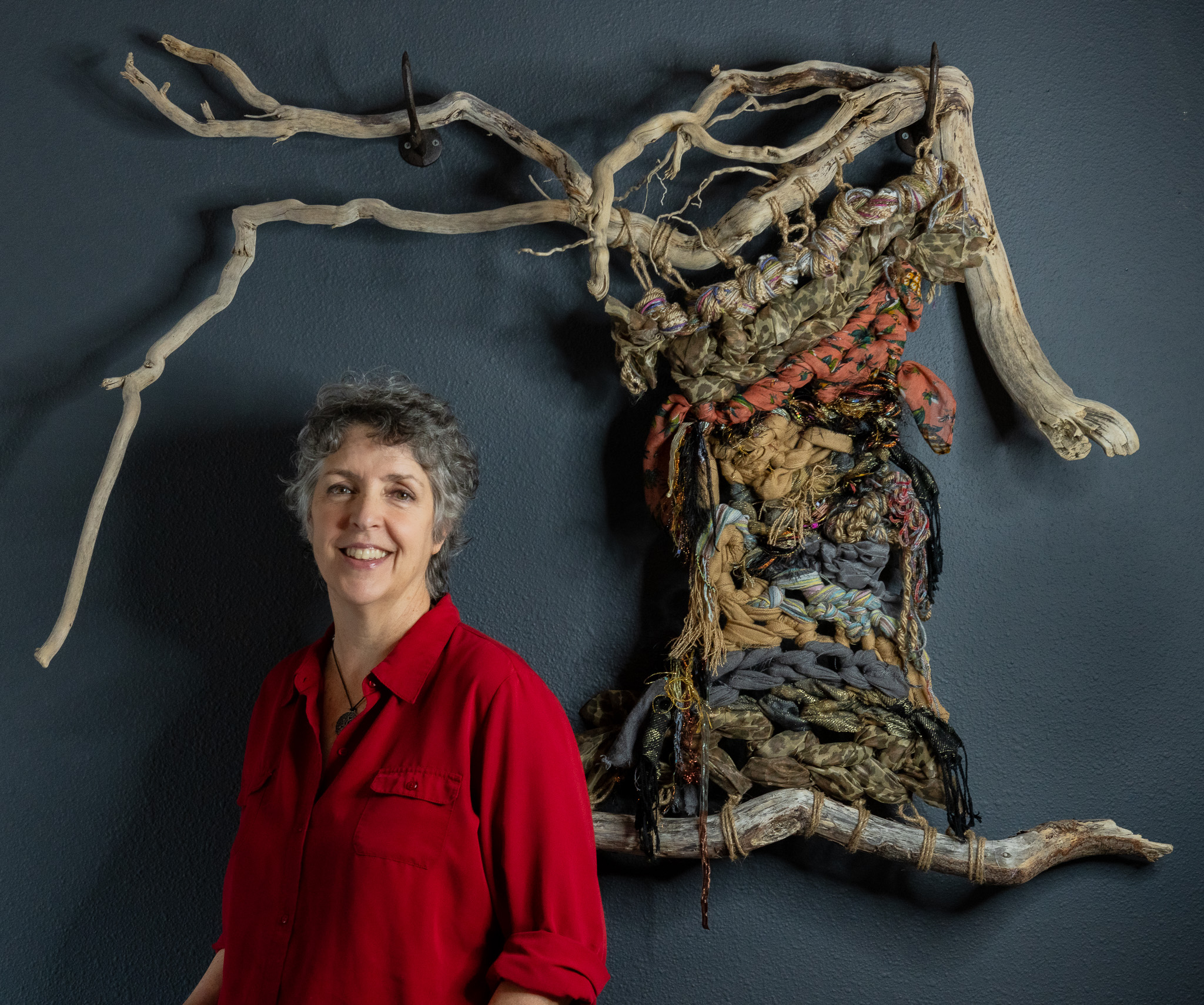 Sandy Rubini-Rochon was inspired to begin her work after contributing to a room-sized, interactive, free-style weaving exhibit at the Bellevue Art Museum. She notes: "I was absolutely charmed and immediately started to collect repurposed materials to make my own version." Her current artistic career path took a few turns before arriving at where she is today. She was an administrative assistant for Island Transit, then became a professional fine art photographer for nearly a decade before finding her path to textile sculpture.
Her work is displayed in the Rochon Fine Art Gallery at 4777 Commercial Street in Clinton, a gallery she shares with her artist husband, Louie Rochon. The couple has been together for 17 years and married in 2022. They have had an artistic partnership for several years.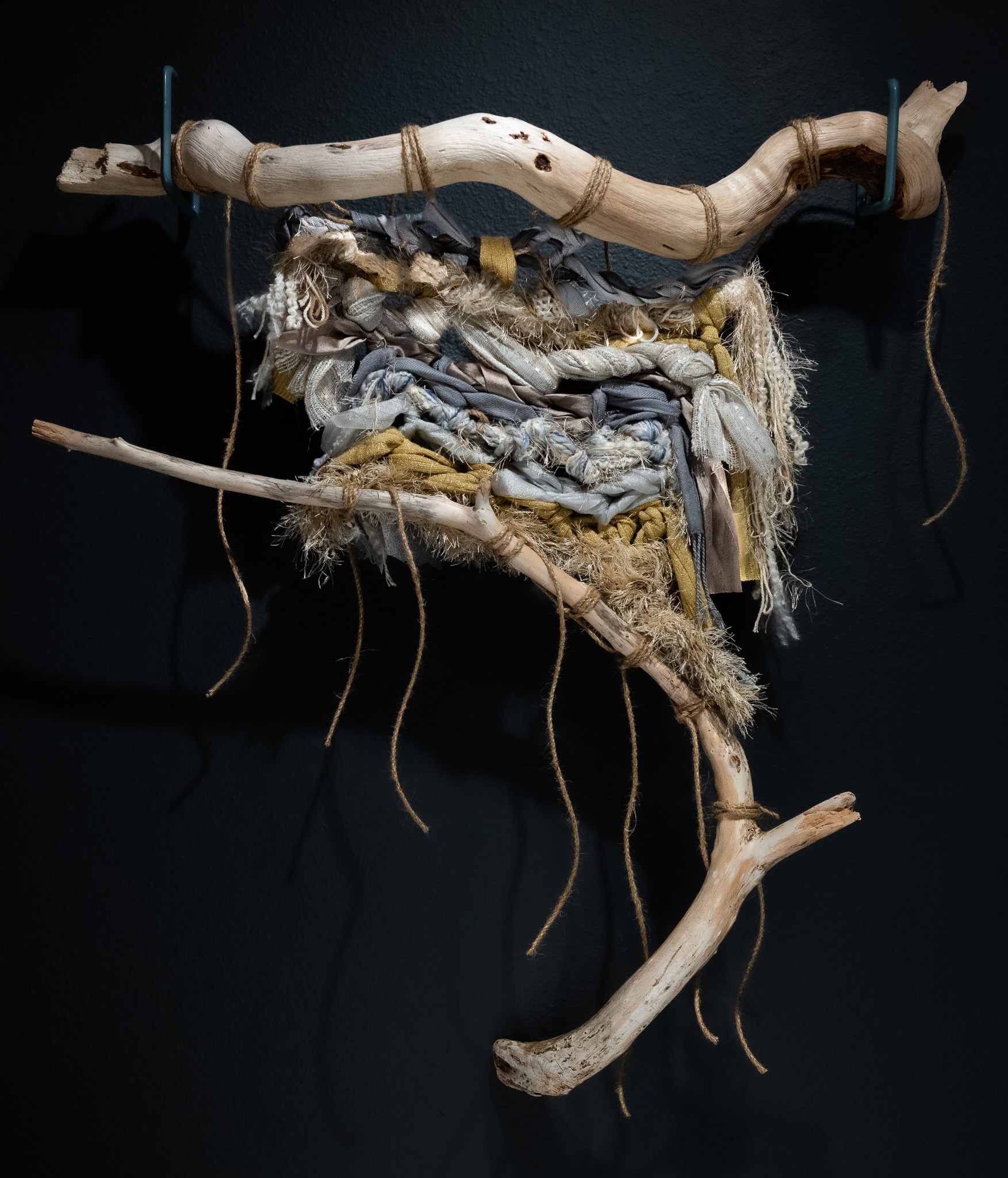 Sandy was captivated by Whidbey after a visit in 1992. She was at the pier in Coupeville, when she looked into the water at saw hundreds of jellyfish. Sandy says, "It was truly a mystical experience!" She knew intuitively that Whidbey was where she wanted to live and raise a family.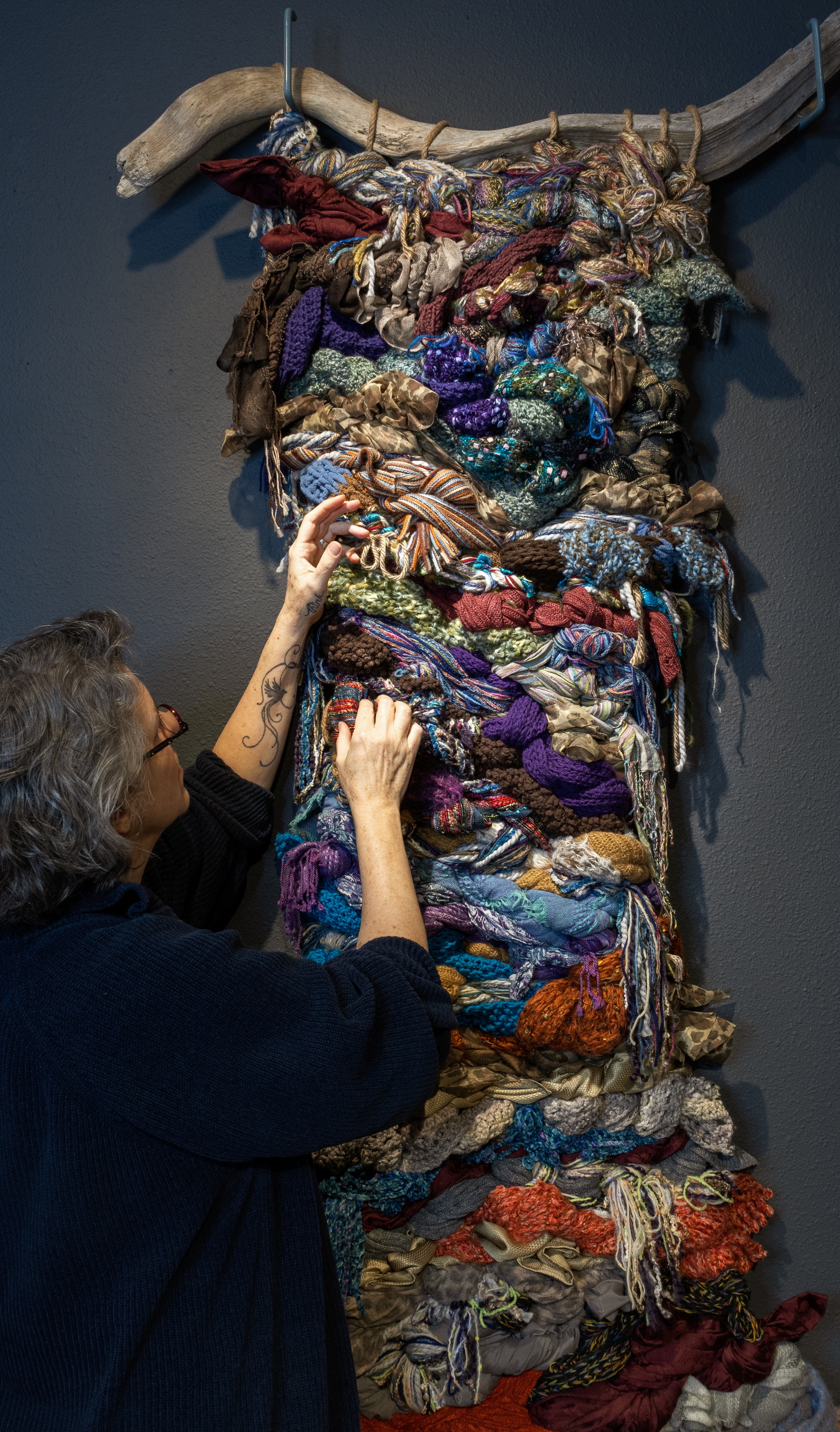 Her work as a textile sculptor began in 2015 after the visit to the Bellevue Art Museum. All of Sandy's sculptures have a three-dimensional quality and are inspired by nature. She says, "My sculptures are first and foremost nature-based, evoking the changing of seasons and natural environments. They begin with the "bones" of the piece – driftwood and jute for the frame. All locally gathered, Whidbey Island driftwood. These elements are key, as they set the tone for the entire piece. From there the free-style weave will many times take on a life of its own, as I intuitively choose the colors and variations that speak to me in the moment. Other times materials are sorted in a more intentional fashion and arranged in patterns. The end result is much like an abstract painting. I name each one, based on recent experiences, my own memories and the emotions they evoke." Sandy has installations not only on Whidbey Island, but Seattle, Bellevue and Portland as well.
A display of her fine art textile wall sculptures can be seen at the Rochon Fine Art Gallery in Clinton, two blocks up from the Clinton ferry, across from Cozy's. Hours are weekends from 11 to 4, or otherwise by chance or appointment. You can call the Rochon Fine Art Gallery at 360-362-5275. See Sandy's full inventory of sculptures on her website at www.vintimo.com.